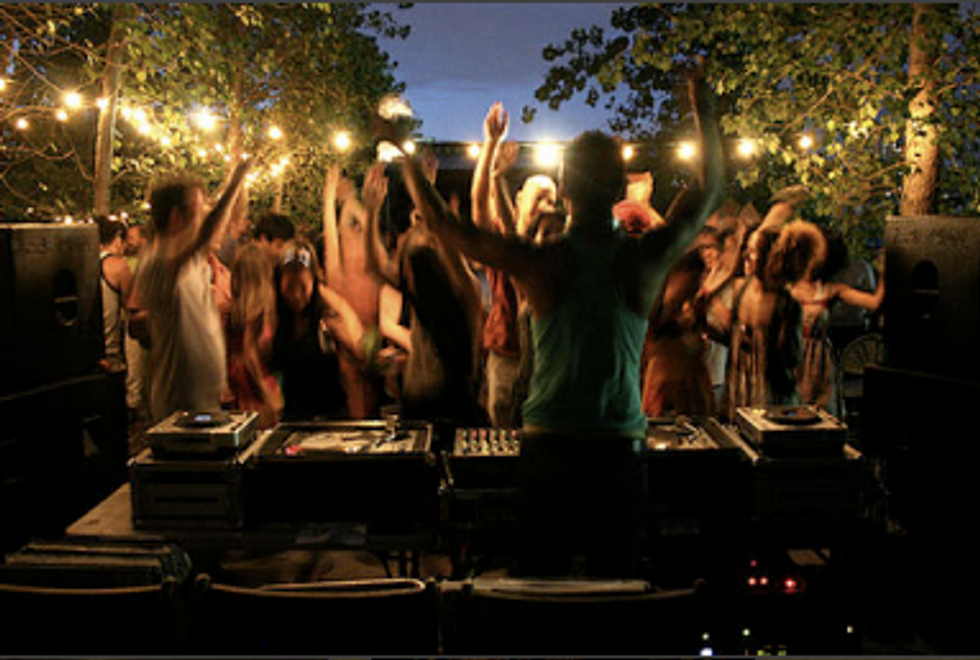 Brooklyn music venue the
BKLYN Yard
kicks off their series of food and music events this Memorial Day Weekend with a
Pop-Up Free Store
from the folks at
SCORE!
, a Sunday dance party with
Michael Mayer
and a
food truck Festival
Monday. We've got the whole schedule for you below -- check out the lineups for Flavorpill's Beer Garden Friday, featuring DJs and bands, Summer Saturdays with local food (including offerings from the East Village's
Northern Spy Food Co
. and a BBQ hosted by
Dinner with the Band
chef
Sam Mason
) and good-old dance party Sunday Best. They're also introducing a bocce ball court this year: add some yargartias, dark & stormys and sangria to the mix and you've got your weekends set for the next couple of months.
Saturday, May 29th: SCORE! Pop Up Free Store
Sunday, May 30th: SUNDAY BEST w/ Michael Mayer
Monday, May 31st: PARKED: Food Truck Festival (Memorial Day Holiday) 
Friday, June 4th: BEER GARDEN  w/ Cowboy Mark & Lisa Shu
Saturday, June 5th: SUMMER SATURDAYS w/ No Ordinary Monkey
Sunday, June 6th: SUNDAY BEST w/ DJ Koze 
Friday, June 11th: BEER GARDEN w/ Ayler Young & The Reason
Saturday, June 12th: SUMMER SATURDAYS w/ Northern Spy Food Co (goat roast)
Sunday, June 13th: SUNDAY BEST w/ Dam Funk 
Friday, June 18th: BEER GARDEN w/ Baby Tiger
Saturday, June 19th: SUMMER SATURDAYS w/ Ohio Party & Red Hook Lobster Pound (clam bake)
Sunday, June 20th: SUNDAY BEST w/ Fred P
Friday, June 25th: BEER GARDEN w/ Cowboy Mark & Lisa
Saturday, June 26th: SUMMER SATURDAYS w/ Dante's Fried Chicken
Sunday, June 27th: SUNDAY BEST w/ Kenny Larkin 
Friday, July 2nd: BEER GARDEN
Saturday, July 3rd: SUMMER SATURDAYS
Sunday, July 4th: SUNDAY BEST w/ Rich Medina 
Friday, July 9th: BEER GARDEN
Saturday, July 10th: SUMMER SATURDAYS "BBQ Blowout" w/ Fingers On The Pulse & Sam Mason
Sunday, July 11th: SUNDAY BEST w/ Alex from Tokyo 
Friday, July 16th: Asobi Seksu :: Built By MeanRed (BEER GARDEN AFTER)
Saturday, July 17th: SUMMER SATURDAYS w/ Reverend Vince and The Love Choir & Red Hook Lobster Pound
Sunday, July 18th: SUNDAY BEST w/ Todd Edwards 
Friday, July 23rd: BEER GARDEN w/ No Way Back DJs (Blu Jemz, Lloydski, &  more!)
Saturday, July 24th: SUMMER SATURDAYS w/ CASSETTE NYC & Crif Dogs
Sunday, July 25th: SUNDAY BEST w/ Ashley Beedle 
Friday, July 30th: BEER GARDEN
Saturday, July 31st: SUMMER SATURDAYS w/ Chances with Wolves
Sunday, August 1st: SUNDAY BEST w/ Linkwood 
Friday, August 6th: BEER GARDEN w/ Mucca Pazza
Saturday, August 7th: SUMMER SATURDAYS
Sunday, August 8th: SUNDAY BEST w/ Floating Points 
Friday, August 13th: BEER GARDEN w/ The Woes
Saturday, August 14th: SUMMER SATURDAYS "Wurst BBQ" w/ Brennan Green & bratwurst
Sunday, August 15th: SUNDAY BEST w/ Frank "Voodoo Funk" Gossner 
Friday, August 20th: BEER GARDEN
Saturday, August 21st: SUMMER SATURDAYS "Fatty Q" w/ Fingers On The Pulse
Sunday, August 22nd: SUNDAY BEST w/ Prosumer 
Friday, August 27th: BEER GARDEN w/ The Loom
Saturday, August 21st: SUMMER SATURDAYS
Sunday, August 22nd: SUNDAY BEST w/ Optimo 
Friday, September 3rd: BEER GARDEN
Saturday, September 4th: SUMMER SATURDAYS
Sunday, September 5th: SUNDAY BEST  w/ The Sunday Best Residents
Monday, September 6th: BROOKLYN COUNTY FAIR (Labor Day holiday)