Ever since the first rumors re: Frank Ocean's second album came about, a whole subsection of Twitter has been dedicated to vigorously bitching about when everyone would be able to hear the finished product. Well a little birdie in the form of an "industry insider gossip" Twitter called @SnatchedBops seems to have found out that Frank's Boys Don't Cry will finally be dropping tomorrow, June 3rd.
Frank Ocean's new album is OFFICIALLY dropping this Friday (June 3rd) - GET READY! pic.twitter.com/vZyz5lm6xy
— Snatched Bops (@SnatchedBops) June 2, 2016
And while we were originally a tad skeptical, the album has been getting a slew of recent celebrity endorsements from fellow beatmakers like Chance the Rapper (who called it "amazing") and James Blake (who said it's "better" than the old stuff). This also follows a purported secret listening session back in February, where snippets of audio were uploaded, and then swiftly taken down.
But, as we all know, the moral of the story is don't put all your eggs in one basket, especially when it concerns Frank's musical output. However, what we will say is that if the rumors do end up being true, we'll be sad to see the demise of " Frank Ocean speculation Twitter," which oft births #goodcontent like:
"Hey Frank Ocean, when you dropping the album?"
*Read at 10:55pm* pic.twitter.com/wMb6AVxHfQ
— Sriracha (@walidffs) March 17, 2016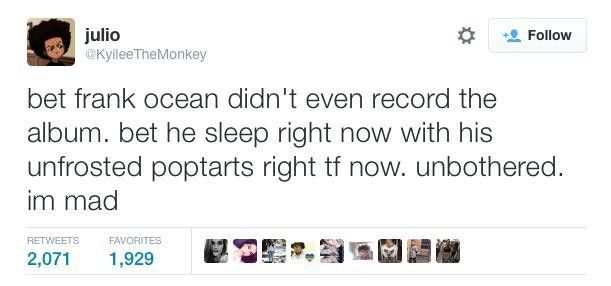 Frank Ocean...you keep playin around. Drop that album. Stop playin. pic.twitter.com/znmcBkWNWV
— **ria ➳ (@m3m3nto_mori) May 24, 2016

@raechyel I tell my sister his album dropped, I send her a link, link leads to a veggie tales M/V
— Rachel (@ruchel_official) June 2, 2016
Gucci Mane got put in and released from jail before Frank Ocean released a new album
— Shane Bidwell (@ShaneBidwell) June 2, 2016
frank ocean is a scorpio
— rich purnell (@LOLGodFreaky) May 23, 2016
text back game Frank Ocean
— Guillermo (@stereo_putrid) May 23, 2016
" @SnatchedBops Frank Ocean's new album is OFFICIALLY dropping this Friday (June 3rd) - GET READY!" pic.twitter.com/L8gD1opg8L
— uncle pudding pop (@LordJames23) June 2, 2016
whoever created the "frank ocean album confirmed for june 3rd" rumor is crueler than ramsey bolton
— earthworm jim (@KasaiREX) June 2, 2016
R.I.P. the Ocean rumor mill (maybe).