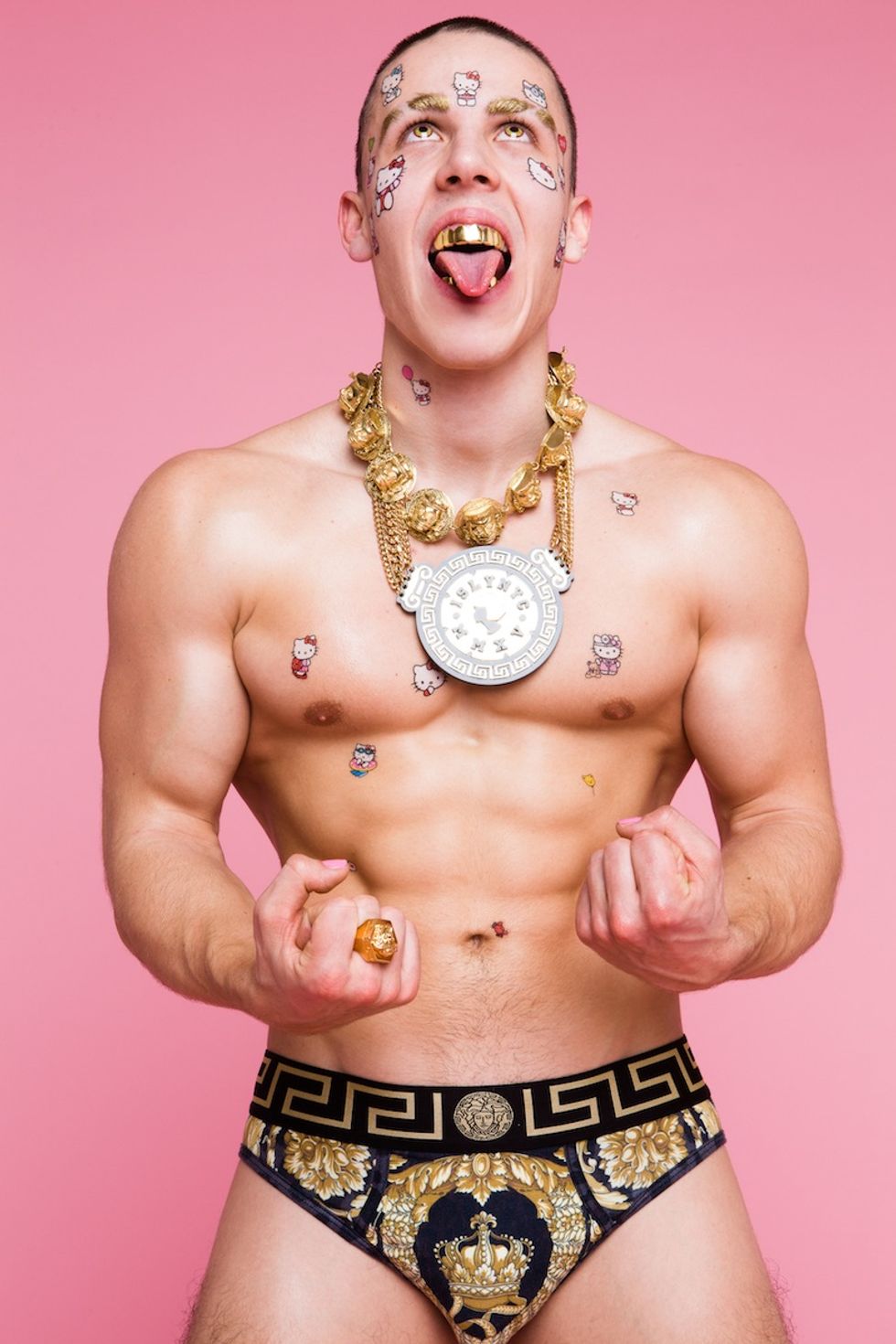 Candy Ken wears Versace
Is a 22-year-old, muscle-y Austrian kid with Hello Kitty temporary tattoos on his face fashion's new It Boy?


Berlin-based artist -- and budding rapper -- Candy Ken (aka Jakob Kasimir) has been adding a flashy, technicolor, gender-bending vibe to the city's music and art scenes for a couple of years now but is poised to become the next big fashion muse/front row novelty after catching the eyes of designers like Nicola Formichetti and Jeremy Scott. After Formichetti first came across his Instagram feed last month, the Diesel designer immediately flew Ken to Milan to do a photo shoot for his soon-to-launch Japan-based fashion magazine, FREE. Upon looking through Ken's IG feed, it's not hard to understand what Formichetti finds so appealing: it's an eye-catching pastiche of masculine and feminine, of tiaras and nail art and jacked abs and bench presses.


His photos, like any of his six rap videos, can occasionally make Candy Ken seem like a Teutonic RiFF RAFF knock-off, which isn't incidental -- he's upfront about taking inspiration from the Houston MC and even has a song called "RiFF RAFF iS MA DADDY." But, like other European artists who take American cultural tropes and improbably create something fresh and exciting (see: Yung Lean), there's something compelling about his study in contrasts, Peter Pan-esque antics and DGAF attitude. We Skyped with the rapper, who was shooting two new music videos in the Philippines, to find out more about what the hell his deal is.
Candy Ken's music video for "BARBiE DOLL"
Who is Candy Ken?


There's normal Ken and Candy Ken. Ken is always supposed to be wearing blue and looking muscular, normal and basic but Candy Ken can do all the crazy things Ken is not allowed to do. He has everything he wants. He buys himself real Barbie dolls. He went to a
butcher to buy Barbie girls, who come alive. He falls in love with
them. He wants to leave them at the farm but they fall in love with him,
too


Why are you so obsessed with Hello Kitty?


I look like this normal, crazy gym guy and I don't want to look like
that. I love combining muscles and Hello Kitty, being white and wearing grillz -- doing
things that aren't supposed to go together. I love Hello Kitty and it looks good on a boy. Right now I'm working on a hip-hop EP and on a Hello Kitty song. In April, I'll shoot the Hello Kitty music video. It's a love song. Nicola is talking to Hello Kitty to see if we can shoot at the
store in Tokyo, wear costumes and a full-bodied Hello Kitty suit and run through the city. I'll cover my face with the tattoos and even get Hello Kitty
contact lenses.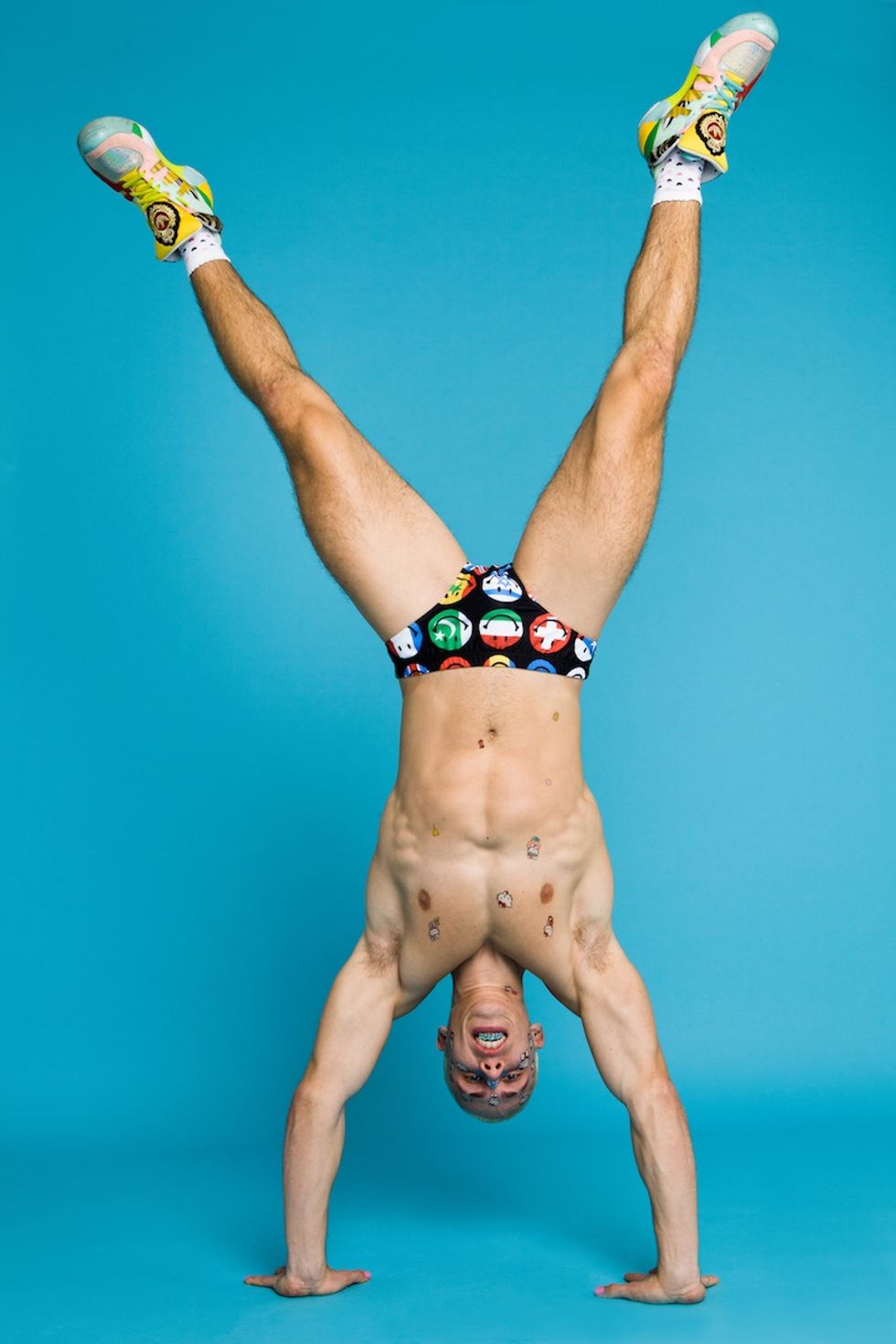 Candy Ken wears Moschino
Tell us about how you met Nicola Formichetti.


He found me on Instagram and DMed me and said, "OMG I am such a big fan, I need to shoot you for my magazine." I first thought it was a joke, but he bought the ticket and flew me to Milan. He is coming out with a Japanese fashion magazine called FREE in March. While we were shooting, he took a photo of me with his phone and sent it to Jeremy Scott, who posted it to his Instagram. It was the biggest moment so far for me. I always say, "if you are real, they will find you." Real recognizes real.


Speaking of photo shoots, you actually started out as a photographer?


My whole life, I tried finding someone like Candy Ken to photograph and do music videos for, but I couldn't find them. I had to do it myself. I had people in front of the lens who bored me.


Do you consider yourself more as a performance artist?


I don't see myself as a musician. I'm trying to inspire people and work with the right people. It all began when I studied for a year in Wenatchee, Washington, which is two
hours from Seattle. I played football and went to high school. In
Germany, they teach you to get a job and a family. In the US, they said I
could do whatever I want.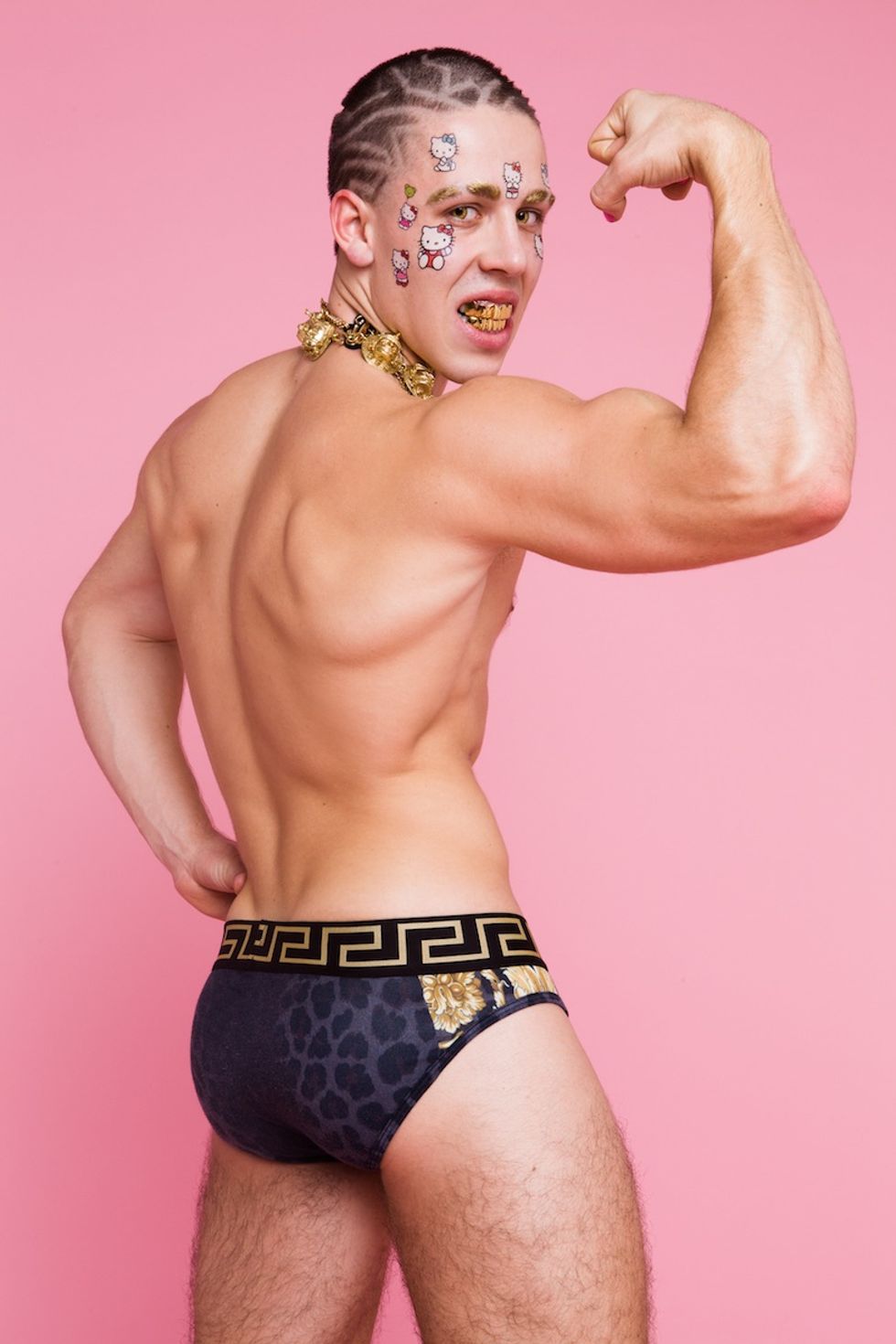 What kind of attention do you get when people see you?


Tourists always take pictures. The old Berliners, they don't care about anything. Kids respond well to me because they love the color, but their parents don't want them to look at me.


What artists are you inspired by?


Ai Weiwei is a big inspiration as a rebel. Here in Asia, I have to hide my nail polish and I can't wear jewelry because people aren't as open minded. I didn't realize how dangerous and homophobic people are in the rest of the world. If you live in Berlin for two years, you think you can be whatever you want.


What do you want to accomplish as Candy Ken?


My biggest goal is to inspire the right people. I know a lot of people think I'm just trying to provoke, but I'm not. I'm trying to get away from stereotypes and follow what my heart tells me and what really makes me happy. I'm trying to work with people like myself and find them. I just want to create music, music videos, films, magazines, photo shoots. I also want my own fashion collection -- like Hello Kitty.
You May Also Like