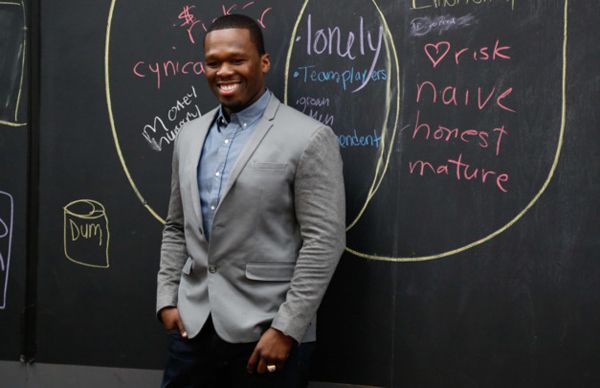 Photo via "Dream School"
Curtis James Jackson III is heading back to class for the second season of
Dream School
, a reality TV show that gives troubled kids a second chance at graduating high school. The rapper's eager transition to the role of "Professor Jackson" somehow makes sense. With the way his career is going at the age of 39 (i.e. all over the place), it's clear that 50 Cent is having a major existential crisis.
Who am I? Am I doing enough for the world? Is there more to life than partying like it's my birthday?
are the hard-hitting questions that probably keep the entrepreneurial rapper up at night.
Recently, 50 Cent held a press event for his inner turmoil. "I started assessing my legacy and how I want people to remember me," the rapper told
Rolling Stone.
He explained that doesn't just want to be the "guy who made a couple cool songs or picked a couple of good roles in film and television." And, well, to say that 50 Cent only had a "couple cool songs" is a pretty accurate assessment -- the rapper has been steadily pushing out albums since 2003's
Get Rich or Die Tryin'
but none have been met with the same enthusiasm. Although, to his credit, 50 Cent is
really
tryin' -- his career has spanned everything from venture capitalism to children's books and yet, he's still grasping for something more.
Of his upcoming stint on the educational reality TV show, 50 Cent remarked that, "It's an opportunity to utilize your celebrity in the right way," and 50 Cent has been trying to figure out how to utilize his celebrity "in the right way" for a while now. In 2012, he penned the YA novel
Playground
, about a bullied kid with anger management issues. Previously, he co-authored a motivational book called
The 50th Law
, about his journey to success. And in addition to his inspirational words on paper, 50 Cent also frequently
tweets
about his volunteering efforts, including his
generous tips
to help frequent masturbators kick the habit. He knows the dangers of masturbation well, suffering from a skeletal muscle injury on his right shoulder from
excessive use
, but he doesn't limit his advice to his expertise:
Speaking of MILF. I wanna do something that impact kids in a positive way, thats why im opening an abortion clinic. Ima call it 50/50 chance

-- 50cent (@50cent) September 7, 2010
Shit I should run america. first thing I'd do is cut my taxes then tell yal chill the fuck out ima get to the rest of the problems

-- 50cent (@50cent) August 28, 2010