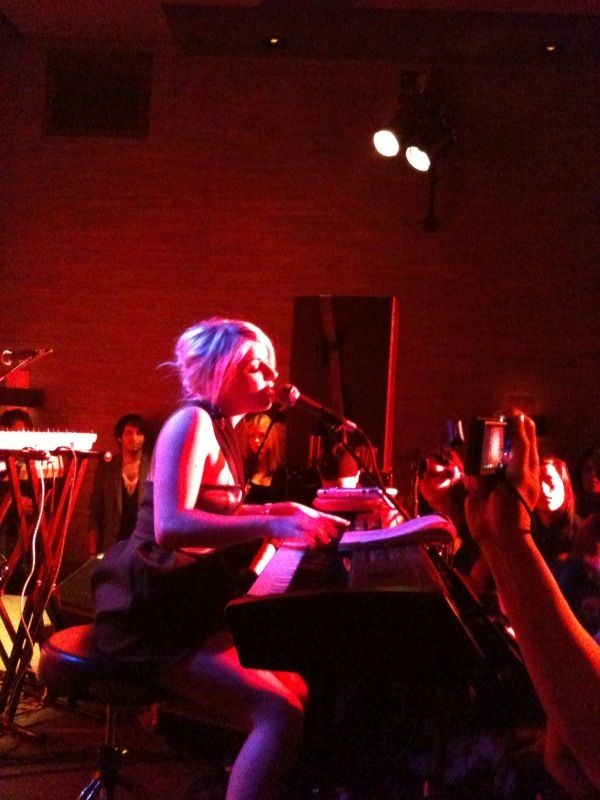 Throughout New York Fashion Week, one of our favorite Brit chanteuses, Little Boots, aka Victoria Hesketh will be blogging about her Fashion Week exploits, leading up to the March 2 U.S. release date of her full-length debut Hands. She plays the Highline Ballroom on March 2 and 3. Without further ado, her first blog.
Last night I played an acoustic show at the
"7 is 10"
birthday party for the lovely Seven New York boutique on Mercer Street. I was in the studio all day so unfortunately missed the shows, although I heard especially good things about the dresses at
Preen
. On the way back from recording had a panic shop at 7 and squeezed into one from the current Preen collection to wear for the gig.
Things kicked off at a lovely dinner at the
Tribeca Grand Hotel,
which owner Joseph Quartana threw for many of his supporters and designers with whom he has been working  as far back as since he started out. I sat with British designer
Henry Holland
and his BFF
Agyness Deyn
, who showed us a video of her even managing to make falling look graceful (twice!) from a charity show she walked previously that day. I was also lucky enough to sit with the amazing designers behind Preen, although I was horrified when a piece of dessert managed to make its way off my plate and onto just purchased dress! Luckily it turned out the fabric was surprisingly cake proof.  It wasn't long after the cake incident that the real fashionista crowds started pouring in, and with a guestlist of over 2500 people it wasn't long until it was pretty much impossible to get into the building, never mind the bar. I played around midnight and despite a few technical glitches had a great reaction from the crowd, who were a lot less stuffy than anywhere I've ever seen in London Fashion Week! After me a great band called
The Golden Filter
played and we started work on our champagne-and-vodka-rider, which I am now mournfully surveying the remains of through bloodshot eyes in my hotel room.  I'm really looking forward to the
Alexander Wang
show later today if we manage to drag our hangovers over there... will hopefully report back tomorrow!
CLICK HERE FOR PAPERMAG'S COMPLETE DOWN-LOW FASHION WEEK FALL 2010 COVERAGE. >>