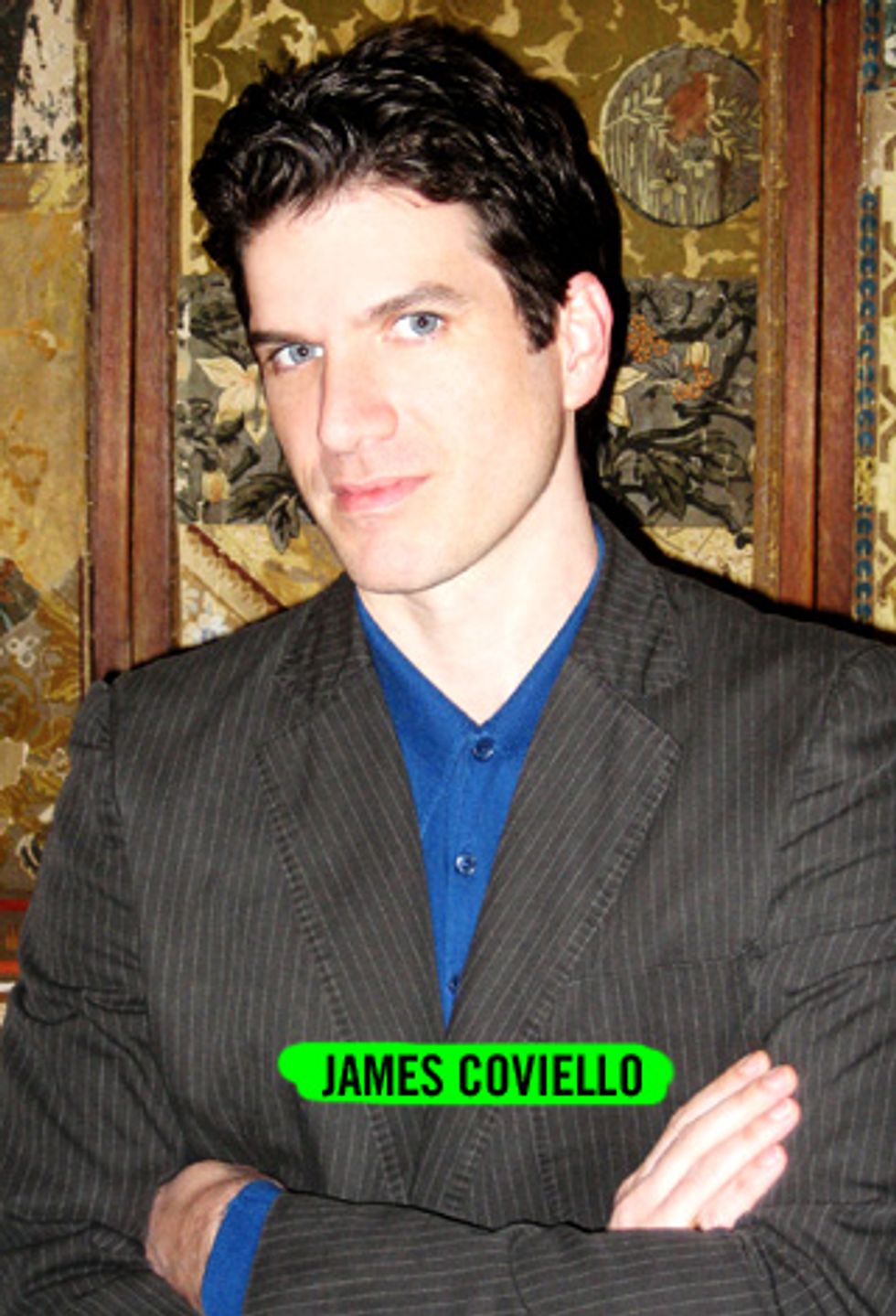 Our third and final Fashion Week blogger is none other than former milliner, and designing powerhouse James Coviello. The talented Coviello got his start in the late '80s designing hats. His headgear was loved by fashion heavyweights such as Oscar de la Renta, Calvin Klein and Todd Oldham. In 1991, Anna Sui requested one of his hats for an Italian Vogu shoot and an over-a-decade-long relationship between the two designers was formed. In 1992, the James Coviello for Anna Sui label was launched and in 2000, he presented his first solo show, the James Coviello Collection. His elegant, romantic, early-20th century-inspired knits look like they could outfit a Gustav Klimt muse. They're of another era but truly modern at the same time; frilly collars paired with modern cuts. His Spring 2008 runway show takes place on Friday, Sept. 7th at the Prince George Ballroom. Here, below, is James's first report from yesterday...
Today was the first day of fittings at our place on 29th street. As I was leaving the house at 7:30 a.m., my boyfriend Robbie told me a pipe bomb exploded on 29th Street, and the street was closed; that's our block.
Great, as usual, another wrench in the works.

I got to work, and all was OK, had a conversation with Anna Sui to touch base and see how she is doing, ran around to find Polaroid film (we went through 20 packs this weekend doing castings!), called HK, checked my e-mails, and stocked the fridge with water, all before 9 a.m.
We always organize all our confirmed models by putting their model cards on a big ugly door in the studio every season. This helps me a lot during fittings, as it has shoe size, fit and notes I take after meeting each girl. Because we see 50 or so models during the castings, I need a little memory jog as to how things fit, etc.
I am a real perfectionist and like to place anything that has a button on it during the fitting even though I could probably put buttons and holes on before, this is always the bane of my existence right before the show! I thought this season we were doing well by ordering all the buttons way beforehand, so we could start sewing them on now. Of course it was too good to be true! Rebecca, my assistant, picked up the buttons this morning and started organizing them. As the first models came in for fittings, Rebecca showed me one style she was working on, and the buttons were as heavy as tiny Civil War musket balls. I was so looking forward to using these cute little bronze buttons, but alas is will not be. So much for planning ahead!
So today I had 14 fittings, the hair and make up test, and finalized the music for the show with our DJ Scott Ewalt (out of 80 songs we whittled it down to six!), and went over all the alterations for today.
I had my little guy Francis with me at the office, he likes the action but barks at all the models and is very annoying, but I love him anyway and am glad to spend a little time with him since I am never at home (except to sleep) during Fashion Week!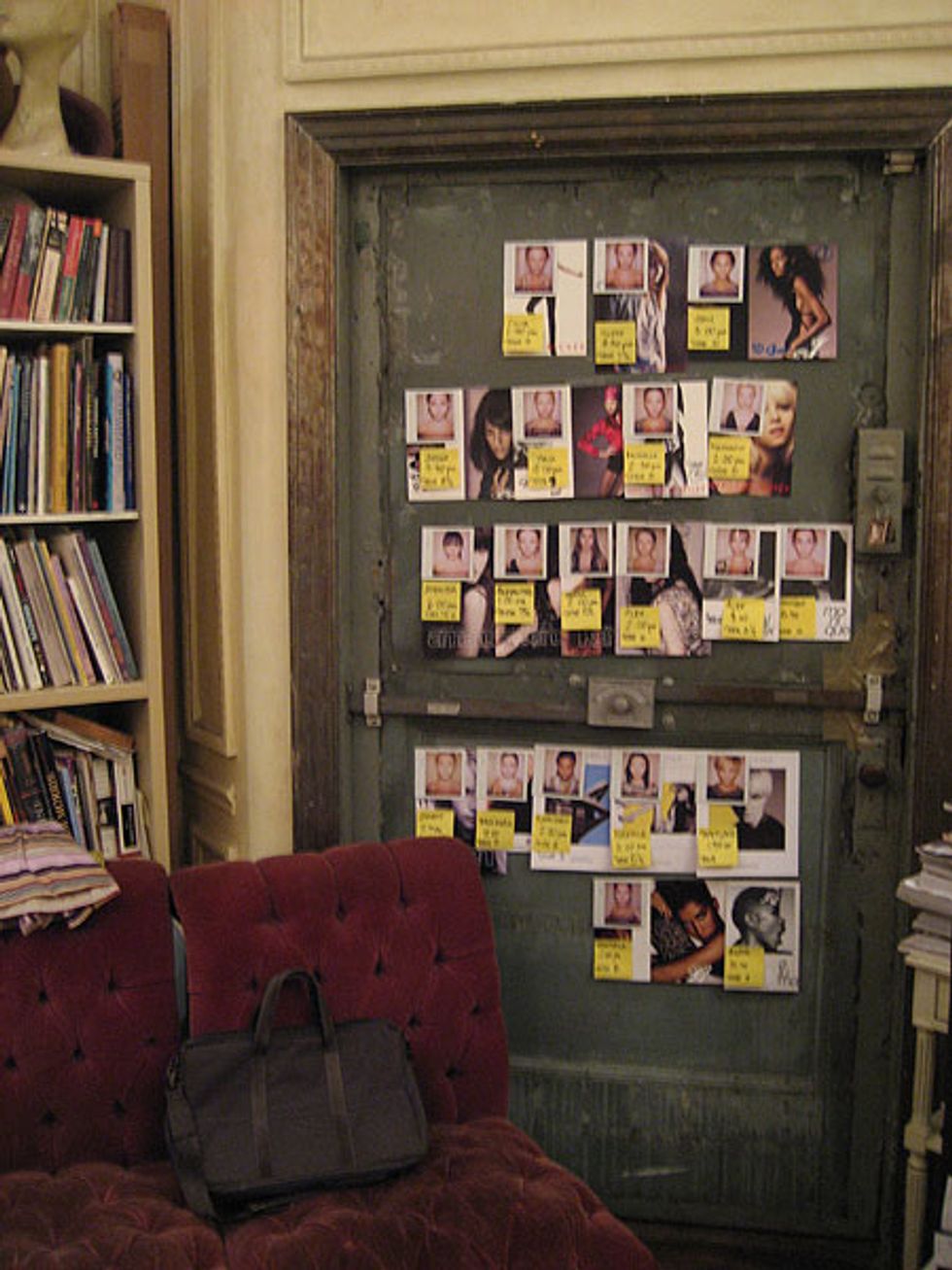 Model cards plastered on the door of James's studio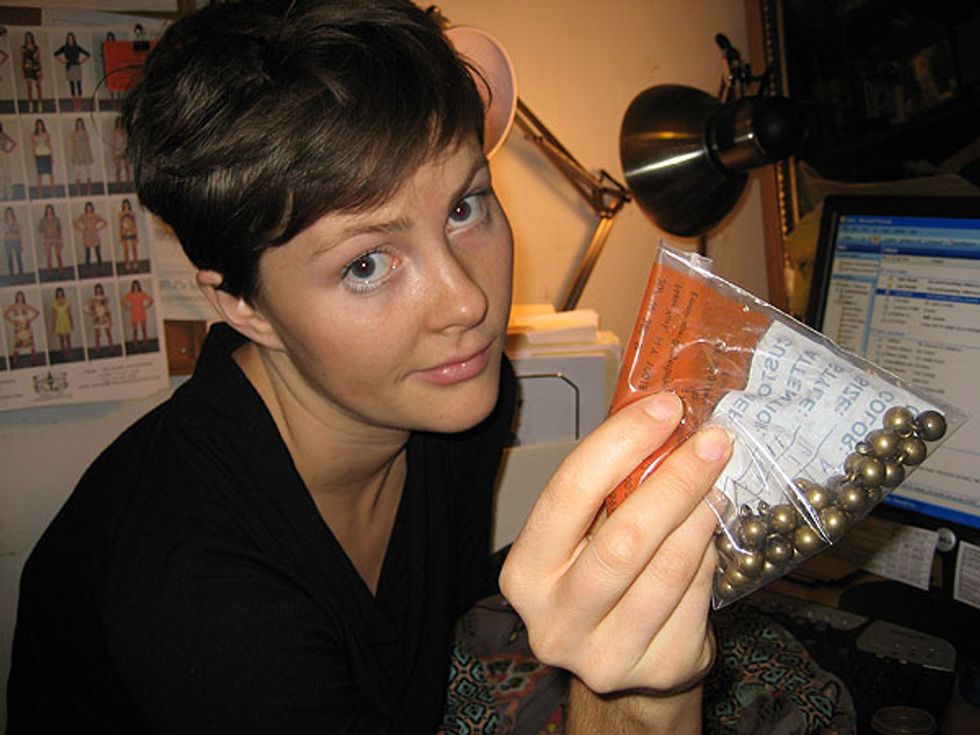 Rebecca and the buttons that were "as heavy as tiny Civil War musket balls."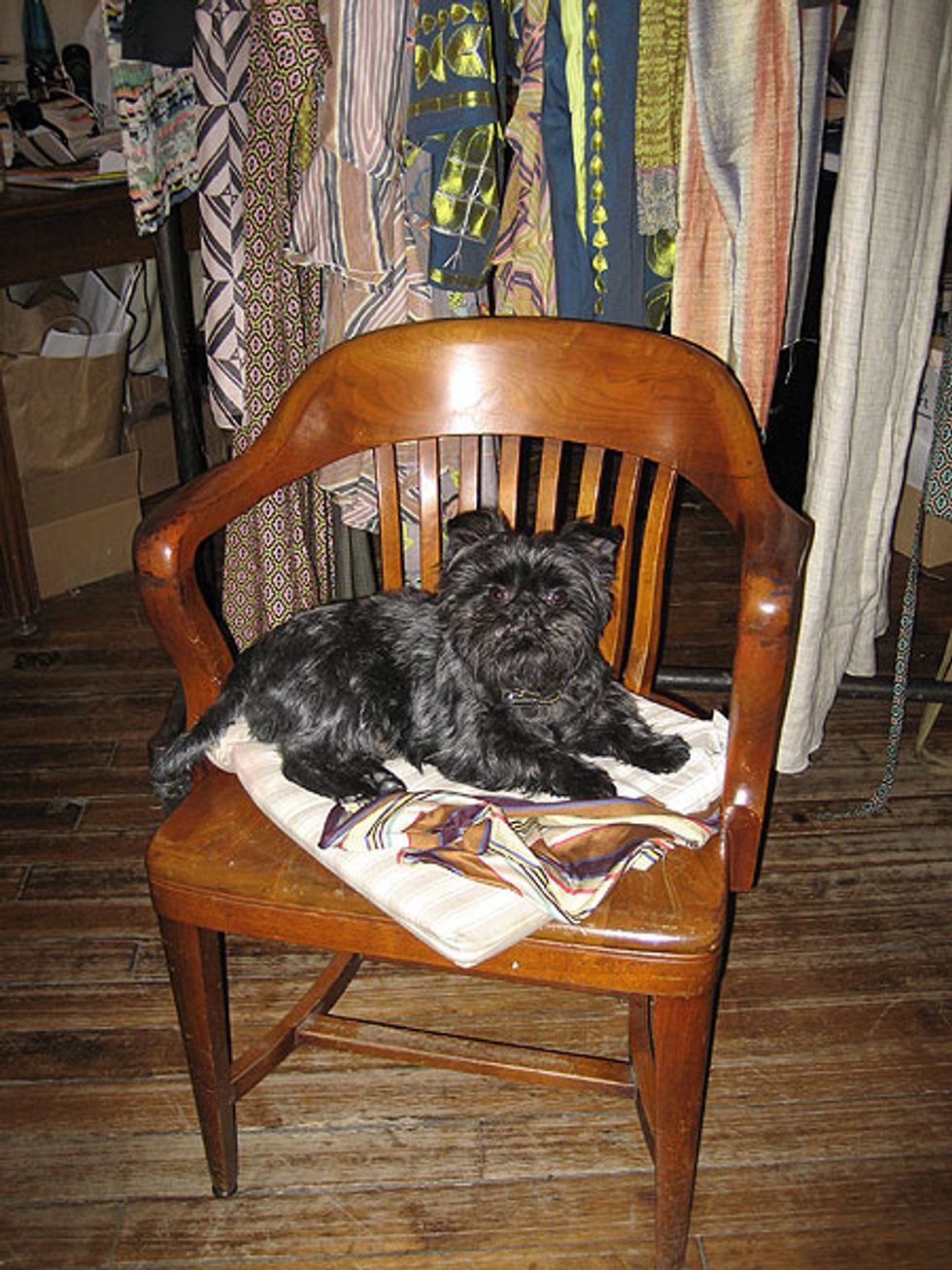 Francis, James's dog, likes to bark at the models.