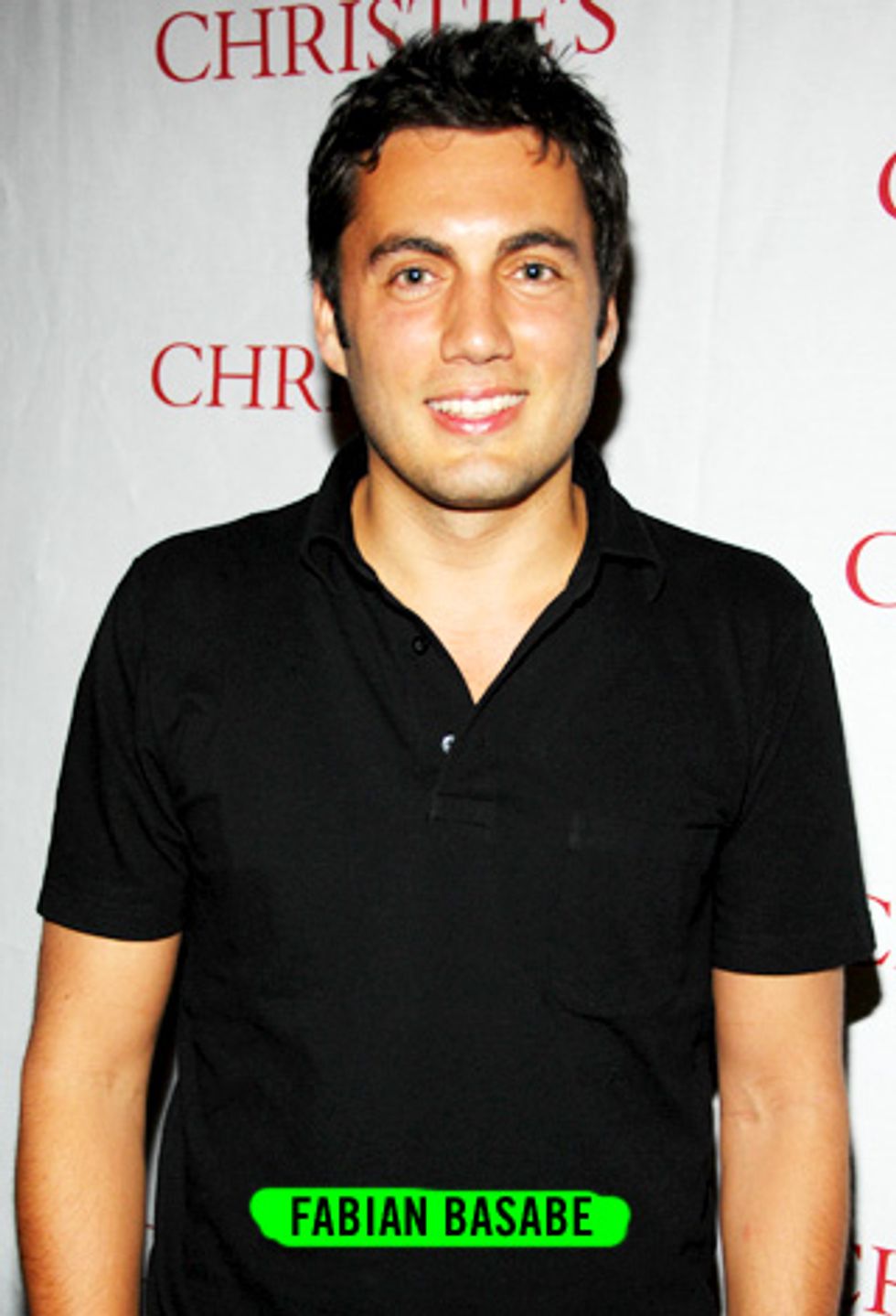 Welcome to Fashion Week, boys and girls. We hope you had a restful Labor Day weekend, cause it's going to get crazy up in this piece. To capture the madness, insanity and general mayhem that goes down from now through Sept. 12, we here at PAPERMAG are trying something different this season: We've enlisted a trio of Fashion Week pros (whom you may have heard of) to blog for us throughout the week; to give you an inside look at the ins, outs, sashays and shantes of Fashion Week, the juiciness that really goes on under those tents.
Allow us to introduce you to our first guest blogger, the one-and-only Fabian Basabe. You may know him as an emerging television personality (Filthy Rich: Cattle Drive, anyone? ) or recognize him from the pages of glossy magazines, where he both writes and is written about. So, without further ado, Fabian?
So, summer is finally over and I only spent three weeks of it in New York. And as much as I enjoyed my time elsewhere and abroad, I have to say that I'm glad to finally be home.

As my dear friend, Bobby Zarem put it, "I Love New York." I miss the city when I'm away and never really understood those people who say or feel that they have to get out. I need all 24 hours of it… the noise of construction… the crazy cab drivers honking their horns and yelling inaudible obscenities from out their windows. I need Madison Avenue, and the homeless that have better addresses than most Americans… the familiar faces at any time of day… the crazy, secret parties late at night that you can never remember how to find your way back to… I need to know that if I want mozzarella sticks or a Maine lobster at 4 a.m., I can have it in hand in 10 minutes or less. I need a city that can deliver… the simplicity, complexity, the lust and seduction, the arrogance and insecurity, and all the rest of it…

So, Fashion Week begins today -- that seven-day stretch beneath the tents in Bryant Park, where designers flaunt their latest fashions, models run naked behind the stage, and champagne and celebrities are equally abundant. Seasoned fashionistas are gearing up. Many household names return to claim their coveted front-row seats, while the newbies decide who they'll latch onto this fall for a few freebies and a photo-op. And some others, my God, have no business being here.

The parties… the pictures… I assure you, what happens during Fashion Week does not stay at Fashion Week. From behind their dark glasses -- everyone is watching. And if they aren't, well, that's where I come in.

By no means am I actually involved in the fashion industry. I am a guest… a personality… a friend of fashion, if you will. I have many relationships with genius talents and pretty faces, and will introduce them to you one by one throughout the week.

I will be interviewing friends, posting pictures and capturing the moments that represent the best of New York Fashion Week as I see it -- An outside perspective, with insider access.

So stay tuned, let me know what you are up to. And for God's sake – don't wear something stupid.