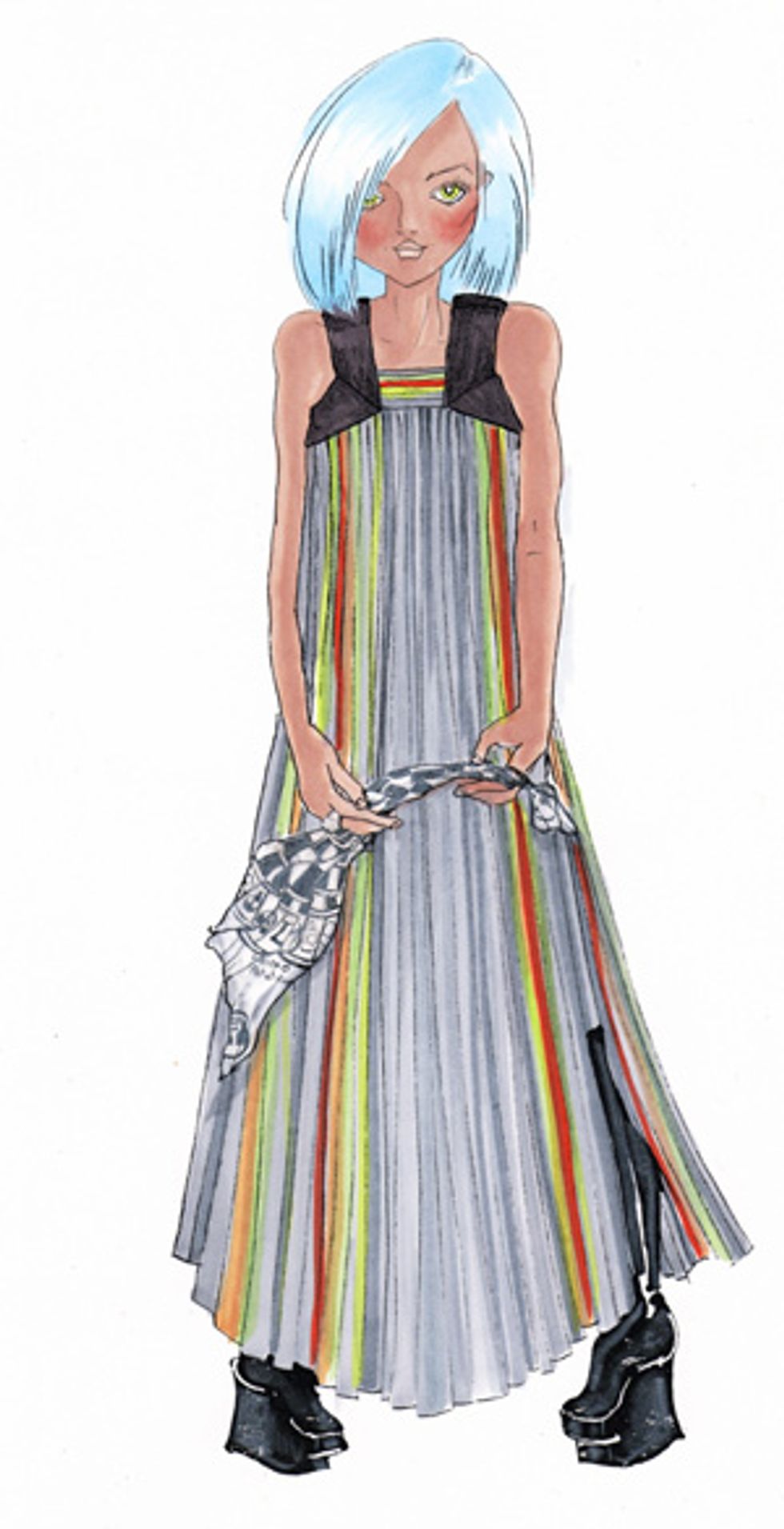 I'm Amy Davis and I have been drawing since I was 3. At 12, I became a total nihilist after I won the Newsday art contest with my winged unicorn. I have shown at a buncha galleries and rad venues like Colette in Paris, Deitch Projects in NYC and The Mayor Gallery in London. I have designed four artist edition bags for LeSportsac and worked for Hard Candy, Urban Decay and Nine West. My new column Couture Voyeur is a tweaked version of my past PAPER column, Style Fiends, but instead of various hipsters styled out in très très delish avant fashion, it's just ONE hipster in a couple of different and yummy looks. I am ready to rock the funky beats fashion-wise with my blog, and create a whole slew of cool ass characters that you'll love, love to hate or just hate.
Meet Peyton...
"Hey, Peyton here, and I just went to the most amazing show... c.neeon. I fell compleatly (pun intended) in love with this dress... Oh so stoic and Euro. Like me... Not! OK, after treating myself to the frock, I went out and did what every good shop-a-holic would do and bought these retro '90s leather boots by Loius Vuitton, a yellow and white diamond pave ring by Bottega Veneta and a silk skull scarf by Lucien Pellat-Finet (I have waaaay too many by Mr. McQueen). Europa is a blast but I'm jetlagged and miss the good ol' U.S. of A. Next stop L.A. and then the New York lightz! I'm getting sick of imbus brats.
As for my makeup, I'm wearing Nars blush in Orgasm with M.A.C. lip conditioner in SPF 15; some Chanel facettes d'Or in Gold Fiction on my talons; delish body cream in Embrace by Korner Skincare; a splash of Creed perfume in Love In White; and my locks tinted with Punky Colour Semi Permanent Colour cream in Lagoon Blue by Jerome Russel; and voila... I'ma workin' the natural beauty thang."