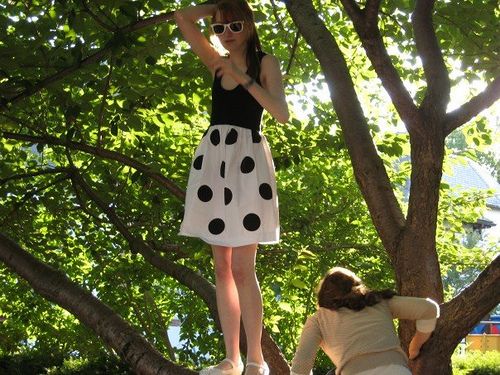 I met the cutest new fashion-loving friend on Facebook this year. Her name is Julia Frakes and here she is! At just 18 years old living at home in Scranton, PA, she is so cute, so obsessed, so knowledgable and so enthusiastic about fashion that I couldn't resist inviting her to contribute to my blog for the next few months. (Something I have never done before). I thought it would be fun to have her super fun and young perspective (a good contrast to my old hag fashion perspective) and obsessed fashion energy on Fashion Schmashion. I decided to do a little "get to know you" first, so I asked her a few questions.
Kim Hastreiter: I met you on Facebook... and we have now invited you to do the PAPER facebook page. Have you met a lot of fun people on Facebook?
Julia Frakes:I have indeed! It's been quite the unexpected flossy flossy socialista whirlwind!
KH: Like who?
JF:To name a few very very cool cats... Luella, Byrdie, Filippa Berg, Mischa, Devendra, Katrina Bowden, Valerie Boster, Taryn Davidson, Agyness, Tanya D., Erin Fetherston, Bette Franke, Coco Rocha, Zani, Marc, Karlie Kloss, Irina Lazareanu, Heather Marks, Pat McGrath, Simona McIntyre, Catherie McNeil, Diana Moldovan, Laura Mulleavy, Harley Viera-Newton, Stavros Niarchos, Masha Novoselova, Snejana Onopka, Moises de la Renta, Emma Pei, Hilary Rhoda, Cameron Russell, Scott Schuman, Olga Sherer, Stam, Sue Stemp, Johanna Strickland, Skye Stracke, Jenny Sweeney, Siri Tollerød, Paola Viloria, Natalia Vodianova, Erin Wasson... I've even been exceedingly fortunate to have met quite a few of them tête-à -tête. Over the past few years I created a number of groups on facebook (Alber Elbaz is the Razz-à -ma-Tazz, Erin Fetherston for the CFDA/Vogue Fashion Fund Award, Grace Coddington is One Chic Cat, J'adore Olivier Theyskens, what a corker KAREN WALKER) and then suddenly I was bombarded with friend requests! I am always vigilant I and only "friend" people whom I know personally, really admire/respect, or have umpteen mutual friends in common.
KH: Wow!!! How and when and why did you first fall in love with fashion?
JF: Before "the TiVo Age" I would tape (on VHS) Style with Elsa Klensch on CNN every weekend. I was six at the time. The apple doesn't fall far from the tree -- my mom is quite the fashion maven! My family ran an apparel manufacturing corporation which provided me a tremendously tactile relationship with the entire labor-intensive process of how a garment is fabricated -- from the patterns to the embroidery. I used to build myself a little nook in my mom's office at the factory under this giant Amish quilt that I found stowed away with an antique Singer miniature sewing machine (c. 1903) that I put to use creating doll clothing from surplus linens. I would collect issues of Vogue Paris and W and try to replicate the sartorial panache featured in the sweeping editorials of the '90s. The doll clothes ended up looking more akin to remnants of some sort of dangerous fabric explosion... I love the entire process of fashion: from an inspiration board to the transformative traits of the final garment. I love that it's not exclusive -- there's no "right" or "wrong" -- and it can completely alter your disposition and demeanor. As an art history and anthropology aficionado I also have a first-rate zest for the backstory, evolution and cultural ramifications of a given season and its individual collections. Fashion is truly the ultimate joie de vivre.
KH: On your Facebook page you have lots of illustrations of bunnies. Tell me about your bunny obsession.
JF: Growing up I was perpetually fascinated by Beatrix Potter and her enchanting stories of the English Lake District. In the words of my primary school dean, "Julia has a rich interior world." I'm pretty sure he was just attempting to be tactful during a parent-teacher conference (when in fact he probably was trying to assert that I was in reality a first-rate day dreamer) mais ça ne fait rien! I definitely gravitated to Beatrix's imaginary little world, inhabited by charming creatures costumed in the most delightful outfits. While Peter Rabbit's garb is no doubt prepossessing, Benjamin Bunny's beret is where it's at! Furthermore, as a vegan, I have a soft spot for all fellow herbivores. I mean who could possibly not love a bunny? They just hop their furry tails about and generally look adorable 24/7.