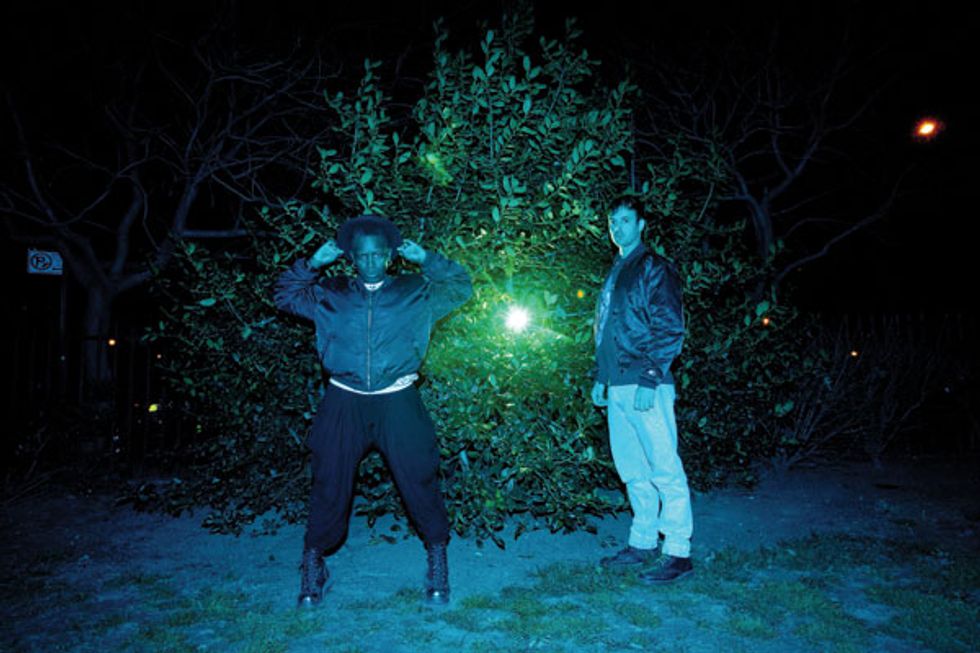 In 2007, singer Shannon Funchess and synth-player Bruno Coviello formed Light Asylum, an aggressive dark wave project that mixes its pop-wise futuristic neons with gothic pure blacks. After last year's taut
In Tension
EP, the pair have returned with a self-titled full-length release, inspired by "the political climate of today, and the relative closeness of the apocalypse," Funchess explains.
Back in New York, Funchess and Coviello are fresh off a quick jaunt through Europe, road-testing some of their new material. "The kids in London were really wild, and the kids in Paris were really fun and really energetic as well. And the kids in Berlin -- it feels like a baby Brooklyn -- it's really comfortable there," Funchess says.
But comfort seems relative when talking about Light Asylum's music. Dystopian and intense, a good deal of the debut's inspiration came from sci-fi film soundtracks, with an emphasis on directors and musicians that were early champions of spooked-out synths. "Like John Carpenter," Funchess mentions. "And Wendy Carlos," adds Coviello. "She did the soundtrack for
A Clockwork Orange
."
Funchess' religious upbringing also played a part in the record's genesis. "I was raised in a Southern Baptist church until I was about 13. And I rebelled, as teenagers do, and left that whole scene. But it's still imprinted there. Lyrically, the record was a way of working out the contradictions and the dogma related to my upbringing. It kind of permeates my creative expression."
Tracks like "Pope Will Roll" seem self-explanatory, but true to their shadowy aesthetic, it's never quite clear as to exactly what machine the pair is raging against. "Well, I guess the machine," Funchess says, with a little levity in her voice. "But now that we're on a label and stuff, it's kind of like working on the inside."
★ Light Asylum
is out now on Mexican Summer.
★