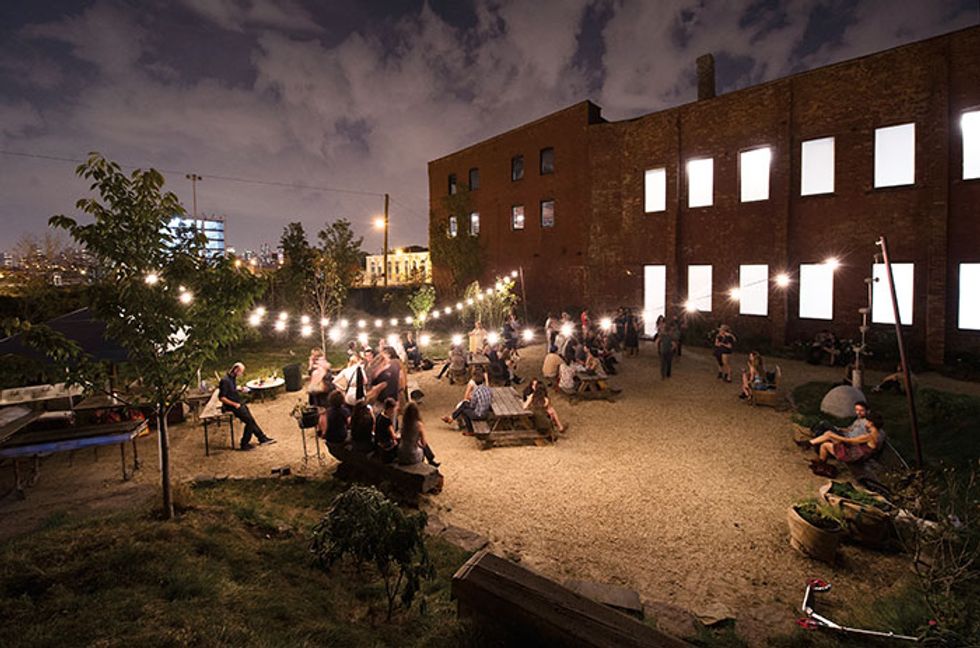 Pioneer Works
It's hard to say just what Pioneer Works is. It's an exhibition space. It's an educational center. But it's also an observatory, an incubator, a screening room -- and a science lab. It also acts as a pop-up party venue for galas, art openings and concert series. Everyone from celebrities and artists to broke young cool kids have visited the warehouse in the remote waterfront community of Red Hook, Brooklyn. So maybe it's best to let its founder and director, artist Dustin Yellin, explain. "It's like a big Beuysian social sculpture! There's so much going on, you can't keep track of it. It's a village."
Yellin got to work on the space in 2011, and it officially opened in June, 2012. Previously a storage facility for the Time Moving Company, the space now acts as a playground for some of today's greatest minds, as well as the growing Red Hook community that it surrounds. "It's kind of always open because there are so many people here. It's all about exposing process, so people can come in here and not just see an exhibition of objects. They can see how a metal shop works, how a wood shop works, how a chemistry lab works. They can walk into the inner workings of process and discovery." The space was originally going to be called
The Intercourse
, matching the name of the arts and culture magazine Dustin edits with resident artist Joey Frank, but Yellin decided to instead embrace the history of the building; Pioneer Iron Works was the original tenant in 1886.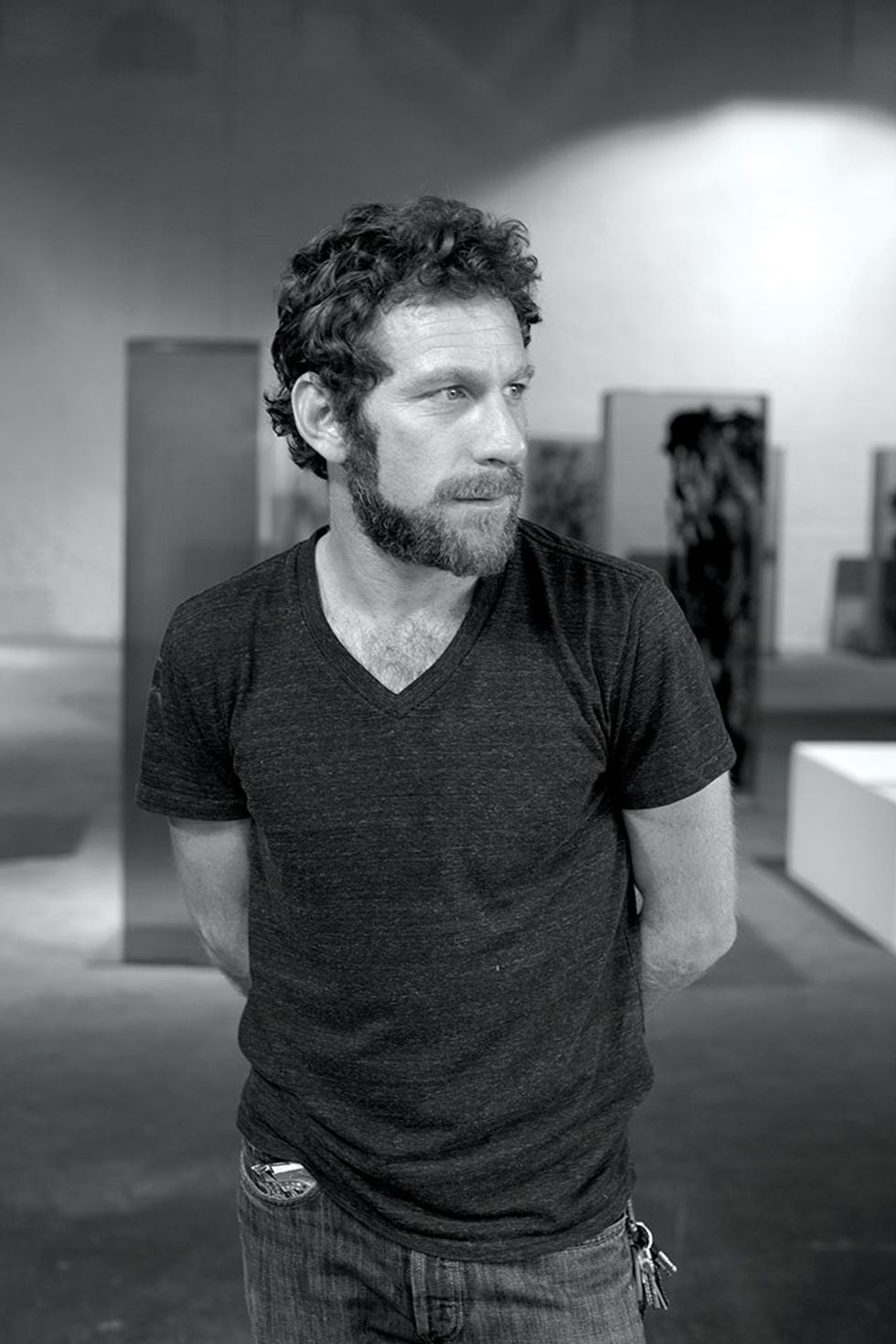 Dustin Yellin
With three massive floors, the space seems never-ending. The artist residencies are packed with supplies, knickknacks (an Alfred Hitchcock wax head?), multimedia, artwork, furniture and so on. It has the feel of a wonderful children's novel; all doors appear unlocked, begging for a peek inside. Past exhibitions include works by Ernesto Caivano, Adam Green and Frank who built "a series of trains on like 250-feet of train track that went through these sort of pyramid-shaped 3D paintings. There were cameras on them and they made movies as they were going through the pyramids and flatted space," explains Yellin. "It was incredible. It was born and made here."
Though Yellin claims his idea of a good time is staying home at night with a book, he recognizes the importance of play in the building. "It's about experience. Play as experience," he says. "When you walk through these doors it sort of tears open the brain in a way, and breaks open any boundaries and predetermined conceptions of what a place can be. That's the play for me. It doesn't feel like you're in New York City anymore. It transports you into another world."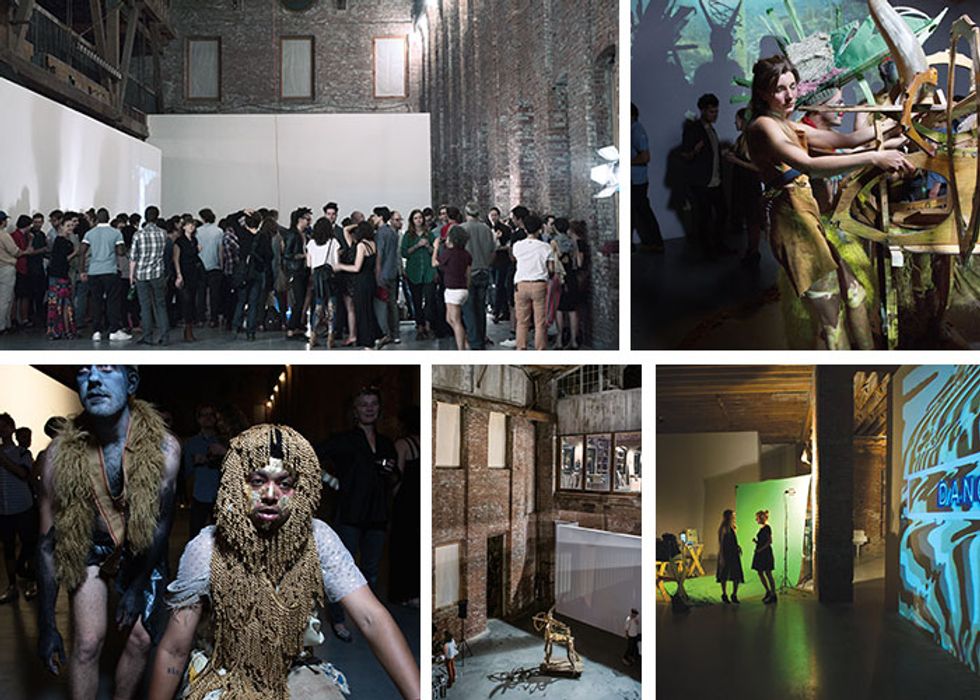 Scenes from "Nightlight," Recess' fall benefit for emerging artists at Pioneer Works.
As Yellin says this, we're surrounded by a flurry of people getting to work on the Mexican Summer music festival for the approaching weekend, and nearby, there's a physicist at work. "It's a symphony. In 27 months this went from nothing to this crazy organism with a life of its own."