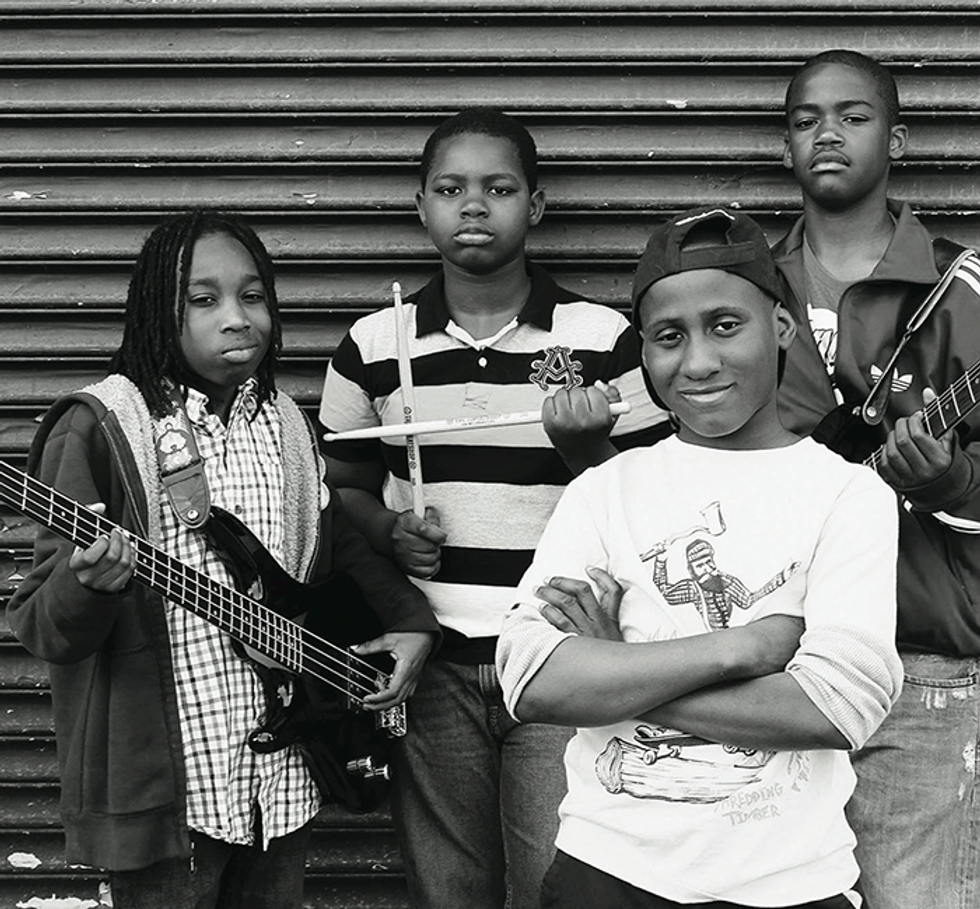 The Harlem Flames, one of the bands formed in Band Seed. (Photo courtesy of Band Seed)
On Park Ave. and 102nd St. in Harlem, there's an unmarked storefront obscured by rusty steel shutters. From the outside, it looks like just another casualty of rising rent. But inside, it's a place where young kids from Harlem and the Bronx develop the chops, and the DIY ethics, to start their own bands. The space is home to Band Seed, a nonprofit launched in 2014 that teaches kids collaboration and confidence, garage-band style.
"This is the closest thing you're gonna get to a garage in New York City," 27-year-old Band Seed founder Andrew Ockenden says, gesturing around the room. Along with his close college friend, Mike Monteiro, Ockenden started Band Seed a year and a half ago as a way to give kids in his adopted community the same opportunities he had growing up in the suburbs of Philadelphia -- practicing in a garage for hours on end, handing out CDs to friends, running his band like it was a job.
"I want everyone to experience that, but the fact of the matter is it's not possible," he said. "You live in New York City, you live in an underserved community. There's no garage for you to have a garage band in."
Since its inception, Band Seed has clung fiercely to a DIY ethic. Students come to Ockenden not because some authority figure made them, but because they want to be in a band. Offering free facilities and instruction, it champions a rigorous, feel-focused style of teaching and instills a militant self-starter mentality in students.  Ockenden teaches students basic chord structures and rhythm, and then they figure out for themselves what sounds good. "We're not teaching them how to read music, we're not teaching kids theory," he said. "It's not numbers and dots."
Ockenden says his non-technical style of teaching appeals to young kids tired of being taught in a dry and academic way. "For my entire life I loved music," he said. "And yet I didn't enjoy a lot of music classes in school." Instead of Bach and Beethoven, Band Seed students learn to play songs by artists they're actually interested in: Taylor Swift, ASAP Ferg, Meek Mill. They also write their own music.
On a windy spring day, three middle schoolers from Harlem and the Bronx -- Branden, Javel and Jameek -- stood inside the Band Seed space talking about a song they had just written. It was a bass-heavy funk instrumental, and Branden was worried some of the measures didn't sound right together. Ockenden assured them if they played on time, the song would work. Javel clicked his drumsticks together and they began again. Ockenden paced around the room, tapping the drum kit, nodding his head, pumping the air in time to the music.
After practice, Branden, Javel, and Jameek brag about being the only band in their entire school. "I'm not gonna lie, it helps with the ladies," Branden, who recently got a new girlfriend, said. They make plans for next week's session -- write some new beats, work out the kinks in today's song -- and promise to practice more when they get home.
Just like Branden, Javel and Jameek's band, Band Seed is still in its growth and development stages but Ockenden hopes to expand the organization in the next few years, moving to other boroughs and eventually other states. His final utopian vision is this: a Band Seed venue where kids of all ages can hang out and play music, whenever they want.
Ockenden insists there's no other organization doing what Band Seed is doing -- other nonprofits focus on traditional forms of music education, he says -- but there are groups just a few neighborhoods away with like-minded goals. Nonprofits like Willie Mae's Rock Camp for Girls and Little Kids Rock instills confidence in young girls and underserved communities through music.
"There's something really powerful about a group of women and girls just making noise," Karla Schickele, one of Willie Mae's founders, said. "You're never told, 'You're really good for a girl.'"
You may recognize the name Willie Mae because it's where heavy-lidded pop musician Mac DeMarco donated the $21,100 he earned from selling his pair of scuffed up red Vans on eBay earlier this year.
DeMarco was drawn to the organization because of its commitment to teaching young girls how to play music. "I think it's an interesting thing to set kids up with at an early age," DeMarco said. "It opens doors. Unless you're really awful." But that doesn't mean DeMarco is going to start teaching anytime soon. "I could probably teach kids a little bit of guitar," he said, "but I might set them on the wrong path."
Despite different methods, what organizations like Band Seed and Willie Mae do share in common is a commitment to foster the kind of collaboration, community and commitment that exists among bands in the DIY scene.
"It's not just about the music," Ockenden says. "It's about the camaraderie between the members of the band. And it's about having your own project that your parents didn't make you do."
You May Also Like