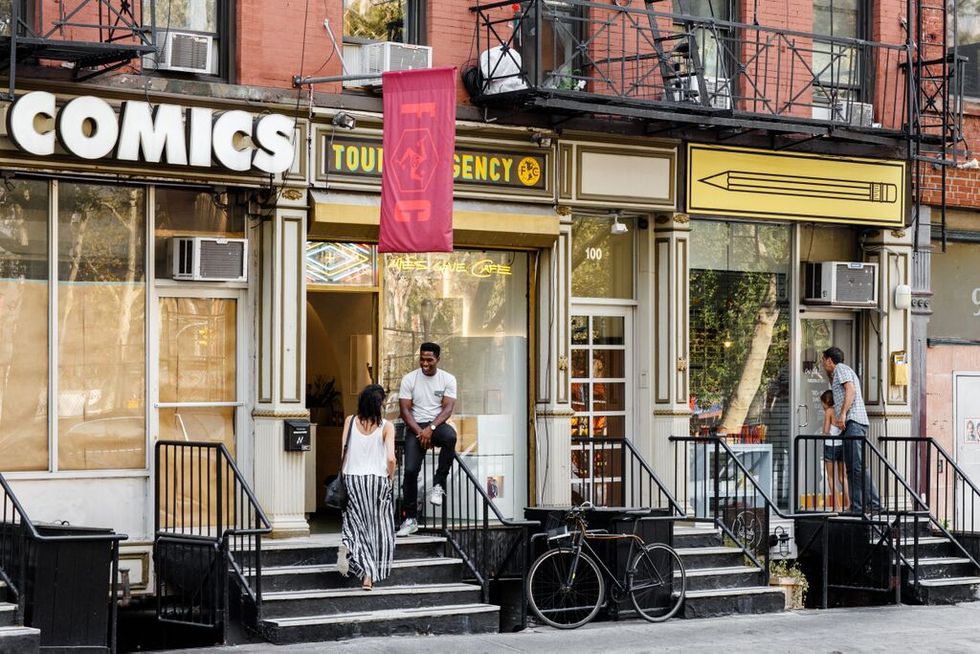 Outside Football Cafe
The two letters FC can mean a lot of things. In the coffee world it means "full city," a term used to describe the level of a beans' roast, usually a sweeter, more full-bodied one at that. In the world of football -- sorry,
soccer
-- the letters FC bookend team names to signify that they are a "Football Club." In Chinatown, specifically at 100 Forsyth, where the newly-opened coffee shop/boutique Football Cafe resides, the letters mean all of these things and more.
On the outside, Football Cafe looks like a relic from a scrapped Wes Anderson flick. A retro sign reading "Tourist Agency" is perched above the cozy shop. Inside, modern furniture lines the store's all-white interior and a trophy case stocked with Nowhere FC's two consecutive Bowery League trophies sits adjacent to the window. The shop opened last month directly across from Lion's Gate field, where the Bowery League holds its weekly soccer matches. I met the shop's owner Simonez Wolf, who some New Yorkers might know for his part in the now defunct club Madame Wong's (or as the doorman at Beatrice Inn), in a studio adjacent to the cafe. Originally from Paris, Wolf is also team manager of Nowhere FC and, in our conversation, I learned how his newly opened spot is about much more than coffee, serving unique juices, fruit dishes and a drink called "Mes Que Café.
How did Football Cafe get started?
During last year's World Cup we did a pop-up at this location with custom jerseys and we made the theme a sort of '70s tourist agency and people could come and get uniquely designed jerseys and watch specific games. After the World Cup the landlord came to us and asked if we wanted to keep the space, so we came up with this idea of having a sport kitchen to serve the players on the field. We noticed everyone on the field drinking plastic bottles of gatorade and we thought we'd offer a sustainable, healthy option. We're also keeping the original idea intact -- soon we'll have jerseys and patches for sale designed by Diego Moscoso.
Was the location intentional?
All of the owners and the players in the league have lived in this neighborhood for a long time and we've always seen the potential in the area around the field. I like to say that I think Forsyth is going to become the next Crosby Street.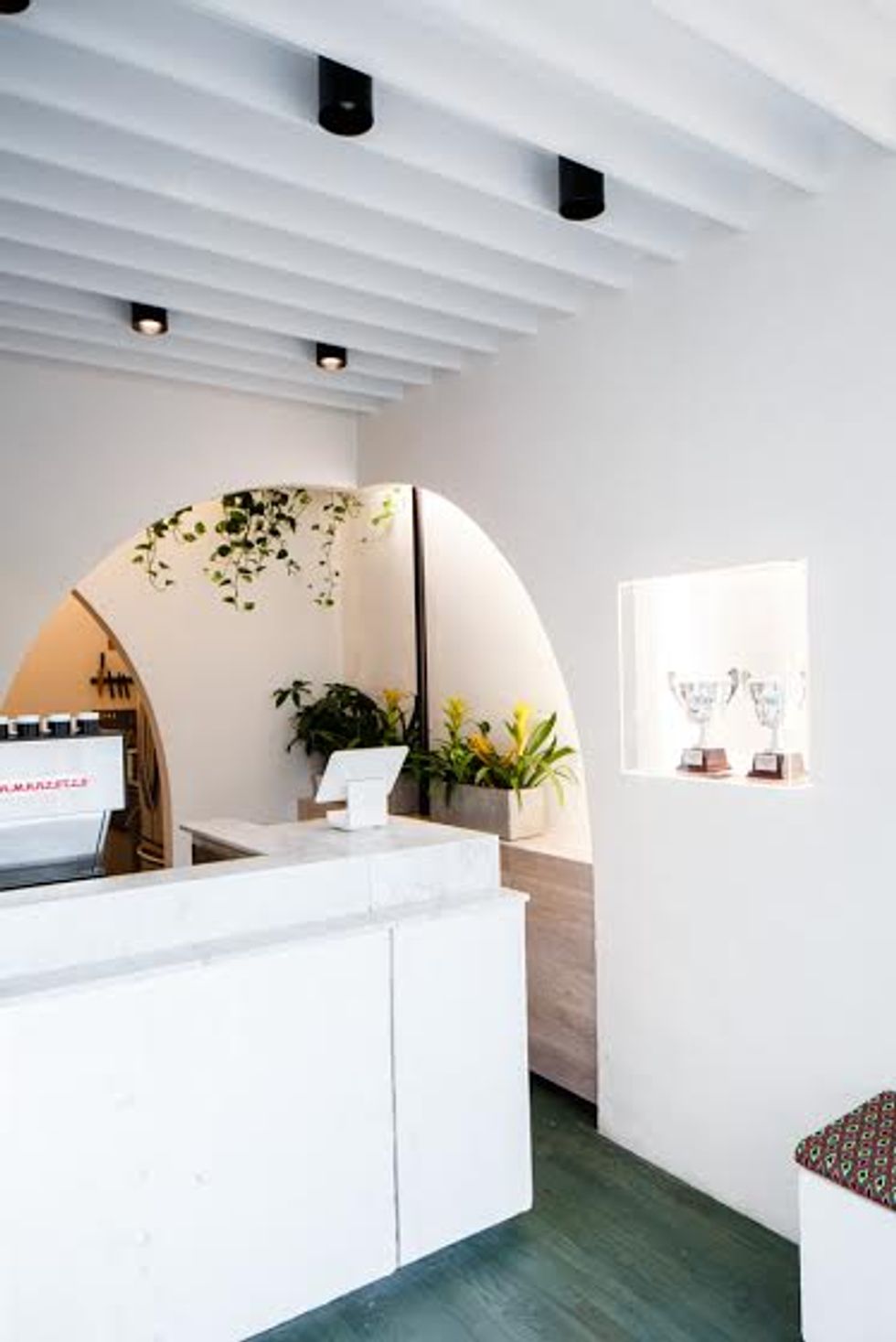 Inside the cafe
What's the story behind the soccer team, Nowhere FC?
About 5 years ago Diego Moscoso, who was a designer at Marc Jacobs at the time, came to me about putting a soccer team in the
Adidas Fanatics tournament
. That didn't really work out but we ended up taking the team over for ourselves. Diego has a design background so we had a great opportunity to do jerseys that would look unique on the field. The name Nowhere comes from the fact that we're all from somewhere but also sort of from nowhere. If you split the word apart it becomes "Now Here," so all of our players who come from everywhere in the world are now here.


Is design a big part of the team?
We try to push the boundaries a little bit compared to a more conventional soccer team. We care what we look like and how we're represented, it's not just a t-shirt with a patch on it. We want to be the opposite and create a movement around the club.
What's your favorite soccer club?
Arsenal!
Do you watch American soccer?
I like it, I think it's funny. Like, the lingo they use is funny -- why call it a head shot, it's a header? I do like watching soccer in local communities more, though. I think it shows more of the communities that exists and brings out a good team spirit between different types of people. It's very American, that way.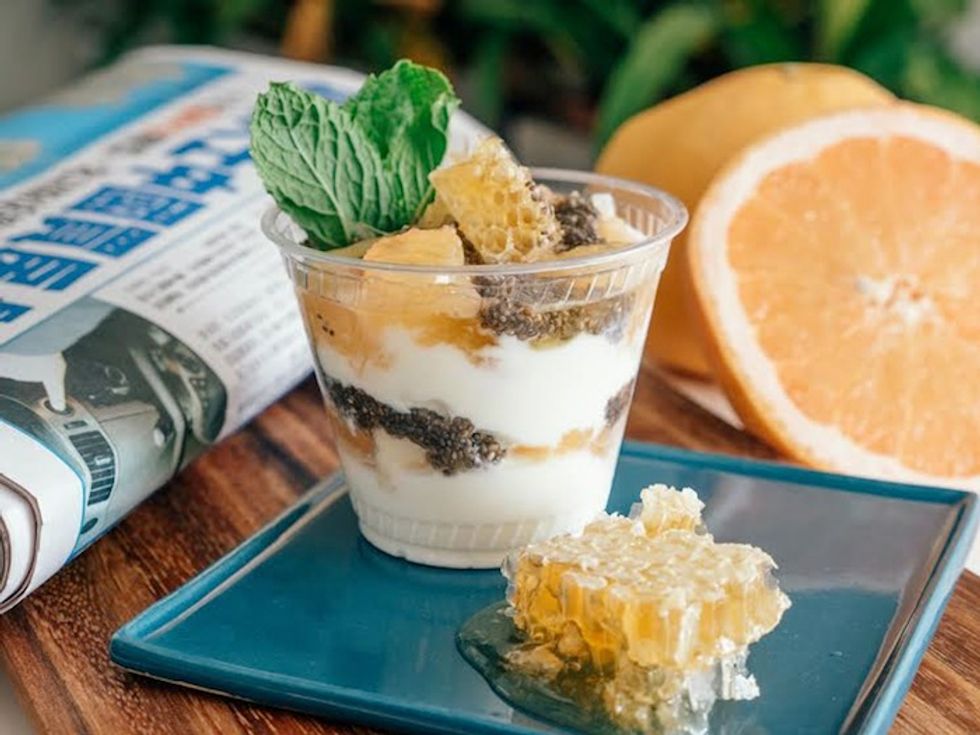 A "Presidente Parfait" with Greek yogurt, soaked chia, grapefruit, organic maple syrup all topped with a cube of raw honey
Tell us about the Més Que Cafe drink -- what is it?
We named this drink "més que" because in Catalan "més que" means "more than" and it's the slogan on Barcelona's jerseys meaning "More than a club." So here it's more than a coffee. We add grass fed butter with coconut oil whipped with the coffee. The idea is that it's natural fat that dissolves in the body for a longer-lasting effect with the caffeine.
Photos courtesy of Nowhere Football Club
You May Also Like