With recent news that Gawker's vertical will shut down operations next week...
https://t.co/yE7pAOS19e to end operations next week: https://t.co/LnvG0ZmD9I
— Gawker (@Gawker) August 18, 2016
...as the obscenely unjust and, frankly, terrifying result of a formerly closeted gay billionaire's relentless and embarrassing vendetta, we now have to face the reality of living in a world without Gawker.
Regardless of your opinion of the site and their morals, for over a decade Gawker has provided some of the most brilliant and influential content in internet history.
Their impact is almost mythical, and you would be hard-pressed to find anyone working in media today--including the people who run this website--who weren't directly inspired by it.
BuzzFeed, with its championing of listicles, video, and GIFs, is constantly honored as the game-changer of online media companies. But Gawker, with its often merciless but intensely human coverage of culture--from turning up insular New York media trash gossip to covering larger, more serious world news--set the format for how so many sites operate now.
Sorry, cats and pizza.
Gawker's voice--chatty, funny, sometimes mean but always wickedly smart--created a guidebook for a kind of modern digital journalism. They didn't take themselves or their subjects that seriously, but also didn't shy away from deep reporting and holding other media outlets accountable.
In honor of their impending closure, we rounded up some of our favorite Gawker writers, posts, and series from over the years.
1. Richard Lawson's TV recaps: The current Vanity Fair film critic is one of Gawker's most legendary former writers; he got his start leaving darkly poetic and chillingly on-point quips in the site's brutal comments section, before being hired as a staff writer. His TV recaps--namely Gossip Girl, Bravo's Real Housewives and the short-lived NYC Prep--were nothing short of masterpieces, and cast a light on the trend of queer fanfiction of public figures. It also set a new bar in internet writing, in general.

In his Housewives takeaways, he crafted gorgeously complex characters from these ridiculous women and their ridiculous husbands and ridiculous children. Some of his best code names: Bouffant, Countess "soiled trash bag with googly eyes and tiara" LuAnn, Failure Manzo, Dolores Umbridgian.
Prime examples (recapping The Real Housewives of Beverly Hills):
Of course eventually Kim had to scramble off the thing, following her sister back to the party. Of course that moment came. But for a minute there, at the zenith of her highest jump, Kim had closed her eyes real, real tight and wished real, real hard and it had felt for a just a second — like a jet across the sky it was so quick, this thought — that she might just keep rising. Just up into the clouds, past the birds and helicopters, past the moon, past the tired old sun, past the stars and the quasars and jumbles of dark matter, past all of it, just up and up and up and up and up until... Until what Kim didn't know. Maybe just up forever. Maybe up would last longer than Kim would last. Maybe she'd just be a body, still hurtling upward, still heading somewhere high above all the heavy stuff the world on the ground is made of.

And then Danielle's daughters will leave. Her daughters will eventually disappear into the wide gray world and there she'll be. Staring off. Wandering the house. Listening to the ugly old creaks of this pile of wood and rock and memory. "Those woman..." she'll say, shaking her head. "Those woman." And then one day, on one of her wanders, she'll see something, out in the yard, far out by the dark, swaying pines.

When I was in college, I got up the courage to email him one time. In the email, I tried to be funny, and informed him that his writing made me want to be a writer.
He didn't respond (thank god).
--Carey O'Donnell
2. Allie Jones's 500 Days of Kristin: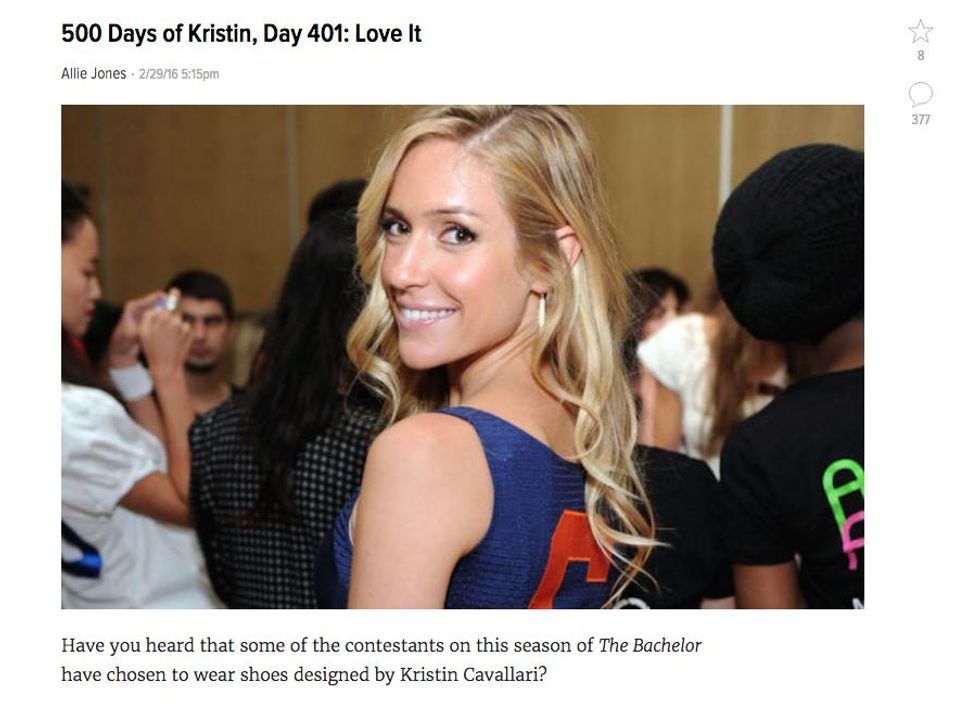 During her time at Gawker, Allie Jones's most hilarious (and most polarizing) project, was her 500 Days of Kristin franchise, where Jones catalogued facts and current quotes/gossip about former Laguna Beach and Hills star, Kristin Cavallari, each day for...500 days.
Examples:
Yes, Kristin Cavallari co-hosted an E! TV show about fashion trends called The Fabulist. It premiered on St. Patrick's Day in 2014, and it was canceled in May, after eight episodes. Kristin didn't even show up for the last two shows, according to TV Guide's records. (She gave birth to her second child, Jaxon Wyatt Cutler, on May 7.)

I learned on January 23, 2015, that Kristin got a book deal. At the time, she described the project to E! News:
It's basically an intimate look at my life. It's going to be a lot of fashion and beauty. Because I'm such a big health nut, it's also going to be health and fitness. And then a lot of recipes because I love to cook and a lot of mommy and wife stuff. So really just everything in my life...

I know so much everything about Kristin, now.
It was painstaking, beautiful, and completely demented.
On Day 500, Allie ended her path to Nirvana with this:
Former Laguna Beach star Kristin Cavallari's debut book "Balancing in Heels" comes out today. Don't buy it.

Cavallari, herself, seemed grateful for the project.
"Xxo, Kristin" pic.twitter.com/hj5xT8ss6W
— Allie Jones (@allierileyjones) March 14, 2016


God bless you, Allie.
(CO)
3. Rich Juzwiak's gay coverage: Even before he came to Gawker, Juzwiak had carved out a name for himself as a true purveyor of gay pop culture, with creations like his legendary Mariah Carey/Liza Minelli on QVC super-cuts.
HIYA, GEORGIA!
At Gawker, his coverage included everything from the absurdity of New York media, like his recent, wonderfully insane report on "wunderkind" filmmaker Sebastian Sommer and former club kid and convicted murderer Michael Alig, to the charming Pot psychology with Tracie Egan Morrissey.
But his most profound work came from documenting his sex and dating life as a gay man in New York.
Who could forget his blowjob in Disney World, his experience of NYC Gay Pride as a single man, finding sunlight at the Black Party, and his wrenchingly honest chronicles of getting past the stigma of sleeping with and dating HIV-positive men.
One of his essays illustrated how Hurricane Sandy temporarily altered the Grindr landscape for gay men during that eerie, lawless week:
The Grindr grid has looked the same as it did before this week, save a new fugee here and there. Some guys have changed their names to "Sandy" and the extreme weather has become socially acceptable, pre-"Into?" small talk.
"Survive?" "Uh, yeah."
And there were screenshots!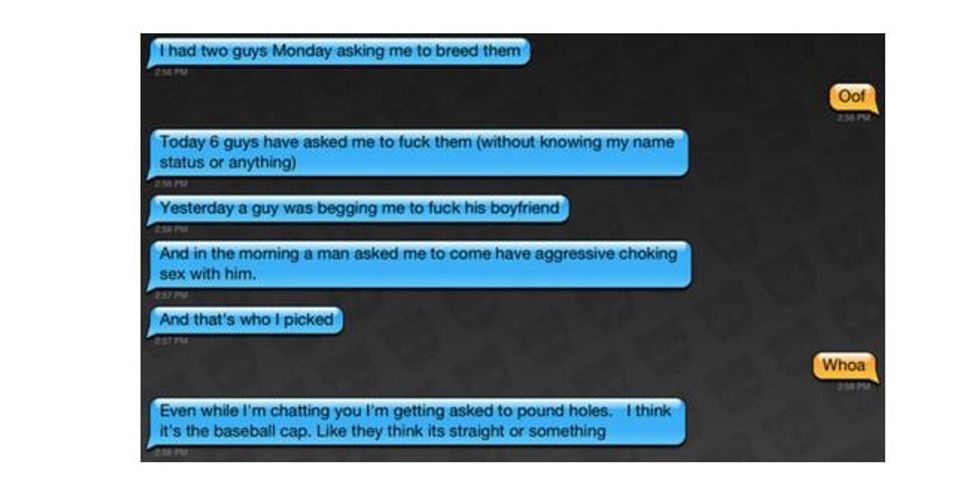 There are few gay journalists today who write with the same level of fearless honesty and lack of self-importance as Rich.
(CO)

4. Julia ALLISON!: Gawker's fascination with the former Time Out dating columnist turned-Star editor at large was unparalleled.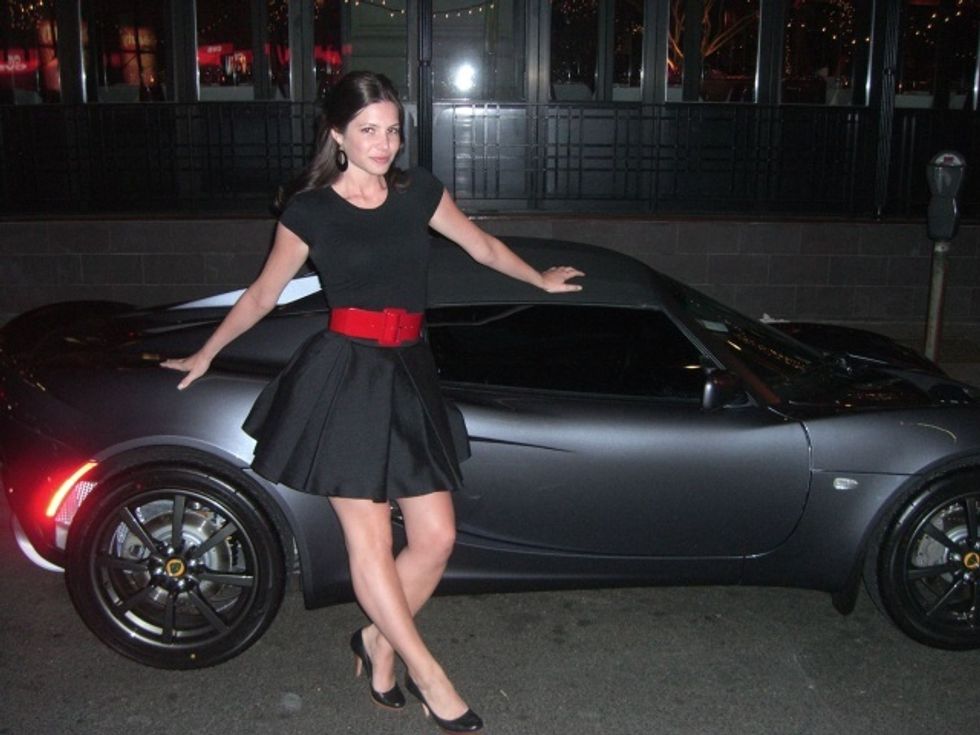 They generously gathered their Top 25 Julia Allison moments here.
Their incessant coverage (notably by writer Emily Gould) of Julia's shameless promotion of her personal life (ie. the rise and fall of her relationship with Vimeo founder Jacob Lodwick, chronicled in their peerlessly nauseating former joint-website, or getting fingered by one of the editors of Men's Health at Balthazar) was occasionally cruel but always unbelievably funny. Julia was the pre-Instagram non-celeb you hate-follow.
(CO)
5. Emily Gould and Jimmy Kimmel: Gould's interview with Jimmy Kimmel, who was subbing in for Larry King on his old CNN show, is fairly historic in retrospect. The former Gawker editor came on to defend the site's brilliant but long-defunct "Gawker Stalker" feature, which allowed users to post the exact location they spotted a celebrity traipsing around New York.
Kimmel, along with a team of Hollywood lawyers, ganged up on Gould, accusing her and Gawker of fueling potentially dire situations, (ie. a celebrity getting "murdered"). Kimmel ends up coming off as patronizing and--looking back, in 2016--super out-of touch, while Gould accurately predicts the rise and immediacy of social media, and "citizen journalism."
The video is downright eerie in how prescient Gould and Gawker were in understanding the power of the internet.
Highlight of the interview: When Kimmel reads a Gawker Stalker post about how "fat" Kevin Costner looks, Gould snickers. Prime Gawker.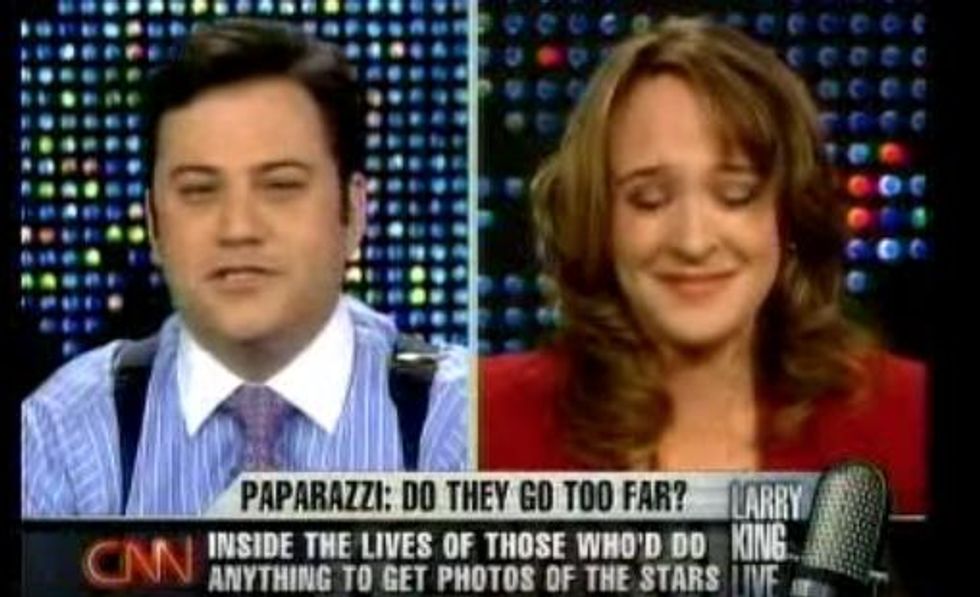 (CO)
6. Hipster Grifter Coverage: Remember Gawker's dedicated coverage to the disarmingly cute yet fascinatingly evil con artist/"folk hero" known as Kari Ferrell aka the Hipster Grifter?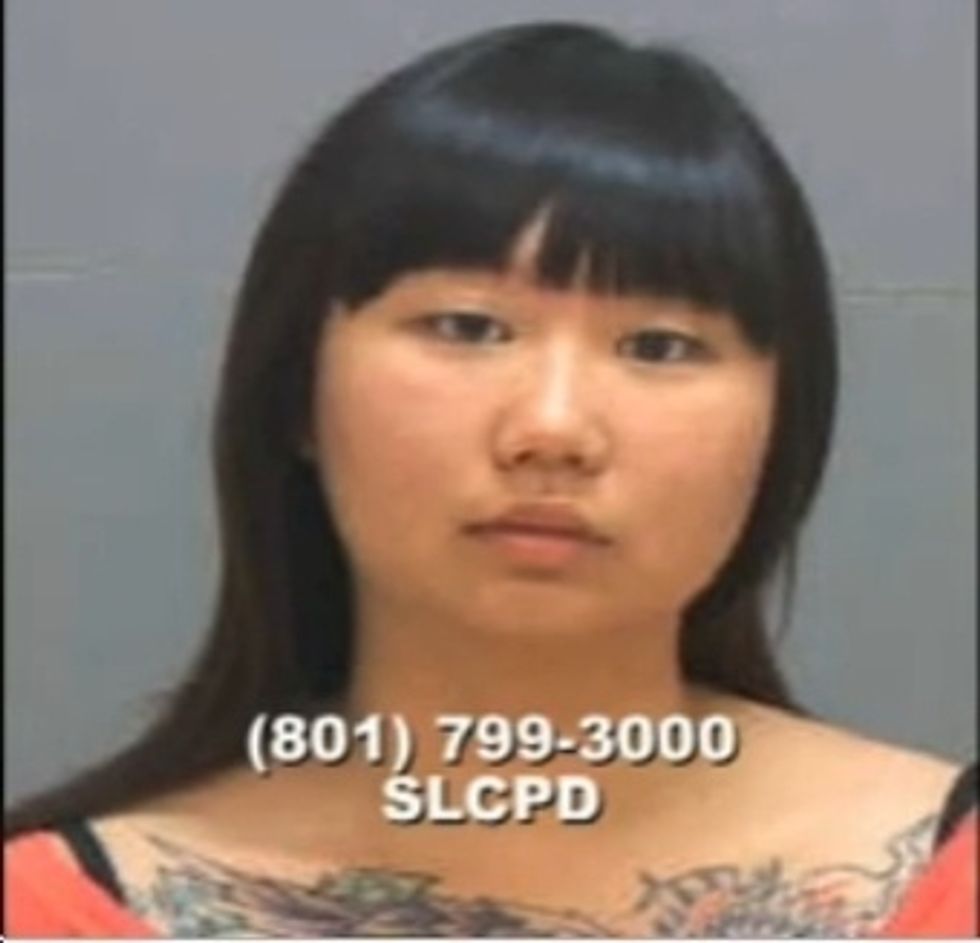 Ferrell was a cunning, tattooed, hot dog-loving sociopath who eventually inspired a Law & Order episode and High Maintenance's infamous Homeless Heidi character.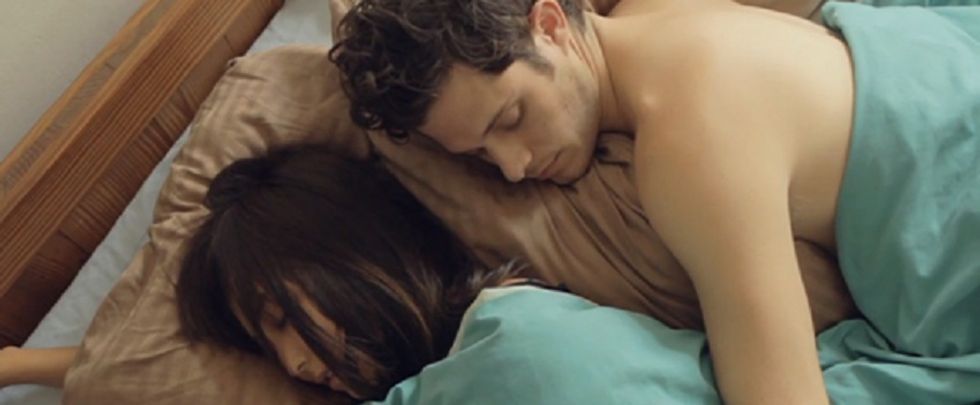 And as much as we love her impact on contemporary television, there's no question that her legacy is best exemplified by the dedicated Gawker tag that kept tabs on all her incarceration antics, cancer scams and beard tattoos. Inspiring brilliant content that ran the gamut from infatuated fanfiction to Q&As the length of Ferrell's infamous pixie cut, Gawker's Hipster Grifter earned their own place in Williamsburg history (which became it's own hilarious parody during the site's tenure).
As a teen in California, these articles almost convinced me that I could one day move to Brooklyn and attempt to con men by virtue of just being a selfish Korean girl who talks about sex a lot. And, hey, guess what!
--Sandra Song

7. Senior Week: Senior Week -- Gawker's celebratory string of blogs dedicated to a random assortment of half-kidding thinkpieces and parody verticals -- is the kind of all-encompassing last hurrah anyone in media would die to do.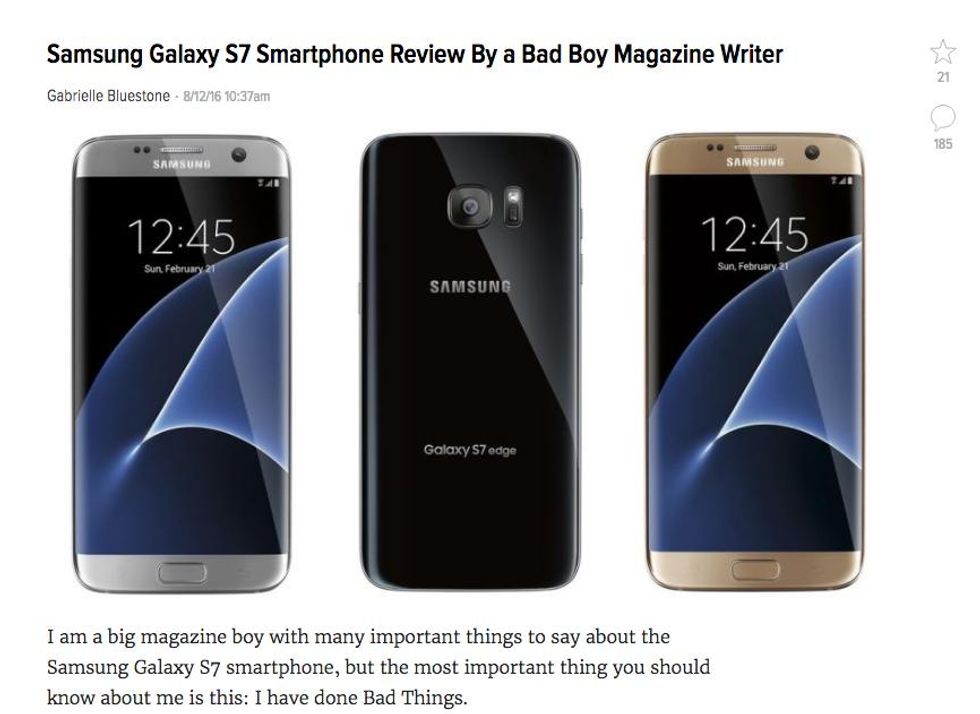 I mean, how often do Internet writers long to just publish whatever-the-fuck-we-want regardless of audience or clicks? And Gawker did it, killed it and created stuff like The Cuck. If that doesn't indicate sheer journalistic genius and a lot of balls, then I dunno what does.
(SS)

8. Caity Weaver: Easily the brightest part of the early '10s Gawker crew, Weaver's posts on our pop culture queens, like Beyonce, Taylor Swift, Kim Kardashian, and Blake Lively, were works of pure demented glory, idolizing and satirizing them all at once. But her greatest gift to the Internet was her selfless dedication to bad-food journalism, culminating in a 14-hour ordeal in a TGI Fridays in Sheepshead Bay to stress test their Endless Appetizers policy.

This piece of endurance performance art is rivaled only by a post that would go on to be a cultural touchstone—and introduce the phrase "cunt punt" into the American lexicon. Weaver was forwarded a letter from the Delta Gamma sorority of UMD in which "an executive board member" blasts her sisters for not socializing enough at a recent mixer. This is no ordinary hilarious rant from a 22-year-old drunk on her meager amounts of power. This is a truly deranged screed whose incredibly savage writer displays virtuosic verbal creativity (did we mention "cunt punt"?). She's the Dorothy Parker of UMD Greek life.

The letter—which, if you haven't read it, is best enjoyed as read by Michael Shannon—is an exercise in garden-variety girl-on-girl viciousness that transcends mean-girl bullying to become a piece of comedic art. We have all learned its essential truth: Don't be a goddamn boner at tonight's event.

--Elizabeth Thompson and Kat Ward
9. Rob Ford: There's no more iconic example of the darkness that lurks in the heart of minor political stars than the tale of Toronto Mayor Rob Ford.
Back in 2013, Gawker broke the story that Ford, while mayor, had been videotaped smoking crack. They sent John Cook (who is currently executive editor) to determine the veracity of the clip and attempt to purchase it. Cook's brilliant chronicle of what, at times, was a downright maddening quest made for an incredibly engaging post. So engaging, and of such public interest, that Gawker was eventually able to crowdfund $200,000 in their "Crackstarter" to purchase the tape. By the time they raised the cash, the video was no longer up for sale, but they did donate the proceeds to several Canadian non-profits.
(KW)
10. Altarcations: Rolling your eyes at the New York Times weddings announcements is a time-honored tradition of any masochistic NYT fan. "Altarcations" was one of the first to thoroughly quantify the process, creating a genius point system that celebrated the Times wedding section's slavish devotion to cataloging the calling-cards of upper class New York (boarding schools, Connecticut, father's prestigious jobs, Episcopal services).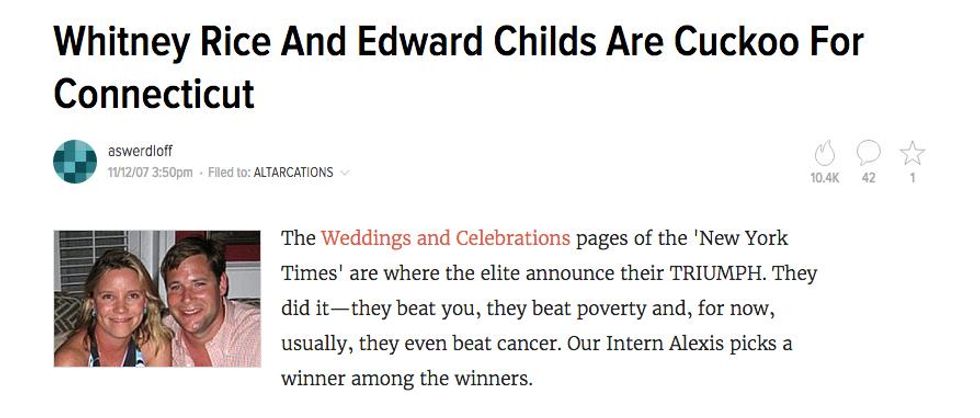 Originally written by Alexis Swerdloff, a former PAPER editor and current queen of New York's Strategist, "Altarcations" was eventually taken over by Katie Baker, who brought an iteration of it to Grantland. It was as perfect as a crisp G&T enjoyed at 3pm on a sailboat docked off Nantucket.
(ET+KW)
Honorable Mention: Blue States Lose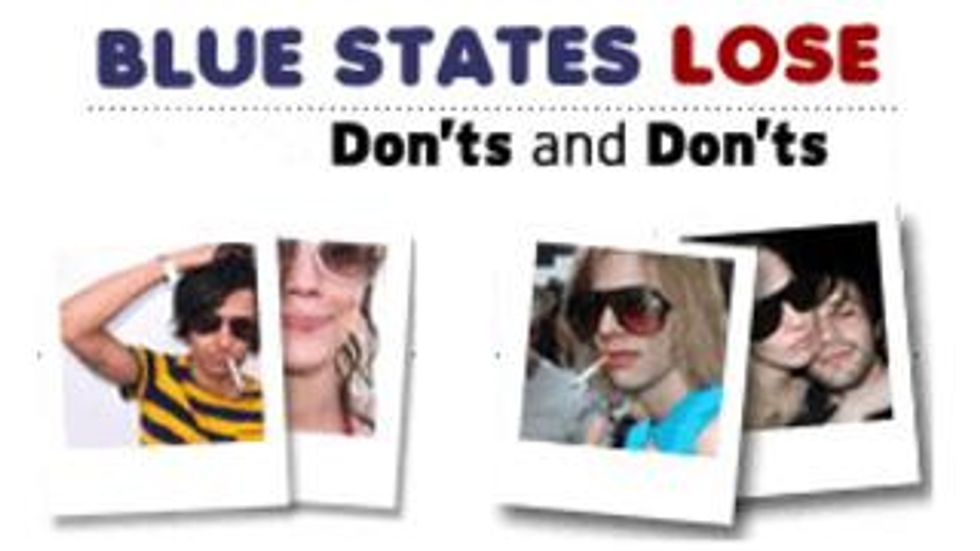 It was 2005 and nightlife photography was at its peak, unaware of the social media storm that would destroy it. This was also the dawn of the Misshapes, the trio of DJs who swooped in to counter the Meatpacking District's toxic effect on nightlife and reclaim the party for Downtown kids (whatever that means/meant).
In an era before Instagram or Snapchat, getting your photo on the Misshapes website was a social coup. A hand-picked group of girls with shattered bangs and pouty guys in circulation-destroying skinny jeans would be pulled out of line each week to pose against Luke and Leroy's exterior brick wall, their images serving as both a look book and a text book—this is how to dress and be to get into one of their parties.
Party photo blogs like Last Night's Party and the Cobrasnake also popped up at this time, featuring kids in NYC and LA out at vodka launches and sweaty LES dance parties. And there to disembowel all these pretty party people was Alex Blagg and Gawker's Blue States Lose column. Blagg's gloriously cutting captions reminded people that this world was "not a thing" outside of the extremely narrow confines of New York and L.A. hipster culture, while simultaneously immortalizing characters like LeotardFantastik (the Misshapes' Geordon Nicol), Kid's Meal (aka Real Estate's Jackson Pollis), One-Half Nelson and Princess Coldstare (the Misshapes' Leigh Lezark). The posts were vicious and hilarious, and the Sparks flowed freely.
(ET)