If there are any solid certainties in this burning trash fire we call life, it's that Donald Trump is a dumb, bad person, you should not vote for him, and Cher is great.
All of these tenets converge to create a glorious pop culture symphony on the new site, "I'm With Cher," created by artist Anna Niess, which immortalizes the Fringed-Leather Empress and outspoken liberal's most fire Trump burns as posters, pins and bumper stickers.
Cher, a 70-year-old gift to social media feeds everywhere, has emerged as a Celebrity Twitter touchstone of sorts in recent years. And, boy, does she really touch the stone when it comes to her scathing caps-lock dispatches about the Republican presidential nominee. Her disdain for Trump --whose name she refuses to use, and, instead, replaces with a toilet emoji --is well-documented and bottomless.

ASS WIPE🚽SAID HE SACRIFICED
4HIS COUNTRY😳WHAT⁉️3MIIN EGG 4MINS⁉️LAUNDRESS PUT 2MUCH STARCH IN HIS SHIRT⁉️MAID DREW BATH 2HOT⁉️LOW LIFE LY'N🔧
— Cher (@cher) July 31, 2016

Niess has taken Cher's immortal emoji-filled bombs and turned them into bright, graphic swag.
Imagine this hanging on your wall: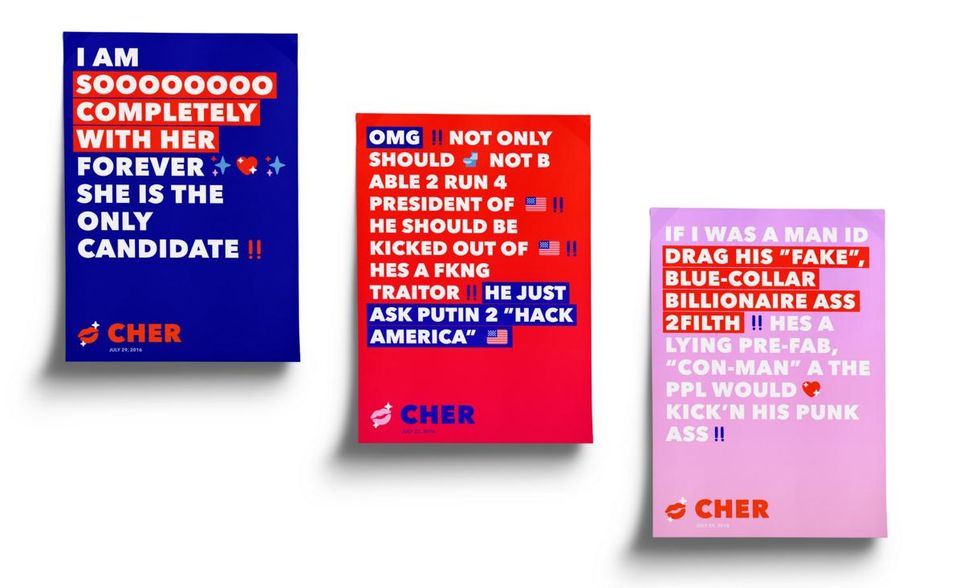 imwithcher.com
Sadly, the incredible signage featured on "I'm With Cher" -- which includes caps-lock gems like " IF I WAS A MAN ID DRAG HIS"FAKE",BLUE-COLLAR BILLIONAIRE ASS 2FILTH!! HES A LYING PRE-FAB, "CON-MAN"A THE PPL!! WOULD💖KICK'N HIS PUNK ASS" -- isn't for sale.
Or, isn't for sale, yet.
Niess notes on the site that if she gets enough requests for the merchandise, she'll actually create this glorious Cher flair with all proceeds going to Everytown for Gun Safety. We've reached out to ask her how many requests she's gotten (and maybe put in some of our own...).
You can also use the site to register to vote.
So go forth and email in those potential orders. Do it for your country. Do it for Hillary. Do it for Twitter's biggest loner and Wu-Tang fan.
Make America Cher again.
Update 8/2: Niess says she's gotten enough requests that she's going to create the merch. She'll make about 150 posters and buttons for the first run and estimates she'll start shipping everything out in the next few weeks.