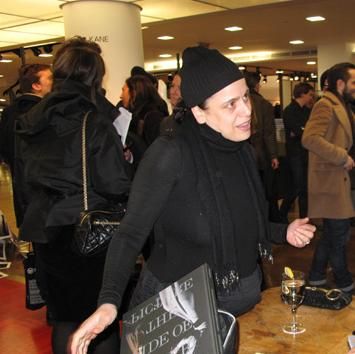 Ikram Goldman
is one of America's most high-profile retailers, who has brought the likes of Alaia, Rodarte, Rick Owens and Givenchy to Chicago and to the back of a certain well known client in Washington, DC whose name rhymes with Trishelle Lobama. We caught up with her at Barneys for a little chit-chat.
So here we are with Ikram Goldman. Ikram, walk me through your look. It's not the usual Ikram look.
Actually, it is. It's about ten years old, Issey Miyake.
Now is that a shirt or is it a dress?
It's a dress; it's a one-piece dress. I'm finally fitting into my old clothes.
I love it, because you're skinny and gorgeous.
[Laughs] Hardly skinny, but gorgeous, yes.
I think you're skinny and gorgeous. And is this a Chrome Hearts scarf?
It's not, it's my favorite new collection that I've been carrying in my store for the past year called Imp of the Perverse.
Imp of the Perverse...
It's the Edgar Allen Poe book.
It's a literary book which is obviously why I don't understand the reference.
That's right. Anyway, It's my favorite new collection. It is rock and roll.
I'll look it up.
Yes, please. And they're all vintage fabrics and they just add their charms and they distress them and all that stuff.
I love your boots.
They're Tao. How much do you love them?
I love them desperately, but you know I'm feeling torn about Japanese designers right now.
Don't be torn. The Japanese are fabulous. You never feel like you're wearing a costume in Japanese [designs] even though they're all costumes. Does that make any sense?
Uh...
What I'm saying is that it never goes out of style. It never feels like you're dated.
It's perpetually in style in a weird way because it has nothing to do with trends.
It has nothing to do with fashion, which is why I love the Japanese. They do heavy winter wool sweaters for the hottest summers. It never makes any sense but it all works for me.
I'm back on board.
I love Japanese.
I don't get them! That's probably why I'm bitter. No, I applaud them. I love them. I was just wondering if they're doing the same thing they've always done, but does it ever get old. But it
doesn't.
Never. I think it never gets old because they're always so fresh. My theory is the minute you start looking at designers and thinking they're too old is when you're too old to be in fashion and you have to get out.
I'm too old...
Not you! But when you hear retailers or editors or someone saying, "Oh, I've seen that, I've been there," you think, "really? Well everything has been seen and done." I'm a little cynical about that today... you know, with Alexander McQueen.
What do you think about it?
I'm very sad. I think it's really sad that he thought that was his way out. I feel really sad that he thought that was the only thing he could do. And then to end it in the way that he ended it. It's so tragic.
Yeah and then it had to be at the peak in his career in a way.
I think every season was a peak in his career. If it happened last year it would have been the peak in his career. If it happened five years from now... you never know with him. He's incredible. I'm very sad.
Do you think they'll end up doing his show?
I think that they'll end up showing the pieces that he worked on. But then again, McQueen worked on his pieces until the hour of the show. He was sewing backstage and working and reworking until the last minute, so regardless of what show they do, it's not going to have his final touches. And if they think they can create his final touches, than no wonder he killed himself. You know what I mean? It just goes that deep.
Yeah.
But I do know I have an appointment with them this week for pre-collection. But I'm telling you Mickey, when I heard the news, the first thing that came to my mind was "there is something really wrong with our world where we can't help people who are that desperate that they need to end their life. The world is so ugly that they don't even want to be a part of it." That's devastating. He needed to be checked in with on a real level...
CLICK HERE FOR PAPERMAG'S COMPLETE DOWN-LOW FASHION WEEK FALL 2010 COVERAGE. >>