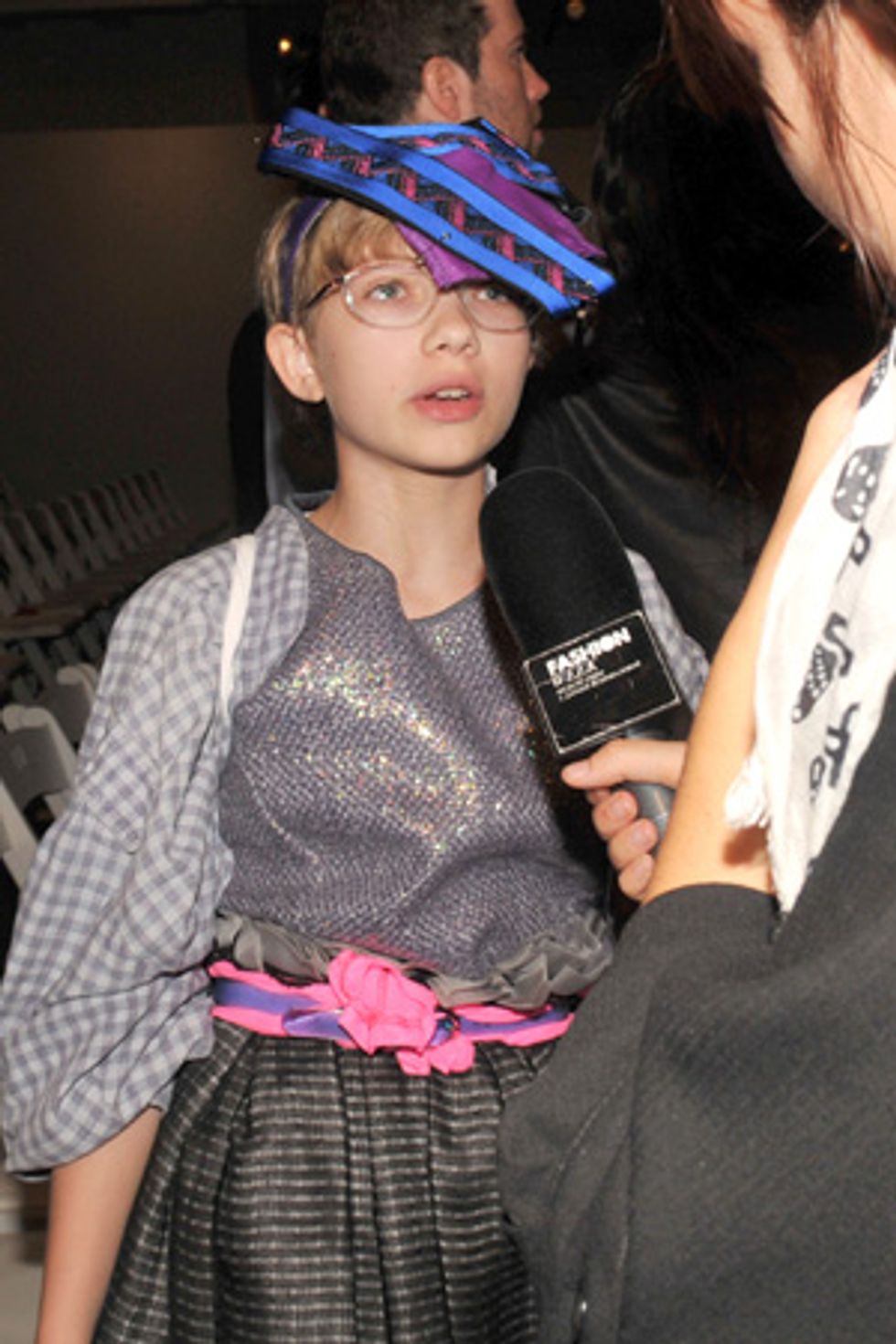 If only I were 10 again. Or 9. Yes 9 would be the perfect age to make a splash in the fashion world these days. This Fashion Week's It-girl wasn't Blake or Leighton from Gossip Girl or Taylor Swift or Beyonce. It wasn't even Lady Gaga, despite her ubiquity this week. The front-row sensation was a 13-year-old blogger named Tavi who describes herself as a "tiny 13-year-old dork that sits inside all day wearing awkward jackets and pretty hats."
Well, she actually has been making a splash for awhile and she even turned down a spot in PAPER's last Beautiful People issue saying she's 12 and wasn't doing any press! Child actors are a constant topic of conversation from Sociology classes to tabloids -- is it cruel to have kids work like adults? Where is the parental supervision? Does early attention and success set these kids up for failure and disappointment in later life? Well what about child fashion stars? Here at PAPER we're no stranger to the phenomenon, as we're the home of Julia Frakes, a preternaturally style-obsessed 19-year-old who first came to the attention of PAPER co-founder and editor David Hershkovits on facebook. Although the tale might seem to have more in common with To Catch a Predator than The Devil Wears Prada, it was Frakes' encyclopedic posts about designers, models and fashion in general that caught Hershkovits' eye without even knowing her age. When she came to visit our office with her mother in tow we were shocked to find a waif-like teen in Lanvin and Stella McCartney. Julia turned heads in NYC and Paris at Fashion Week and seemed to be ahead of the trend on barely teenaged bloggers.
Tavi graces the cover of Pop Magazine, an honor denied to many of the world's most style-conscious starlets and models. Tavi is front-row at Marc Jacobs, as is BryanBoy, another web-sensation from Manila who, while gamine, can drink legally in New York. As is frequently the case, Tavi seems to have brought a wave of ever younger fashion fanatics in her wake. Sitting front row at the runway show of Nanette Lepore, a designer who makes charming yet wearable clothes that girls covet and who has a large retail presence in both the US and UK, I noticed a frenzy of young girls staring and pointing directly across the runway from me to a short but cute young lady who turned out to be reality superstar Lauren Conrad. While many of the girls were obviously high-school graduates squeezed into strapless dresses and teetering on wedge heels, there, plopped in the middle of the madness was a girl who couldn't have been more than 10. She wasn't like the other girls in that while she obviously had put on a special 'goin' to a fashion show' look, she wasn't overly-sexualized. And while the others had an 'OMG I can't believe I'm here!' kind of a look on their faces, this little lady had a determined look on her unmade-up face. She also had a notepad in one hand and a big pen in the other. Not a papermate or a fountain pen, but one of those crazy big giant pens that's about 12 inches long and has little pom-pons dangling from the top. She could barely get her little pre-pubescent fingers around the pen, but she had it poised up against her notepad and was pushing her head between the girls with the strapless dresses trying to get a glimpse of Lauren Conrad. She was on the case and wouldn't come back without her story! Of course I'm not sure who she was covering for but it felt like the granddaughter of Suzy Menkes or Hillary Alexander was making her Fashion Week reporting debut.
Meanwhile at Barneys, armies of young hipsters donned their very best looks for the Sartorialist book-signing. Scott Schuman's blog gives us a place to go for great looks besides Bill Cunningham's column. The kids at Barneys Men's Designer floor ran the gamut from nerdy preppies to gay label whores to regular guys to a muslim girl in brightly colored hejab. I had my trusty sidekick Lynn Yaeger along for the ride and while she's somewhat over ten years of age, Lynn is also a sensation on the fashion scene. A kid clutching his Sartorialist book noticed Lynn was on page 53 and asked her to sign her page. Well chaos ensued with kids gathering round clamoring for autographs, praising Lynn's unique style and telling her how the piece she wrote for Vogue about getting fired from the Village Voice was the best thing they'd ever read.
The point of all this? You're never too young to become the hot new thing and it's never too late to become an overnight sensation.

Photograph by PatrickMcMullan.com