If there's one thing we can leave this year confident of, it's our complete rejection of insecurity in pop music.
Which is long overdue. Fun as it is to lament over exes while staring gloomily at one's interactionless Twitter, music in 2015 has proven that the alternative sounds much better. I mean, sure, the biggest songs were about romance, hook-ups, and Drake being sad his ex-girlfriend had new friends after he moved away (come on, Aubrey), but each carried their own brand of "go fuck yourself" sentiment and injected us all with a little more confidence.
Ultimately, 2015 was the year music flipped its hair, embodied the painted nails Emoji, and couldn't hear haters above its Sick Beat™ (even though, for the record, Taylor Swift has not been included in this playlist) (and yes, we had to include the trademark for legal purposes). And here are 10 of our favourites to play whenever 2016 has you like, "yeah, no"
TTYL BB.
1. "Perfect," One Direction

In which a boy band finally tells us all what we've been waiting for: they're here for a good time, not a long time, but despite all of that, they will fly you to places you cannot pronounce (so to "Smaug" from The Hobbit, I guess), and you will likely have plenty of sex with them in the meantime. Are you guys in? (Of course you are.) So with that in mind, here's to the end of faux romantic sentiment -- which is typically reserved for boy bands and top 40 artists -- and here's to the arrival of replacement, grown-ass forwardness.
That said, applied to real life, these song lyrics would make for one super-weak Tinder profile.
2. "Confident," Demi Lovato
May we raise our Emoji hands in the air and pledge allegiance to lyrics like, "I'm the boss right now / not gonna fake it" and "bitch, I run this show." And indeed she does: by coming into her own as a performer this year, Demi Lovato asserted her final break from all things Disney, especially thanks to the sexually-charged content of "Confident" -- a song that begs the subject to try and answer what's wrong with a woman who knows what she wants. (Answer: nothing, duh.)
3. "Feelin' Myself," Nicki Minaj and Beyonce
Not only did the video uphold the belief that IRL, Nicki and Beyonce are best friends who share burgers (the marker of a true friendship, believe me), it waxed poetic over prioritizing one's own satisfaction as opposed asking a third party for validation. They're proud, they should be, and it's as simple as that. (And may the sentiment stay alive on IG forever, too.)
4. "Hotline Bling," Drake
Admittedly, "Hotline Bling" is far from an empowering theme. But we still owe kudos to Aubrey Graham so for brazenly expressing his feelings, especially since they're completely unwarranted. (Like, guy, are you seriously upset that your ex-girlfriend is going out ? Dial it down, friend.) But Drake's emotive streak is also what makes "Hotline Bling" so DGAF: most artists would likely want to tone down their tendency to mope, but in this moment, Drake's feelings belong to us all.
5. "The Hills," The Weeknd
Think of "The Hills" as the more grown-up version of One Direction's "Perfect." Only this time, dude is so no-strings attached that he's full-on bragging about how many "bitches" he's partaken in consensual intercourse with. (I can only handle two derogatory lyrics per write-up, I'm sorry.) Arguably "The Hills" is the worst sales pitch for a hook-up/relationship/night of backgammon in the history of top 40, but at least we can cite Abel Tesfaye's honesty. I mean, he'll call you at 5:30 like he says -- and that's because you're too busy. (Probably waiting for him to finishing doing whatever he wants, so stop asking questions, already.)
6. "Bitch Better Have My Money," Rihanna
Behold! "Fuck you, pay me" in musical form. It's the freelancer's credo for anyone who's been stiffed on checks, and it's the reboot of "The Landlord" we had no idea we actually needed. So take that, everyone.
7. "Same Old Love," Selena Gomez
The moment at which you can stand up and declare yourself over an ex is a big one, but it's even bigger if who you're singing about is (allegedly) Justin Bieber. For the record, this track is less about Selena's feelings about J-Biebs' love (and how same old it is), and more about the DGAF mentality it takes to sing about one's very famous ex so boldly. Therefore, mark this as the moment Ms. Gomez came into her own. Mainly because at age 23, she summoned the type of courage not even 30-year-olds (and over) can muster.
8. "Flesh Without Blood/Life," Grimes
On top of the magnificently OTP video (which sees Grimes in everything from Marie Antoinette-era gowns to wings and blood), artist Claire Boucher uses "Flesh Without Blood/Life" to articulate the aftermath of realizing somebody you used to love is totally undeserving of it. (See lines like: "After all, I just don't like you") Whether through perfect burns ("I don't see the light I saw in you before") or through the song's carefree melody, Grimes transforms into a real-life version of the shrugging emoticon, throwing casual shade at the track's subject while at the same time and inspiring us to pick up and do the same should our situation ever call for it.
9. "Love Yourself," Justin Bieber
We can pretend that Justin Bieber is throwing post-breakup salt at ex-Selena Gomez, or we can get real: in no way, shape, or form would anyone (especially Bieber's mom) dislike Selena. So instead, let's assume that whoever he's singing about matters so little to him that he's using a breakup track to tell her fix any/all insecurities because they've turned her into a not-so-great person. Ultimately, "Love Yourself" is Biebs' equivalent to Regina George saying, "Oh my god, I'm not mad at her, I'm just worried about her." Before, of course, he calls her vintage skirt the ugliest effing thing he's ever seen.
10. "Here," by Alessia Car
An anthem for introverts everywhere -- especially introverts at a party they really couldn't care less about. Truly, the only thing that could make the song better would be hearing Alessia end with a Frank Costanza-esque, "I got a lot of problems with you people!" (Although admittedly, I believe that just comes with age.)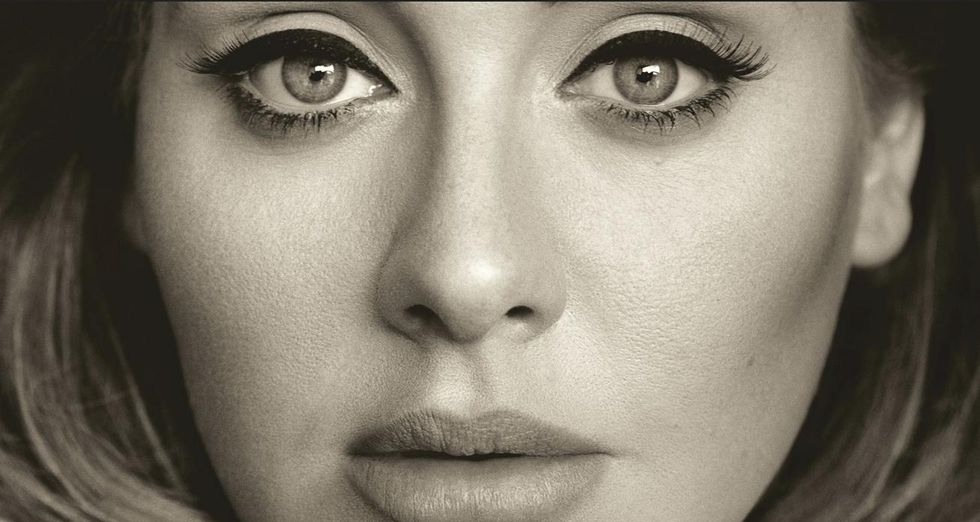 11. "Send My Love," Adele
The true marker of being ready to leave somebody in the dust is to tell your ex to give their new partner your regards. Before, of course, adding that you hope they treat her better than they treated you -- even though it's totally fine, you're totally over it, you guys were so young [hair toss/goodbye forever].
12. "WTF (Where They From)," by Missy Elliott
This list would be an abomination without an appearance from "WTF," the embodiment of GTFO sentiment written and performed by the queen of not-caring-at-all-what-you-think (a.ka. Missy Elliott). Naturally, we'd all been thirsty for Missy's comeback since she performed at the Super Bowl in February, but few of us could be properly prepared for a song that flaunts both her success and self-confidence so perfectly. That's not to say we should've been surprised (both success and self-confidence epitomize Missy Elliott), but to prepare for hearing that ethos manifested in 2015 is simply unpreparable. She truly does not care what we think.
HONORABLE MENTION: "Black Lake," by Bjork
Because honestly, hearing Bjork tell Matthew Barney he's a fuck up (through song) who abandoned his family is the ultimate grown-ass woman "get out of my face" move. Though for the record, this is easily one of the most devastating songs of the year. Don't crank this one up unless you're tired of dancing and are ready to cry.

You May Also Like
Care
Story by Sarai Li / Photography by Andrew Kung / Art direction by Djiun Wang