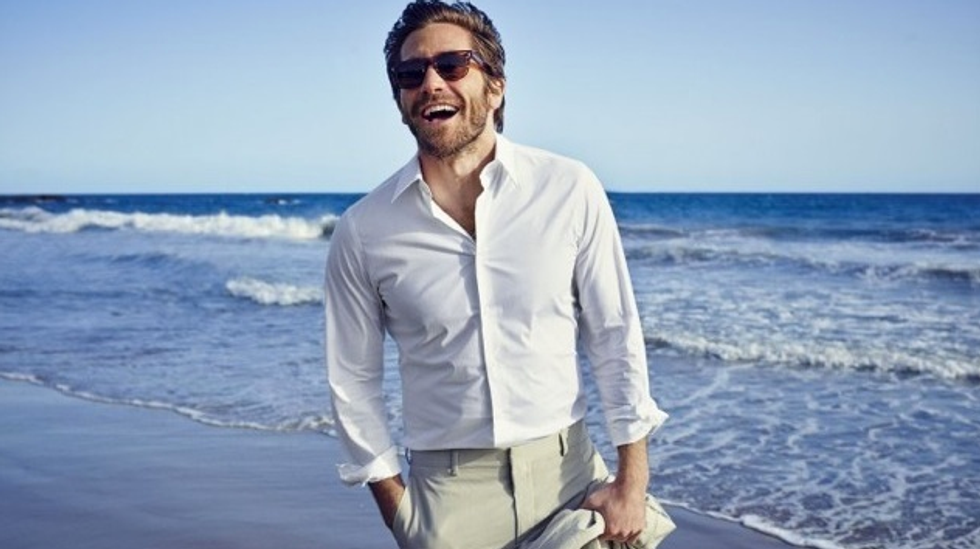 [Photo by Simon Robins for Esquire UK]

In his July cover story interview for Esquire UK, Jake Gyllenhaal revealed the secret to his creative process: "[I]f you spend enough time in whatever environment your character would exist in -- the way I spent six months with police officers -- then the molecules of that environment must transfer somehow. And then you put it on screen, and people go, 'I feel something that I don't normally feel.'"
Gyllenhaal was referring to the six months he spent shadowing Los Angeles cops and sheriffs in preparation for End of Watch, a 2012 crime drama thriller in which he plays a LAPD officer. We'd heard he immersed himself in the lifestyle of his character, but we had no idea he did it under the principle that "you literally accumulate the molecules of the space that you're in."
"We're like 90 per cent water, so naturally we are going to be affected by the moon when it's full: if the sea is, why wouldn't we be? That seems scientific to me," he continued.
Wait a second, Jake. You were just talking about befriending cops in LA. How'd you get on the topic of the moon? Maybe the transmission of these location-specific molecules is aided by LA's notorious smog? Seems scientific to me, to use his phrasing.
Next month, Gyllenhaal will be starring in Southpaw as a boxer caught between work and family. We can only hope he doesn't resort to any violent measures to accumulate the molecules for this role.