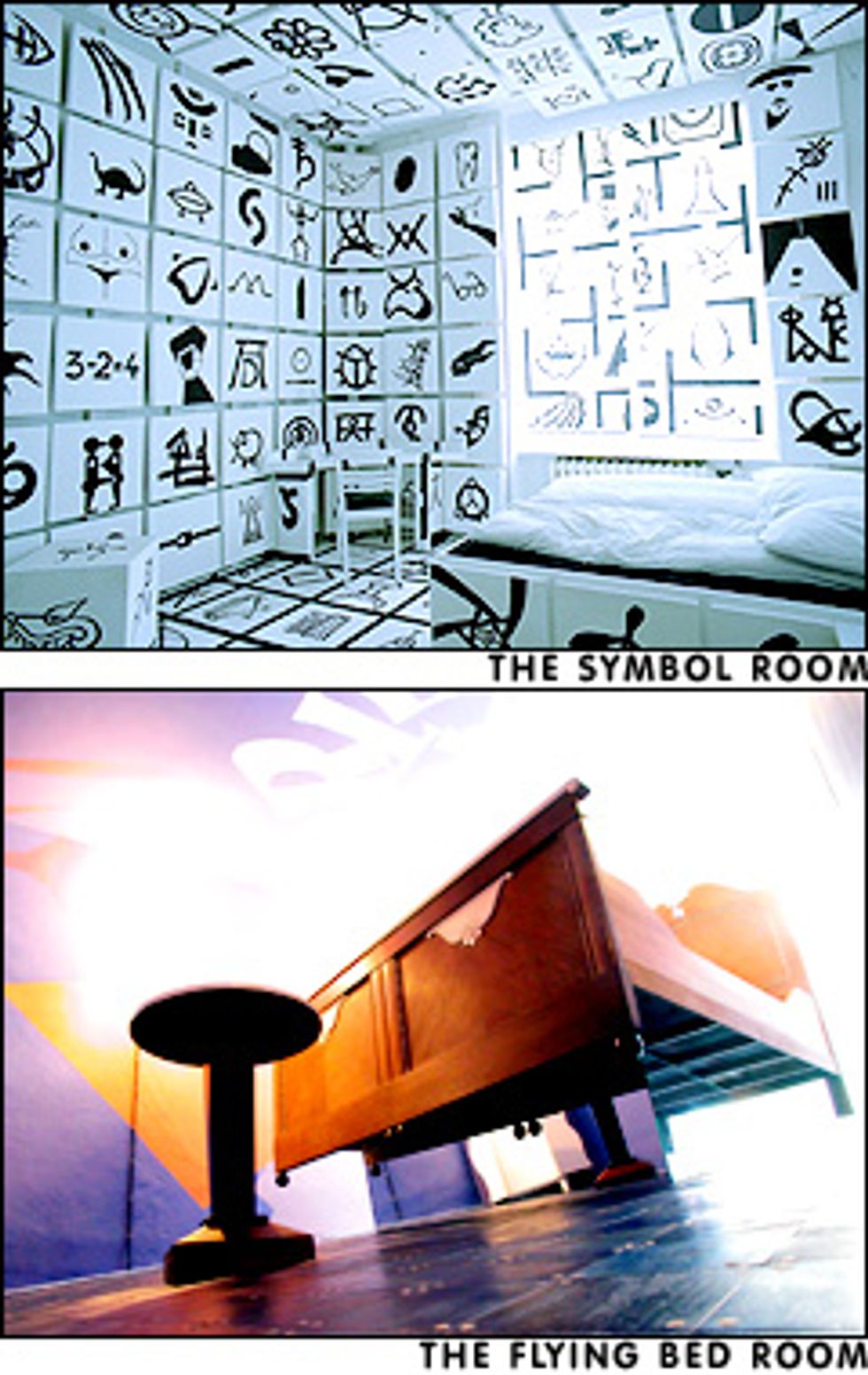 Lars Stroschen, a man who has been known to sleep under his grand piano like a senile Thurberian grandfather, is the personality behind the concept and construction of the Propeller Island City Lodge. The 30-room hotel by way of a carnival funhouse mirror, located on a quiet street in the center of Berlin, could only have come from the mind of a real and true eccentric.
"The main idea behind Propeller Island," explains Stroschen, "was to try out my fantasies, to see if they could work." The hotel was completed in 2004 and takes up three floors of a 19th century apartment building in the residential neighborhood of Wilmersdorf. It took the art school graduate turned electronic musician turned accidental hotelier nearly five years to create what he likes to call, "a museum or a sculpture to stay overnight in." With no architectural background to speak of, says Stroschen in a thick German accent, "I jumped into cold water, as you say."
And the end result is something out of Tim Burton's dream set. The "Gruft" room contains two coffins in which gothically inclined guests can crawl and attempt to have a good night sleep. They can even close the lids, as the coffins are equipped with holes for ventilation. "Because there are two beds underneath the two coffins, that room is very popular with families -- the parents sleep on top, and the children underneath," Stroschen says.
If your values are more Bedknobs and Broomsticks than Addams Family, there's the "Flying Bed" room, in which, via a strategically placed mirror and a slanted, uphill floor, Stroschen created the illusion of a flying bed. "Freedom" is the name of the room that Stroschen describes on the hotel's website as, "A friendly prison cell with a hole in the wall. The toilet is in the room, just like we know it should be! What's different: You really WANT to stay here, it's extremely comfortable. Freedom awaits on the balcony with a parasol." There's the whimsical "Chicken Curry" room, a chicken-curry-colored play on minimalism, featuring a floor-level bed, on which slumbering guests can have sweet (and spicy), Indian food-filled dreams. "Wrapped" is a futuristic, narrow, downhill-slanting room, with three beds in a vertical row, sanctioned off with yellow and black caution-tape. The "Upside Down" room is exactly what it sounds like.
The most difficult room to build, according to Stroschen, was "Mirror Room," which is, as the name suggests, covered entirely by shards of mirrors. "None of the pieces of glass contain 90 degree angles -- I had to prepare everything in wood, then cut the glass and layer it on top."
The most popular and lavish room is Propeller Island's version of the standard presidential suite, "Two Lions." It's hard not think dirty thoughts about this, the largest room, which houses two cages that are set upon two five-foot-high stilts. Each cage sleeps two people.
Despite evidence to the contrary, Stroschen is no Teutonic Andre Balazs. In fact, he considers himself first and foremost a musician. Before it was a hotel, Propeller Island was the name under which Stroschen created experimental electronic music and sound sculptures. Propeller Island the hotel was born back in the mid-1990s, when in order to fund a studio, Stroschen decided to turn two rooms of his apartment into boarding rooms. His atypical renovations received a bit of press (mostly in England), and Stroschen, both hoping to further fund his music and test out those crazy fantasies of his, in 1999 embarked on the grueling journey of expanding to 30 rooms. Six weeks ago Stroschen opened a gallery on the ground floor where he displays his computer-generated art and some furniture that he built for the hotel. And that's it for now in terms of expansion. "Everybody thinks I am a hotelier, and that is strange for me," Stroschen says.
Indeed, Stroschen finds the hotel-y aspects of running Propeller Island tiresome and tedious. "In building the hotel, I never expected all the logistical dealings I'd have with the government -- I'd say only two percent of the whole process was fun." Then there's the upkeep. "It's a lot more work than maintaining a normal hotel -- it's very difficult to clean the rooms, you sometimes have to stand on the beds; you have to wash the laundry specially because few of the sheets are white. All the little details are very difficult... Nobody would be mad enough to do this again."
He still owes a good deal of money to the bank, but Stroschen set out to make Propeller Island on the very, very cheap. "I used affordable materials, and was always traveling through the city looking for stuff. If I saw a smashed old house, I'd collect the beams." "Four Beams" -- a tree house-style bed, suspended by ship rope to the rafters and perched atop four large beams -- was constructed from four such discarded beams. "The tables in the breakfast room are made from old floors I removed when I made the bathrooms."
Stroschen firmly insists that he "never made this hotel to become rich. Money is boring." While it's hard to see why else someone could devote himself to a fantasy hotel project which required that he wake up at 4:30 in the morning and work until seven at night for five years, one believes Stroschen when he says, simply, "I had an idea and I wanted to see if it would work." Propeller Island certainly has the feel of a drunken dare that went a little too far. But it somehow works. And if a little unsettling and creepy, it's both a welcome alternative to the sleek and generic hotel chain and a glass of water thrown in the face of your grandmother's precious bed and breakfast. "People are tired of standard hotels with the shower on the left side -- people who travel a lot, they want to something different." Though it was never Stroschen's first intention to make the hotel comfortable -- "I was looking to just achieve a perfection of my ideas" -- he says, in the end, "I've slept in all the rooms, and they're all comfortable. We have to put alarm clocks in all the rooms, so people don't miss their flights."
As for all those other "art hotels" popping up around the world from Copenhagen to Beijing to New York (Ian Schrager recently teamed up with Julian Schnabel to design the Gramercy Park Hotel which will open at the end of the summer), and the broader trend of slapping the word "art" in front of anything and everything (be it a sneaker, a car, a cell phone), Stroschen sees Propeller Island as a place removed from these global trends. "All of that is for money. Most of these hotels, where they use the term, 'art,' that means they want to make money. The word 'art' is some special touch. And I know a lot of these art hotels, there's no art in them, there's like one picture on the wall. There are certainly some very interesting hotels in the world, but most of them are fakes."
Now that the gallery is finished, Stroschen can rest a bit and finally focus on his music again. "There are about 800 buttons on my computer that I use to make electronic music and of course, I've forgotten what most of them do." He also adds, "Now, maybe after all this work, I would like to have somebody blowing honey in my ass." It's a German phrase, he says.