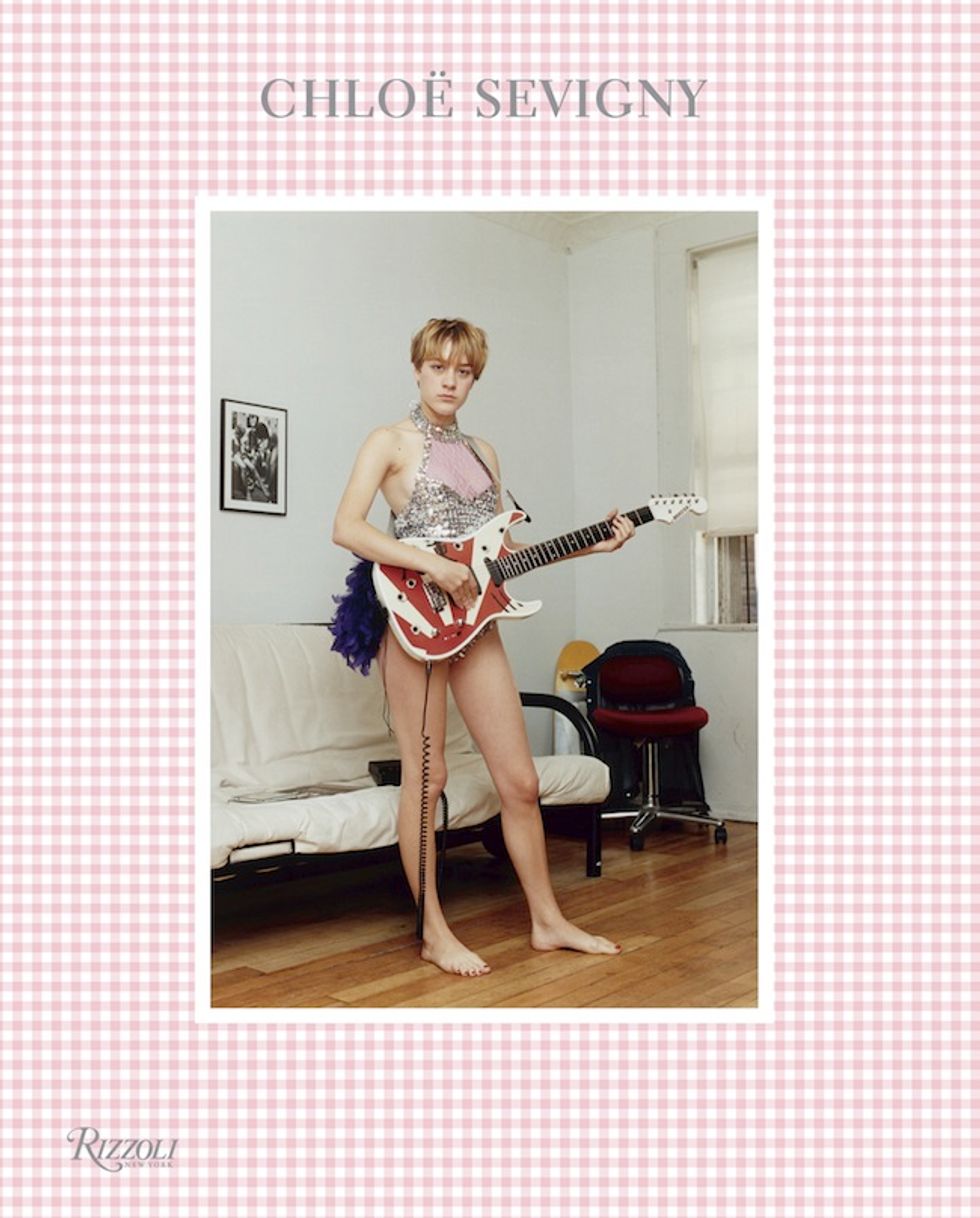 Two-time
Paper
cover star Chloe Sevigny has a new self-titled book of photos, out Monday via Rizzoli. The 222-page archive chronicles everything from her days as a restless teenager in Connecticut itching to move to New York City to her career-launching 1995 big-screen debut in
Kids
to her tenure as the muse of high-fashion brands like Miu Miu. There's an image from her 1994 Jay McInerney
New Yorker
profile, which ushered her into the mainstream; lookbook photos from her days as a model for Kim Gordon's influential '90s streetwear line
X-Girl
; and recent shots from her collections for Opening Ceremony.
More than any of the breakout actresses of the '90s, Sevigny came to represent the sort of
Sassy
-reading pre-Internet cool that's continued to encompass her over the past two decades. As Gordon writes in the introduction, "[Sevigny's] zest for freely roaming around space with an attitude and outfit to match evolved well ahead of what is now the homogenized look of the Internet. Her dark-side style is a like a breath of fresh air compared to the bland, candy-coated, Hollywood-ized proposal for female sexuality and the democratization of 'cool.'" In other words, Sevigny was probably the first and last person to ever attend the Academy Awards with a case of scabies she had contracted from thrift-store shopping right before. (An anecdote friend Natasha Lyonne shares in the book's afterword).
At 40, Sevigny's wary to launch into any lectures about what "cool" means in the Tumblr-moodboard era of instant access and inspiration, but she does feel a tinge of nostalgia for a time when digging through piles of old fur coats at a church rummage sale was just as wrapped up in your identity as wearing the clothes themselves. "I feel sad for kids today that thrifts aren't the way that they used to be," Sevigny says over the phone from Los Angeles. "That world is sort of lost now."  
We asked Sevigny to reflect on a few images included in the book. Those photos, and her reflections, are below.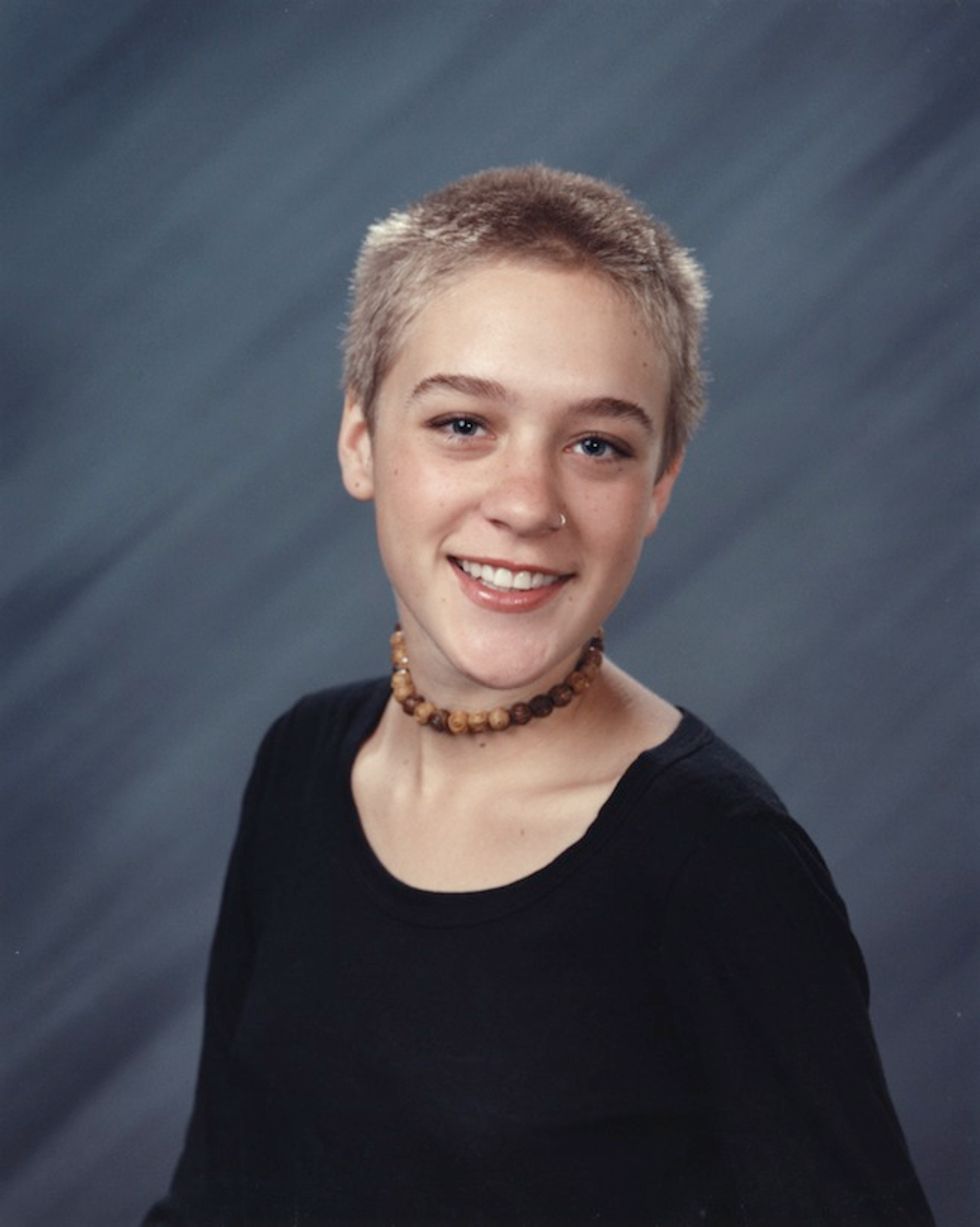 I'm 17 and a senior in high school. I was having a very difficult time in school. I was miserable, which you can't really tell from looking at the photo, because my smile seems genuine. I was dissatisfied with the town we live in and my high school. There were only 500 people who went to my school and I had known most of them from elementary school. I was rip-roaring-ready to bust out of my hometown and, in fact, I moved out of town the day after I graduated from high school.
I'm wearing sandalwood beads that I made into a choker with elastic, and I always wore that long-sleeved T-shirt for some reason. I probably have on really baggy skater jeans, like something from Girbaud or Blind, and either combat boots or steel-toed Dr. Martens. I was working at Polo at the time, so I had a real affinity for the Lo Lifes -- the boys who dressed in all Polo. I probably had a tinge of that hinting into my look as well. I was so into the Tribe Called Quest / hip-hop / hippie / skater thing.
My older brother Paul was a huge influence on me as a teenager. Starting in high school, I gravitated toward older kids and older people -- people I felt like I could learn something from. I was like a sponge and I was pretty shy and not very confident. I was always on the periphery, watching everyone else. Not participating quite as much. 
By the time I was a senior, I was going into the city every weekend. I sat alone at lunch. I had a couple of friends who were more like skater-y kids, but I still didn't feel like they were really my people. My people had already graduated or lived in different towns.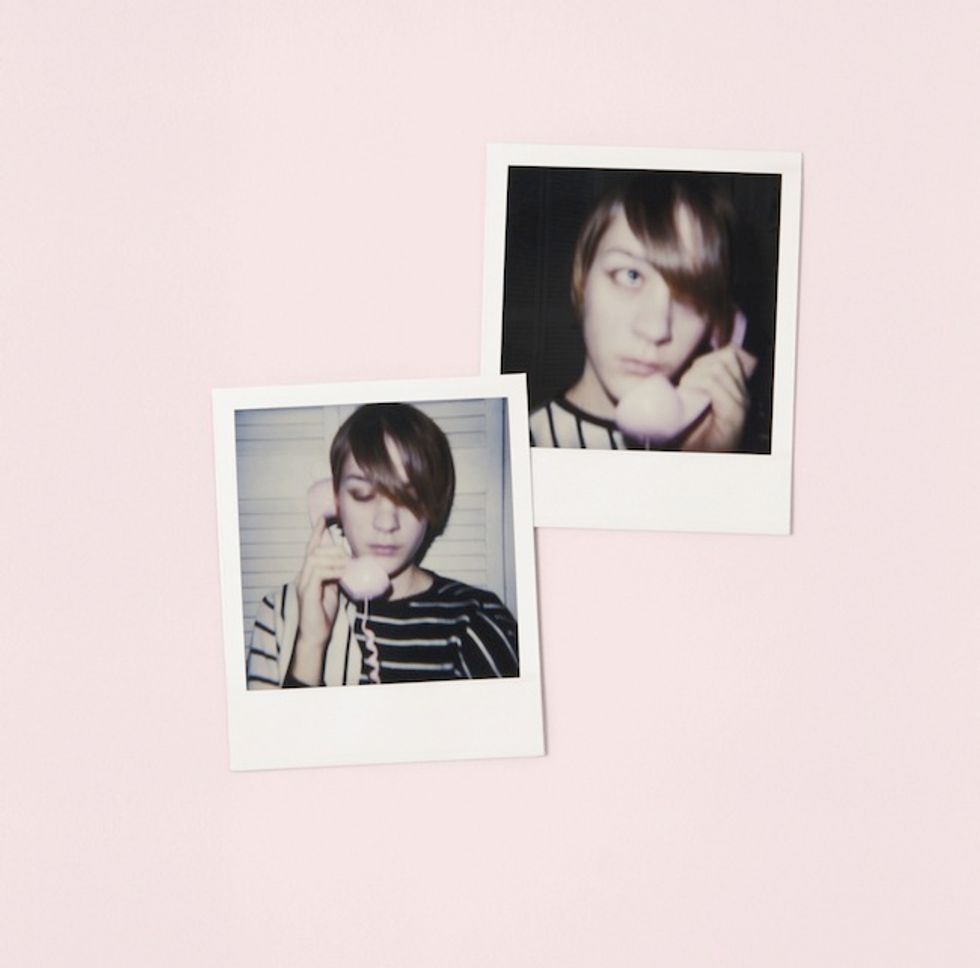 I wanted a few photos in here that were more personal, and not already on the Internet. I took these in my bedroom on a Polaroid with a timer to send to a boy who I liked in England. I was always talking to him on the phone, so I was trying to come up with this narrative photo. Like, "This is me, calling from my bedroom." It was stupid! I still have that phone -- it's pink with grey buttons. I guess these were the rejects that didn't make it to the boy, but I still think there's something kind of charming about them.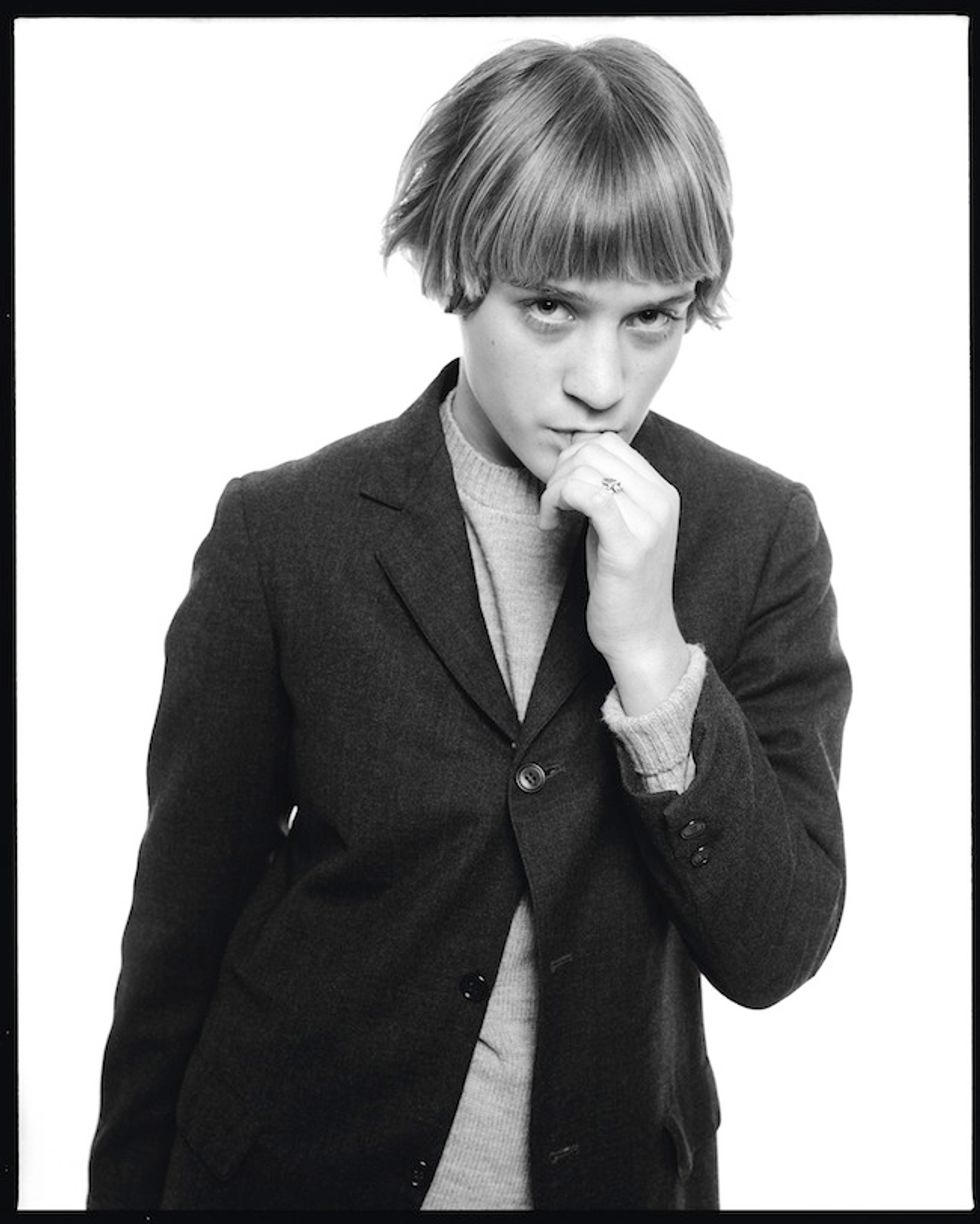 This is by a photographer named Kevin Hatt. I don't remember what this was for, but I have a ton of Polaroids from this series. I like that it has kind of an Avedon feel. It was the mid-'90s and I had been photographed a bunch by the time this photo was taken. So many people were trying to get me to wear things in photos or to wear my hair a certain way, but he really wanted to capture me for me. That's a Brooks Brothers blazer and I'm wearing a neon-pink lace skirt underneath with some ugly white pumps. I was probably trying to mimic Helmut Lang. I think that sweater was Harmony [Korine's]. I don't have it anymore. But I've kept a lot of my old clothes. I still have that Brooks Brothers blazer. I still have those beads from my school photo. I have an exhaustive archive.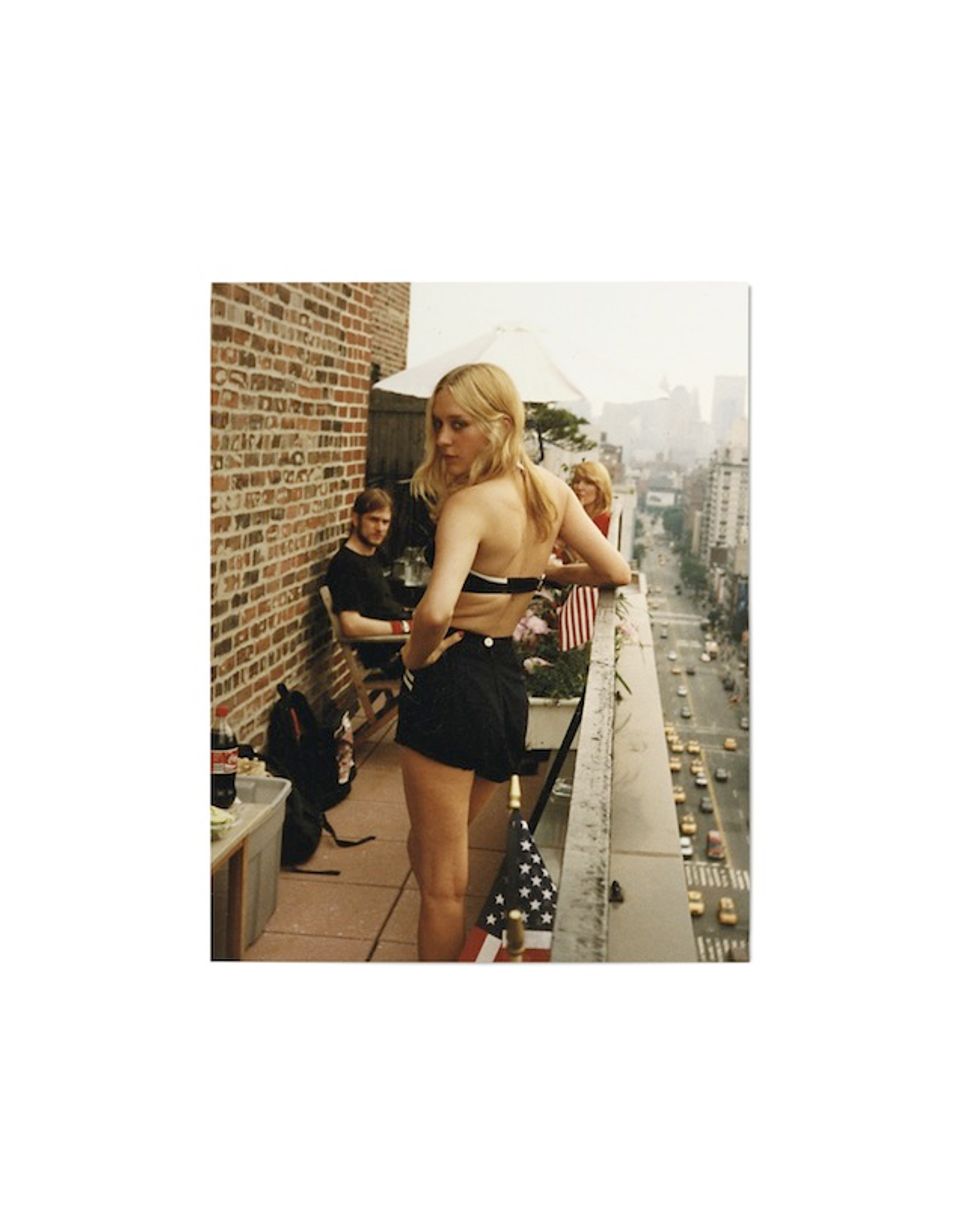 This is Fourth of July. I was subletting Natasha [Lyonne]'s apartment on 16th Street and 2nd Avenue. Brian DeGraw [of Gang Gang Dance] and Rita Ackermann are in the background. I kind of had this Connecticut vibe going on out on the terrace, with the white umbrella and the flags. And I had flower boxes. I've always made my home in that classic kind of way. I'm wearing a blue and white '40s-style bathing suit that I still have, and I'm wearing Yves Saint Laurent mules. We all went up to the roof to watch fireworks.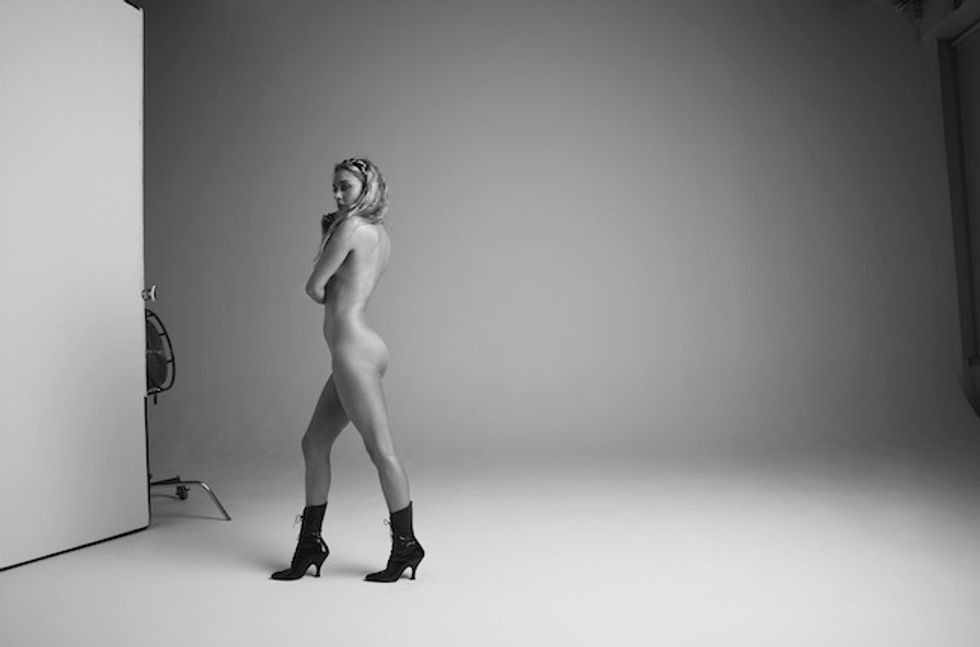 Those are Norma Kamali shoes and I'm wearing a headband, so I'm not
totally
naked. This was shot by Inez and Vinoodh for
Purple
magazine. I wanted to have a sexy vibe in the book, but I didn't want photos of me like, arching my back with my mouth open, which is not Inez and Vinoodh's style. And being photographed nude by a woman feels so much safer. I think the images from this shoot are very strong and empowering. Urban Outfitters made a big pre-order for this book, and one of the stipulations was "no bush." So. This made it in. And I didn't really want to show bush anyways.
Sevigny and Lyonne will sign copies of 
Chloe Sevigny
at New York's Herald Square Urban Outfitters, 1333 Broadway, on Monday, April 20th, from 7-9 p.m. Sevigny will also do a signing at Bookmarc in Los Angeles, 8407 Melrose Place, on April 29th at 6 p.m.
You May Also Like
Care
Story by Sarai Li / Photography by Andrew Kung / Art direction by Djiun Wang