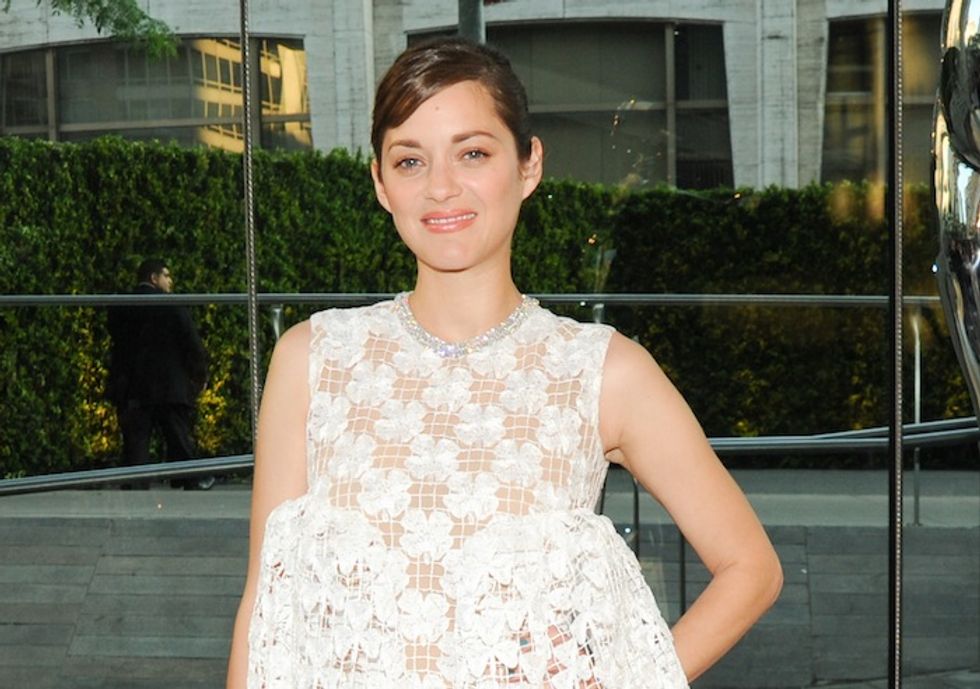 There's a scene midway through the Dardenne brothers' quietly gripping social drama,
Two Days, One Night
, where Sandra (portrayed with deep humanity by Marion Cotillard) -- a depressed mother and Belgian factory worker fighting to save her job -- is sitting with her husband on a bench, holding a melting cone of ice cream. Wearing a neon pink tank top, no make-up, and looking entirely depleted from having to convince her coworkers one by one that they reject their bonus in favor of inviting Sandra back to the factory following her medical leave, Cotillard is a woman dwindling between what fight she has left and giving up entirely. As Sandra, Cotillard is a nervy mix of resilience and collapse, occupying the entire screen with a power that challenges the story's otherwise everyday odyssey. Over the course of a weekend, we witness her battle not just for her livelihood but with her psyche; within the film's first few minutes, she repeats to herself, "You mustn't cry, you mustn't cry."
Though recently snubbed from
Oscar's Foreign Language shortlist
, Cotillard's performance in
Two Days, One Night
has been receiving much acclaim. We sat down with her in the fall during the New York Film Festival to talk more about the film.
After you're done with a role like this -- a role in which you've created a character who is in so much pain -- where do you store her?

Of course I keep things from the lives I investigate and I think I do this job to understand a little more about human souls. Each role brings me to a deeper understanding of how we function or how we dysfunction.
What kind of work went into preparing for this type of role?
I didn't find anything hard [about the preparation] because I had time. I had time to explore. I had time to experience different versions of scenes, different versions of her because we had a month of rehearsal, which is really amazing. And it was really like a theater-type of rehearsal. It's a real luxury. And also there was this osmosis between the [Dardenne] brothers. When you have this level of confidence and of sharing and understanding, and respect I would say, everything becomes easy.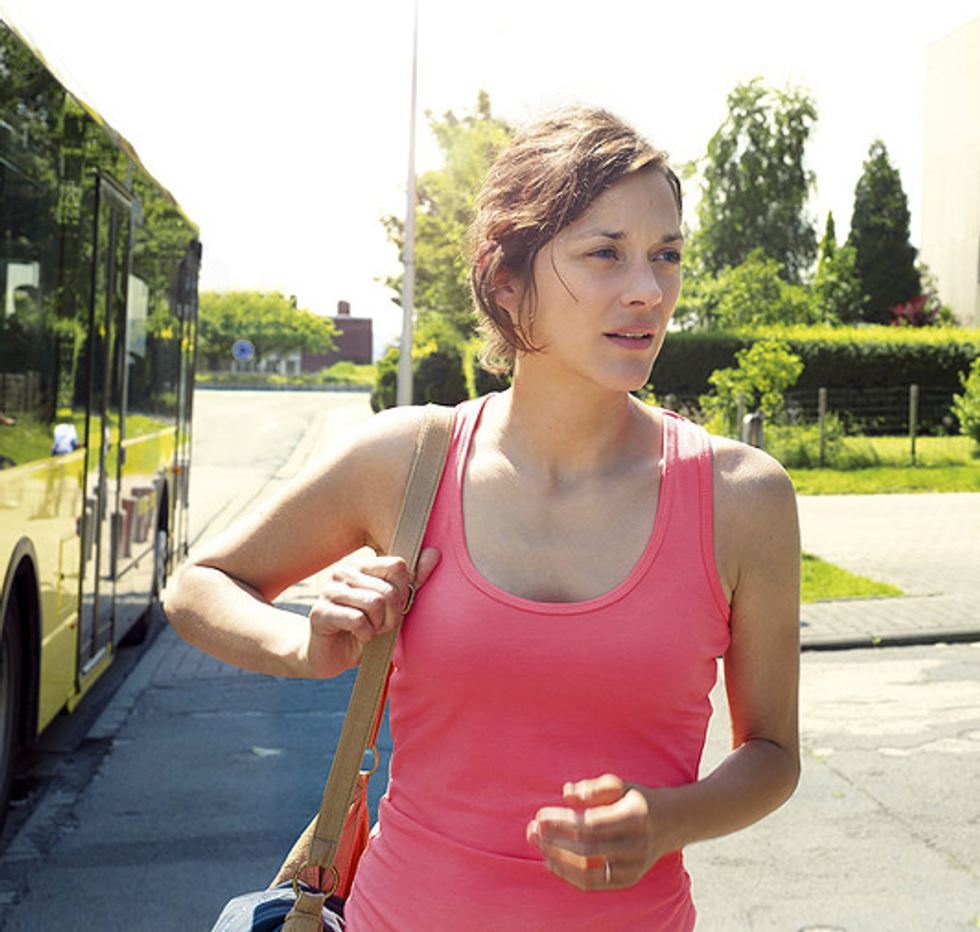 A still from
Two Days, One Night
What first attracted to you to this role?
I've always had a lot of questions and a lot of thinking about how our society creates human dysfunctional behavior, and I think that our society created this phenomenon of questioning your place in the world, which sometimes leads you to think you're actually worthless, useless. It's a very, very hard, deep, and terrible feeling that can lead you to end your life because you have no purpose. And that's one of the themes of this movie and it really resonated with a lot of my questions. Not that I've ever felt...I did actually [feel this way] but it was never deep enough for me to get depressed. But I think it's something that comes up a lot with me. And also solidarity is a very interesting subject. Are you able to show solidarity to other people you don't know? Because that's the point. I mean showing solidarity with people you know and you love is not that hard in a way.
I like that you used the word 'purpose' because that was Sandra's core. Do you ever feel like you lose a sense of why you're an actor? And, if so, how do you re-orient yourself?
I question myself all the time about the purpose of doing what I do. But I was lucky enough to meet people who explained to me that being an actor was not something that was useless. By calling up the woman who loves seeing movies inside of me and by just asking me,
Do you like to see movies? Why? Well because, because I love to have emotions. I love to laugh. I love to enter a world or a story and be moved by it.
This guy asked me, "What do you feel when you laugh and when you cry?" and I said, "Well, I feel alive." So there's a purpose to being an actor. I think questioning yourself is a way of never losing...what is the word...I don't know it in English...complaisance...
Complacency
...
Yeah. If it's a true question that will bring an interesting answer and that will push you further away on your path. Then it's good. If you start being complacent, then I guess you lose the thread. 

Two Days, One Night opens on December 24th