Since moving to New York 4 years ago, I've worn my aversion to the city's infinite amount of group fitness fads like some kind of honor badge, dripping with irony and mocking cynicism.
At the end of the day, my eye-rolls at triumphant, sweaty post-CrossFit Instagrams, and my (light) harassment of SoulCycle's Twitter handle, are simply because I am terrified of working out in front of other human people.
I swam competitively for 17 years, until my junior year of college, so I am no stranger to team exercise; on the contrary, I loved being on a team, and still miss it to this day.
But I couldn't, for the life of me, drag my untoned ass to any kind of positive-sounding fitness conglomerate, even when I watched (in mild resentment) my friends and acquaintances blissfully putting themselves out there.
I still think the "we did it!" Instagrams after a hearty spin cycle class are corny as fuck and grossly self-masturbatory, but you know what? They did do it! And I didn't.
ENTER: PAPER's Health and Wellness month, when my editor approached me to take a workout class called Brooklyn's Bodyroll Workout, and write about my experience, I automatically said 'Sure!', without thinking.
BODYROLL'S vibrant website describes it like this: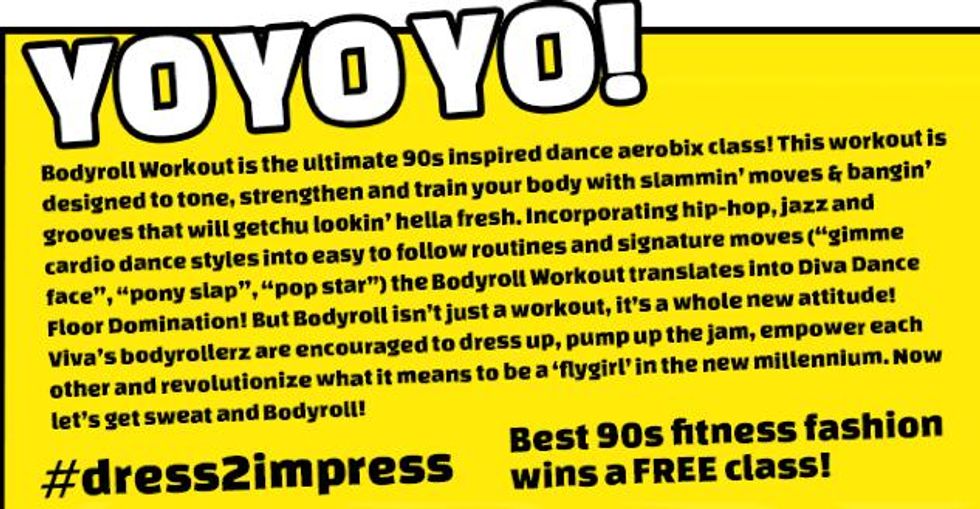 I watched some YouTube videos of the bi-weekly class--founded and taught by choreographer/performance artist, Viva Soudan...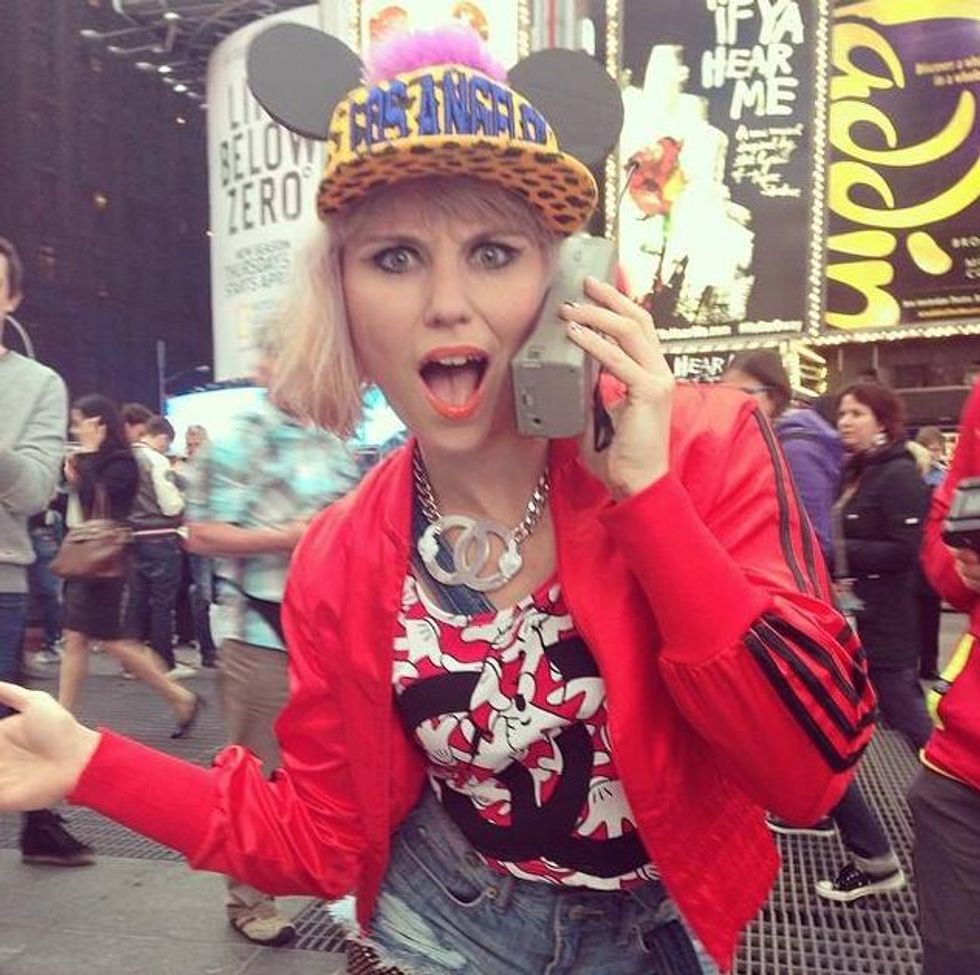 (image via Facebook)

...and I immediately regretted my hurried agreement to attend; these people women and men) were limber, confident, and sultry as all hell.
The only movements my skeleton sack ever did that vaguely resembled these undulations were foolish impersonations of voguing from velvety confidence when I used to drink, or maneuvering through a forest of people while pulling a few G's on the subway.

I asked Viva for Bodyroll's backstory:
I started the the class in 2011 after a very hard breakup. I was looking for an outlet, a practice where I could find myself again. I grew up taking dance classes and in high school I was the Captain of the Dance Team (basketball half-times show...oh yeah baby!) and obsessed with The Grind Workout (MTV's hip-hop aerobics show starring Eric Nies, CLASSIC 90s!). After the breakup I felt totally lost and I thought, well what better way to reconnect with myself than taking it back to my roots! So I rented a studio at Triskelion Arts in Williamsburg, told some of my friends and made a promise to myself that I would Bodyroll once a week for an entire year. It was time to reclaim my independence, get perspective and own it!
The time came for me to "GET SWEAT!" as Viva says.
The class -- held at Human@Ease in Greenpoint -- was mostly ladies (and one other fella) and all were immediately welcoming to myself, and PAPER's Digital wizard, Jake Greene.
I was the tallest person by at least 5 inches, so I stuck out like a gangly gay windmill, and quickly retreated to the back of the room in a bad attempt to hide behind my bodyroll comrades.
Viva, in thong leotard and rainbow cheetah print spandex, had contagious charisma and self-assurance; when she introduced herself to me (with a big hug), I immediately thought, 'I can do this, y'alll!'

Not surprisingly, I couldn't do this.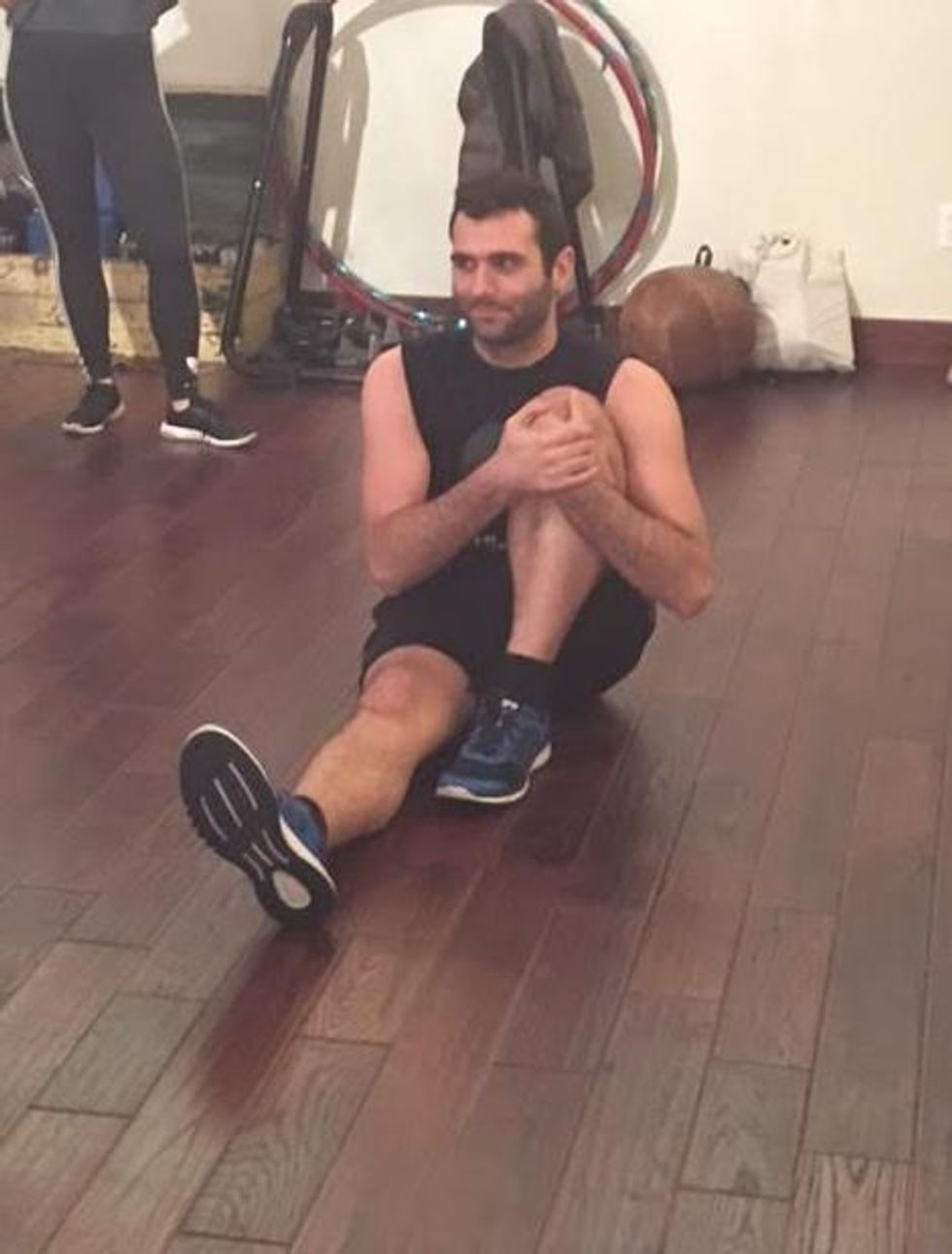 At least for a while.
I kept a close eye on Viva and the other regular attendees, who seemed to know all her various cues; they regarded with her reverence, but also like she was one of their close pals.
Even from the beginning, Viva reaffirmed the Bodyroll manifesto she elaborated to me above; she shouted encouragement and primal mini-roars to get us revved up.
Some of her best quips:
"TAH-TAH, UH! TAH-TAH, UH!"
"BLOW IT OUT!"
"I CAN'T HANDLE YOU! I CAN'T HANDLE YOU!"
"GET THAT GENIE BUTT! I'M A GENIE IN A BOTTLE!"
"HEY.GIRL.HEY."
"No right or wrong, just big!"
The class was divided into warm-ups, and choreographed drills...some of our nostalgic-banger background music included (former FlyGirl) JLo's "Get Right," "Show Me Love" by my favorite pantsuit-wearing early 90s dance music pioneer, Robin S...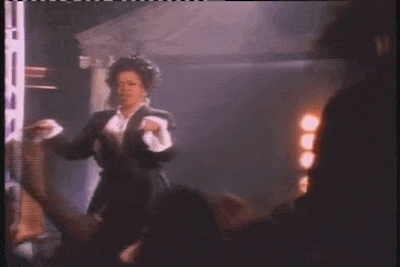 ...and of course, "Pump Up the Jam," by Technotronic.
While the class is newcomer-friendly (thank god), I won't lie, it's an ass-busting workout; I was heaving, and it took me at least 30 minutes to finally accept what I was doing.
The warmup is cardio-heavy (to a the beat, of course), with sexy variations of leg suicides, jumping jacks, pushups, booty-pops, and a truly ab-punishing tutorial on what it really means to roll your bod.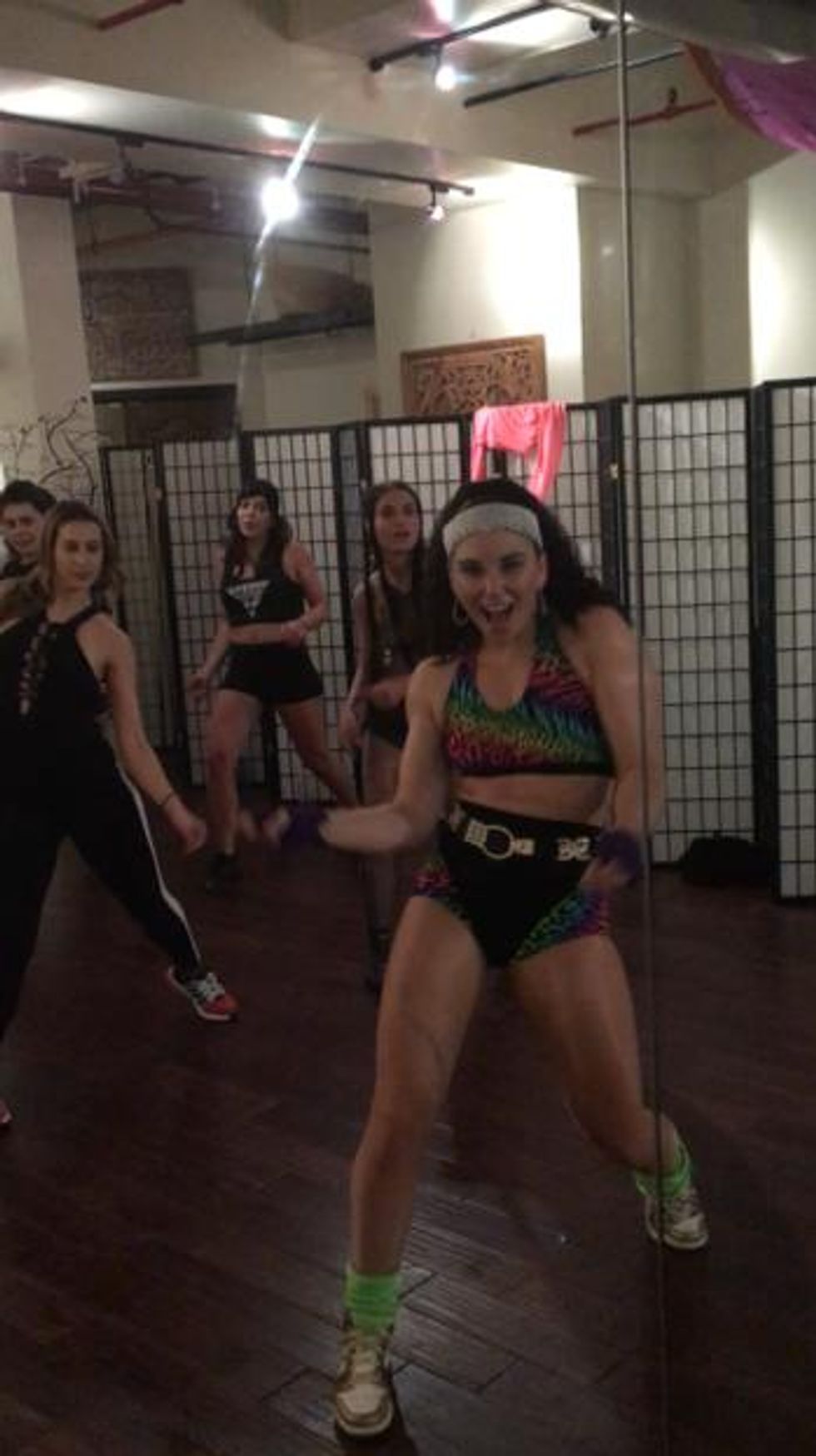 One of our mini-routines was Britney Spears' "Slave 4 U," which I felt was my true Showgirls moment; I was fully channeling Nomi Malone as she furiously imitates Cristal from the audience.
Any embarrassment I started with was quickly dissipated to Britney's libido liberation anthem.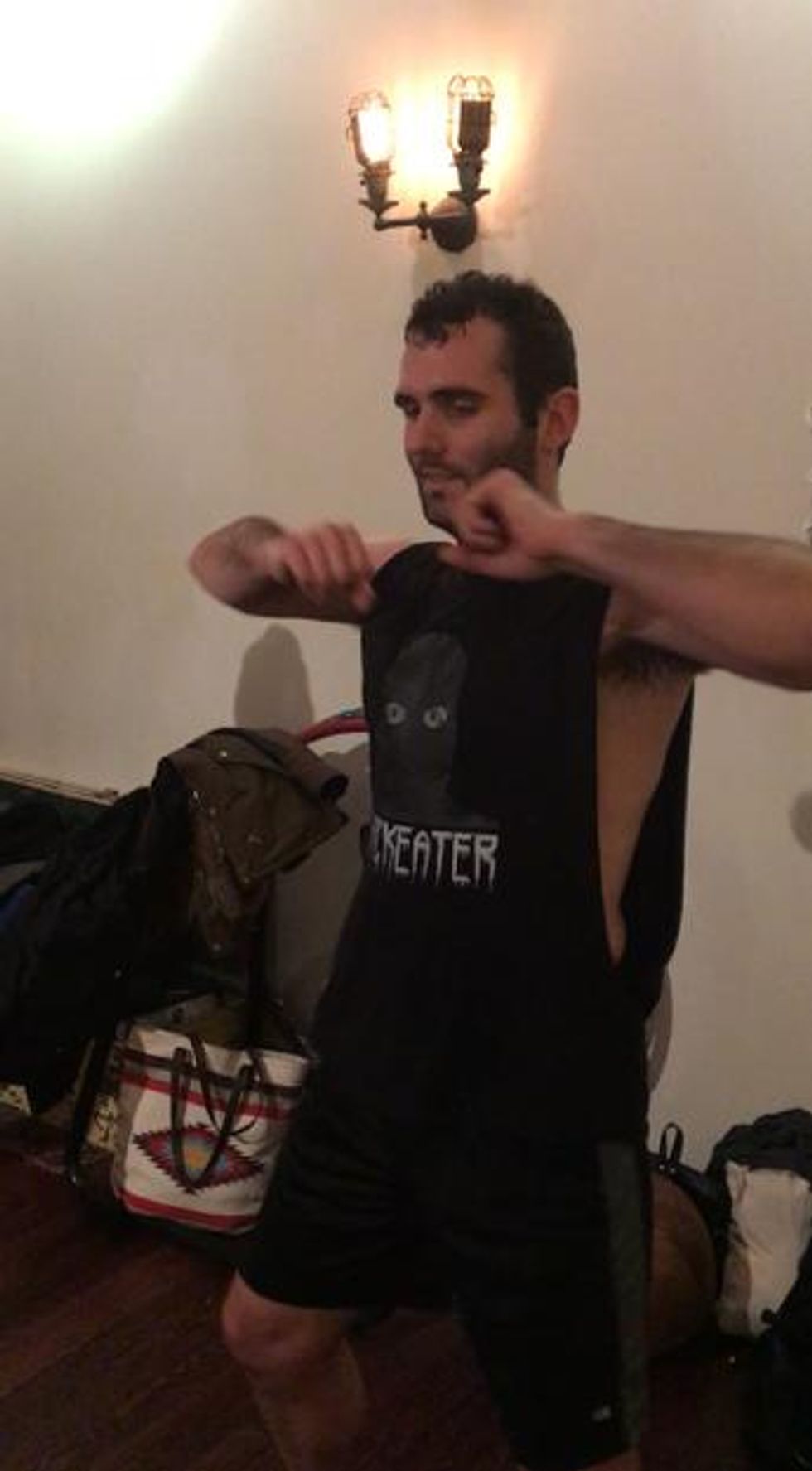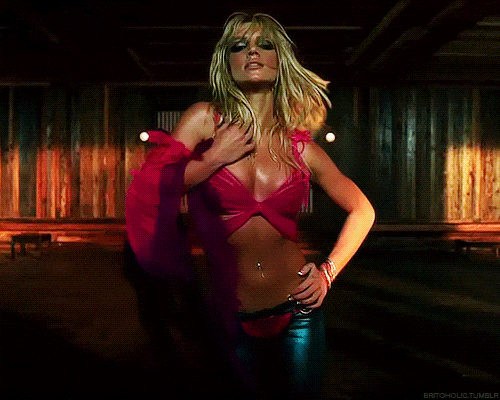 For the next few drills, I was in the zone, however wobbly I felt (or looked).
Finally, our fiery finale came in the last 30 minutes of class aka "Diva Dancefloor Domination." (Viva's inspiration previewed below...
After letting us know that dominion over a dance floor only takes THREE moves, Viva wanted us to imagine ourselves as a no-nonsense dance team, gamely accepting the challenge of a rival crew. Literally.
Set to the Double-Dutch fierceness of "Lose My Breath" by Destiny's Child, we exorcised the bullshit of the everyday, by stomping the ground, and landing that final 'zing' of a freeze-frame pose, that Viva called "VEGAS."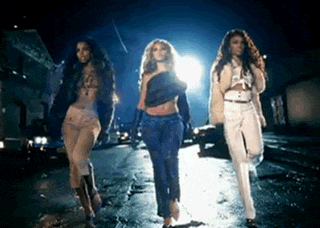 We rehearsed and were split into Group A and B (by experience)-the standout, Jane Fonda-esque women became the epicenter of focus for the rest of us newbies as they performed a sleek rendition of Viva's choreography.
The dance was split into three separate, 3-move integrals; a Sasha Fierce strut towards the mirror, a very *NSYNC style arm-pup, pivoting into a full spin; my favorite move was when we reached to the floor on our left side, and slowly rose up, putting on an imaginary 'glove,' as Viva described it.
When it was Group B's turn (I would say I was the 'Mr. Congeniality' of our section), the result looked something like this:

I FINALLY knew then what it felt like to be the Black Swan.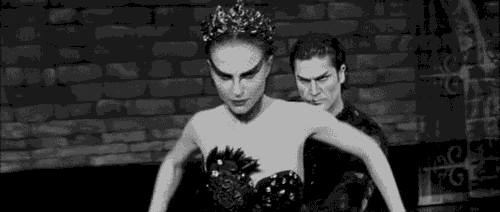 While my body-rolling future is questionable, it felt good to let go of that ponderous ego that had hindered me from actually trying something positive and healthy--even if just for an hour and fifteen minutes.
I can't guarantee that I will never tweet to SoulCycle again, and ask them to "release the names of the missing"...
...but the Teaches of Viva definitely gave me an entirely fresh outlook on motivational group fitness.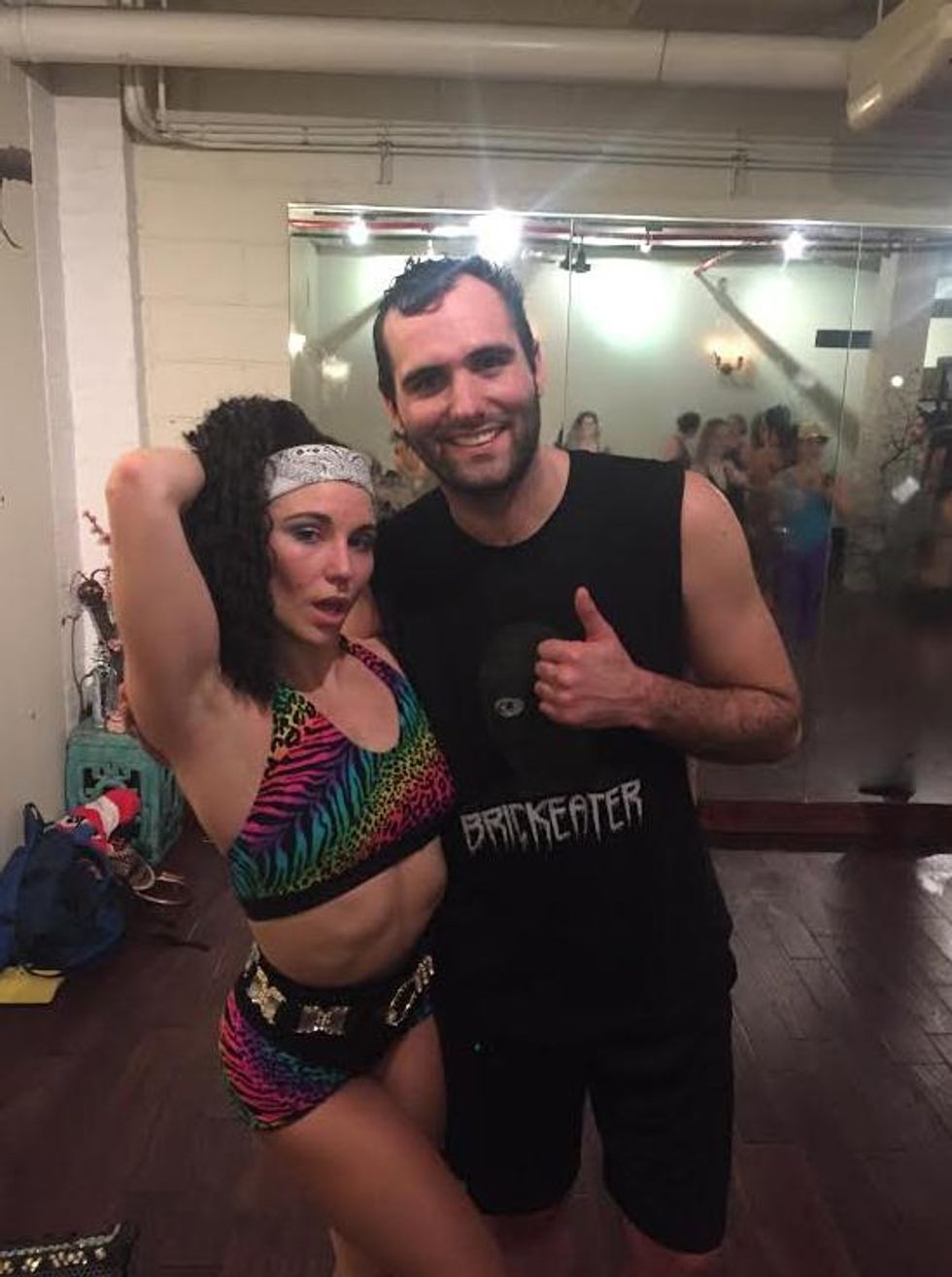 I'd recommend Bodyroll for everyone--especially people who need to hang up their sloppy pessimist slicker on the hook.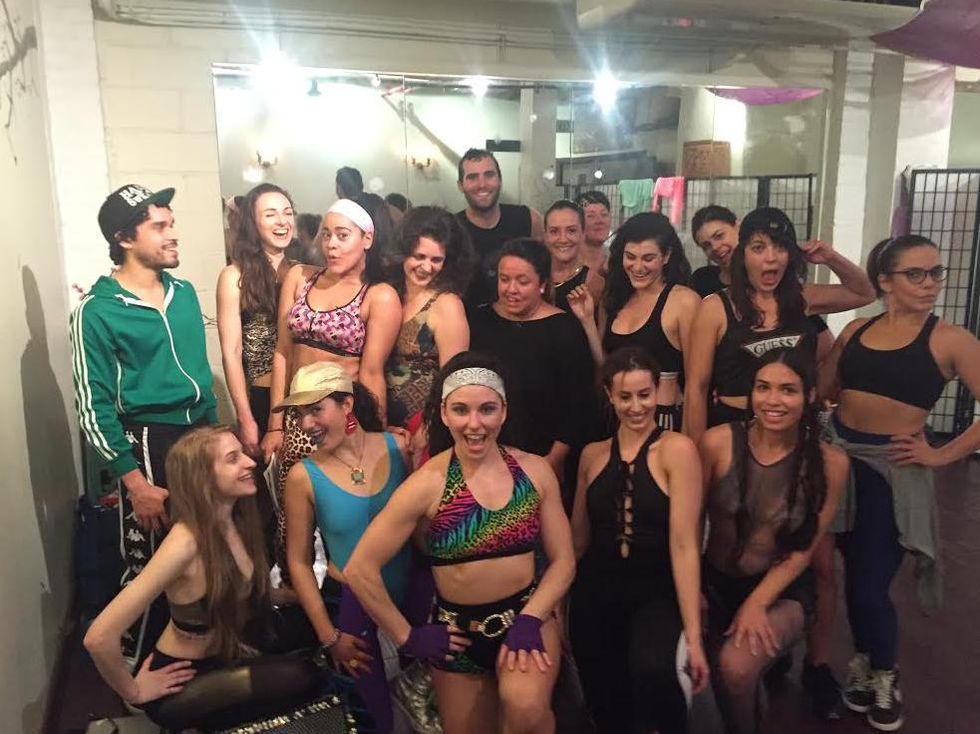 We could all afford to find our own little Vegas once in a while.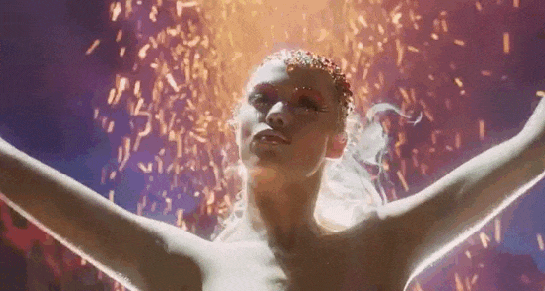 Viva Bodyroll runs Tuesdays and Thursdays at 7:45 PM, Tues at 31 Nassau Ave, Thurs at The Park Church 129 Russell St.
$20 for a class, $80 for 5, and $160 for 10.
GET SWEAT!

You May Also Like