Willy Chavarria, the queer Chicano designer known for his iconoclastic runway casts and realist streetwear, wanted to challenge himself to make pure sportswear. Of course, as a designer, whose ethic is rooted in fashion's inextricability from politics and injustice, he was going to do it his way.
Chavarria's first collaboration with Danish sports brand hummel, which arrived for the spring 2019 season, was inspired by and designed for RIFA (Rooklyn International Football Association), a Brooklyn-based soccer league for immigrants, refugees and asylum-seekers. The designs affirmed the dignity of migrant communities — replicating the resilience, grace and ambition RIFA players show on the pitch. Emblazoned with "5683," the cell-phone digits that spell "L-O-V-E," the collection also celebrated how soccer, as a sport, helps Americans find common ground.
For fall 2019, Chavarria has partnered with hummel on a brand new collection of soccer gear, building on the idea that sports and fashion are wellsprings of community and connection, in isolating times. The baggy windbreakers and soft sweatshirts are reminiscent of '90s everyday style, but with futuristic accents, like mocknecks, asymmetrical zippers, streamlined shapes, and Willy's numeric celebration of love stamped in neon green on the clothes' neutral canvasses.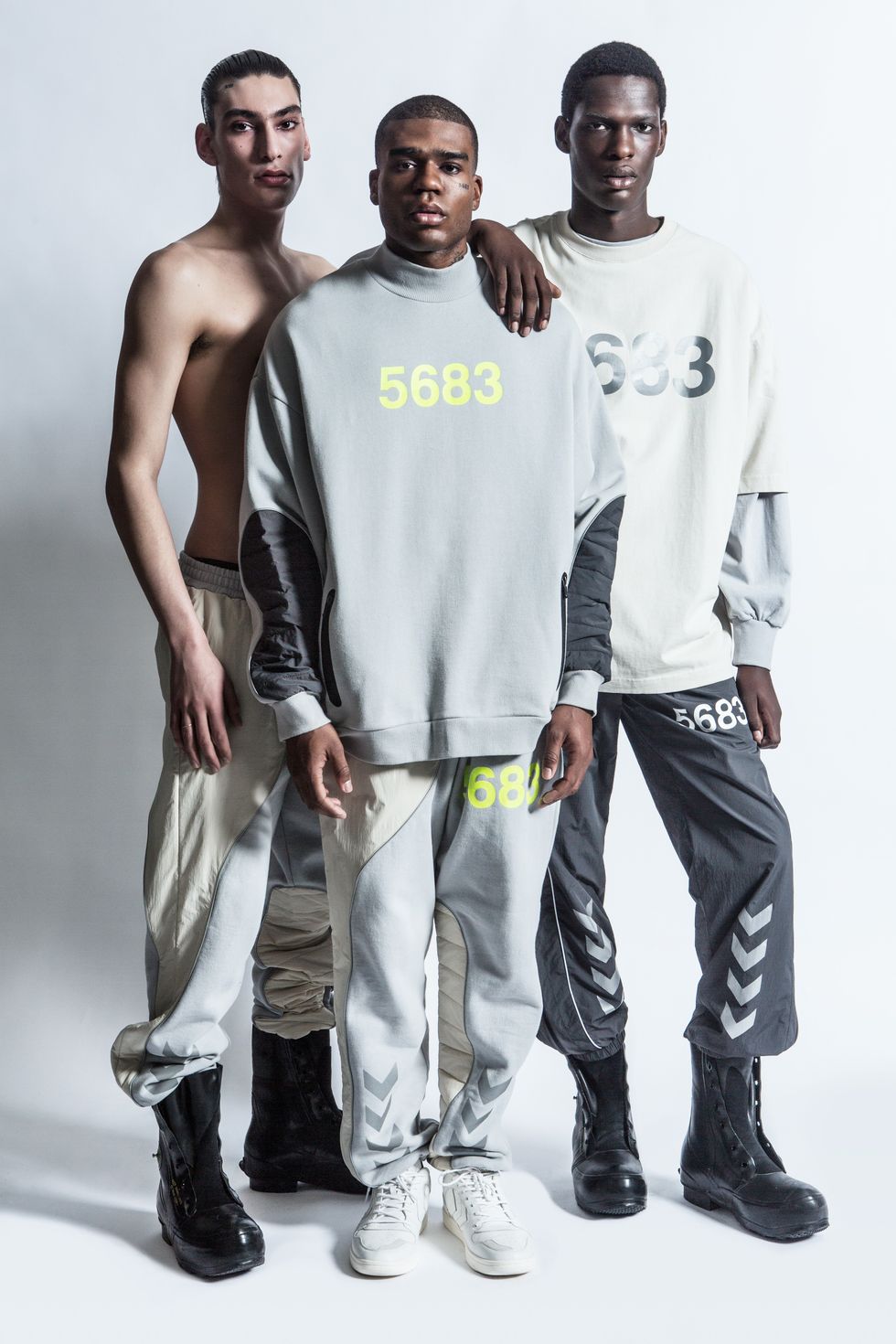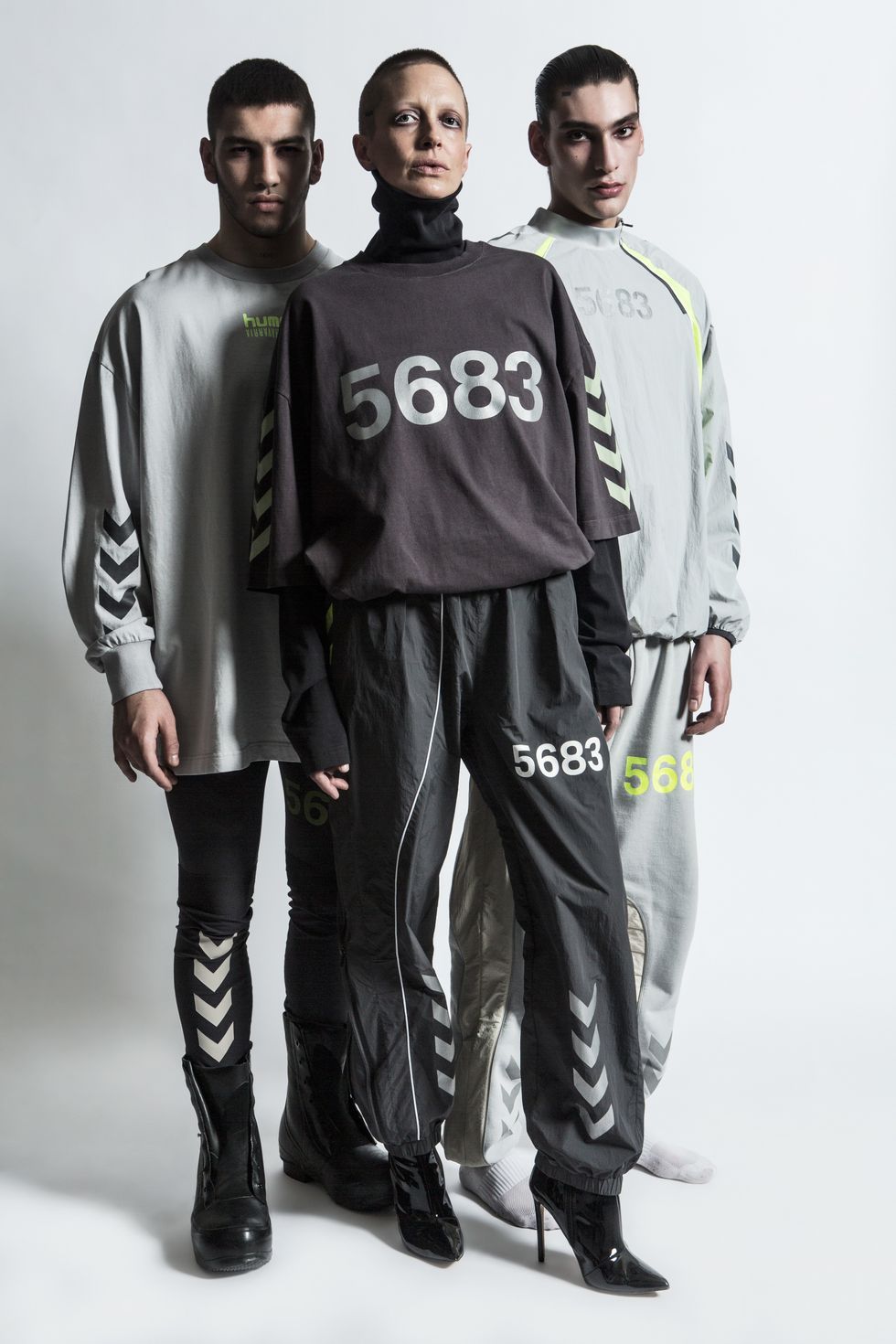 Simply put, with his new collection, the designer wants wants to help people who feel isolated — whether by technology or their citizenship status — to feel confident and loved, like "the freshest kids on the field. Like futuristic warriors of fierceness." The campaign launches on August 15, and today PAPER offers an early exclusive look.
We sat down with the designer to chat about tackling sportswear, being inspired by RIFA, and why politics and fashion are inextricable.
How did you begin working with Hummel? How did you end up doing this second collaboration?
I was attracted to the total sportswear approach to apparel that hummel takes. I loved that function supersedes fashion with their sports apparel. Living part time in Copenhagen, it was natural to approach them and propose a concept in which we would promote human dignity through fútbol and fashion. We made an immediate connection with this concept and our enthusiasm created a great collection.
Why did you, as a designer, want to support RIFA, as opposed to another immigrant advocacy group?
The WILLY team supports several advocacy groups. The foundation of our brand is to utilize our talent to empower the underserved and promote social justice. With hummel, we agreed to stay true to the brands philosophy of "changing the world through sport." The RIFA crew is a fantastic mix of amazing leadership and the coolest kids who come from many different countries — each of them with a positive influence on the world around them. They are fuckin' inspiring! So it's been awesome to work with them and keep them looking like bad-asses on the field.
As the campaign indicates, how did social media inspire this collaboration?
A part of what my brand does, is share the beauty of people that are not always seen as the inspiration that they are. In this case its been important to allow the voice of my brand and the voice hummel together share the light of immigrants through our lens.
Aesthetically, what inspired the designs?
I just wanted these guys to look and feel like the freshest kids on the field. Like futuristic warriors of fierceness.
What does "5638" mean to you?
It's love in the digital age: 5683 is the numeric correspondence to the iPhone key-pad for L-O-V-E. It's love transmitted in a way that is felt but not necessarily spelled out
On the heels of the racially motivated shooting in El Paso, and the recent mass ICE raids in Mississippi, the collection feels more poignant than ever. What do you think is the relationship between fashion and politics?
I think everything we live and breathe is connected to politics. How we dress is reflective of how we see ourselves in society. Fashion is a language in our society. How we communicate with others should also set the tone for the environment. So in that way there are politics in how we dress. For me, it's important to use clothing to make some improvement to society. Where it's a message on a garment or a way in which we offer assistance to a human rights organization.
What else are you working on at the moment?
I'm heading to the Philippines to be a part of Manila Fashion Week. I am partnering with the department store chain BENCH and Feeding Metro Manila to launch a fashion collection which will help provide food to the homeless.
Photos courtesy of Willy Chavarria
Sign Up For The Morning PAPER