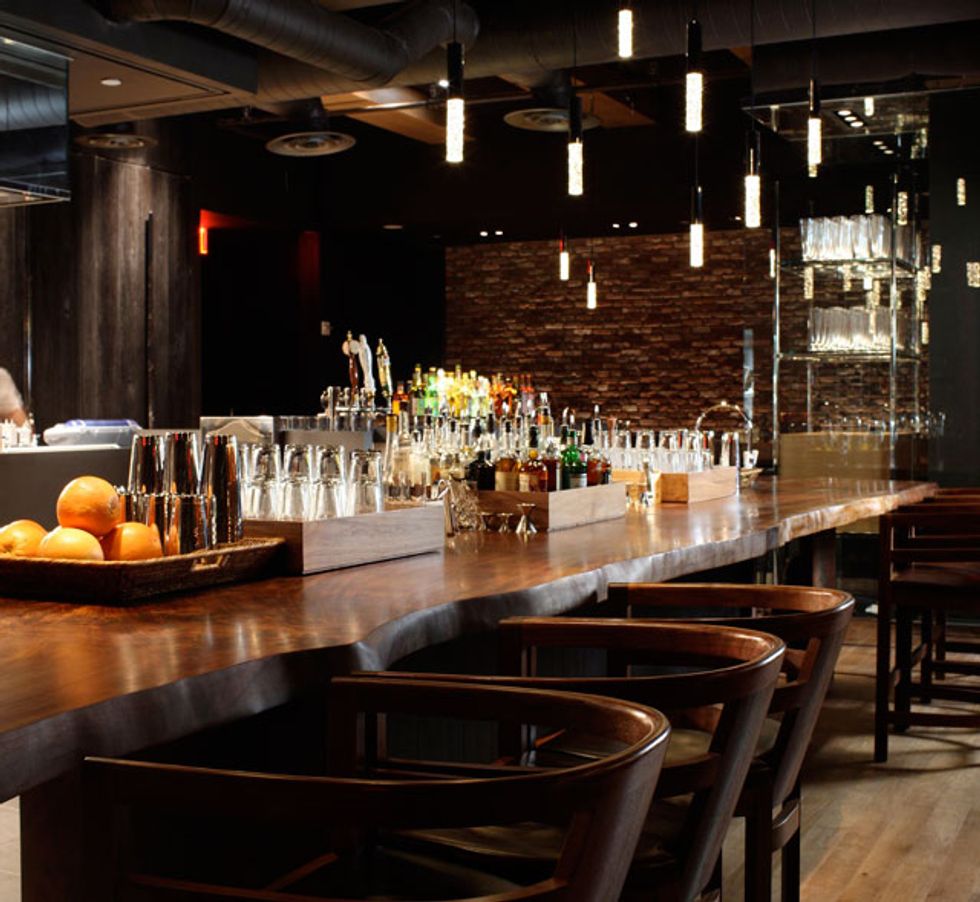 Occasionally, we'll find our own reasons to head above 34th Street for a night on the town -- like when we catch wind the cast of
30 Rock
is on-location near the Applebee's in Times Square, or when a swanky semi-secluded hotel bar like opens with fancy cocktails and cheese plates that would make Liz Lemon proud. Assuming you're aiming for the latter, here's our little guide to doing the Bar Downstairs at
the Andaz
right.
1 . Secure a weekday cocktail hour reservation for prime post-work flanerie.
2 . Invite three of your best-looking ladies/gents to accompany you.
3 . Arrive in your prettiest/sharpest work-a-day duds at appointed cocktail hour.
4 . Locate the giant, but inconspicuously marked door and walk downstairs. Find the other giant, but conspicuously unmarked door and enter.
5 . Check in and hunker down into massive wooden armchairs tucked into communal
tables reminiscent of romantic
Godfather
-style family reunions.
6 . Start with a round of Luculluses (Trinidadian rum, lemon, apricot liqueur, Angostura
bitters) and several cuts of cheese (Old Chatham Blue and Hudson Red).
7 . Admire your surroundings (sparkly fairy lights, wooden slab bars). Admire your admirers (the one grazing your foot beneath the table).
8 . Settle in deeper with a Mexican Firing Squad (tequila, lime, pomegranate molasses, bitters) and pork belly morsels. Hell, throw in the fried oysters and a round of illegal mezcal reposado shots while you're at it.
9 . Buy a round for the leg grazer to spark conversation. ("You're in from London? Where are you staying? Here? Oh...how are the rooms?")
10. Have dessert (chocolate slathered toasts), skip dessert ("Another mezcal, please") and close the place down, your attractive wing-people long since departed.
11. When the bartender says when, look around, seemingly surprised, but don't look at us. We bet the leg grazer has the next move.
Photo via Gothamist.com