It's only been a week since the election, and the nation has seen a wave of verbal and physical violence towards already-marginalized groups, including people of color, Muslims, Jewish, and the LGBT community. And despite his hollow request for his supporters to cease their bigotry in his terrifying interview on last night's 60 Minutes episode, President-elect Trump continues to appoint outwardly racist, misogynistic and homophobic bigots to his White House cabinet, proving that it doesn't look like this reaction will stop any time soon/or ever.
Now is not the time for symbolic unity -- now is the time to actively denounce and combat hate, and ensure that bigots know their actions will not go unchecked. Doing nothing normalizes hatred, so in the wake of a fanatic administration willing to promote injustice and turn a blind eye to harassment, we must find ways to combat it -- in addition to wearing a safety pin of solidarity. Legitimate, actual means of protection of each other, volunteering, buddy systems, keeping your eyes and ears open on public transportation. Because whether in cities or rural areas--this bigotry is happening everywhere and now, more than ever, is the time to demonstrate civility, empathy and decency with your actions rather than sartorial choices.
SIGN UP TO PARTICIPATE IN A PUBLIC TRANSPORTATION BUDDY SYSTEM

Help your friends in need; sign up for this network to accompany at risk folks (be it people of color, Muslim, LGBT folks) on public transportation to protect them from harassment/violence:
This form is for New Yorkers who are willing to accompany their neighbors on their commute in light of recent harassment and threats toward people of color, LGBTQ folks, and Muslims. A Trump presidency may also mean harassment toward women and people of disabilities, and we want to provide accompaniment wherever is needed. Your information will not be shared publicly. If someone requests accompaniment, your email may be shared with the requester should the needs and your offer align.
Sign up here.
DOWNLOAD THIS POLICE BRUTALITY SMARTPHONE APP/MONITOR
ACLU of California has released a new "Mobile Justice" smartphone app that helps citizens observing police brutality against people of color to send videos/photos directly to the organization, before phones are either confiscated/tampered with by police.
Download here, specific to your state.
STAND UP TO ISLAMOPHOBIA/MUSLIM HARASSMENT IF YOU SEE IT HAPPENING
The Mary Sue has linked to a Parisian artist's illustrated guide to effectively counter Islamophobic harassment in public: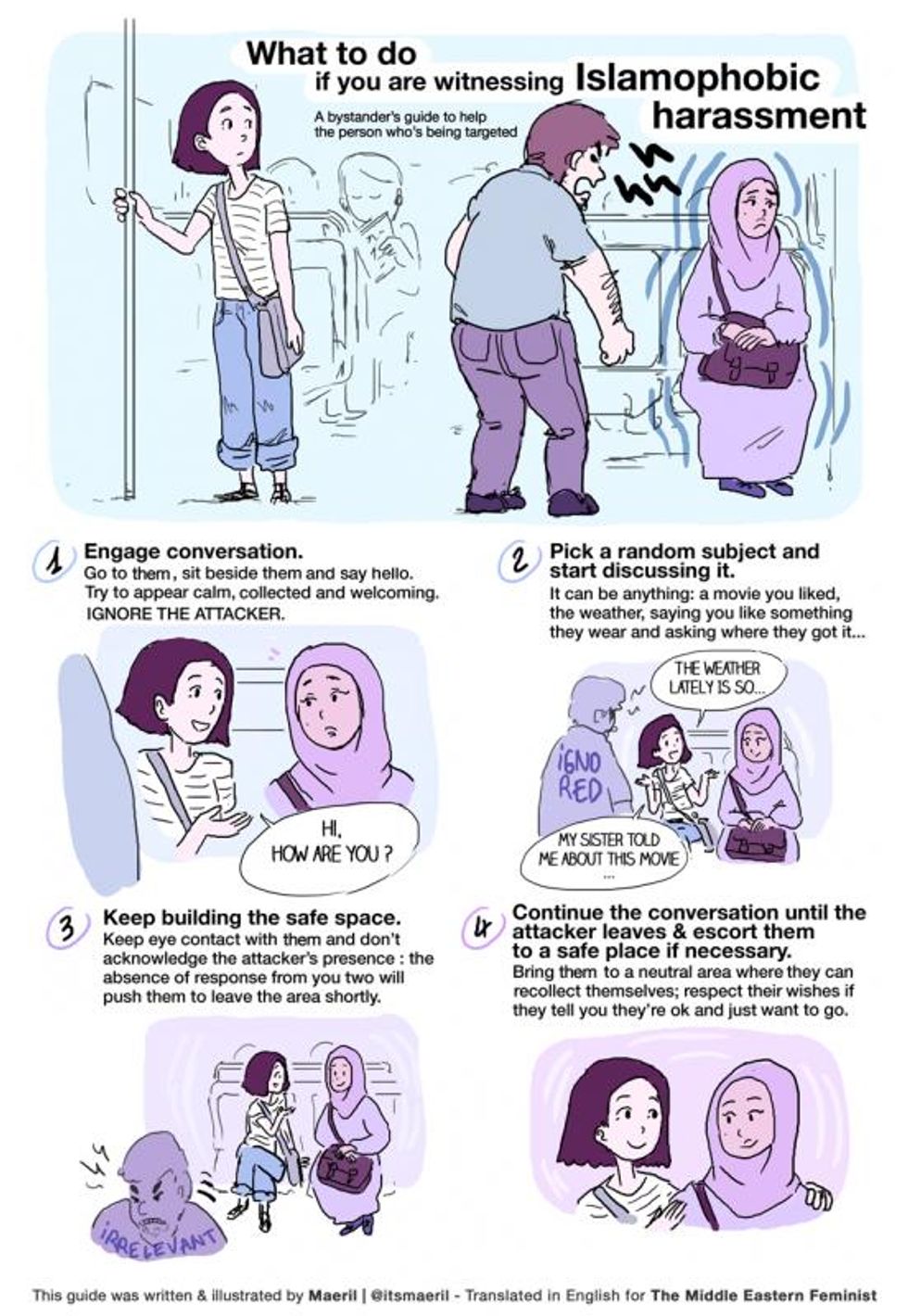 CALL YOUR STATE SENATORS
For example, in New York:
Senator Kristen Gillibrand (212 688 6262), to complain about President-elect Trump's newly appointed Chief Strategist, Steven Bannon, chairman of extremist ring wing media conglomerate Breitbart/noted white-Supremacist, Anti-semite and anti-LGBT propagandist.
Senator Chuck Schumer (202-224-6542)
Call to complain about Senate Dems who are willing to "play ball" with President-elect Trump and "use the fillibuster sparingly."
Remember: The most effective way to get your representatives to pay attention to you is by calling them or showing up to physical town halls/meet-ups. Then they CANNOT ignore you.

BOYCOTT THE BUSINESSES SUPPORTING PRESIDENT-ELECT TRUMP
Editor's Note: Our original list of Trump-supporting businesses was incorrectly sourced and included notable, pro-Hillary supporters i.e. Starbucks. We've updated accordingly. To find businesses that are confirmed to be affiliated with Trump, download the Boycott Trump app.

Also, it goes with out saying, but any god damn thing with TRUMP's name attached to it.
HELP YOUR MTF TRANS FRIENDS
If you are a cis woman or someone assigned female at birth, you can benefit your trans female friends by obtaining and stockpiling birth control in the (unfortunately probable) event that they are denied access to their hormones. Both oral estrogens like estradiol-only birth control and anti-androgens like spironolactone are needed. Find out more about essential feminizing hormones here.
also, maybe you've seen the request on FB to start stockpiling maintenance meds most trans women rely on daily - estradiol & spironolactone
— shan (@hallleloujah) November 13, 2016


VOLUNTEER
FOR IMMIGRATION EQUALITY
If you are an attorney, or simply multi-lingual, you can help LGBT immigrants in their fight to prevent deportation, preserve their asylum, amongst other things.
Sign up here.
LGBT
Volunteering at New York's LGBT Center
Volunteer with the Trevor Project
ACLU
Donate/volunteer for the ACLU
Volunteer/call your local Planned Parenthood to find how you can be a clinic escort, which is someone who helps shield women getting procedures/check-up from heckling/verbal harassment.
We'll be updating this list at various intervals. Let us know what else we can add by emailing us at [email protected]

You May Also Like