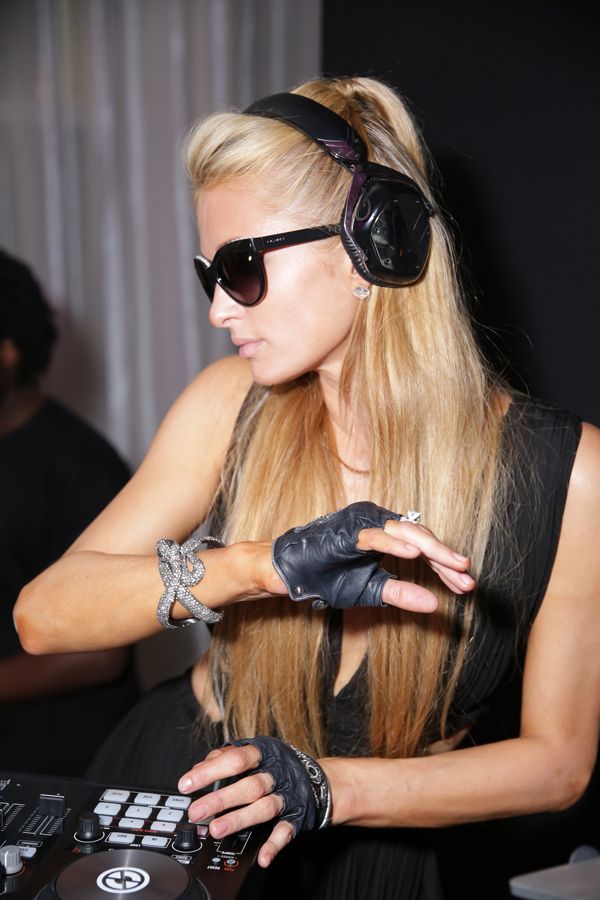 Photo by David X Prutting/
BFAnyc.com
We couldn't help but notice that Paris Hilton has unexpectedly been killing it in the DJ scene, racking up residencies in Ibiza and sets everywhere from Colombia to South Korea. But we were pretty shocked to find that her DJ dominance has now reached Paris Fashion Week. Last night, the former reality star DJ'd Carine Roitfeld's
swanky CR Fashion Book launch
, where she donned tiny gloves and indoor sunglasses and played tracks for the fashion elite to dance to. How did we even get here? How did Paris even get
there
? If you're just as confused, refer to the brief history of Paris Hilton's DJ career, below.
A Miami Club in
2009: A Raver's Dream Deferred


Back in 2009, according to a Swedish House Mafia tour documentary (AKA a reliable source)
,
Steve Angello recalls his fated evening with Paris Hilton
in Miami. As the story goes, the heiress rushed the DJ both and demanded that the SHM DJ stop his set and play a song she requested.
"I'm Paris Hilton," he remembers Paris Hilton saying. To which the DJ replied, "I don't give a fuck. I'm Steve Angello."
That night, Paris went home dejected, making vague plans to one day call the playlist shots.



November 29th, 2011: A DJ Love Affair With Afrojack
Love makes us do crazy things -- like stay up until the sun rises, kiss in the rain without any regard to catching a cold, chat on Tinder for hours with a dude who can only be described as "not that bad" -- and, perhaps, get serious about a DJ career?
July 24th, 2012: Paris' DJ Debut in Brazil
We can't say that we don't love
The Simple Life
-era Paris Hilton. Her dead-eyed quips ("
You can call me "Princess Paris" or "bitch
") were, at times, our raison d'être. But the crowd at Paris' DJ debut at the Sao Paulo Pop Music Festival were not so enthused to see the former reality TV star in immaculately bedazzled headphones. Her "What's up Brazil!" was immediately met with a chorus of boos. That night, she also premiered her Afrojack-produced single, "Last Night," which didn't go over too well either. 
October 8th, 2013: Paris Does Hollywood
Taking a year to hone her button pushing skills (that's what DJing is, right?), Paris makes her US DJing debut and, according to
LA Weekly
, "she rocks!" And notably, her look for the night was still very sparkly but much improved.

July 31st, 2013: The "Foam & Diamonds" Reign
At this point, Paris Hilton can't be stopped. And no one seems to want to stop her? The sparkle queen is now in full effect at Amnesia Ibiza for an exclusive DJ residency and the CEO of Cash Money Records, Birdman, is actually enabling her.
He says
he doesn't "think people know how talented Paris is." And he's right, we don't.
November 8th, 2013: Paris Does TV
Here it's revealed that Paris has "been to DJ school and stuff" and is very confident in her pronunciation of "Ibiza." If anything, Paris can definitively claim that she's the first DJ on Ellen. The first!   
December 26th, 2013: Paris Hilton: World's Best DJ

In a paparazzi interview with TMZ, the heiress claims that she's amongst the top five highest paid DJs in the world ("I'm one of the top five in the world, so..."). Regardless of facts, she says it with such sassy surety that we're inclined to believe her.
February 28th, 2014: Paris Hilton: Actually Not A DJ
Taking herself out of the running for "World's Best DJ," Paris Hilton told
V Magazine
that she's actually not a DJ. "I don't consider myself a DJ," she explained.
"
I am a businesswoman, and this is just a small part of what I do. I love music and I love partying, so it's a fun job for me."
August 11th 2014:
Paris Hilton is Covered in Foam and Laughing at All of Us As She Makes So Much Money (AKA Foam & Diamonds Party Redux)
Whether anyone likes it or not (and they must like it if they've invited her back), Paris Hilton is the DJ of our generation. Or at least the party godsend for Ibiza club kids. In four nights she made $2.7 Million -- or $347,000 an hour. While her DJ skills are still under question ("the crowds do seem to enjoy it, but most are too off their faces to care that she's simply pressed Play on a Beyoncé megamix," a source told
The Sun
), as they say, Foam & Diamonds are forever.