Nightclubs, like New York City itself, were once a place for everyone - a weird and wild variety show of cross cultural exchanges and experiments in the art of being a human, all on a very crowded stage. If you look at the history of getting down on the dancefloor, even before the disco era of the 1970s, you will see that it was largely driven by the gay and black community and was that perfect no man's land where everything was forgiven. A safe zone where the ambassadors of all the tribes could come together, commune, celebrate themselves and set aside their differences. Important dialogues took place, guards came down, and hearts opened.

People used to come to the nightclubs for the culture but, somewhere along the line, clubs became places of exclusivity and inequality strongly in favor of the wealthy. Money replaced creativity as the main qualifier of who and what was considered "cool."
So what happened?
Former Mayor Rudy Giuliani's 90s-era quality of life initiatives made the city safer, but they also ushered in a crackdown on the dirty sweaty fun that good dance floors are made of. Gentrification brought soaring real estate prices, and the death of legendary anything-goes clubs like Nicky Siano's The Gallery, and Limelight. The Noah Tepperbergs of the city took over opening clubs in Manhattan with their quick and financially efficient bottle service model that sidestepped the archaic cabaret law. Money was now the qualifier that got you inside.
From 2007 to 2015, we worked in these nightclubs as professional "sexy stilt-walkers." We wiggled our glitter-covered bodies around tables and dance floors at Kiss and Fly, Marquee, Avenue, 1 Oak, Lavo, Soho House, and Provocateur. When we started, the table game was strong. We were told when the sparklers flared up and the bottle parades started, we were to go dance around the destination table and celebrate their splurge. The first time we saw a bottle service menu we were shocked by the sticker prices. At the $300 a night we were earning on stilts, we would have to work a whole month for one bottle of Veuve Clicquot.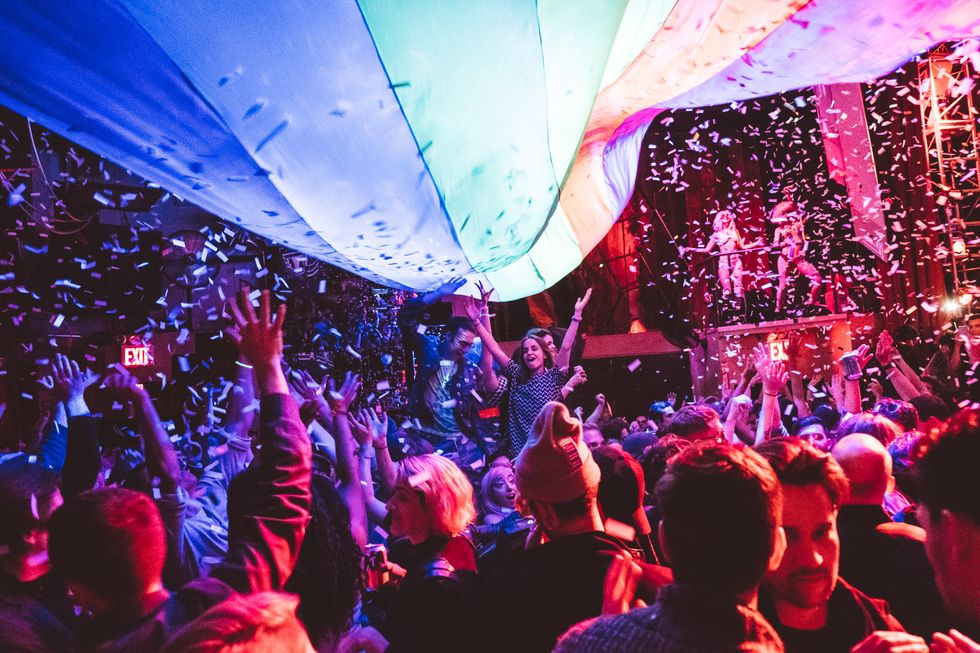 At the same time, we were also performing and partying at underground warehouse parties in Brooklyn. The infamous Danger parties, where we spent our formative years, were a perfect cacophony of DJs, brass bands, art installations and of course, circus. They were 100% illegal, 200% participatory and 1,000% the most fun you could possibly have. In 2007, we somehow managed to open our own weird venue, which was more a performance-fueled, communal-living, illegal loft than an official club. Over the course of ten years, we are now at our first legal incarnation, House of Yes 3.0 in Bushwick.

Like the disco glory days, at House of Yes we strive to create a space where everyone can party without following male-to-female dance protocol or exclusive club policies. By bringing people together from all walks of life and backgrounds, we create a safe haven for queer and minority partygoers to dance in peace and celebrate who they are instead of being scrutinized. We encourage people to explore sexuality while still enforcing and teaching the concept of consent (we have a zero tolerance policy for behavior like surprise spankings or "pussy grabbing"). What we've built is a liberated party scene with a political bent: to exclude minorities is to alienate yourself from all new culture.
We've been open in our current location for over a year which has been the biggest learning experience of our lives. The most important lesson being, if you want diversity on your dancefloor, create diversity in your bookings, talent, and staff. Hire DJs and live entertainers of all colors, genders, and sizes, and really consider the impact of the images you select to use for promo and social media. We're products of a collaborative community which means dialogue and criticism are huge parts of how we operate. We are new, we still have a lot to learn and having patrons willing to teach us when we mess up is invaluable.
And, yes, inclusivity means making parties financially feasible for our guests. When we fell in love with NYC nightlife we were young and broke; endless creativity and effort was our ticket to getting in. At House of Yes, if you're young and broke, but want -- no need -- to dance your ass off, most of the time we offer a "free before 11pm with costume" entry tier. We pay our artists as much as we can afford and give them resources to expand their skills and careers. Before being club owners we were (and are still!) performers. We do sometimes have expensive events, especially when we have a world-class DJ or a lavish dinner party. And we do offer table service (with drag queen bottle models), but every patron, table or no table, is expected to have a good time, embrace the fun vibes and wear a costume, and not act entitled.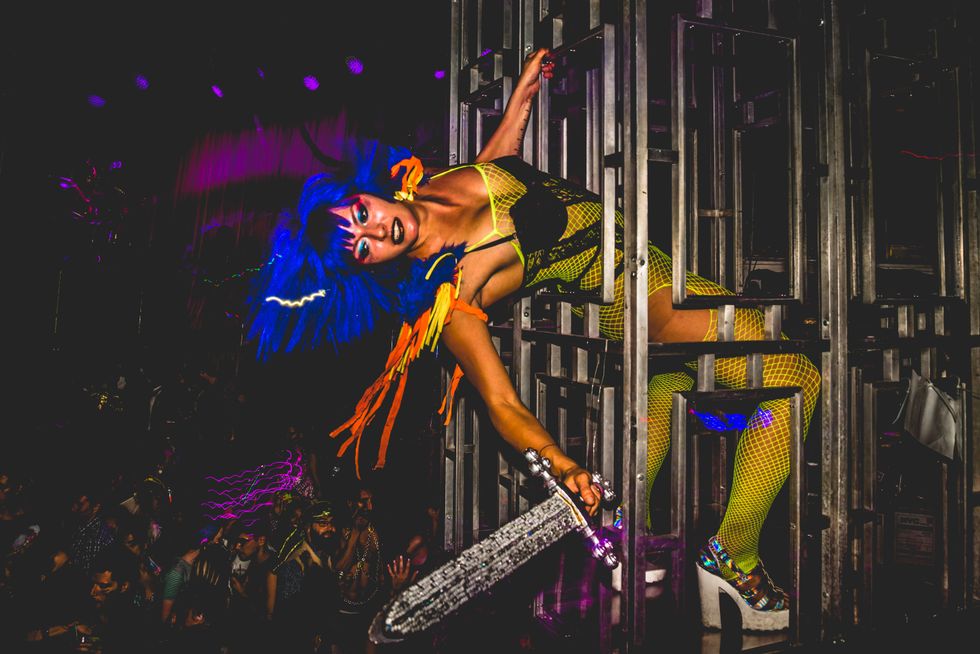 Participation over observation is crucial. We find that costumes can be a great equalizer for nightlife where we collectively go to escape our everyday identities. If we are all playing with pageantry, then there is no "us" and "them." We become a unified, sparkling mass of expression and existence beyond our jobs and status in the outside world. Of course this is tricky, as not everyone is down to dress up, and some people didn't get the memo. That's why for our Friday and Saturday events where effort and costumes are mandatory, we have an affordable pop-up costume boutique right outside the club so everyone who arrives at our door can join in the fun.
The denizens -- particularly the young, diverse and queer -- of New York's nightlife are again starting to look for something different, a new renaissance that encourages inclusion and participation.
All photos courtesy House of Yes

You May Also Like