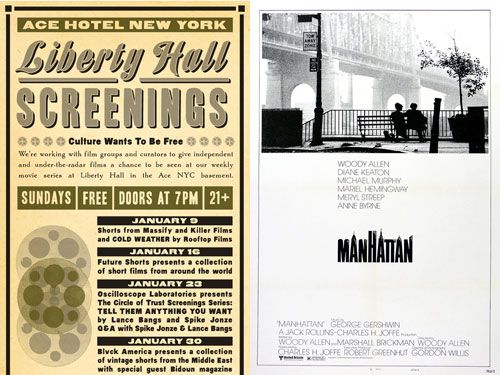 One of our favorite mottos here at PAPERMAG is "
two's a trend
," which pretty much means that if you notice something floating around in the pop-culture ether at least twice, you get to write a trend blog about it. (See also
here
,
here
and
here
.) Well, we were pleased as punch this week to see that both the
Ace Hotel
and
Tribeca Grand
are hosting movie nights on Sundays during the month of January. We can all agree that Sunday nights are the worst, and both hotels have nice little evenings lined up to take your mind off the cruel reality that is a
Monday morning
. Over at the Ace, they're screening indie and under-the-radar movies from the folks at Rooftop films and Oscilloscope Laboratories, including a January 23rd screening of Spike Jonze and Lance Bangs' documentary on Maurice Sendak,
Tell Them Anything You Want
. (Jonze and Bangs will also be on hand for a Q&A afterward.) The Tribeca Grand's movie series is a valentine to NYC and features Manhattan-centric movies including
Taxi Driver
,
Breakfast at Tiffany's
,
Midnight Cowboy
,
Annie Hall
and, of course,
Manhattan
. More details
here
and
here
. 
P.S.
Mr. Mickey
wants you to know that he and his A-list
movie club
are hosting an upcoming screening of the legendary clunker
Angel, Angel, Down We Go
for one of his weekly Tuesday night parties at
Tribeca Grand hotel
. Watch PAPERMAG and our
Twitter page
for details.