After a year of terror and volatility, it's calming to know there are still people out there who thrive in producing things full of love and comfort – which is exactly what the most prolific gay social networking app and an insanely talented photographer have created for us to enjoy. Home, a series of photographs by Matt Lambert commissioned by Grindr, focuses on young gay men discovering and discussing how they began to be comfortable with their sexuality.
An old abandoned brewery on an icy cold Berlin night is the setting to celebrate the collaboration between Grindr and Lambert. Ghoulish red spotlights light up the exterior and a multitude of rugs and candles line the winding corridors inside the venue. True to its LGBTQ crowd, the bathrooms hold a bounty of condoms and lube bottles to take away, if Cupid is in your favor. Each dinner table is set to perfection and every guest has a copy of Home at his or her seat. The avant garde entertainment comes in the form of a live band complete with bassist, accordion and androgynous female crooner decked out in a tuxedo and afro and singing exclusively in German. Guests like Rose McGowan, Bruce LaBruce, Olly Alexander and Dinah Lux file in to take their seats as the dinner commences.

Home is opened by a foreword by cult filmmaker Bruce LaBruce with iconic lines like, "The new queer spaces are mostly virtual … but I still miss the old school sometimes. Call me gay." It precedes what is truly a feast for the eyes and the soul. Flicking through the black suede bound book, Matt sheds some light on the content inside. "It's is a series of portraits of young gay men and conversations about the first times in which they felt comfortable," he says. "Home for me represents this idea of feeling safe that isn't always connected to a physical space – digital and virtual spaces like Grindr overwhelmingly become these spaces for lots of young gay men."
A common thread running through the stories within the book is that many of the subjects didn't even know they were gay, or really what gay was, until they made that leap to go online. Faceless, discreet profiles led to chat, which led to exchanging photos (yes, dick pics too), which finally led to face-to-face meetings. Whether it was to sneak out and meet, fuck and duck, or stroll along a riverbank hand in hand (which some in the book said was even out of their comfort zone) that's what these young men did. (And if the chemistry was right they'd fuck at said riverbank.)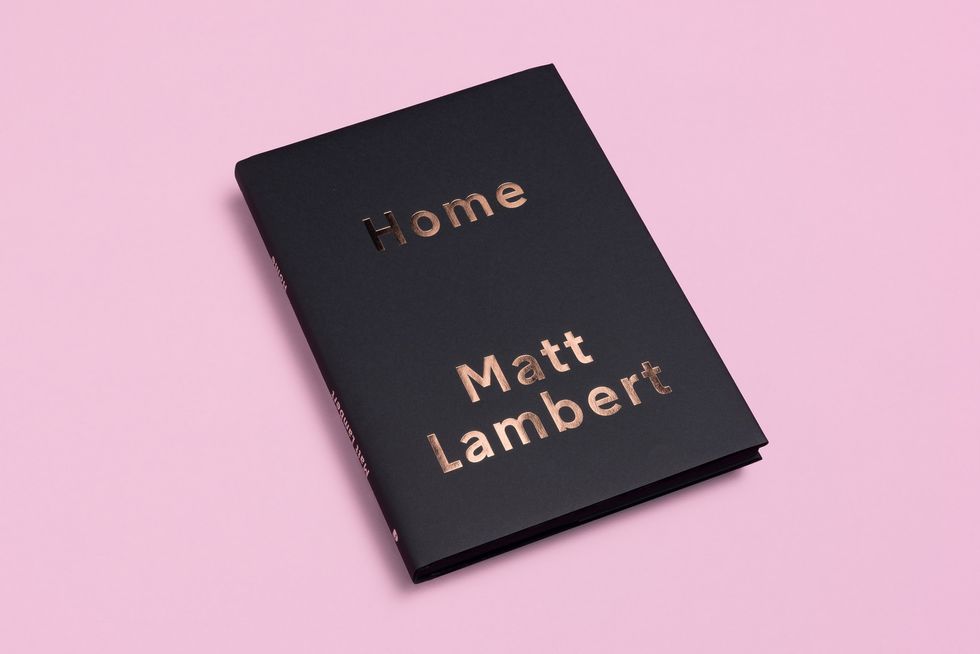 Via Grindr
"Closing my eyes again and coming back to my lover I felt something had changed, like I was now a part of this myth of queer bodies making love in public" – Igor, Home
Tragedies in the global gay community, like the Orlando Pulse shooting, were one of many catalysts that brought Home to life. Landis Smithers, Grindr's Creative Director, was particularly affected by the shocking news and immediately called Berlin based Matt Lambert to get the ball rolling. "I called him and said we have to do something that has impact, something genuine" Smithers explains. "So the concept was, as he would travel, he would find what safe spaces meant to people these days, especially to young gay men who didn't grow up in the era of gay bars which had that air of secrecy around it." Cut to the present day; what once seemed like a beautiful development in acceptance through the increase in gay bar visibility was swiftly shot down by hate crimes like Orlando and the bombing of London gay pub The Admiral Duncan in 1999. He continues, "What we discovered is that now gay men were finding their 'homes' through digital spaces and apps."
Increased use of social networking holds a stigma for some and can sometimes actually be more isolating, but Matt doesn't see it that way. "I hope the book encourages people to keep digging – to find their niche and not feel alone just because they haven't found solidarity in the surface of their community," he says. "Digital spaces have created the possibility for camaraderie amongst global tribes that allow us to dig even deeper into who we are".
"Love it or hate it, it brings us together as men. Even if you feel as if you're alone, it can connect you to the gay world that is hiding in plain sight" – John, Home

On the subject of isolation, Landis recalls seeing the photos in Home for the very first time. "There's certain images where the boys are so alone and my heart started to break a little because that sense of isolation was paired with them just being humans seeking something – now that's pretty universal, it's not just a gay experience." He continues: "Even before we put the text in, just seeing the images made me profoundly emotional. It spoke to me on a lot of different levels. I remember feeling alone but also feeling powerful and whole, and there being no one else like me."
The partnership between Matt and Grindr has blossomed so naturally that they have appointed him Global Commissioning Director for new creative content in the works. "We both share feelings that there are a lack of spaces for LGBTQ voices to shine," Lambert says about the collaboration. "There are great platforms out there, but definitely some holes to be filled." In this new role, Lambert "hopes to give voices to the voiceless and show people that we can tell stories and make stunningly compelling work that doesn't have to be defined purely by the themes of the subject."
Grindr has been at the forefront of collaborations when it comes to the app world. Let's not forget that delicious collab with JW Anderson where the usual 'masc 4 masc' conversation was interrupted by the AW16 collection being live streamed across the platform. Touching upon the future of Grindr, Landis opens up to say, "We've moved from fashion, to sports to politics – this project is kind of art mixed with politics. What we're aiming to do is keep the conversation going around critical topics for our world. I want to create a space where that dialogue gets amplified and where we create places for people to connect and to take action."
When asked what advice he'd offer to someone who picks up the book and is in a situation of gay oppression Matt says, "Be patient. Be optimistic. Be safe, but learn to trust too."
You can purchase a copy of Home HERE.
Photos by Maxine Ballesteros and Jennifer Medina. Splash photo courtesy of Grindr.

You May Also Like