UPDATE: The Trump/Pence camp released a modified version of their logo on Saturday, following the field the media had with its original: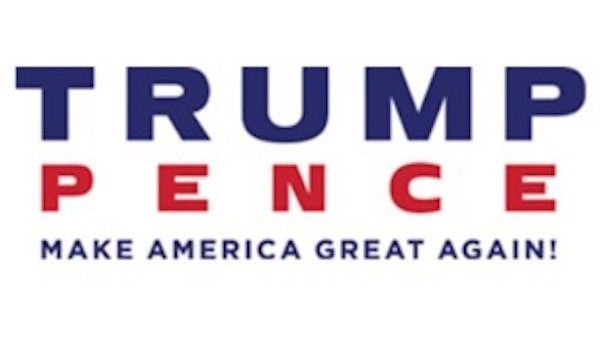 No handjob, no vote!
WELP!
Apocalypse begins...NOW.
Trump has confirmed/announced that he has chosen Indiana governor Mike Pence to be his vice presidential running mate for the 2016 presidential election.
As we know, this is a VERY bad combination.
VERY.BAD.
The one silver lining is that we, the internet, can null the true horror of this bigoted union, at least for a few hours, by making fun of their totally terrible campaign logo.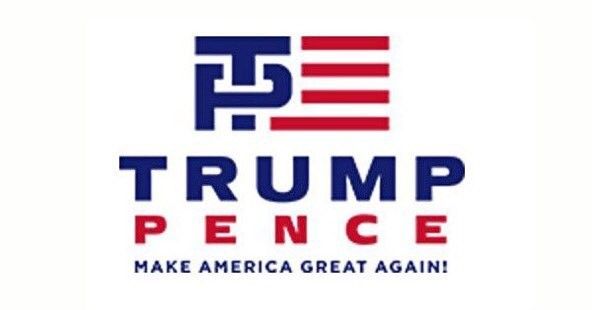 Lol.
Here are some very funny, very smart people making some truly astute observations about this very, very dumb symbol of Hell.
RAQUET BALL CHIC
so 90s sportswear pic.twitter.com/iuz7a4gH47
— Ayesha A. Siddiqi (@AyeshaASiddiqi) July 15, 2016
Handys, all around!
Trump-Pence logo has Pence giving Trump hand-job. Bros together. 👊👊👊 pic.twitter.com/Bq7qdCnw6K
— Jerry Saltz (@jerrysaltz) July 15, 2016
"Looking?"
The Trump-Pence logo is so explicitly gay that I thought it was plugging the (pretty charming!) LOOKING movie on HBO.
— emily nussbaum (@emilynussbaum) July 15, 2016
Coincidence?
On the left, the Aryan Nations logo.

On the right, the Trump Pence logo. pic.twitter.com/ie3Qb6E5i9
— Olivia Nuzzi (@Olivianuzzi) July 15, 2016
But how are we going to explain the Trump-Pence logo to our kids? Won't someone please think of the children?
— Celeste Ng (@pronounced_ing) July 15, 2016
Boys will be boys...
Basically every adolescent boy has a copyright claim on this Trump Pence logo pic.twitter.com/61OwXWFcR2
— Dave Itzkoff (@ditzkoff) July 15, 2016
"Just close your eyes..."
Trump: Mike, check your email. The logo is up!

Pence: Umm …

Trump: I am in you! Believe me, feels terrific! | pic.twitter.com/Py9zgGMCmQ
— Jamie O'Grady (@JamieOGrady) July 15, 2016
NSFW!!!!!
in case any news outlets want to use the Trump-Pence logo, i made it safe for TV pic.twitter.com/mxozHMzam6
— Matt Negrin (@MattNegrin) July 15, 2016
Hypocrites...
This logo is not welcome in certain Indiana pizzarias pic.twitter.com/GGcH1TXUm3
— Sam Baker (@sam_baker) July 15, 2016
"From humble beginnings..."
"When two people love each other very much and want to start a campaign together..." pic.twitter.com/OkOncMsbth
— Ellie Hall (@ellievhall) July 15, 2016
MAKE AMERICA GREAT AGAIN, by not voting for Trump and Pence.