Back in the old days, a handful of rich and famous women were celebrated for their style on the International Best Dressed List. These days Tumblr and instagram allow style-addicts worldwide to strut their stuff and to showcase their favorite style icons. One of our favorite Instagrams of late has been @hijabfashion, which celebrates the sartorial splendor of women in 'modest fashion' including hijab, a headscarf worn by Muslim women. The ladies behind the Instagram account, London-based Safiyah El-Houdaigui (@safsaf.el) and U.S. and Dubai-based Saufeeya Goodson (@Feeeeya), serve up a parade of high-style looks that have only two things in common: they're worn with hijab and they're fabulous.

For starters can you explain exactly what Hijab is?
Hijabs are worn by women in the Muslim community. Hijab is often misunderstood to be solely restricted onto Muslim women when in reality, there are multiple religions that call for women to cover, whether it be their bodies or hair. Modest dress and behavior is a divinely prescribed responsibility for Muslims of both genders. What is often overlooked is that Muslim men also have a responsibility to dress modestly just as much as Muslim women.
The Hijab is not an exact science; it means different things to different people and is largely related to modesty. To some people, Hijab is seen as a veil or headscarf women use to cover their hair. To others, the Hijab is also defined as a form of preserving modesty in dress. In fact, "modesty" is not limited to clothing either, it includes having modest thoughts, feelings, and actions.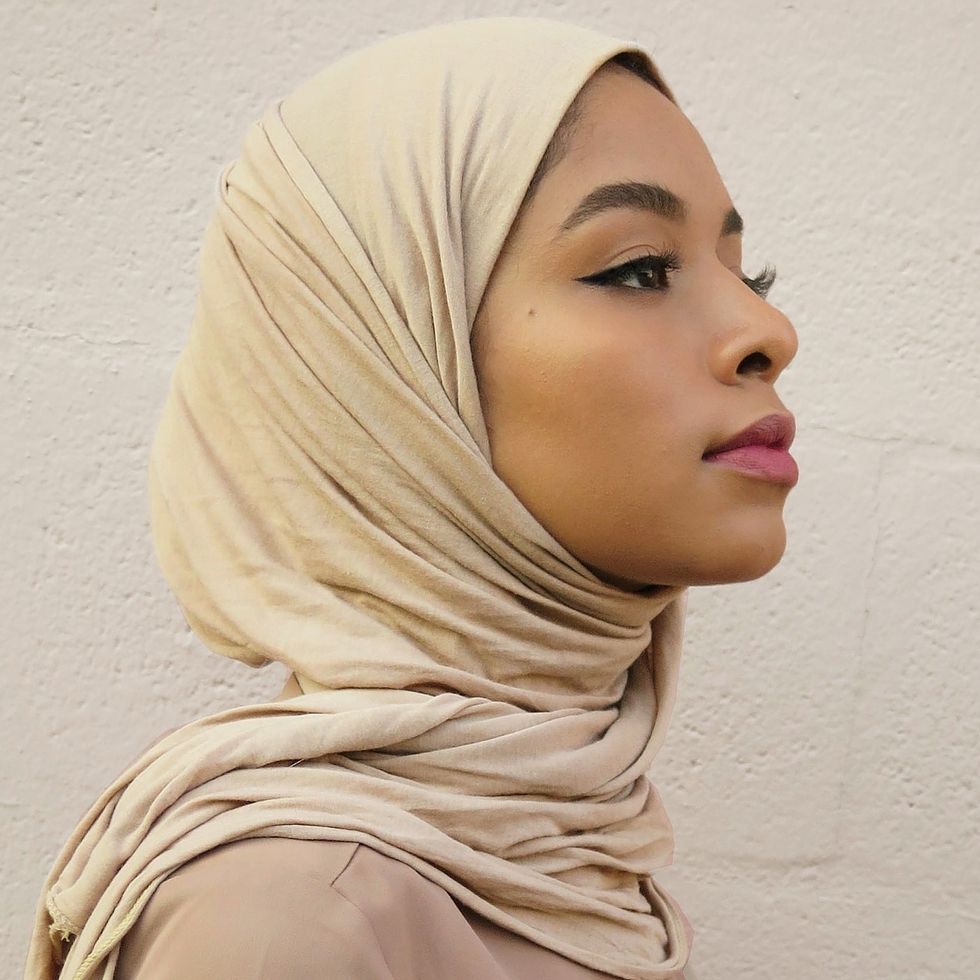 Saufeeya
Tell us about yourselves.
We originate from multicultural backgrounds often finding ourselves living between Dubai, Morocco, UK, and USA. We both partake in modest fashion and are often dubbed as "Hijab fashion bloggers." Like any bloggers, we share our varying styles while the only visible difference [between us and other bloggers] is our veil and the way we implement our styles according to the guidelines Hijab.
What are the rules about modesty when it comes to dress?
That depends on each and every individual. Within modest fashion there isn't a fixed look, and generally the style varies between individuals, which is also the case for non-Muslim fashion bloggers. Although the practicing Hijab does mean certain guidelines such as loose fitting clothing and avoiding attire that will reveal the form of the body.
What made you want to start your Instagram?
The Instagram page @HijabFashion was created on the basis of catering to those who identify with the modest style -- a page dedicated to the style of clothing where the style of attire was more important than revealing attire. As it gained recognition and obtained a large following, Hijab Fashion became a source for inspiring women who observe modesty as well as a source for style inspiration. Our motive has and still is to empower women within our global community. Our page is not merely composed of individuals, but has grown into a community that propagates this counter-cultural movement of modest fashion.
H&M recently had a woman wearing hijab in an ad campaign. Do you think that's a big deal?
We believe H&M has stepped outside the box and taken a step forward. We first saw the ad campaign on Tumblr and a few days later, the H&M campaign featuring Mariah Idrissi (the girl wearing hijab) was all over the news. We don't think anybody expected the ad campaign to have this much attention because it featured a veiled woman. So far, we've only seen a positive impact and, we hope to see more veiled women take part in the fashion industry!
With all the attention and media coverage the H&M ad received, we're looking forward to seeing the fashion Industry be more accepting and accommodating to those who choose to dress modestly, especially Muslim women. We're positive that H&M has gained the support of many veiled women. It was refreshing to feel represented, even though it was for a few seconds!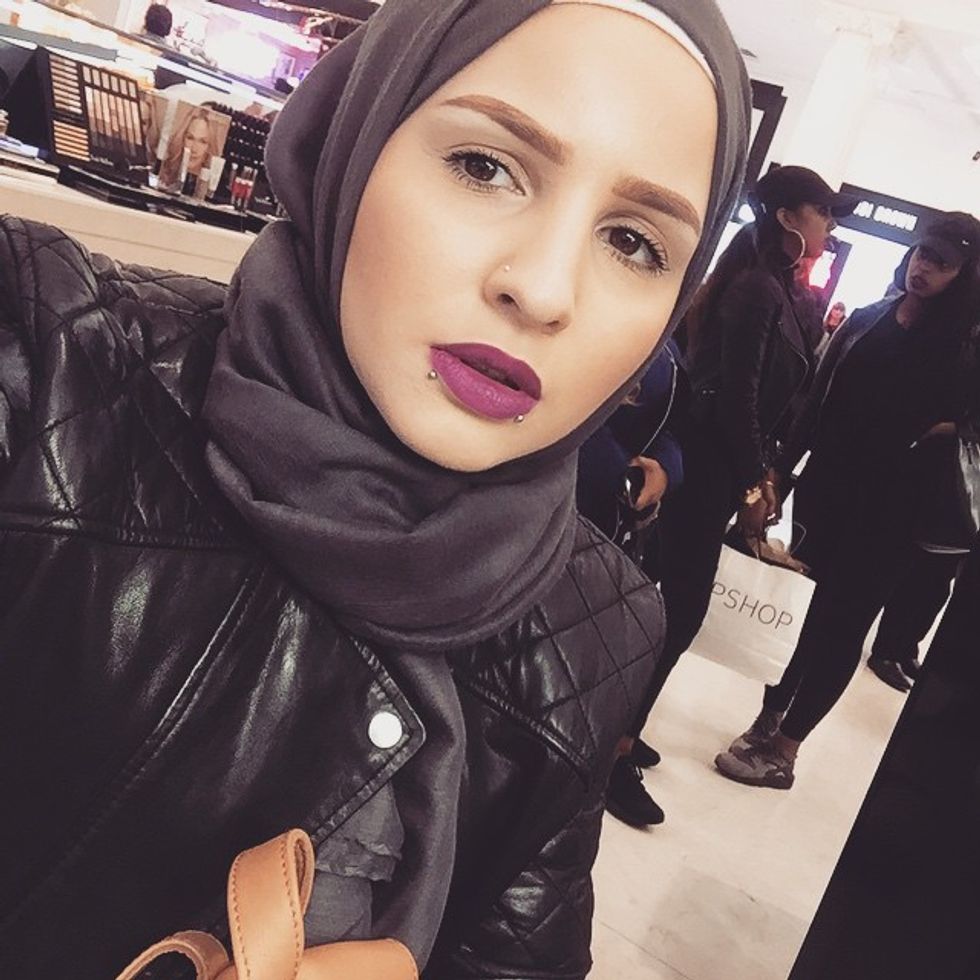 Safiyah

Is there a large street style / personal style blog scene featuring covered women?

Through our observations, lifestyle and fashion blogging have rapidly increased amongst covered women or women in general. We have seen a huge expansion of modest fashion, internationally. It's exciting to witness this growth and contribute to it. A few of our favorite bloggers are below.

Do you see the trends from Western fashion work their way into modest fashion or is it totally independent of Western fashion influences?
Within the @HijabFashion Instagram page you're likely to see a myriad of converging cultures. We take inspiration from the countries we have lived in, and have visited in our travels, which contributes to its success. This is a reflection of how modest fashion is not partial to a particular society but instead expands and transforms, adopting different mediums of styles.
Are there mainstream fashion magazines that showcase modest fashion?
It is possible to get inspiration from all mainstream fashion magazines. Flicking through Vogue for example, there are options out there for people who wear modest clothing. Where there are instances where that is not the case, sometimes clothing can be adapted to become more modest through layering etc.
Do you see in the future that modest fashion will be adopted by fashion idols of the West?
As a matter of fact, it already is. Fashion icons such as Mary-Kate and Ashley Olsen for example, wear a lot of modest attire as not all fashion needs to be immodest.
Do you think the Western World lacks in catering to modest fashion?
Due to more demand in the modest fashion industry, there is a lot more catering now than there used to be a decade ago. Stores such as COS and Zara target the modest community which contributes to its success today.
There is definitely still scope for more in the western world -- the modest clothing market is massive (revenue currently stemming in the billions) and could be exploited further.
Top Blogger/Designers:
-Ascia AKF
Instagram: @asica_akf
the-hybrids.com
Location: Kuwait
-Dina Torkia
www.dinatorkia.com
Instagram: @dinatokio
Location: London

-Dian Pelangi
www.dianpelangi.com
Instagram: @dianpelangi
Location: Jakarta, Indonesia
Related Articles Around the Web
You May Also Like
Art
​Story by Justin Moran / Photography by Tanner Abel and Nicholas Needham