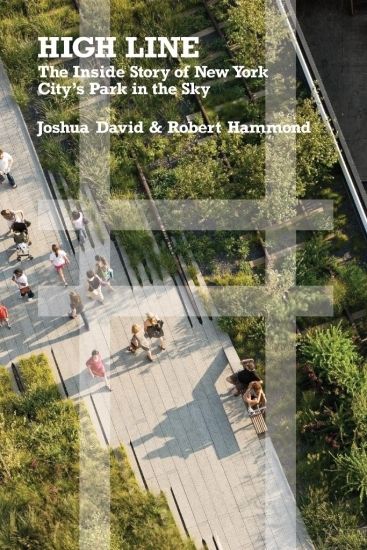 In the few short years since the High Line opened in 2009, it has become an iconic part of the New York City landscape and a rallying cry for urban developers everywhere. In
High Line: The Inside Story of New York City's Park in the Sky
(Farrar, Straus and Giroux)
Friends of the High Line co-founders
Joshua David
and
Robert Hammond
recount attending a community board meeting about the fate of Chelsea's abandoned elevated rail track one evening in 1999 (they were the only attendees in favor of saving it) and, over the next 10 years, their efforts to transform it into the popular destination it is today. With virtually no experience in this area, David and Hammond were able to overcome numerous obstacles -- the city, businesses, neighbors, funding -- to undertake a project that, when completed, will run from 14th Street to the West Side Rail Yards between West 30th and West 34th Streets and 10th and 12th Avenues. A personal as well as personable account of their adventures,
High Line
is an empowering tail of two people with a passion and a vision who wouldn't be swayed from their goal. Profusely illustrated with photos of the High Line's amazing transformation,
High Line
will undoubtedly inspire others to follow their dreams, urban-planning-related or not, in cities everywhere. Here, co-founder Hammond discusses the High Line's gayness, nostalgia for a grittier New York City and the people who inspired him to keep going with this project.
I see from your book that you and Joshua are both gay and you noted that a disproportionate number of your early supporters were gay. To quote from the book:
Joshua David: People would pretend that they discovered the High Line when they were going to art galleries, but it was really when they were going to gay dance parties at Twilo, the Tunnel or the Roxy.

Robert Hammond: Gayness ultimately became an identifying characteristic of the organization and to some degree, of the park itself."

To what extent did being gay, being part of a gay community and working with a disproportionate number of gays impact the High Line? 
The project combines two things gays love: design and preservation. I've been looking for that quote by Herbert Muschamp, where he says the secret behind the preservation movement in New York City is gay men and rich, straight women.
I love that "gayness" has an entry in the index of a book about urban planning. As does  "money shot," "Twilo," and "Dirty Martini" (not the drink). Josh and I are talking with the NYC LGBT Community Center to do a talk that tries to explore these issues.  I've been spending more time thinking about a name for the talk than how to explain it. "Homosexuality and the High Line" is too clinical and serious. Maybe "Homos and the High Line" or "High Line Homos."
How is gayness reflected in the park's design?
Our designers, James Corner Field Operations and the architects Diller Scofidio + Renfro caught our eye from the very beginning, because they also loved the High Line's dark and mysterious qualities. They described the High Line as a ruin, a found object. Liz Diller used the word "illicit" because you had to crawl under a fence to enter this forbidden, secret area that had an aura of past sex and drugs. I remember Josh's face lit up when she first used that word during their competition interview.
Who were you imagining as the future users of the High Line when you were envisioning it? Has it met your expectations. Is it as diverse as it could be?
I was scared I would never use the park once it opened. Even though I loved the design I secretly worried it would have lost too much of the magic of the untended wildscape I had fallen in love with. For almost ten years it was kind of a private garden for us. But it was so obvious once we opened it: the High Line is at its best when all types of people are walking on it. I've noticed the crowds getting more diverse the longer we've been opened.  At first I think it attracted a design-loving crowd, but now we are seeing a much broader cross section of people from all parts of the city and world.
There is some nostalgia among New Yorkers today who long for the good old gritty days of NYC -- Times Square, the Lower East side and now the west side piers have been sanitized for the tourists. Do you feel nostalgia for that time as well, given that you wrote in the book how the piers were once used for cruising and clubbing?
Like anyone who is almost finished with their second decade in New York City, I think the time in my 20s was when the city was at its best. Of course, I miss the tranny hookers on the corner, but change is part of what makes New York City work. I moved into my rental apartment in the West Village in 1994 because it was a cheaper neighborhood and it still had a slight derelict feel. Do I wish my rent was still under $1,000 a month and you could almost put your feet in the Hudson at the end of the piers because the asphalt was collapsing?  Yes.  But there are always new neighborhoods, now mostly outside of Manhattan, with cheaper rents and an industrial feel for people to discover. And I have to admit to using the lawn at the Christopher Street pier more now than ever before it was fixed up.
Have other cities contacted you? Are you now on the circuit meeting with groups interested in revitalizing abandoned areas?
If we wanted, we could spend all our time answering phone calls and giving tours to people who want to pursue adaptive reuse projects in their own backyards. Closest to home, there is a group in Jersey City that wants to transform an old elevated stone railway called the Embankment into a park. Josh and I wish we could spend more time helping projects like these, but our top goal at the moment is the final section of the High Line at the Yards. The High Line is not complete until the final section is open to the public.
What or who inspired you to believe the High Line was something that could be achieved despite all the odds against it?
I was a self-help book junkie in my late 20s. Between working and going out to the bars, I'd be cramming in some Marianne Williamson and Louise Hay. I also think I was inspired by the dot com boom of the late 1990's. Here were all these twenty-year-olds taking companies public and creating whole new businesses. It made starting the High Line seem less crazy.
I also grew up in a household where the unusual was encouraged. My mother had collections of everything from bird nests to brooms to animal vertebras. The year I was born she flew to Washington DC to compete in the National Kite Flying Championship on a whim after making her first kite. She won.
What were the biggest obstacles you faced with getting the park built?
Some local property owners hated the High Line when we were first starting out. To them, it was an eyesore. And in their defense, it seemed unlikely that Josh and I would ever be able to succeed turning it into a park. They created opposition flyers that were mailed to our supporters. One of them said, "Last time we checked, money doesn't grow on trees, and it doesn't grow in the weeds on the High Line." Who knew there actually was money growing on the High Line?
Do you think this could have been completed if Giuliani had stayed in power? What would be there now?
Nope. And it's too scary to even think about how things would have played out for all of New York had he stayed in power.
We know about Bloomberg and Diller and Von Furstenberg, who were huge supporters of the High Line. Who are the unsung heroes that helped make this happen?
Peter Obletz is the unsung hero of the High Line. Back in the 1980s, he bought the High Line for $10 from the rail company, with the dream of trying to reinstate trains on the High Line. Peter was the original friend of the High Line.
High Line: The Inside Story of New York City's Park in the Sky
is out now.
Bell Laboratories, now Westbeth Artists housing, corner of Bethune Street and Washington Street, looking north, photographer unknown, 1934
Looking South on a May Evening (the Starrett-Lehigh Building), May, 2000. Photo by Joel Sternfeld.
Radial Bench,a long wooden bench curves with the pathway for an entire city block, between West 28th and West 29th Streets, looking South. ©Iwan Baan, 2011
The Sundeck, one of the High Line's most popular gathering spots, between 14th and 15th Streets
A meandering pathway passes by old and new architecture in West Chelsea, between West 24th and West 25th Streets, looking South. ©Iwan Baan, 2011