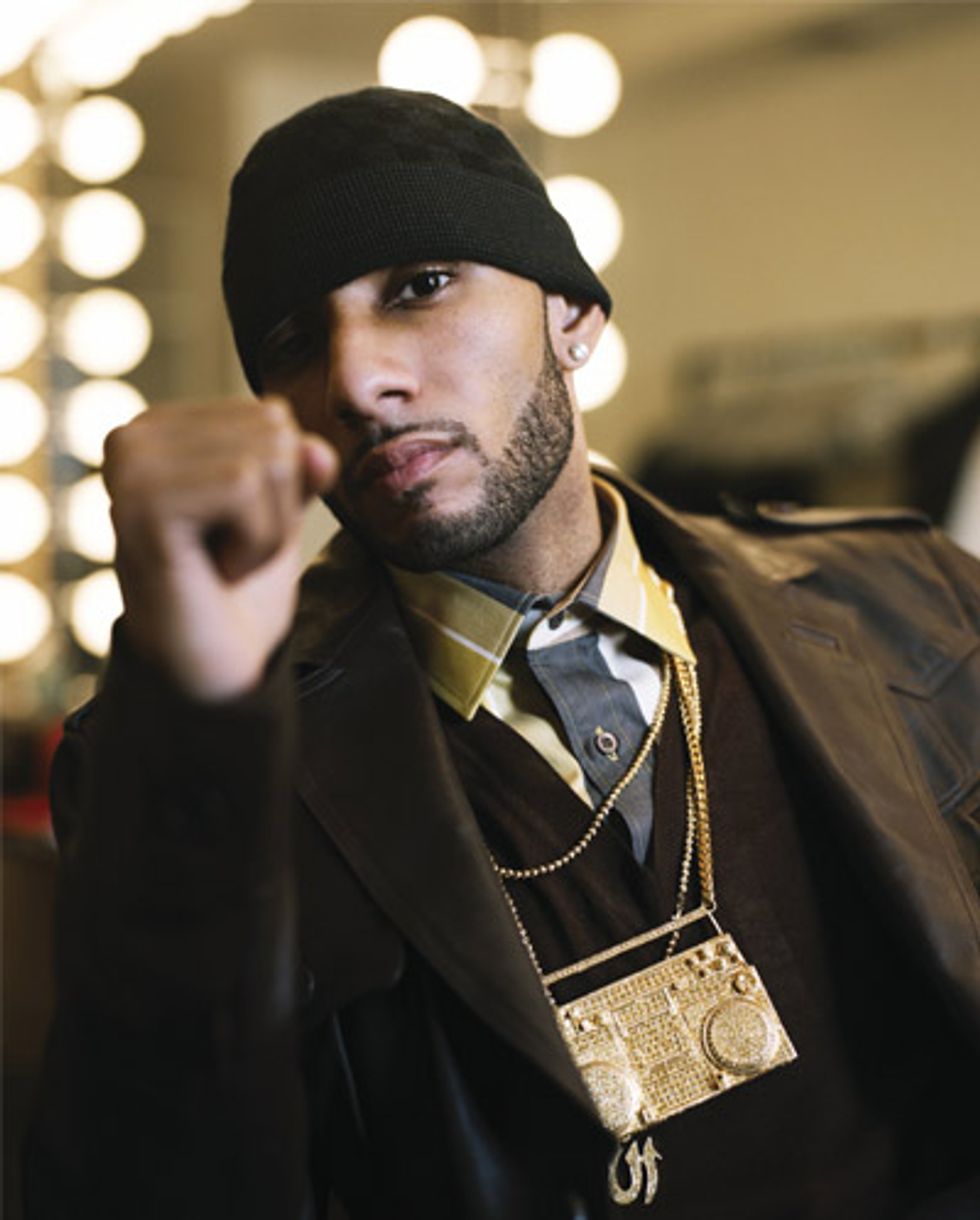 Swizz Beatz
has always been a jack-of-all-trades. A well-known music man who has linked up with everyone from Chris Martin to Chris Breezy Brown, Sir Swizz is now taking on his newest challenge--a creative collaboration with sneaker giants
Reebok
. I got to sit down with the music icon (who told me I have great style--holler!) to talk about his newest occupation, his upcoming album and his philanthropic ways. God bless the Swizz! 
Tell me a little bit about your new role as creative director for Reebok.
I'm creative director globally for the brand --this campaign is just the first one to come out of our partnership, which is the "Rhythm of Light," which I directed, wrote the treatment for and got Chris Roberts in. This is not an endorsement deal--I'm in the company for real for real. I don't have a Swizz Beatz shoe. Why would I want to do that? My peers have done that already. I'd rather just be in the brand and work on whatever sneaker I want.  
How did your new role with Reebok come to be? What made you choose this brand in particular?
Well, I chose them because I felt that there was a lot of growing room. I think that the other brands that I could have went with were overcrowded in a lot of ways. From a celebrity stand point and from a creative stand point, I don't think my voice would have been heard. 
As someone who started in this business as a very young producer who is now such a powerful entrepreneur, what advice would you have for people looking to get to your level?
To the people that are coming up and have a lot of great ambition and plan on doing amazing things: One, they have to understand that it's not easy. Two, they have to understand that you need to--"follow your bones" is what I call it-- follow yourself. A lot of people don't make it because they listen to too many other people. I know a lot of people who had the master plan but got talked out of it. Follow your heart, follow your goals, follow your mind, follow the spirit, follow the zone. That's how I am--I'm very spontaneous. I would also say that people should make goals. Set a lot of goals so when some of your dreams come true, you know what to do with them. Starting off young, I didn't have goals--I was just making music and having fun. When success came, I didn't know what to do with it. Luckily, I had great family members around me, great mentors, but a lot of people get their dream and lose it as quickly as it comes because they weren't prepared for it. My thing is be prepared for everything that you dream of to come true. 
You've become quite the philanthropist--you
'
ve been deeply involved in Bronx Charter School for the Arts and you're also working on a mentor program with Reebok.
I naturally always helped other people and that came from being raised by my grandparents and them forcing me to help the old lady with the bags, or help clean up the lobby, or do certain things. It's just naturally in my character to help people. Did I have goal do to do so much philanthropic work? No, not at all. I always thought it was great when I heard other people doing it, but you don't really have a class on doing philanthropic endeavors. I was just like, "I'll get to it one day." It's easy to brush off like that until you realize how much your voice matters. Then it's another story--When a kid comes up to you and says, "You changed my life and I was thinking about doing this but then this one thing you did in a song or there was one thing you said". Like, people are really listening to me like that? People are really paying attention to me? Now I got to shape up. Then it started to become a mission. 
Can you tell me a bit about your upcoming album?
Haute Living
is the album. Super amazing album. I hope that people feel that way--I do. The first single is out right now. It's called "Everyday," featuring myself and Eve.  We got Lenny Kravitz on the album, Lil' Wayne on the album, Bono is on the album, Jay-Z is on the album. 
Bono?
Yeah. We got this song--it's me, Bono and Kanye on this one song called "Skyscrapers." I recorded with Kanye in the studio and then I recorded with Bono in this actual studio right here. Mary J. Blige is on the album; John Legend is on the album. But they're on the album in super amazing ways. It's not like a compilation--it's a nice mixture of creativity. I had no boundaries with it; I had great partners on the album--Reebok was supporting me. 
Where can people go to keep updated on all things Swizz?
People want to see my artwork and different things, go to
swizzworld.com
. Cool stuff is happening.