The Emmys are on Sunday. It might not be as much of a spectacle as the VMAs, and it probably won't be taken as seriously as the Academy Awards, but it's still fun to think about -- with so much TV, it's increasingly harder even to get nominated, and insanely difficult to figure out that perfect mixture of critical acclaim and mainstream acceptability that will get you the win. So it's a lot like magic, or sports, or sports magic, or something. In that spirit, here are the people we're rooting for to win Emmys, based purely on who we would like to see spiking a trophy.
11. Jeffrey Tambor, Outstanding Actor in Comedy
Leaving aside the plain fact that there are funnier people who are nominated in this category, and that Transparent is basically a half-hour drama with funny moments interspersed in-between beautiful meditations on what it means to feel like you belong somewhere, Tambor's work is truly remarkable. He makes Maura feel like a real, three-dimensional character, not a saint and not a stand-in for a number of important cultural issues, but a fully formed human being who just wants to be happy while she still can. 


10. Mad Men, Outstanding Drama Series
Don't get us wrong, we love
Better Call Saul
and
Game of Thrones,
but we simply must tip our hat to the way
Mad Men
ended its historic run. In its final batch of episodes we saw Dick Whitman lose every single part of Don Draper and finally reconcile with what was left. Honestly, this stretch of 
Mad Men
deserves to win for the refrigerator speech
alone
, but the entire run was a fitting conclusion for this groundbreaking mediation on the spiritual cost of success.
9. Parks and Recreation, Outstanding Comedy Series
This category is a murderer's row of excellence, but it's absurd that Parks And Recreation, the most consistently funny show on television of this decade, has never won this category. Instead, Leslie Knope and company have lost to Modern Family five years in a row, which is a tragedy on par with JJ's Diner closing down. Parks And Recreation was not only hilarious, but it was sweet without being treacly and insightful about government bureaucracy without being heavy handed. Come on voters, bench Modern Family and say yes to Knope. 
8. Lisa Kudrow, Outstanding Actress in a Comedy 
It'd be impossible for Emmy voters to make a bad selection here, as everyone nominated is godlike. But we have special love in our heart for Lisa Kudrow's work in the perpetually under appreciated The Comeback. Kudrow's Valerie Cherish is vain and delusional, but Kudrow manages to give her a sense of dignity even in her most pathetic moments. She's an ego monster who can't stop getting in her own way, but Kudrow makes us like her anyway. 
7. Andre Braugher, Best Supporting Actor in a Comedy
Brooklyn Nine-Nine is a fantastic ensemble comedy, with a cast composed largely of goofy idiots -- Andy Samberg's Jake Peralta, Joe Lo Truglio's hyper-earnest, clumsy Charles Boyle, and Terry Crews' hyper-masculine, hyper-sensitive Sergeant Terry Jeffords all spring to mind. But Andre Braugher, who plays straight man and authority figure Captain Ray Holt, might be the lynchpin of the show. Braugher is mostly known for serious roles (including a classic TV cop on Homicide: Life on the Street), which makes his deadpan all the more effective as he tries to tamp down the craziness of Brooklyn's 99th precinct.
6. Jonathan Banks, Best Supporting Actor in a Drama
Jonathan Banks has been playing Mike Ehrmantraut for a minute now -- a part that was only introduced because Bob Odenkirk's Saul Goodman wouldn't fit into a particular scene in Breaking Bad's second season. But from those beginnings, the character grew into one of the most important parts of that show, providing a gruff moral compass and lived-in weariness that rendered him a tragic figure straight out of a noir. Adding him to prequel Better Call Saul was a natural decision, and Banks acquitted himself nobly -- though Mike could have been overexposed, Banks' reticence makes him a continuing magnetic presence.
5. Gaby Hoffmann, Best Supporting Actress in a Comedy
Transparent is ostensibly about Maura's transition -- and that's a huge part of the show -- but it's also about the lives of Maura's children, and the often selfish ways they react to their father's life change. Though all three of these actors are fantastic, Gaby Hoffmann stands out as youngest daughter Ali, a directionless thirty-something who tries on several different identities over the course of the season, and is somehow deeply self-obsessed while remaining childlike, innocent, and fundamentally decent. It's a great acting achievement, and Hoffmann should be recognized accordingly.
4. Taraji P. Henson, Best Actress in a Drama
Best Actress in a Drama is a really difficult category this year, including Elisabeth Moss' final year of eligibility for playing Peggy Olson, Viola Davis doing a Shonda Rhimes show, and Tatiana Maslany's nomination for her many-layered, insane high-wire performance as an army of clones in Orphan Black. But it's Taraji's award to win. Empire is a total phenomenon, but its success comes in large part because the larger-than-life Cookie is capable of fiercely grounding all of the insanely soapy antics happening around her. Without Cookie, it'd be a lot harder to care about the most popular show on television, and that's a remarkable feat.
3. Steven Soderbergh, Best Directing in a Drama
Here's a secret: The performances on The Knick are good, but they're not great. The writing is fine, but also not great. The show is very good though, and probably important -- almost entirely because of the direction (and the score, too). It's a bit of a cliche, and a little demeaning to TV, to bestow awards on film people who drop in to make a show, but The Knick is something different -- a period drama that doesn't treat itself as one, and propels forward as if it were happening right now. It makes you feel like you're inside the world of the show, which is pretty impressive considering it takes place over a century ago.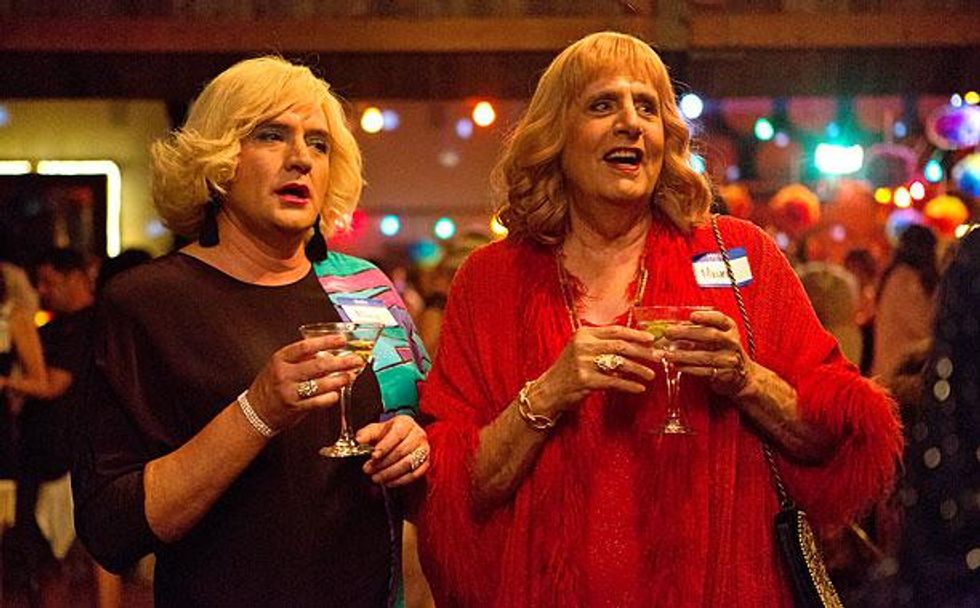 2. Jill Soloway, Best Directing in a Comedy
Transparent is, deservedly, up for a number of awards (including an acting award for Jeffrey Tambor that might prove controversial should he win for playing Maura Pfefferman), but the most important one is the Best Directing nod for "Best New Girl," the full-flashback episode that explores a rupture at the root of the family's dysfunction. In no world should an episode like this work -- it has no dramatic tension (since we know what happens), and it features almost none of the main cast. But it's somehow the best episode of the show so far, and that's in large part thanks to showrunner Jill Soloway's poetic direction.
1. Jon Hamm, Best Actor in a Drama
I mean... this one is just obvious. Jon Hamm has been nominated over and over for playing Don Draper, and has never won. This last season of Mad Men gave him perhaps the best material of his career, breaking the man down to his core and sending him off on a journey, often separated from the rest of the cast, where we could see what Don was like at his core. If there's ever been a time where you could ever accurately claim someone "deserved" an Emmy, it's now -- here, at the end of this stellar performance.

You May Also Like
America
Story by Katherine Gillespie / Photography by Dana Trippe / Styling by Rebecca Grice