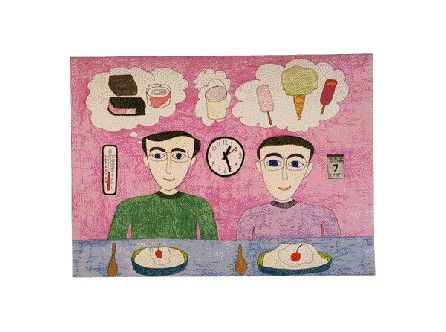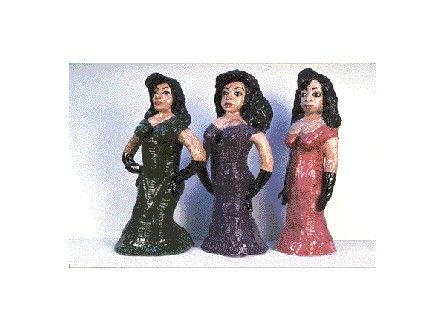 I hopped to San Francisco for a few days (where I am now) to see my great friends Ben and Chris Ospital and to attend a benefit for some of my favorite artists in the world. The program is called Creative Growth, and I've been working with these guys on their advisory board for over 15 years. CG is an arts program for mentally handicapped adults and is located in Oakland. Ben and Chris, who own the coolest clothing store in San Fran called MAC (Modern Appealing Clothing), turned me onto Creative Growth decades ago. Since the first day I stepped into the industrial building in Oakland in the early '90s and met the artists and saw the amazing work they do, I was hooked. I have been collecting art and rugs since that day and have amassed quite a collection. The two artists I am especially taken with are William Tyler and William Scott -- see their work above.
So here I am. Ben and Chris know *everyone* in this town. They've had their store for over 25 years and are just culture vultures. I'm so lucky to know them because whenever I come to town they roll out the red carpet, and literally every hour of my time is spent doing something fabulous and new. They drag me around to meet amazing people -- from artists to chefs (that's a big thing here) to museum directors to gallerists to designers...
Of course, as they know the proprietors, they got me a room with a view of the water, the boats and the Oakland Bridge at a new hotel right across from the Ferry Building called the Vitale. It's fab...
Today I'm relaxing, but tomorrow I'll be running all around town. I have lunch with my favorite artist Tauba Auerbach tomorrow, and will visit my other new favorite artist friend Jeff Canham at his studio, which is actually a sign-painting shop. I'm also gonna stop in to visit my friend Yves Behar, whose design studio FUSE is right around the corner from where I'm staying. Yves is the guy who designed that laptop for Nicolas Negroponte's "One Laptop per Child" program. Each laptop costs $100 and it's amazing.
Then I'll check out the shopping (anyone have any suggestions?) and what's going on in the new nabes... and in the evening Ben and Chris are hosting a cocktail party at their shop for me, where I will be looking at the work of local artists, photogs, designers and whoever! so come say hey to me Monday evening at 7 p.m. at MAC, 387 Grove St. (at Gough St.) Much more later!