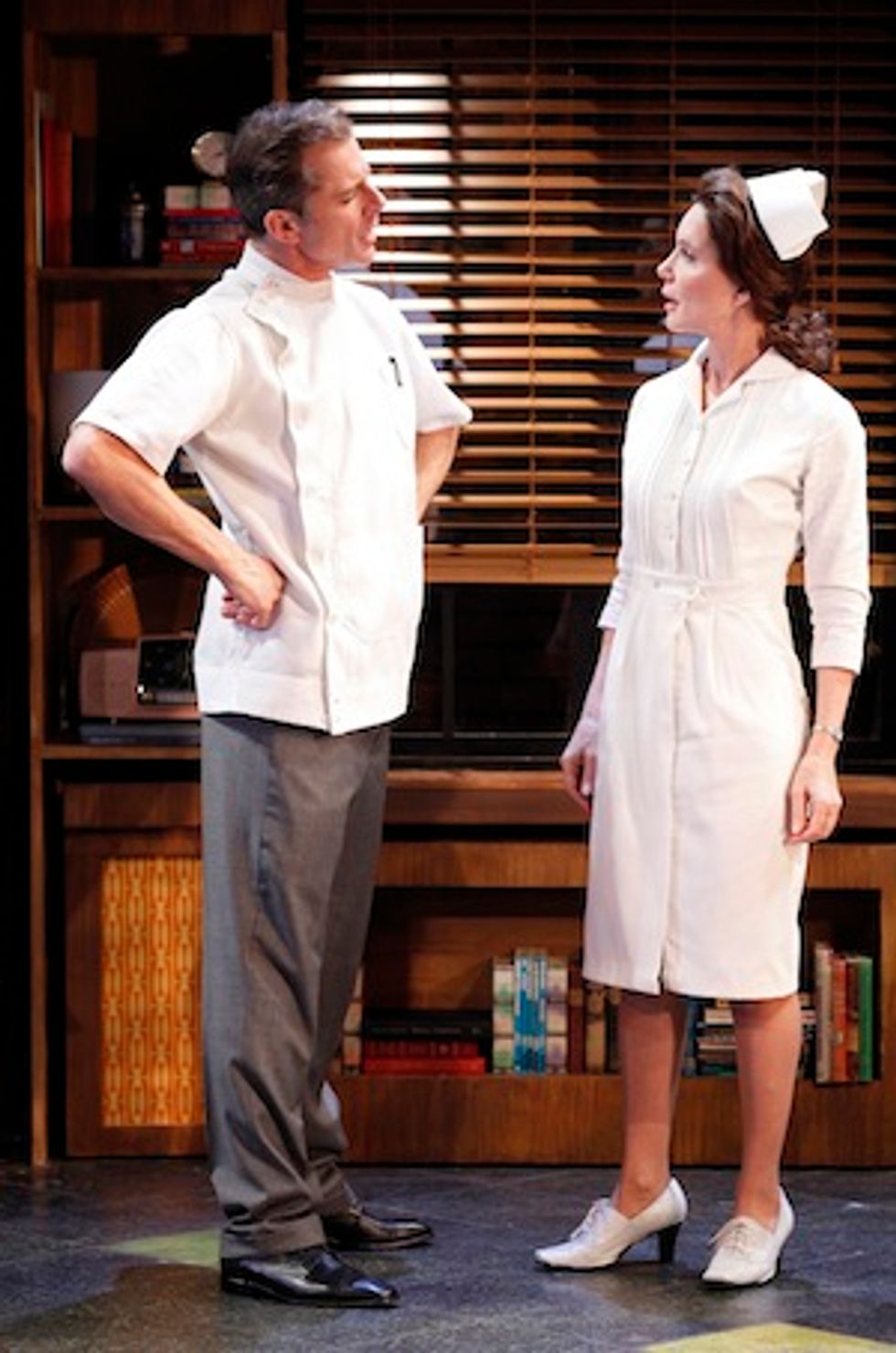 Maxwell Caulfield is no stranger to the New York stage. The British heartthrob made a splash in Joe Orton's Entertaining Mr. Sloane, Charles Busch's Our Leading Lady and Salonika (in which he spent most of the show fully nude). Now he's back as the lovable cad Dr. Julian Winston in Cactus Flower, now playing at the Westside Theater  through April 24th. He keeps his clothes on this time but he's still irresistible. We caught up with him recently at Angus McIndoe and asked him about his latest role, his turn in the cult classic Grease 2 and how it all got started with some exotic dancing in the West End.
So you're in a new show and you make a very good romantic lead!
Thanks! The press seems to feel that I haven't really invested in as much charm or joy, and I'm a bit confounded by it, frankly, because I think the shows got great heart. Michael, our director, wanted us to evoke the spirit of those screwball comedies that the Kate Hepburns and the Cary Grants did so brilliantly, and so we did a little bit of homework in that regard. So I don't think anyone who comes to see it, certainly fans of that style of comedy, will be disappointed.
You have a rich theatrical history, but I've never seen you in anything like this. Is this the first "romantic comedy" you've done? 
"My Night With Reg" had comedy in it, although obviously it was a dark piece in terms of the thing about all these gay men who slept with the same fellow and they were all facing a possible death sentence. There was a lot of gallows humor in that play. Some of the film work I've done obviously has been somewhat comedic --The Real Blonde and Empire Records. You have to exploit your assets, hence, all the shedding of the clothes in the early years. I wasn't queuing up to do it, but those were the roles that came my way.
You've been doing musical theatre for a while. Was "Chicago" your first musical?
Yeah. Barry and Fran Weisler hired me -- I had a great time doing it. I was blessed with the two most stand-out Normas and Roxys in Europe: Amra-Faye Wright and Josefina Gabrielle. I then followed that up with La Cage au Folles at Ogonquit in Maine. I enjoyed acting with Jamie Beaman, who is a great talent.
How did you get into acting? I know you're from Derbyshire.
If you go see the new Jane Eyre, which is wonderful, that's all set in the peak district in Derbyshire, so that's where I hail from -- it's a beautiful part of the country.  I actually was raised in London, and was drawn to performance in English public school. I certainly wasn't top of the class and I was struggling to hold my place on the rugby team, but I could crack up the class or amuse an auditorium full of parents and fellow pupils. So I got to do a few shows that made me want to go to drama school. I went to a theatre school called the drama center, Simon Callow is one of the celebrated graduates from that school. I didn't survive very long there--they had a culling system in that school, so having been one of the first to be culled, they felt I was a disruptive influence. I threw myself into trying to jump-start my professional career. The actors union equity in England had a lot more clout then -- it wasn't an open union back then and the only way you could appear in the West End was to either go and work in the provinces for two years or join one of these nude review shows. They were in the heart of the theatre district, so they were obliged to co-opt you into the union. So I did that for as long as I could take it.
As a dancer?
Yes as a dancer to Pink Floyd, Led Zeppelin and God knows who else. Actually my favorite rock bands, so it made it easier (laughter)  but it was a heterosexual show. There was bisexuality in it and so on and so forth but it was geared towards basically the tourists, Japanese and German tourists and whatever.  I mean it wasn't like pole dancing the one I appeared in was at the fabled windmill theatre. So it was vaguely legit but then, as I said, having lost my place at drama school, having done this bizarre stint in a show called Rip-Off in the West End, aptly named, and then suddenly  I found myself propelled to New York with this burning desire to become a film actor. Clive Barnes [from the New York Post] wrote my first serious notice and compared me to a cockney James Dean -- I was doing cartwheels across Washington Square! 
One of your big breaks was doing Joe Orton's Entertaining Mr. Sloane. Is that where Allan Carr (legendary director of Grease 2 first saw you?)
Directly from Sloane I got Grease 2, it was kind of the classic actors fantasy. Being discovered off Broadway and suddenly catapulted to Hollywood with a three-picture deal, and it was great while it lasted!(Grease 2 costars) Didi Conn came to the opening which was sweet and Chris McDonald my good buddy.  He's loaned me his place here in New York on occasion and Adrien Zmed, obviously Johnny Nogerelli. I see him at least a couple of times a year.
Are you surprised so many people still love Grease 2?
I think it surprises me that it's endured, particularly as I do feel the first one is a superior film, score, and story. But I do now realize that we came along and appealed to the next generation and subsequently, it's developed this wonderful second baton. Of course, Michelle (Pfeiffer) is so fabulous in the part, and so many of the girls want to be like her-- that style, the swagger she has! Not to mention, obviously, her flawless skin. 
Photo by Carol Rosegg