For our October 'Nowstalgia' issue, on stands 10/20, we asked three rap icons to pay tribute to lost leaders of the game. Stay tuned this week for pieces by Eminem on Tupac and Swizz Beatz on the Notorious B.I.G.
Eazy-E. Photo by Chi Modu
I remember when I was five or six years old, waking up one morning and seeing this guy bust through the TV screen, rapping over some song called "
We Want Eazy
" -- I think the concept of the video was that he was actually in jail and he had to get to his show and the only way to get to his concert was to film him from jail, and he eventually busted through the jail and came onstage. I remember looking at that video and just feeling like, "Man, this dude feels like an action superhero." Little did I know, Eazy-E came from my same neighborhood in Compton.
My pops would play N.W.A. records all day, every day; my uncles would play it. My older cousins would play it. And I would go outside and see the same imagery in my reality as the things they were talking about on the record. From the way these guys talked to the way they carried themselves to the type of activities that they were involved in, the whole thing was a real life introspective report from the ghetto. Looking at them and sitting inside my community, it left a big toll on me because it always let me know that no matter how far I go, I gotta stay in reach of the people and what's going on in the neighborhood, whether it's a harsh reality or not. 
What made Eazy special was that he was telling a different type of truth, a truth that wasn't heard in music yet. Before them, rap was fun -- you had your battles and whatnot, but this time around, when it came to what Eazy wanted to do, being a visionary, he had the idea of speaking the honest truth, and I think it really resonated with a lot of people because it was the shock value of, "Okay, these guys are really standing out and focused on telling their reality, no matter how pissed off you get by it." And it got interest from people. People actually wanted to hear it and wanted to know what was going on.
But as a kid, I really couldn't grasp the idea that the world knew about what we're going through in my neighborhood. I didn't get that idea until my debut album,
good kid, m.A.A.d city
, came out and that's when I truly understood how N.W.A. felt, coming from this small neighborhood but going all the way around the world and seeing these people singing these words lyric-for-lyric and understanding the trials and tribulations that are going on in the community. I understand how they feel now. It's an inspiring thing. Once I got the idea that people are actually listening, it made me want to continue making music more.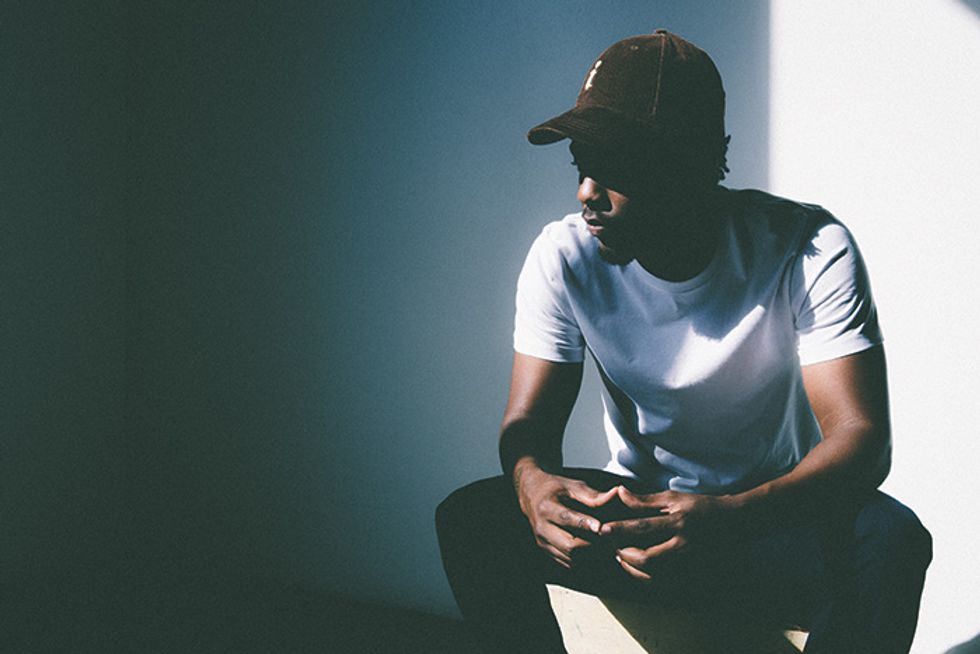 Kendrick Lamar. Photo by Christian San Jose
Somebody told me this early on: "You're nothing without your own backyard." Period. If my backyard -- and my backyard being my city and my county -- doesn't believe me, then no one else will. I always remember that. I always kept that in the back of my mind and I think that's exactly what N.W.A. did, and that's why they said they want to make music for the community first, because to have that home love is like nothing else. You can go all the way across the world 10 times but when you come back to your city and see the pride and joy in these kids' faces, it's the ultimate feeling. I think that's exactly what they were thinking and it's exactly how I think today.
I wouldn't be here today if it wasn't for Eazy and I wouldn't be able to say the things that I say, talk about my community the way I talk about it, for good or for bad. He's 100% influenced me in terms of really being not only honest with myself, but honest about where I come from and being proud of where I come from. 
And it's not just me. Artists today wouldn't be able to talk about the things they talk about if it wasn't for Eazy-E and if it wasn't for gangsta rap. Period. You don't even have to be a gangsta rapper, but the fact that you can be able to talk about your community and some of its harsh realities, that comes from none other than Eazy-E, period.
Period
. 
Because before then, everything was pop. People were scared to talk about these kinds of tough situations, but because he and the group took it upon themselves to talk about [these things], every artist is able to and they owe it to him. He's not only the birth of gangsta rap, but he's the birth of a whole legacy of being able to say what you want to say on a record and not being in fear of what others may think and not offending your own art and your own reflection. He'll always live forever, not only 50 years from now but a thousand years from now. His name will always be in people's hearts because he gave people the opportunity and the voice to say what they want and how they feel.
You May Also Like