The story of 27-year-old pop star Hayley Kiyoko as "Lesbian Jesus" is tempting to focus on. Today's press has naturally had a field day with the nickname, but Kiyoko never initially called herself that, nor does she claim to be a god. For the mega-talented Kiyoko, such a title was born from Millennial stan culture — that marker of fan-led feverish devotion to pop music and social icons of choice. It's a ritual in which musicians are crowned omnipotent deities, destined to reign over the adoring masses, one ubiquitous Top 40 hit at a time.
For her part, Kiyoko is flattered by the compliments. And they're not without merit: Kiyoko is currently headlining a national tour with Gavin Turek, in support of her major label debut Expectations, and will be opening as a special guest on Panic! at the Disco's arena tour. She's selling out venues in major cities, and experiencing wild levels of fame, complete with a hugely interactive online fan base of millions of followers and a bevy of self-directed music videos totaling nearly half a billion views and counting. This sometimes means, Kiyoko says slyly, that women throw their bras at her while she's performing on stage — but she doesn't mind.
Related | Hayley Kiyoko Finds Her Voice
Though Kiyoko claims to have no knowledge of where the Lesbian Jesus moniker originated, she leaned into the concept for PAPER, creating a full-circle fantasy that she's always dreamt of realizing. "I came to [PAPER] a couple years ago to share my story after 'Girls Like Girls' [the video for my 2015 single] went viral," Kiyoko says. "I remember saying that someday, I wanted to be on the cover, to embrace women for their strength and beauty, and to be surrounded by them. Now, my exact vision has come to life."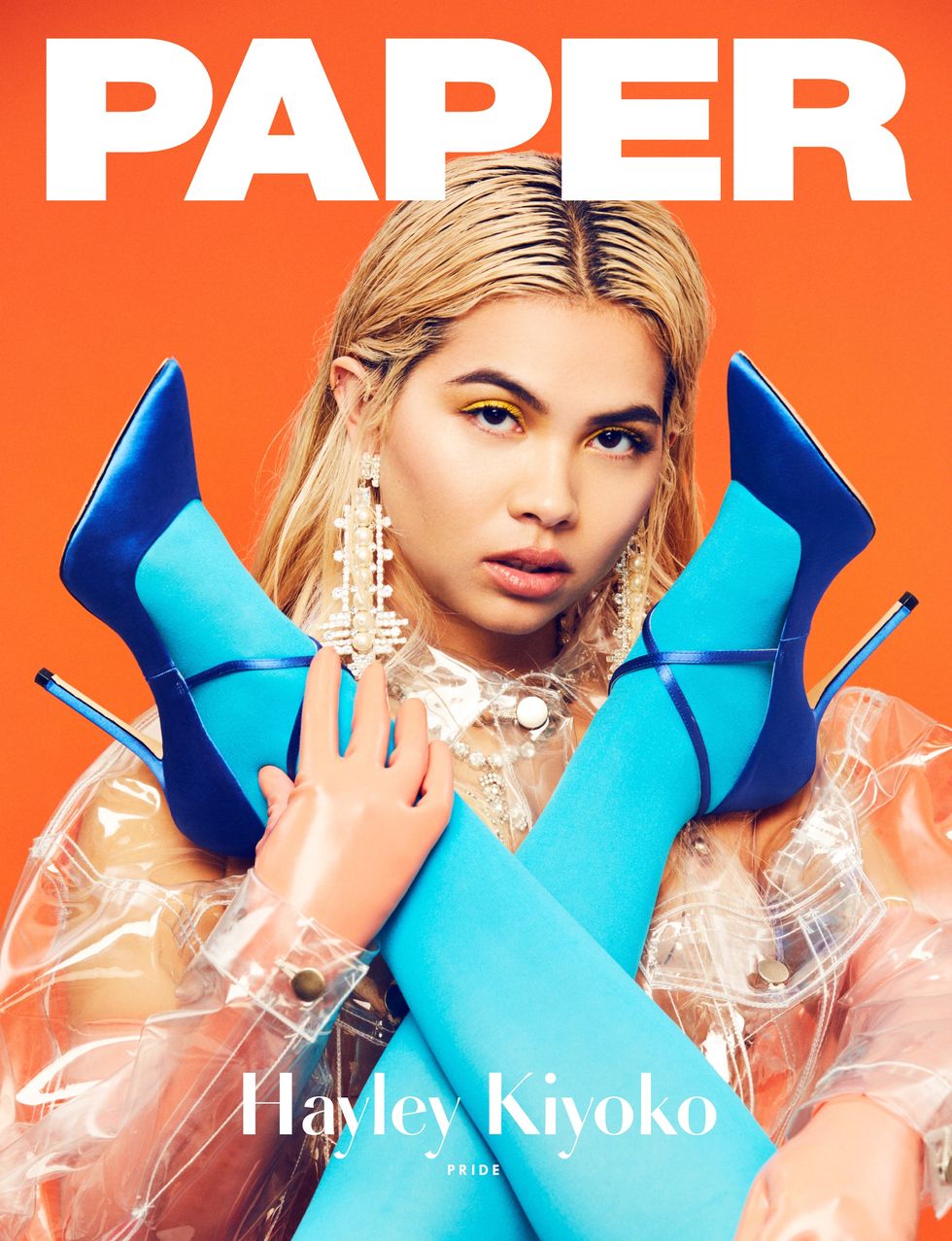 Fame, and the ability to express these wishes for a magazine's glossy photo shoot, is a far cry from Kiyoko's roots. Sure, she came to be Lesbian Jesus through her concept-driven, emotionally charged art, but before that Kiyoko was growing up queer in Los Angeles, and for a time, like many of us in the same boat, not yet out.
Now we recognize Kiyoko's presence in the pop landscape as a queer, Asian-American, self-made artist who proudly sings addictive bops on the radio about women using she/her pronouns. Some might herald Kiyoko's radio-friendly declarations of self-love and lesbian love as revolutionary. And to an extent, in a country at odds with the constant distraction of right-wing extremism, fuck yes. It seems the love Kiyoko writes about and shows in the videos for her Expectations singles is successfully shifting public perception.
Related | Kehlani: the Softer Side of Savage
For example, the "What I Need" music video, which Kiyoko directed and co-stars featured singer and fellow queer icon Kehlani, is already receiving heaps of due praise for doing just that. The end of the video shows the two collaborators embracing and kissing passionately, but their love for each other is rooted in sisterhood and solidarity. "It's amazing to be able to support women of color, as artists out here," Kiyoko says. "Not only to support their art, but in their ability to be themselves. I love Kehlani from the bottom of my heart."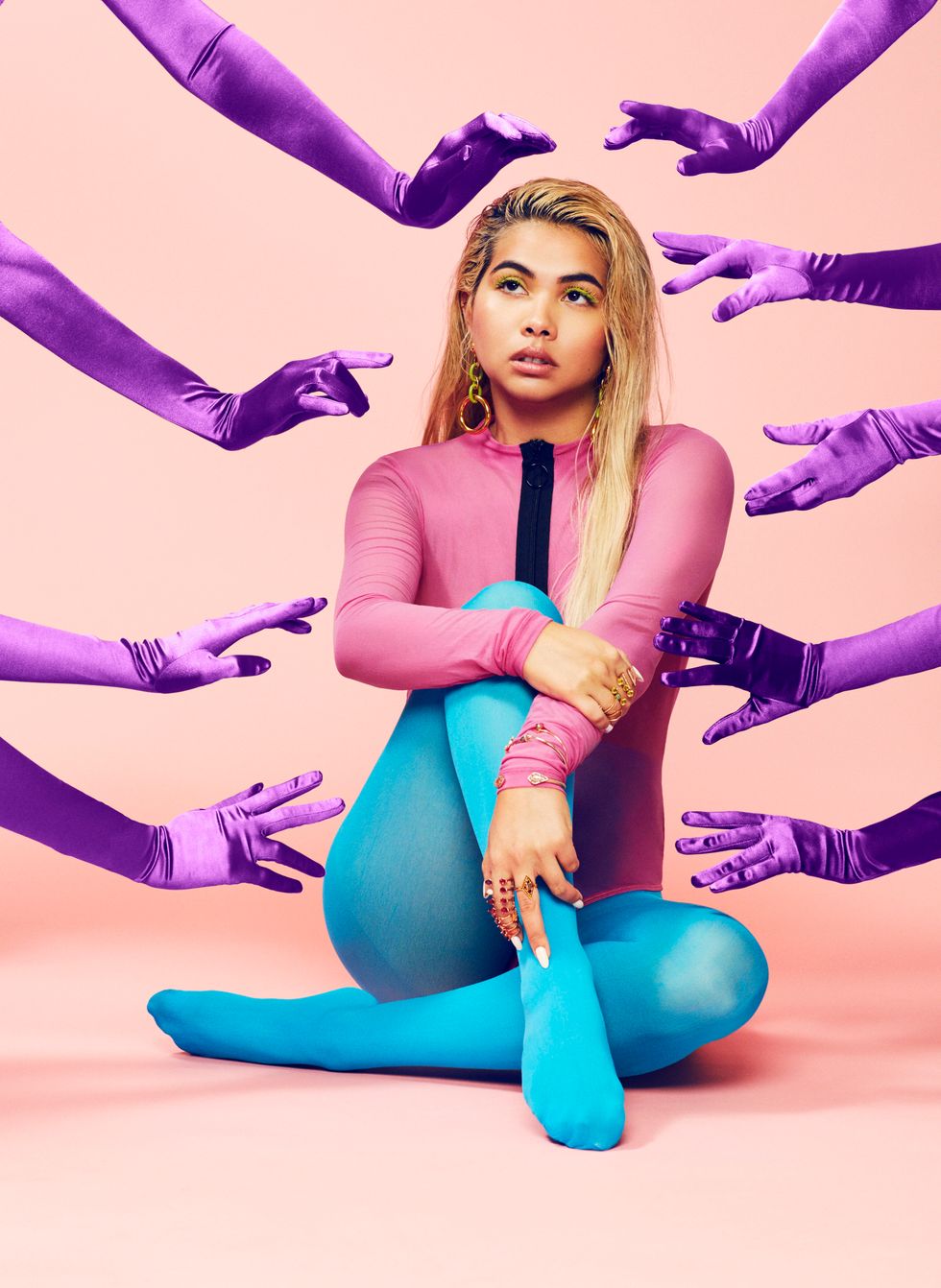 Bodysuit: The Ruby Los Angeles, Stockings: Trashy Lingerie, Rings: Stefere Jewelry, Earrings: No Label
A glance at the video's comments section is enough to let you know that Kehlani's and Kiyoko's own coming out makes it easier for others to do the same, and furthermore, fosters empathetic discussions. But for Kiyoko, she's only doing what comes most naturally. "I lead with my art, and my feelings follow," Kiyoko intones calmly. It's a proclamation she's stated in previous interviews, as if reciting a mantra meant to be heard around the world.
"I lead with my art, and my feelings follow."
Kiyoko, you see, is "totally an Aries," an astrological fire sign marked by basic instinct and forward momentum. The more mature Aries possesses a distinct self-awareness, which has always served Kiyoko well, acting as her true North Star, even when she didn't always know where she was going.

"From the beginning, I wanted to perform," Kiyoko says. "I'd say my top three passions were performing, food, and girls. Everything I did in my life was because of girls." When Kiyoko was 13 in junior high, she was heavily pursuing dance, taking up to 18 hours of class a week. "I became a dancer not only because I loved dancing, but because the girls at the dance conventions were so hot," Kiyoko says. "I don't know what it was, but I just loved being around beautiful strong women. That made me feel really good, and comfortable in my skin, even though I wasn't out. I didn't know any gay people or anyone in the community at my school. I'm sure there were [LGBTQ people], but they were just like me — hiding."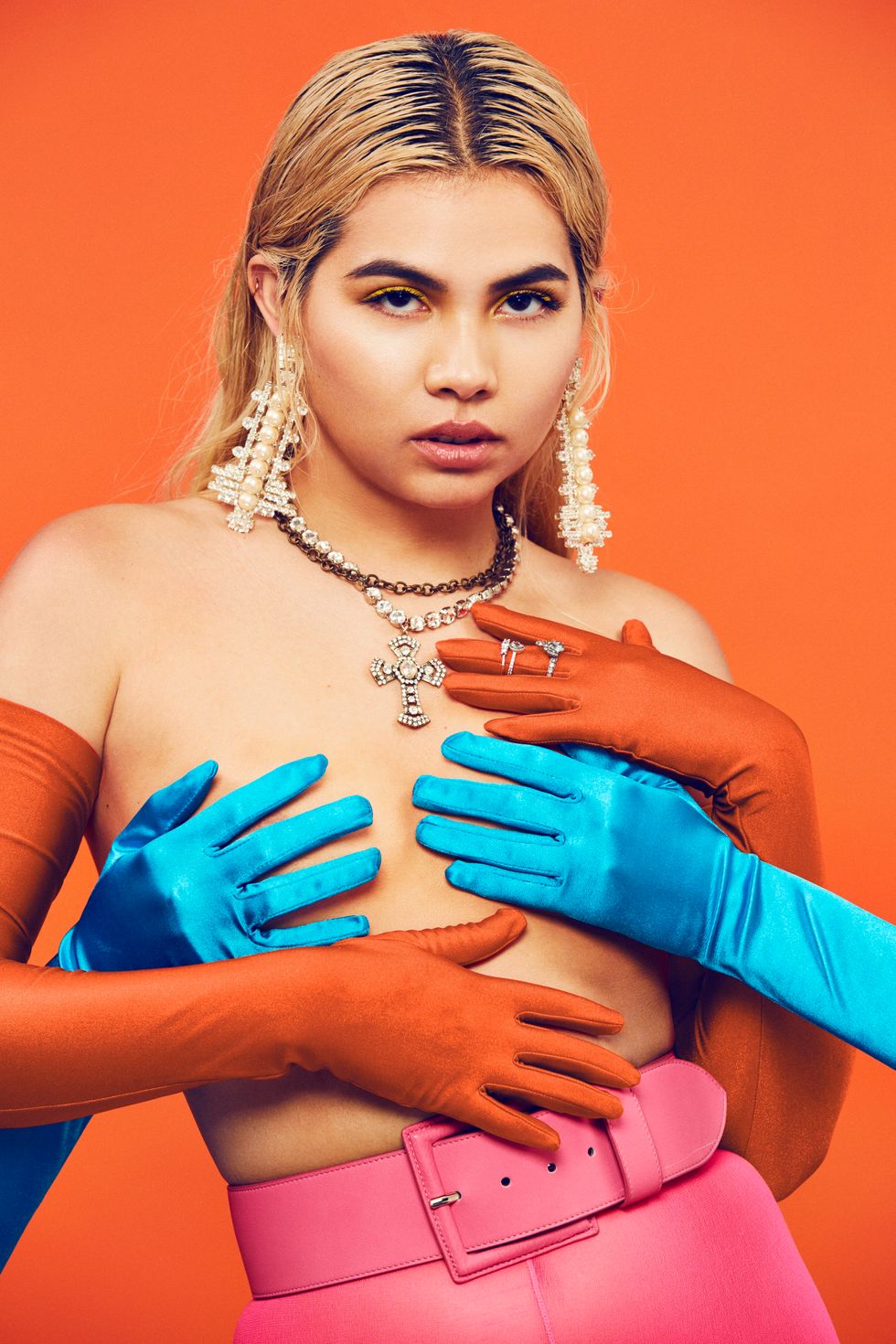 Stockings: Trashy Lingerie, Gloves: Gasper Gloves, Belt: B-Low Belt, Necklace & Earrings: No Label
At school, though Kiyoko wasn't yet out, she joined student council because again, "I wanted to be friends with all the cute girls in student council. So, I became my class president in middle school, and was in student council every year in high school. It gave me a sense of comfort being around what I liked. The type of women that I liked," she says. However strong her crushes were, Kiyoko never pursued relationships with them — an experience which would later inform songs such as "Sleepover," which features the lyric, "Can't I just be in my head with you? I feel so alone."

Kiyoko didn't feel comfortable enough telling any of her friends at school how she felt, so she'd wait till after school to chart her feelings through song. "I'd go home and sing about that glance that girl gave me," Kiyoko says. "I was just trying to validate my own feelings through music and the songs I'd write, because I had no one to do that for me. Eventually, I realized I loved producing this world and fantasy where I could connect."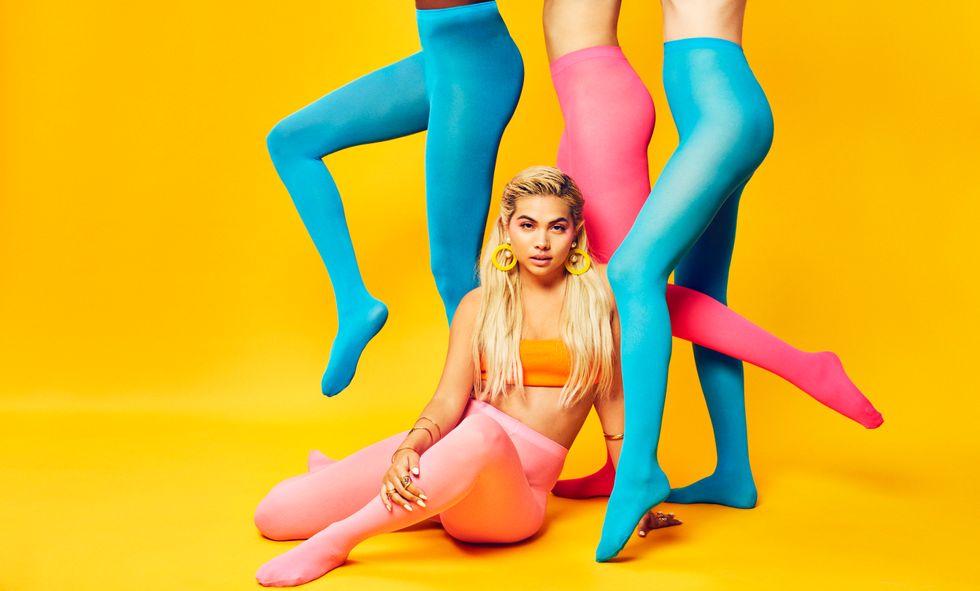 Top: White Fox, Stockings: Trashy Lingerie, Skirt (Below): One Trieu Yeu by Gordana & Skye, Rings: Stefere Jewelry, Eddera Jewelry, Earrings: The Ruby Los Angeles
Despite discovering her love of songwriting, Kiyoko never imagined music would eventually be a place where she could be truly open about her sexuality. "I've just always wanted to be myself," she says. "I always thought I'd use 'you' and 'they.' It wasn't my dream to be on stage singing about girls, using 'she', and being free. That, to me, was never an option because no one did that on the radio, [or] in the mainstream pop world."

One major influence on Kiyoko in high school, however, was twin-sister alternative duo Tegan and Sara. Full-length releases like 2004'sSo Jealousand 2007's The Conworked to establish the band, both gay, as purveyors of effortless indie cool, without ever sacrificing their uncanny knack for universally catchy, tuneful melodies — a strength Kiyoko found to be a model for how she would continue writing songs. "I loved how they were still cool and edgy but their melodies were so damn catchy," Kiyoko says. "Only the really cool people knew about them when I was growing up. In some ways, I think that's how I ended up in pop: my strength is writing catchy melodies. I knew I wanted to end up in that lane, and still be fresh."
Another inspiration was Katy Perry's breakout 2008 single, "I Kissed a Girl," which dropped when Kiyoko was 17 and I was 19. We both agreed: when the song came out, not knowing anything about newcomer Perry, it was on the radio, and then it was everywhere, and the simple truth was, we'd heard nothing like it before.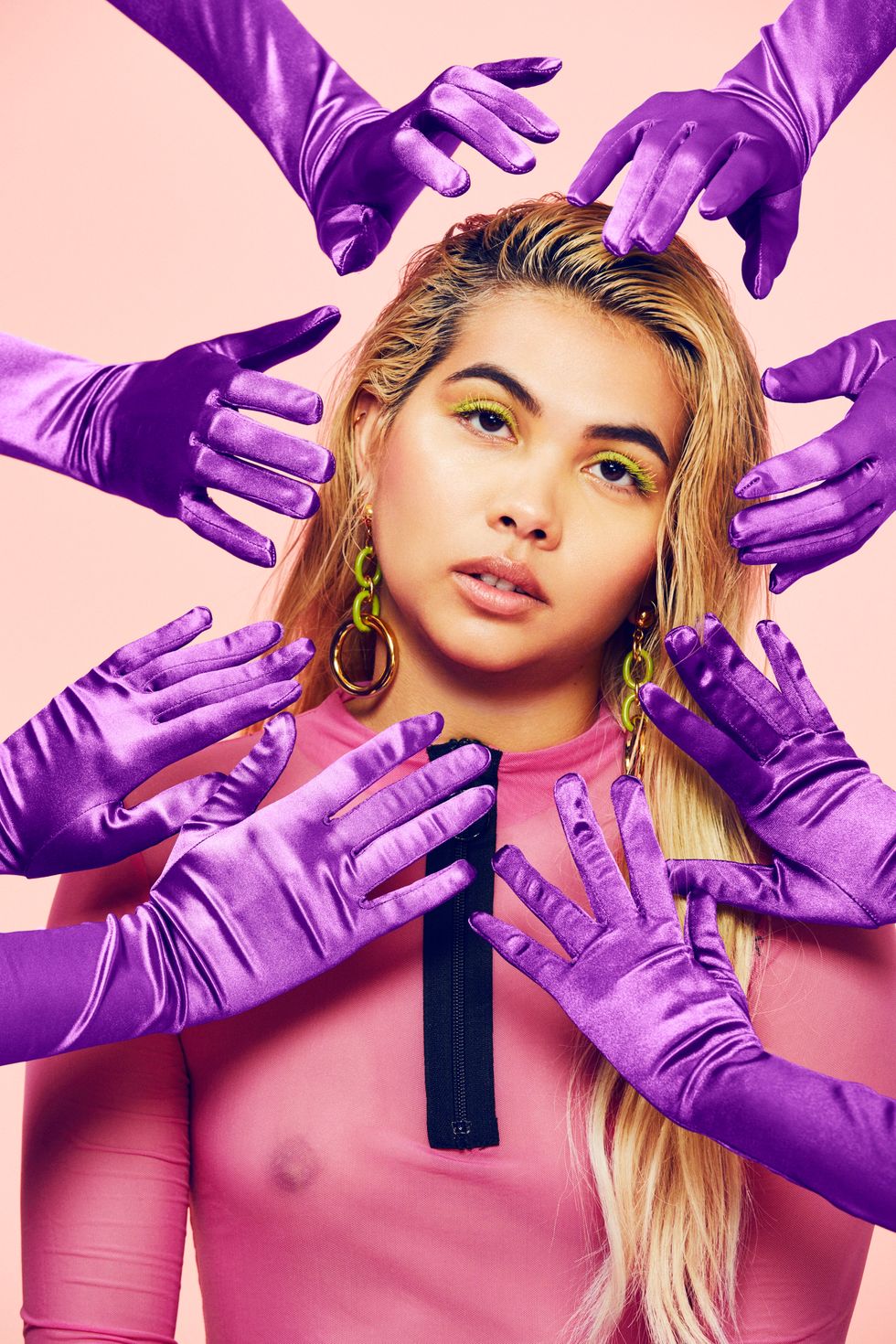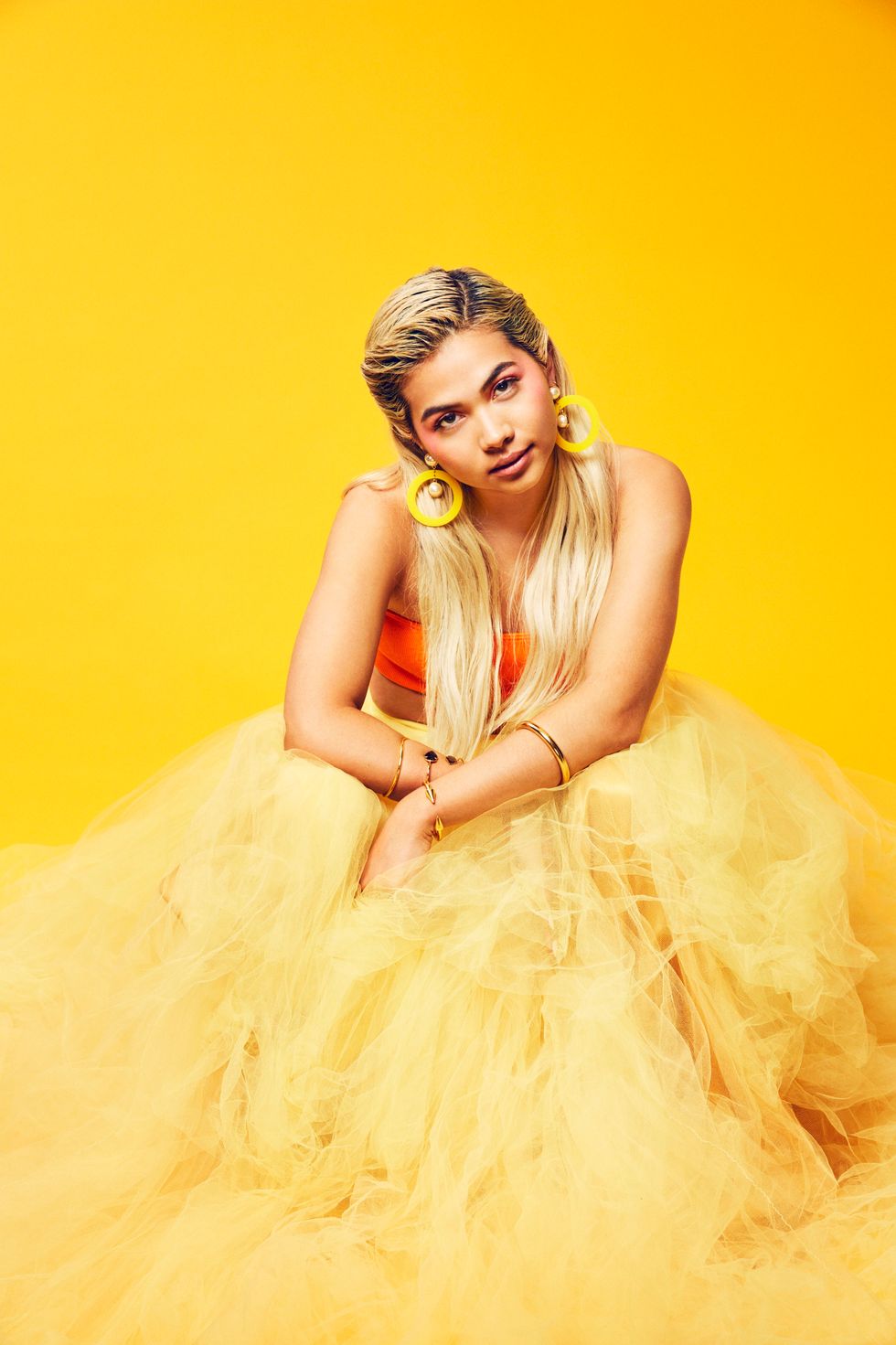 "I loved that song, and I still love that song," Kiyoko says. "When it came out, it was the first time I'd heard anyone in the public eye admit that they'd kissed a girl on the radio. I was like, wow, this is huge. Just to admit that she did kiss a girl, and she liked it? First of all, you can't deny the lyrics. And it was playful, catchy, playing in the Midwest and all over the world, and no one seemed to care. That concept felt really new and groundbreaking at the time. Selfishly, I remember thinking the next time they hear that, it's going to be me. It taught me that if I write a really good song, people will connect to it no matter what."

By illuminating their experiences, Tegan and Sara and Katy Perry helped Kiyoko feel less alone, and inspired her to eventually shine a warm, incandescent light on her own queer perspective for all the world to witness.
"The first time I expressed my love of women was when I wrote 'Girls Like Girls,'" Kiyoko says. It was 2014 in a recording studio when one of the song's co-writers, Lily-May Young, caught Kiyoko off guard. "All she knew was that something was upsetting me and she was like, 'What is something you've never sung about before?'" Kiyoko says. "I came out to her, and said, 'I just want to sing about being cocky and stealing someone's girl, because that's my dream.' She told me to write about it." The ensuing lyrics — "Girls like girls like boys do, nothing new" — made for a sassy electro-pop banger about stealing girls from their boy toys, and was another step forward in artistic and personal confidence for Kiyoko.

Related | Hayley Kiyoko Fronts Urban Outfitters' Pride Capsule
But she still wasn't quite ready. In 2015, Kiyoko made a video for "Girls Like Girls," and enlisted some of her actor friends to play the main roles. "I didn't want it be so much about me," Kiyoko says, even though the song was deftly exploring intimate feelings she'd been having. But then, the video went viral, racking up more than 90 million views to-date. In the comments, Kiyoko found validation that instilled greater confidence in her. "People told me how much they related to it," she says. "I was shocked at how people weren't judging me. I was ready to be judged, and I was ready to be labeled. That was a moment for me where I was like, I can be myself and people are okay with that. So every video to me was a stepping stone. Now it's about pushing my boundaries as an artist and doing things I haven't done before."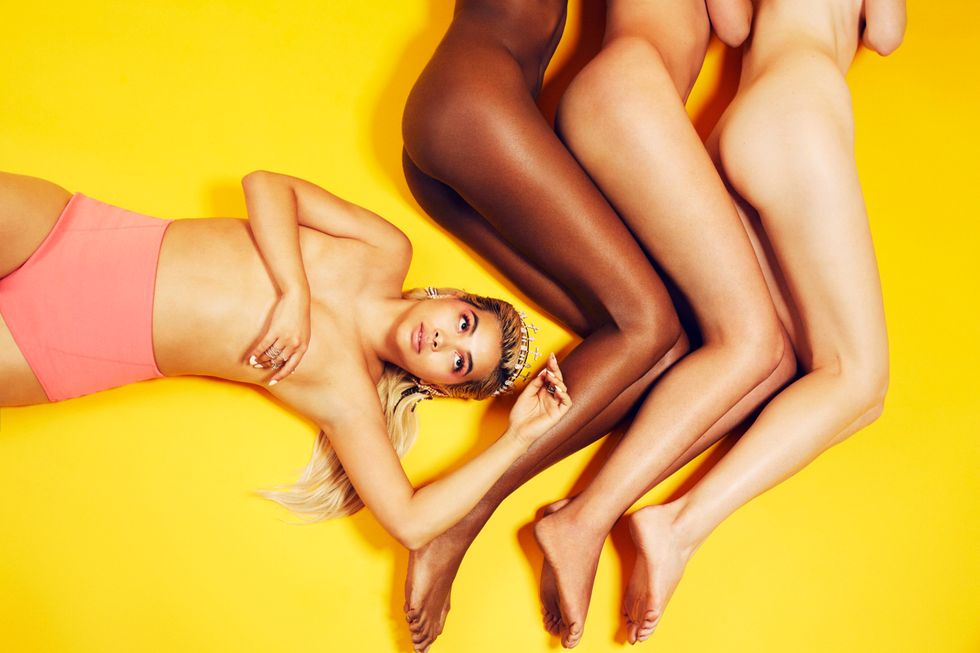 Bottom: Salvatore Ferragamo, Rings: Stefere Jewelry
"Now it's about pushing my boundaries as an artist and doing things I haven't done before."
Filming the video for "Feelings" was a step forward in this regard, and something Kiyoko directed in one take. The response to that gave Kiyoko even more fuel. "I'm still finding more ways to challenge myself, because my feelings have been validated by everyone else, like my fans," she says. "I know you're supposed to validate your own feelings, for yourself, but because I got that validation from other people, that was a big turning point for me."
Still, Kiyoko seems to know exactly what she's doing, especially when it comes to navigating a tumultuous music industry. She's been victim to inevitable sexism, incredulous comments and questions aimed to strip Kiyoko of her authorship, or challenge her ambition and vision. But Kiyoko responds confidently: "I write my own music," she says. "It's based on stories or emotions I've experienced, and I'm choosing to share them with people. So it's going to feel a little more intimate. But no matter who you are, what you like, what you love, everyone's gone through loss, everyone's gone through heartbreak, and everyone's gone through love. So, if you're listening, I want to make it safe for people to dive into."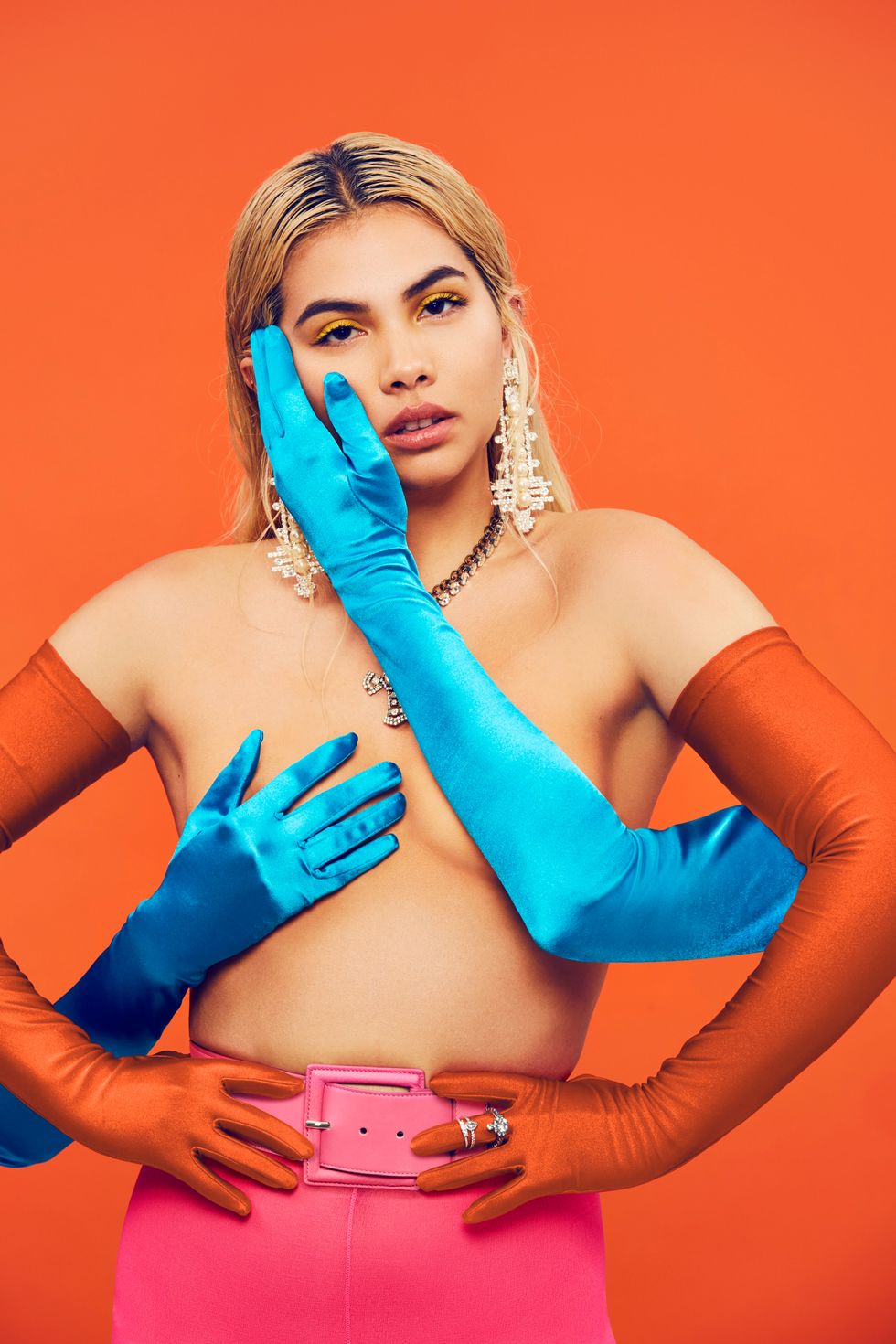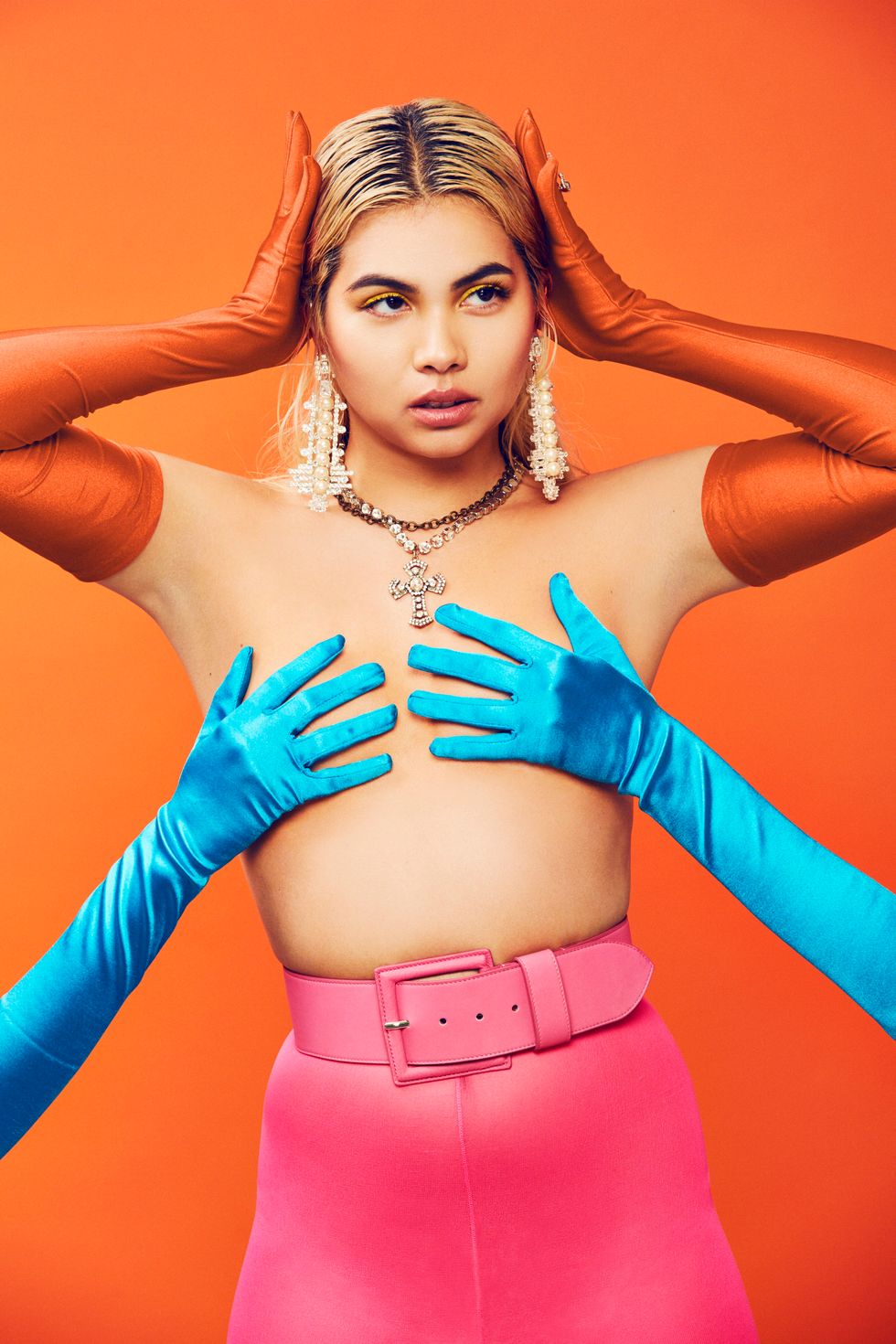 Furthermore, Kiyoko trusts her instincts. "If I want release a video tomorrow, I release it tomorrow," she says. "If I feel like I want to tell a specific story I haven't told before, I do it and I go to the label and I say this is the video I'm doing. I'll do it with or without you. My label [Atlantic Records] signed me because of me. They love that I do the work and I do what I want to do. It's been a journey. We keep climbing."
Kiyoko's story — her public and private explorations of self-love and love for women — is something she had to write herself. In a pop world where artists are pressured by the lures of fame to be anything but who they really are, Kiyoko's authenticity is nothing less than refreshing.
"I haven't really had any other choice," she says. "I feel like I've always been very strong-minded in my dream and where I want to be in my career. I've been working on it since I was a kid. I'd tell myself I'm was in rock camp. I'm training to be the best. I love that challenge. I don't feel like I ever gave myself an option of being anyone else but me. But what I didn't know is whether or not people would accept me on a larger scale. I knew I could get to a certain level because it's been proven by other artists, but could I be a pop success throughout the world? Can I be there on top? How do I even begin?"
"If we don't understand something, we need to become willing to understand."
Kiyoko clarifies that her journey has never been about deciphering who she is; she's known the truth about herself since she was 5 years old, even if the world couldn't accept that. "Getting people to listen and care about what you have to say is half the battle," Kiyoko says. "Once they do, then you've got them. To get people to turn their heads is really hard. I haven't had any help in that. It's just been me writing on my guitar and googling people on YouTube, and figuring out who produced this or that, and not having any connections in the music industry. Finding my manager through some random person I met at a party, then shooting these music videos in my friends' backyards and making them look really expensive even though we did it for $5,000. I remember nights where I cried because I really wanted the opportunity. I'd tell myself, 'I know I have something to say. I know I'm good at what I do. I just want the opportunity.'"
Now with the platform she always dreamt of, Kiyoko hopes her presence in mainstream helps to normalize the experiences of people like her. Kiyoko says she's "most proud of [is] not giving up. There have been so many times where I've been challenged, but I've always stayed really focused, and just believed in myself wholeheartedly. I'm really proud of that, and that relentlessness and the fearlessness I've created by not taking no for an answer. But that's hard. It's hard to keep that hope and be your only champion and cheerleader, and proving to people that you're worthy, and that you're special. I'm proud that I've been able to hold onto that throughout my life, and not letting anyone tell me otherwise."

When Kiyoko needs to unplug from her demanding life, and hit reset, she always has nature to turn to. Tall trees and bountiful green acres remind her of space, of growth in its own time and on its own terms, of change. But when she needs to plug back in, at least for now, women keep her going. "I only want a girl who ain't afraid to love me," she sings in "What I Need" alongside Kehlani.
"You know, I wouldn't be me if I didn't love to go for a nice challenge," Kiyoko says, laughing, ever the Aries. "I'm trying not to be like that. So I hopefully will meet the right one, still out there — still looking for the right one."
Photographers: JUCO
Stylist: Ade Samuel Ade (The Only Agency)
Hair: Abraham Esparza
Makeup: Marla Vazquez
Casting: Kenn Gray
Manicurist: Jolene Brodeur
Models: Cole Woods, Ashley Carbin, Taylor Cowhey, and Diana Cole