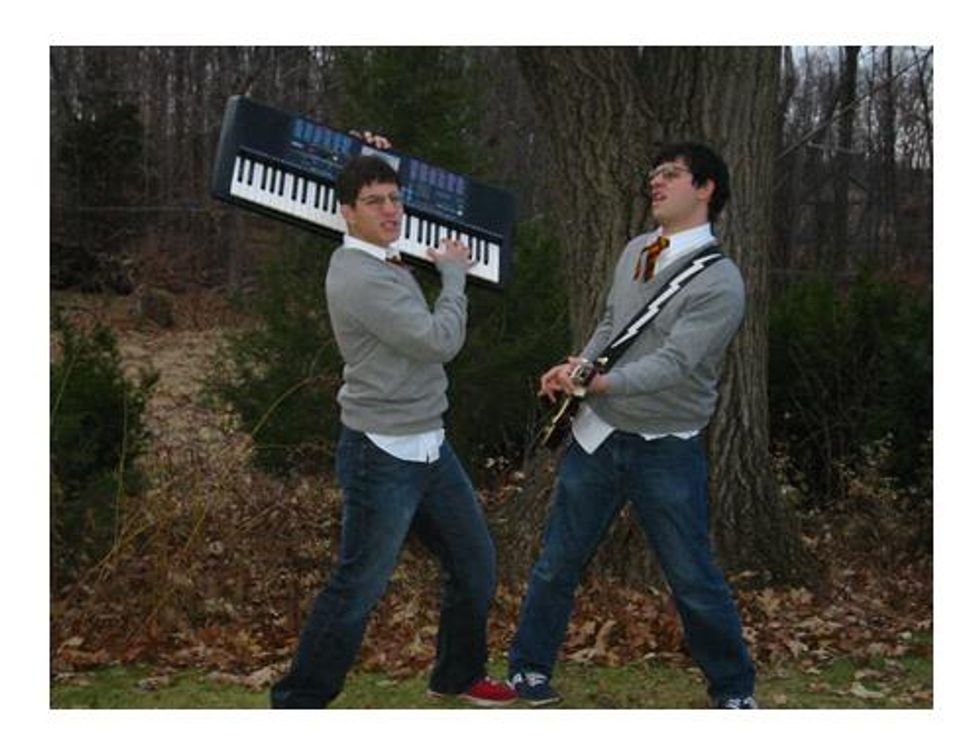 After writing about Harry and the Potters a few weeks back, I just couldn't resist getting in touch with brothers Paul and Joe for a little Q&A.  Here are some nerdy questions I asked them (from one true Harry Potter fan to another!), and here are their answers.  I hope everyone enjoys these, HP fan or not!

Do you think Professor Snape was acting on Dumbledore's orders when he killed him?
Whoa, we're getting right into the real fanatical stuff, eh?  Yeah, I do think that Snape was acting on Dumbledore's orders.  But I also think there's a part of Snape that probably wanted to kill Dumbledore anyway.  Just because Snape's such a bastard.  (*NY Doll's note: Oh no he didn't!)


 
Who are your musical influences?  What bands are you currently in to?
Lately we've been listening to a lot of stuff that gets us pumped up.  I think we've listened to Andrew WK's "I Get Wet" at least 2 or 3 times every day of this tour.  We're big into Springsteen too.  We just made a small pilgrimage to Asbury Park to get inspired for some shows in Jersey.  We think the Boss would be pretty proud of the job we did rocking the Ocean County Library.  Big influences on us are bands like They Might be Giants, the Modern Lovers, Spinal Tap and the Flaming Lips. 

Do you think Sirius still has a role to play in the last installments (as in, do you think he's really dead)?
Yes, I do think Sirius is really dead.  I think Rowling has a bit of explaining to do with the whole veil thing, but I don't think there is going to be a whole lot more Sirius action.  Come on people, we've got to move on. 

Did you ever believe Harry and the Potters would make it this far (in terms of wider acclaim and bigger venues)?  Where do you want to take the band from this point on?
We certainly never anticipated Harry and the Potters becoming much more than a silly little side project of ours that might be able to book a few shows in libraries.  And even though we've toured extensively, I still sort of think of this as a joke band.  So when we play at a place like Northsix or the Knitting Factory, I have to pinch myself a bit because those are places that real bands play and we're still just a couple of kids who tour with their own PA system so we can set up our gear in libraries and sing our silly songs about books.  But really, we're very happy that we've been able to keep doing things at libraries and other weirdo venues.  In fact, about 75% of our summer tour will be in libraries and that means those shows are entirely free for everyone!  And when we do find
ourselves doing club shows, we'll only do it at a venue that's willing to do an ALL AGES show.  So you know, we keep it real.

As to the band's future, we don't have any real expectations.  This band has given us so many awesome opportunities.  We played at the Boston Public Library.  We got to play in a doughnut store.  We played a book release party in the Netherlands.  We played on a bridge in the middle of Austin.  Our plan is to just wait for whatever weirdo opportunities
present themselves next and go with it from there. 

Do you think Harry is a horcruxe?
No.  Just reread the prophesy and see if it would make any sense if Harry were a horcrux. 

Are you planning on making any music videos?  What song would you want to make a video for and what would your dream video scenario be (I guess this would be the "plot," but do music video's have plots?)
Nope, no video plans.  We're not really that kind of band.  Music videos are for bands with record labels that have too much money.  We do everything ourselves and neither of us have much experience with video.  As for a potential plot to this fictional video...hold
on....OK, I just conferred with Joe.  We think that we'd have this awesome animated video in which we send out invitations to the death eaters inviting them to a hardcore death metal show, but instead, the death metal band is...surprise...Harry and the Potters!!!  And we totally destroy all those death eaters and melt their faces off in some psychedelic conclusion. (*NY Doll's note: This is BY FAR, the best answer I have EVER received from all the bands that I've interviewed)

All questions were answered by Paul (Harry, Year 7)!