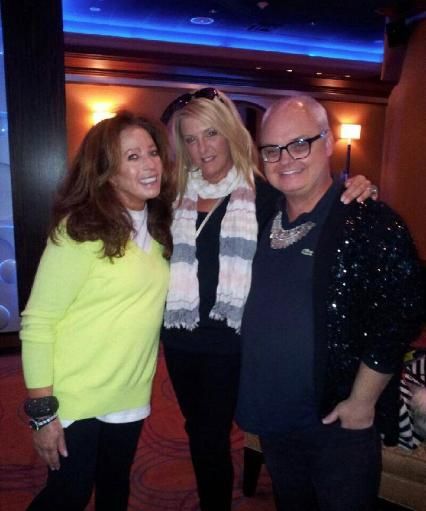 [via
Facebook
]
A few months ago I zipped down to Tampa, Florida for a meeting with a legendary superstar in her field. You might not realize this person is a superstar -- ore even recognize her name -- but if you ever watch HSN, chances are you've seen the Queen of TV Shopping, Diane Gilman, in action.
In home shopping circles Gilman is the equivalent of Barbra Streisand: a legend, an above the marquee name. She's the only on-air talent at HSN who has a style closet on-site so she can leave clothes and some of her signature blingy, designer accessories at the office.
I was hanging out with Diane to watch her launch her 'Today's Special.' In home shopping land, having a 'Today's Special' is a sign that you've entered the level of greatness. The TS is a special bargain that's launched at midnight, highlighted throughout the day and ultimately sells by the truckload.
On that particular fall day Diane was selling her SuperStretch Comfort Waist jean and by 1am Diane had sold over 22,000 pairs. Women of all ages go cuckoo crazy for these jeans. Being a hard-hitting journalist, I asked my mother (a Gilman shopper) what it is about the jeans that makes them so irresistible? "They're very soft, comfy and easy to wear," Mrs. Boardman said. "Some jeans are rough and kind of stiff but not hers. They look good and make you feel good. I love them."
I asked Gilman when she knew she was made for selling her designs on TV. "I so vividly remember that 'aha' moment when I recognized that sharing my designs on television was a rare gift for me. I was driving away from the studio at 2am on a full moon night, when I saw a shooting star. I made a wish that I could do this for many years, and that wish came true! I really, really wanted this!"
Gilman was born in Beverly Hills, California, which isn't surprising considering her air of glamour. Despite the fancy surroundings, Gilman had a traumatic childhood in an abusive home with an unsupportive mother (which she documents in her book
Good Jeans: 10 Simple Truths about Feeling Great, Staying Sexy and Aging Agelessly
), but rose above and started a career in fashion in her twenties. Along with some friends, she opened a boutique/collective called "I'm a Hog for You Baby!!" (after the Coasters' song) where they sold hippie dresses for $10.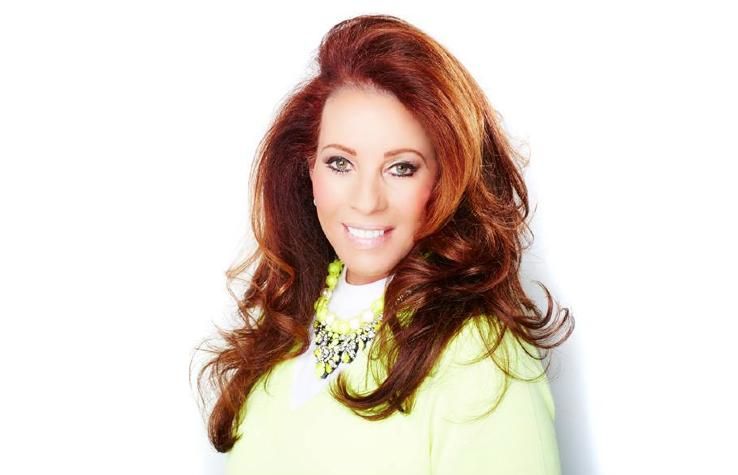 [via
Facebook
]
She remembers, "My store in LA was on Fairfax Blvd. directly across from the famous Canter's Delicatessen, an enduring celebrity hangout. We were a consortium of UCLA art students and we all contributed by designing, sewing, and embellishing. The entire store was dresses at $10 retail! One day a white Rolls Royce pulled up, Cher got out (looking fabulous!), came into our store, scanned the racks, and turned around to shout, 'Sonny!!!! Get in here!!!!' Sonny and the chauffeur came in and took every dress off every rack, and threw them into the car trunk! We were wiped out of merchandise, and had to close the store for a week, which we spent sewing furiously to restock!"
Her book is part memoir and part self-help book and is filled with the blend of common sense and optimistic charm that helps make Gilman so irresistible on television. She's in her 60s but has the energy and upbeat attitude of a woman half her age. She's fueled by the fact that the best time of her life in now, both for work and romance. The enthusiasm is infectious and judging by her customer reactions, both from my mother and the women who call in to the show while I'm there, Diane's selling more than jeans. She's selling a new lease on life. One woman who called in has over 100 pairs of Gilman's jeans. Every woman who called says they'd given up on feeling sexy or looking good the way they did when they were young until they got a pair.
Watching Gilman on air is truly hypnotic. She's a pro and on the night of her 'Today's Special' the HSN host Suzanne Runyon was playing the perfect straight man, updating people on sizing availability and engaging in comfortable banter with Gilman. It's the kind of TV that's entertaining the way Kathie Lee and Hoda on
The Today Show
are entertaining. You just want to hang out with Gilman and her sidekick. Except of course for the 22,000 women who ordered a pair of the jeans in the first 60 minutes. They want to hang out AND shop.