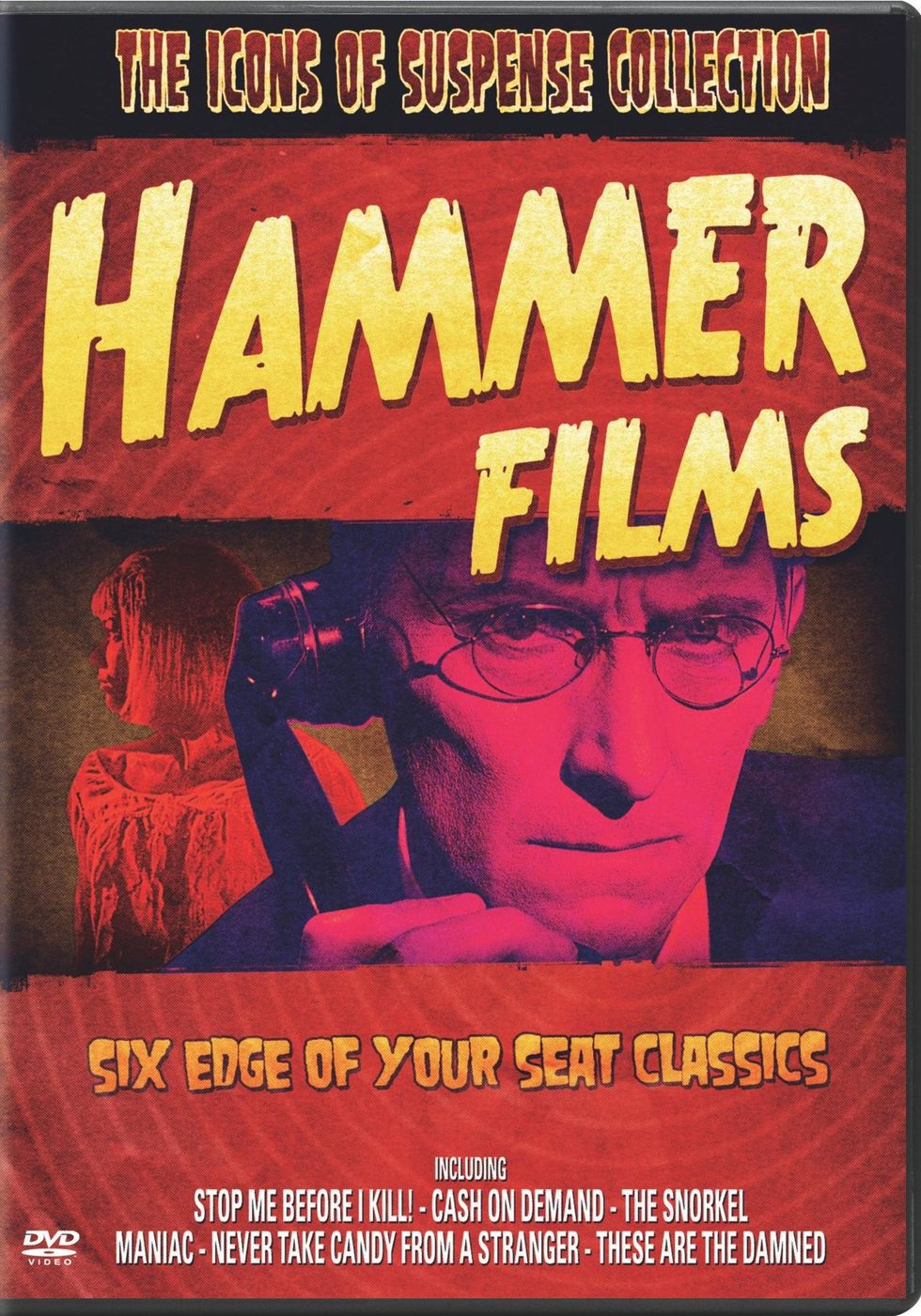 Hammer Studios

, the British production company best known for their 

Christopher Lee

vampire movies and

Peter Cushing

Frankenstein films, actually made some terrific psychological thrillers before they hit their stride with horror. Out this week on DVD is 

Hammer Films: The Icons of Suspense Collection

 (Sony), six rare mysteries lovingly restored in widescreen and beautiful black and white. It's a fabulous treat for cult fans. Including in the collection are... 

Stop Me Before I Kill! (1960) Race car driver Alan Colby (Ronald Lewis) gets in a head-on collision on his honeymoon with his new bride (Diane Cilento) in the car. Laid up in the hospital for a year and still shaky mentally, he and his wife head to the South of France for a belated honeymoon. But he can't stop his compulsion to strangle his wife. They meet a worldly shrink (Claude Dauphin) who promises to help Alan get to the core of his trauma, but like most Hammer mysteries, all is not what it seems. Also known as The Full Treatment, this is a nice and nifty suspense tale directed expertly by Val Guest (The Quatermass Xperiment).




Cash On Demand (1961) Peter Cushing plays the Scrooge-like manager of a rural bank in Haversham who is coerced by a ruthless crook (Andre Morell) disguised as an insurance inspector to rob his own bank for fear that his wife and son will be killed. Cushing gives an absolutely extraordinary performance in this wildly enjoyable heist yarn.



The Snorkel (1958). When Candy (Mandy Miller)'s mother is found dead, an apparent suicide, Candy is convinced the stepfather (Peter van Eyck) killed her. Candy searches for clues to how he did it and the stepfather plots her demise in this crafty mystery directed by Guy Green.





Maniac

 (1963) This excellent twisty thriller directed by 

Michael Carreras

 (with a good script by 

Jimmy Sangster

) is about a drifter/artist (

The 7th Voyage Of Sinbad

's 

Kerwin Mathews

) who ends up in a small town in France. He dangerously comes between a pretty girl (

Liliane Brousse

) and her stepmother (

Nadia Gray

), who are unfortunately related to a former blowtorch murderer, supposedly under lock and key in an asylum. But not for long...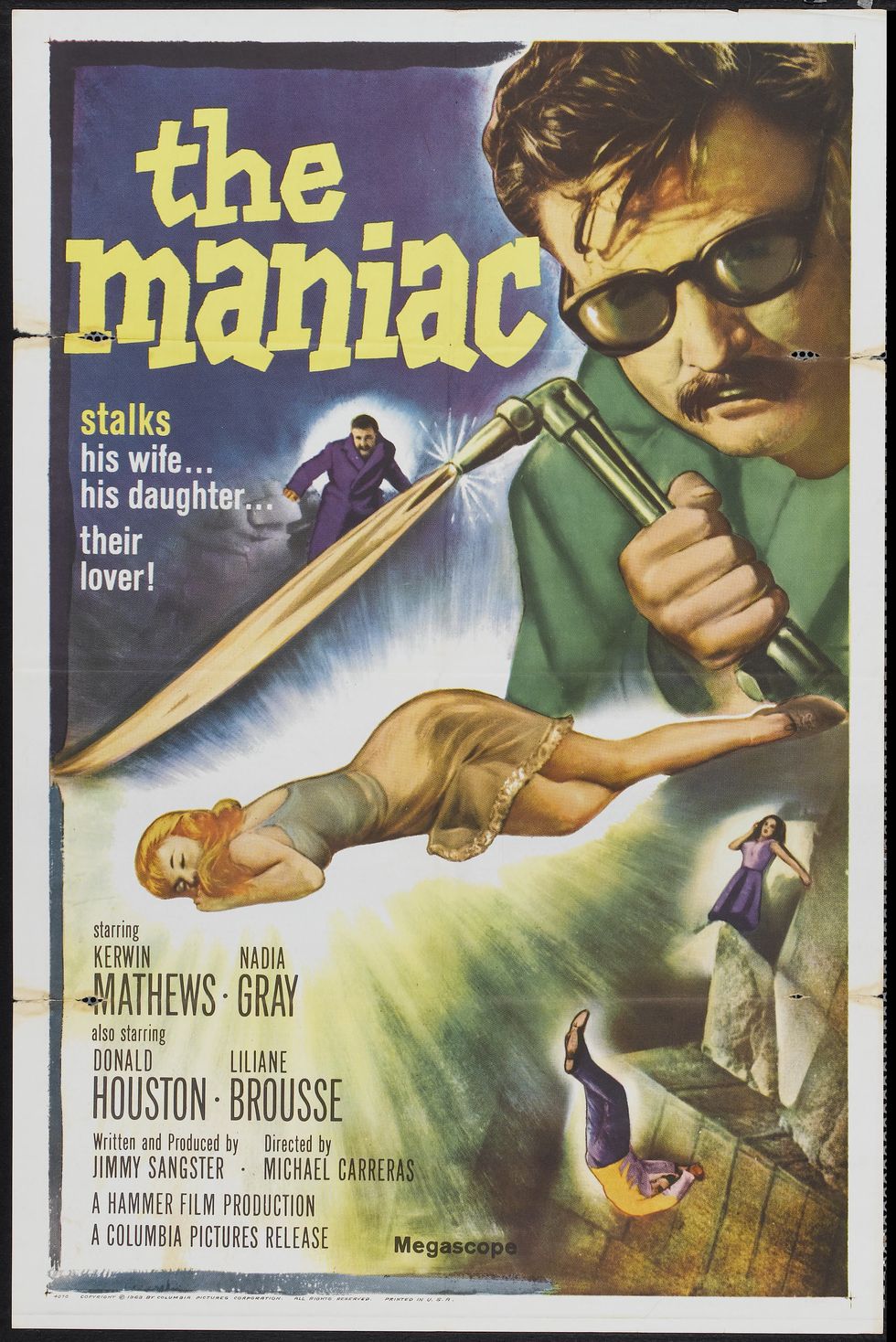 Never Take Candy From a Stranger
 (1960) This potent drama is about a creepy old child molester (
Felix Aylmer
) in a Canadian town. The new principal of the school tries to make a police case of it when the old creep interferes with his own daughter, but the old man is from a powerful family that controls the town. The ending is genuinely unnerving.
These Are The Damned (1962). A bizarre apocalyptic sci-fi film directed by Joseph Losey (The Servant) starring Macdonald Carey as an American visiting the English seaside town of Weymouth, whose romance with a local girl (Shirley Anne Fields) causes him to fight off a gang of violent Teddy Boys let by a young, sexy Oliver Reed. Carey and the young lady flee from the gang and find themselves in a hidden sea cave filled with strange "cold" children that are a secret government experiment. Vivica Lindfors plays a Swedish sculptor who lives on the coast. We love the catchy theme song: "Black leather, black leather, crash crash crash, black leather, black leather, smash smash smash, black leather, black leather, kill kill kill...."