After stints on a few teen TV shows like Ravenswood and Awkward, Haley Lu Richardson is now finding her footing in the world of film. The actress, raised in Arizona, first moved to LA four years ago to pursue a career as a professional dancer. Her dream, though, has always been acting. Now Richardson has three upcoming -- and vastly different -- projects, including crass gymnastics comedy The Bronze, high school flick Besties and M. Night Shyamalan's new thriller Split. We chatted with the actress about her recent work, dealing Shyamalan's specific direction and why you should never act like a dick onset.
So The Bronze is finally coming out?
It's finally coming out! That premiered at Sundance last year. Honestly, I'm really excited to see it, because the only time I've seen it is at the opening night of Sundance. So many people were there and it was my first time at Sundance and it was like so scary that I honestly don't even remember the movie. I just know that I laughed a lot. There's a gymnastics sex scene [in the movie] and that's what everyone's talking about when it relates to the movie -- that freaking gymnastic sex scene. I was sitting right in between Sebastian [Stan] and [co-writer and star] Melissa [Rauch]. Melissa had seen it a bunch obviously, but Sebastian had never seen it and they'd never seen it together. So I would look over at Sebastian and look over at Melissa and their faces were bright red. I picked the best seat in the house!
Had you done gymnastics before the film?
I actually did gymnastics when I was young. I stopped right before the competitive level. I always did it for fun. But I could do some tricks. And then I danced competitively for almost ten years. I still dance around my house, but I don't dance competitively anymore. I actually moved to LA and my first year here did professional dance. I had a dance agent before I had an acting agent. I went out on backup dance auditions, big cattle calls. I did some music videos.
Who did you do music videos for?
Well, I was in video games. You know like Dance Central for Xbox Kinect? How you watch the people dance and follow the people's moves and stuff? I did a couple of those. And then I did this one music video for this Mexican artist named Kevin Ortiz. They described him to me like, "He's the Justin Bieber of Mexico." I was like, "Okay, I don't know about that."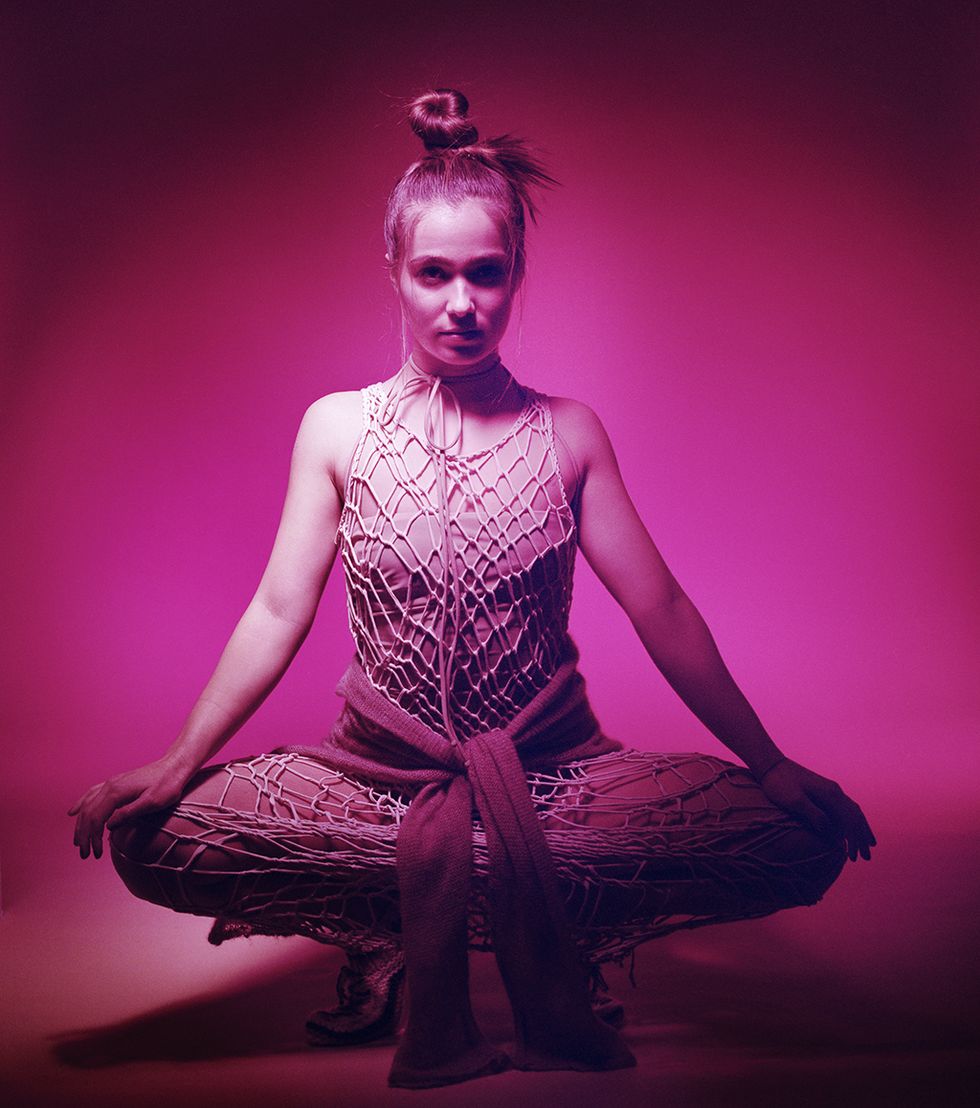 This (and splash photo) by Logan White. Haley wears a bodysuit by Vivienne Westwood, a dress by Pima Doll and a sweater by Eckhaus Latta

Once you started acting did you have a role that made you feel like you could actually do this as a career?
That Kevin Ortiz music video! No, kidding. I knew I wanted to be an actress before I even got a role. I knew "This is my plan. There's nothing else." Even when you're just auditioning you start feeling things click inside and gears turning. But I did this movie called The Last Survivors. I filmed it four years ago after six months of living in LA and it's a post-apocalyptic, drought-stricken world all about this 17-year-old girl who goes around and kills all the bad guys. It was just a really cool role to play for my first movie. There was a lot of responsibility. I had to carry the movie, which obviously was the best lesson in acting you can get. That's when my parents started seeing my commitment.
Do you get recognized for your work at this point?
I don't know if that happens. I did this one TV show [Ravenswood] and I got recognized a couple times and I remember feeling kind of cool about it. But then that ended so quickly. I get nice comments here and there when people have actually watched the things I've done, but I haven't really done something yet that tons of people have seen. But maybe that will change with Split, which is the M. Night Shyamalan movie. It's coming either at the end of this year or the beginning of 2017. But we already shot it.
What was it like working with M. Night Shyamalan?
It was definitely a learning experience, because he's a completely different kind of director than I've worked with before. Actually, on all the other movies I've done, it's been all of their first features they'd directed. I didn't even think about that until just now! Night has directed so many movies and he's got such a specific tone about how his movies are. This was a cool movie, too, because he was in control a lot. He financed a lot of the movie and he was able to have it be almost exactly what he wanted. He's very specific. And he'll literally tell you flat-out, "That sucked. Do it again."
Really?
I remember one of the first scenes I did we were improving walking to a car and he came up to [my costar] Jessica Sula and me and said, "That improv was bad. I would never say that." And then just walked away.
How do you deal with that as an actress?
At first it like "Is he kidding?" but then I realized he's just very specific. But he isn't so specific that he doesn't let you do your thing, which I really appreciated as an actor. Honesty is so important. The movie was super emotionally draining and all the scenes were at super high stakes. We were going crazy all the time, so it was good to have him be honest.
When did you shoot it?
I just finished it. I was filming Besties and Split at the exact same time. Besties was in Vancouver and Split was in Philadelphia. From the beginning of October until the end of December. So I was gone for three months going back and forth. With very different tones. I'd never done two movies at the same time and I think it helped that they were completely different, and maybe too that they were so far away from each other because I could go and not get confused.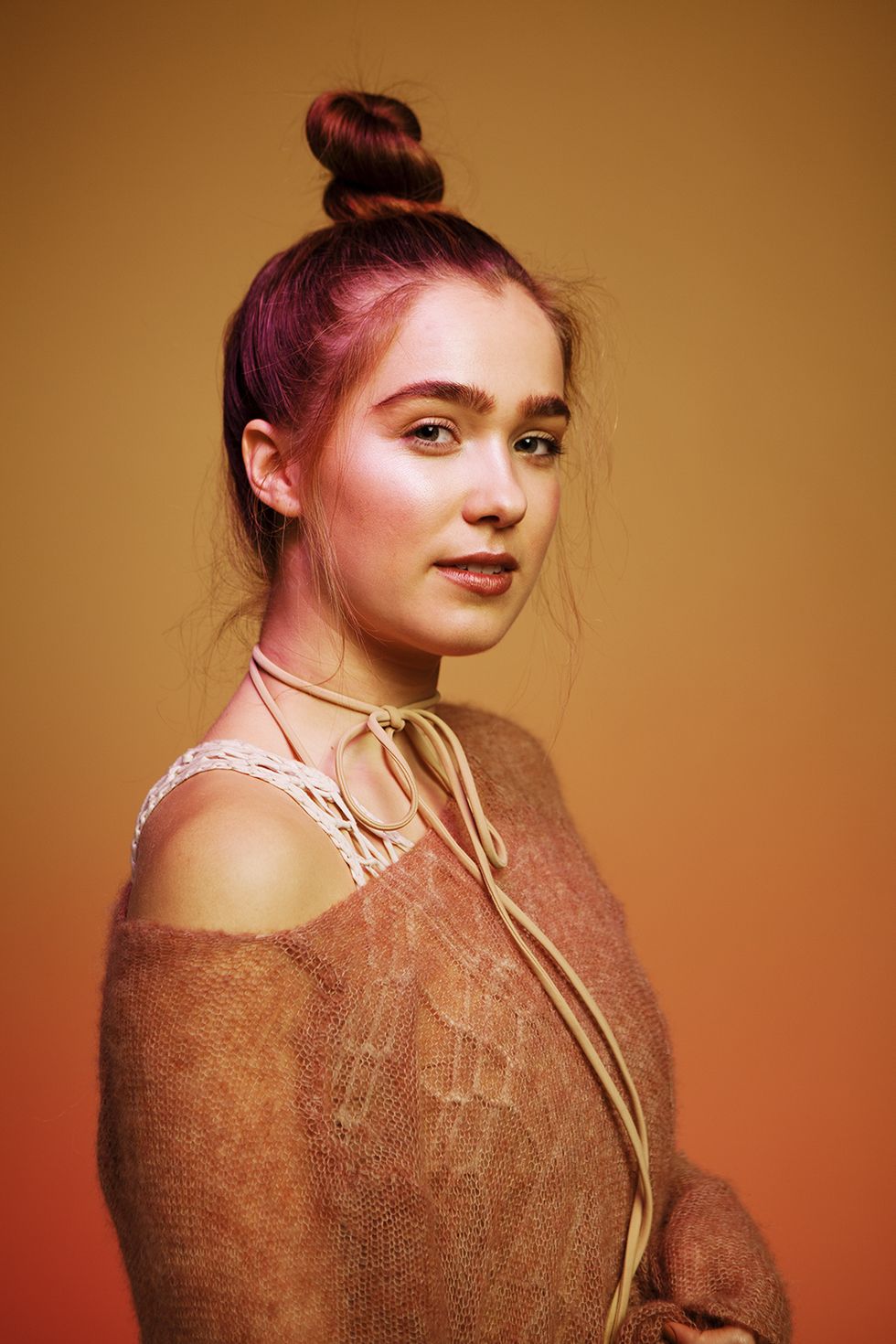 When you do an M. Night Shyamalan are you sworn to secrecy on the plot?
I didn't get a script until they offered me the part and I said, "Okay I'll do it." And then I had Night's cousin come to my house and deliver the paper script. My agents didn't see the script. My mom and dad haven't seen the script. My manager hasn't seen the script. I mean, he's so famous for his plot twists.
So you said yes to the film without seeing the script?
Yeah. Because it's M. Night Shyamalan. Because I knew the premise. I knew what the audition scene was. I knew James McEvoy was going to be in it and he's an actor I really wanted to work with. And I mean, "Why not?" It beats sitting on my couch and going out to audition after auditioning and not making any money. Luckily it ended up being a really good script.
Did working on Besties and Split at the same time help you become a better actress?
I definitely think I learned a lot. Every single set you're on is completely different. So yeah, I learned a lot about acting and the skill of acting and from watching James. But also I learned how to handle yourself onset. How to talk to people. Watching people and learning from watching them, good and bad. How to respect people and that's how you get respect. You don't get respect by being a complete dick, you know? As a person being an actor I feel like I learned a lot.
What's your next project?
I got this cool offer for this movie. I haven't met the director yet. But it films in Columbus, Indiana. It's a really simple, quiet movie. It's what life is like. There's not huge explosions or a lot of sex or someone dies. It's very quiet, but so much happens internally.
Is that the kind of thing you're looking to do?
I don't know. Maybe now. But I just like scripts that are good. Everyone's always like, "Do you like comedy? Do you like drama? Do you like TV? Do you like movies?" And I just like a script if it's good.
Styling by Lisa Katnic
Makeup by Roxy at TMG-LA using Chanel Rouge Coco / Hair by Tiffany Daugherty for Epiphany Artist Group, Inc.
Location: Apex Studios