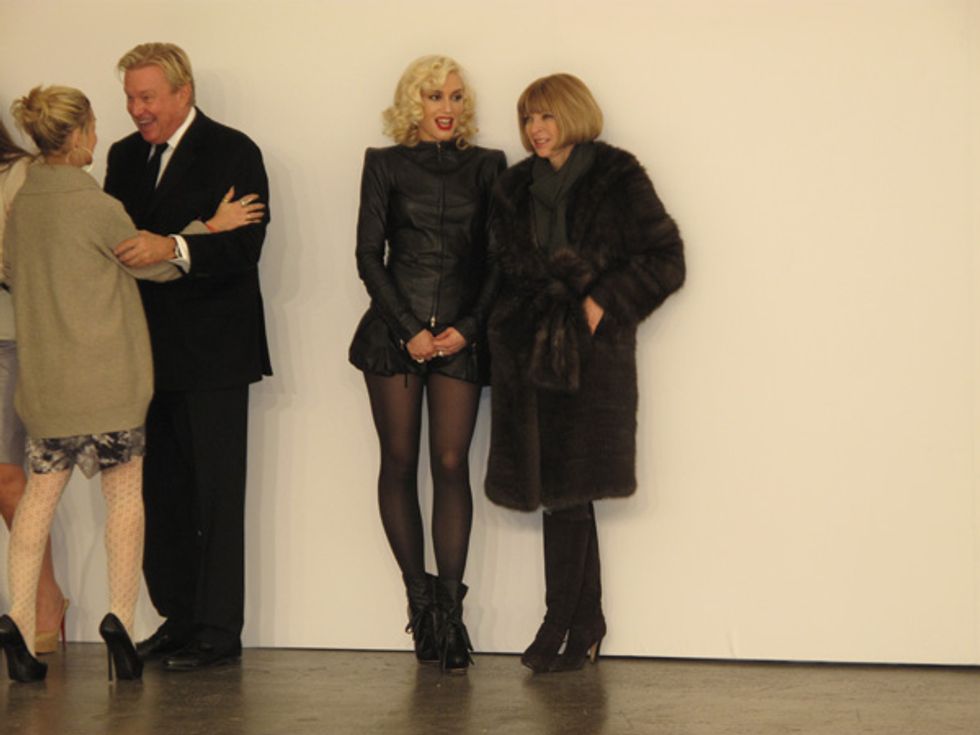 Mr. Mickey went to the
L.A.M.B. by Gwen Stefani
fashion presentation
at Milk Studios yesterday and could pretend to have noticed the clothes... or can be frank and tell you he was there to star-fuck with the beautiful and talented Gwen Stefani. As MM was conducting his hard-hitting interview, a publicist ran up to us and said, "Anna's here!" Here's a little Q&A I did with Stefani, plus a photo I took of her shooting the breeze with Ms. Wintour.
Is there such a thing as a "casual Friday" look for you? Because even in pictures I've seen of you when you're kind of just taking out the garbage it seems you have quite a fashion look going.
I try to have a look for every event -- taking out the garbage, going to get ice cream, yeah. I love getting dressed up, even at home, even for my husband, even for my children.
I love it. Speaking of your children, as a mother do you think that you have a very sexy look? When your kids are teenagers do you think that you might change your look to be less sexy, because their friends will want to date you and they'll think that you're a MILF?
I, um, I haven't really thought that far ahead. I've been trying to live in the moment of having babies. You know it's going to be very interesting when they are teenagers. Hopefully they'll worship me.
MB:
Fabulous. I love it. Great job. Thanks, Gwen.
CLICK HERE FOR PAPERMAG'S COMPLETE DOWN-LOW FASHION WEEK FALL 2010 COVERAGE. >>