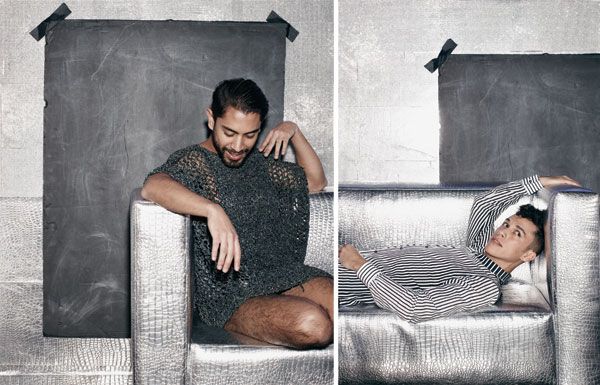 Launched at an East Hollywood Latin dance club of questionable repute, A Club Called Rhonda, or Rhonda, as "she" is known to her devoted followers, has been scandalizing the L.A. club scene since 2008, discarding the usual celeb-obsessed antics for good old fashioned debauchery. The party is the love child of besties and Southland natives, Gregory Alexander and Loren Granic (aka "Goddollars"), who envisioned a free-for-all bacchanal that paid homage to the golden years of clubbing. As Gregory notes: "We always knew what sort of party we wanted to throw -- a free, open forum for anything you wanted to do and however you wanted to do it."
Now held monthly at downtown's El Cid and managed by Alexis Rivera of Echo Park Records, Rhonda overflows with the lithe bodies of the fresh and fashionable along with the mature and more discriminating clubbers. Leigh-Bowery-goes-to-East-L.A. is the order of the day, with a dash of chola glamour. Alexander and Granic stress that Rhonda is not just a gay club -- but she's certainly not "straight" either. She's the kind of girl that goes both ways depending on the drink count. Loren adds, "We go out of our way to make the club a top to bottom, full-sensory experience; the crowd, graphics, production, lighting, sound, props and costumes."
Alexander can personally attest to that when, on one balmy night, the rhythm had worked him into such a lather that he leapt from an eight-foot-tall wall wearing his six-inch heels. Never a defeatist, Alexander painted his crutches pink. "I looked like a broken-down Barbie."
After a jam-packed 2011 that included Coachella and New York debuts, as well as guest DJs like Theo Parrish, Marcos Cabral and Nicky Siano, Rhonda's dance card is filling up for 2012. There's, a gallery retrospective of the party's legacy and Coachella and East Coast encores. Hold onto your wigs -- it promises to be a doozy.