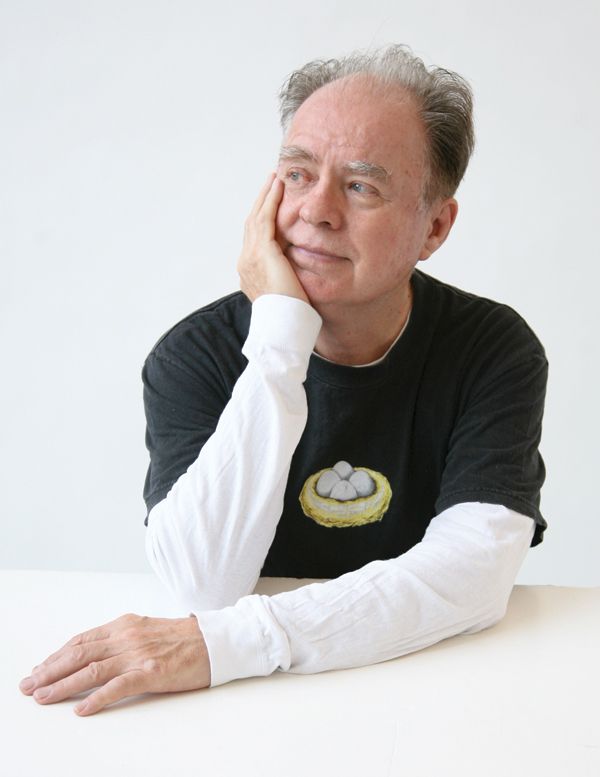 In March, Paper's beloved theater critic and legendary performance artist Tom Murrin passed away after struggling with cancer. Throughout the years, Murrin profiled scores of downtown theater luminaries for Paper and Papermag.com, including writer and performer Jonathan Ames. Here, Ames remembers his friend.
I met Tom Murrin, also known as the Alien Comic, in 1997. I was part of a show at the Fez nightclub (a great place, now long gone) and Tom had come to see another performer. That night, I told a series of humiliating tales -- it's what I did a lot of then and sometimes still do, though rarely -- and afterwards Tom came up to me and was very kind and generous. In fact, he would be kind and generous to me for the next 15 years, never once pausing in his sweetness. It was a remarkable streak of character, Lou Gehrig-esque, though not in performance on a baseball field, but in spirit and decency. 
Tom was about six-feet tall, full-bodied but not fat. He had thinning blondish-brownish-orangish hair that didn't seem thin. What he had stood straight up on his head, kind of electrified, like him. He had a round, pink, moony face with fully ruddy cheeks, kindly blue eyes, wispy delightful eyebrows that pointed, like his hair, to the sky, and an ever-present smile of nutty, imperfect teeth. He mostly seemed to wear loose pants, sneakers, and goofy T-shirts or shirt-sleeved collared shirts with unusual designs. Donovan has a lyric in one of his songs -- "wear your love like heaven" -- and that's how Tom, in every way, carried himself, from clothing to posture, light and easy, an aura of love and acceptance -- of heaven -- about him.
Tom, helping everybody as he did (getting them gigs, writing articles about them, coming to their shows like the most ardent fan, bringing them into the fold at PS 122 or Dixon Place or La MaMa), was, for over 30 years, the godfather or patriarch of the downtown performance art scene, which to me, was like a collection of superheroes, but composed of burlesque dancers, comics, nut jobs, soapbox preachers and pansexual love-objects. Most of the performers, like superheroes, to give a few examples, had an alternative name that was used more than their real name -- Zero Boy, Mangina, Miss Saturn, Murray Hill, Rev. Jen and, of course, the Alien Comic.
I performed with Tom probably two dozen times, if not more, primarily in group performance shows at all sorts of theaters. Tom usually liked to go first -- not the most enviable spot since the audience is at its coldest -- so that he could get his props on stage and be ready to go. Tom also did this so that his many bizarre and fragile objects wouldn't be in the way of the other performers with whom he had to share the stage. 
Tom was a found-object/prop artist, and his main performance was his "Full-Moon Show," which he would stage nearly every full moon. It was an assembly of silly jokes, political humor, sight gags (involving his many props) and advice about worshiping Luna Macaroona, Tom's goddess of the moon.
Tom usually put all his props -- handmade cardboard masks, fake plastic breasts, lunar receptors (soul wands) made out of newspapers, women's housedresses -- on a bedsheet so that everything could be easily cleaned up. He would arrange his props in a circle, like the moon itself, stand in the middle and pick up each prop in order, almost always, as far I can tell, in a clockwise direction.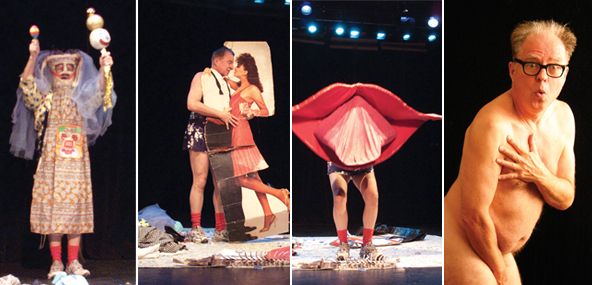 The only times I saw Tom nervous and a little bit testy were before shows. He'd be backstage going over his lines even though some of his jokes he had probably told hundreds of times. But I admired this. No matter the gig, Tom gave it his all. He was as brightly illuminated as the full moon itself, and I think that was the key to Tom -- his light from within was never dimmed, at least during my 15 years of knowing him. It's hard to imagine Tom sleeping -- he was always present. 
Like the moon, Tom did have a dark side, of course. We all do. At least that's what Jung says. Tom's dark side was expressed, artistically, in a persona quite different from the mad, gentle clownlike Alien Comic -- the priapic playwright Jack Bump. Jack Bump wrote naughty, sexual romps that weren't quite coherent, but had a crazy fervor, a cross between Benny Hill and Harold Pinter, and a large cock was almost always an important character. I had cameos in two of these plays -- they were as much fun to act in as to witness -- and when I first met Tom, I recall that his answering machine went something like: "You have reached the answering machine of Tom Murrin, the Alien Comic, and Jack Bump, please leave a message."
And, oh boy, I wish I could leave a message now and have Tom or the Alien Comic or Jack Bump call me back. The last two or three years, as I began to perform less and became busy with other things, I didn't see as much of Tom. We crossed paths at big parties and exchanged e-mails, often about baseball, but our contact was much less than it had been in the past. When we did see each other, though, he was as loving as always and I was grateful for his friendship. He never stopped rooting for me and encouraging me.
Then I heard he was sick. It seemed to come about suddenly. I had lost my cellphone with his number -- I don't know how to back things up -- and e-mailed him, asking for his number. He wrote back right away with it, but I had to go on a trip somewhat unexpectedly. So I wrote down his number and carried it with me to the airport, but then decided to wait till I got back to New York to call him. I had once promised myself -- during the '90s as I lost a number of friends to AIDS -- to never delay reaching out to a friend who is ill, but I forgot my promise and didn't call Tom as soon as I got his number. I thought I had time.
When I returned from my trip, which lasted about a week, I took out his number, but before I could call him I got an e-mail from a friend -- Tom was in the hospital in a coma, and a few days later he died. 
So I never got to hear his beautiful, buoyant voice again, which had retained a vestige of the easygoing twang of the Los Angeles of his youth, though I can still hear it in my mind, each simple word infused with the sweetness of his spirit -- "Hey, Jonathan, how's it going?" 
And I really do wish I could be with him again for one more talk, one more full moon show, but that's not how life is. You have to be present and loving in the now, which Tom was a master at and which I'm not so good at, but maybe I can get better with Tom as my teacher. 
Still, I was so angry and disappointed with myself for not making that call, which I had hoped would be a prelude to getting together. I wanted desperately to thank him for all he had given me and to say good-bye and to tell him that I loved him, but I missed my chance, though I went to the hospital and told him as he lay there in his medicated sleep. I hoped he could hear me, and I wept selfishly at the coming loss of my friend, whom I loved, though I didn't realize the full weight of my love until it was too late to let him know.