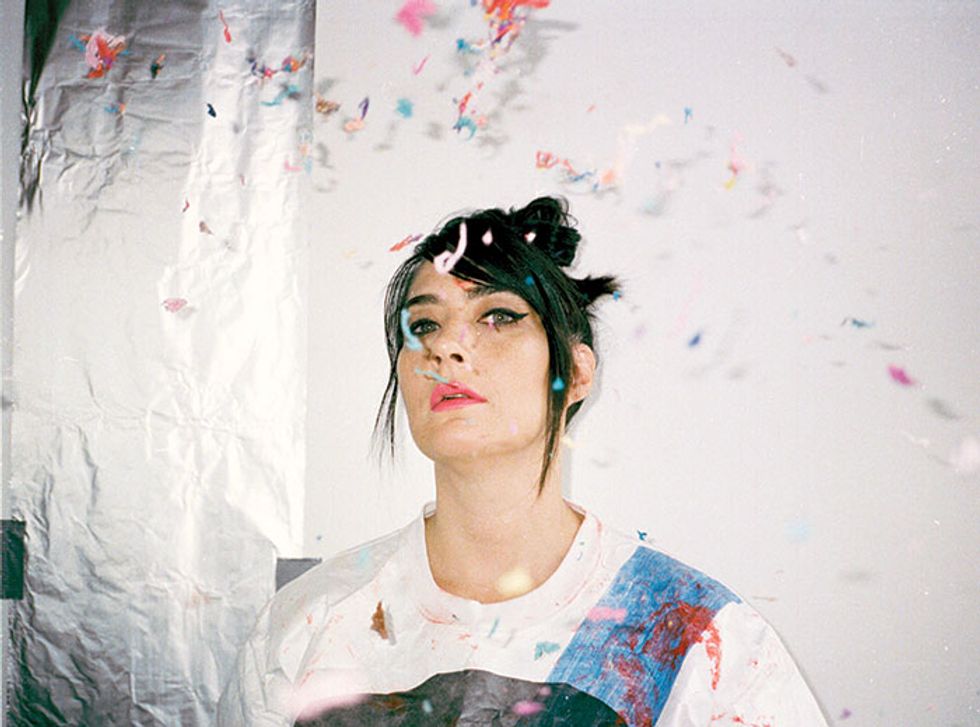 Kathleen Hanna wears a dress by Bernhard Willhelm
Kathleen Hanna started feeling like something was wrong around 2004. The feminist punk icon and former lead singer of definitive riot grrrl band Bikini Kill was touring with her early-aughts electro band Le Tigre and experiencing bouts of pneumonia-like symptoms that would subside and return. After years of fruitless doctors' visits, Hanna was finally diagnosed with Lyme disease in 2010. The hard-to-diagnose disease was so advanced it had spread to her brain. "I went to see a doctor and actually presented as if I was drunk," Hanna says. "I was slurring my words and couldn't even explain to him how I'd gotten from the train to his office."
What followed were two years of intensive monthly treatments, including times when she was attached to an IV at home, and weeks when she couldn't get out of bed. Hanna's diagnosis coincided with NYU's Fales Library acquiring her archives for their Riot Grrrl Collection, from which a book was published this June. She ended up putting out a call for interns to help her go through boxes of letters, essays and Bikini Kill detritus.
"I turned 40 and just stopped wanting to be the person who didn't know how to ask for help," Hanna says now. "And that was a huge, huge life lesson: that people do want to help you." Learning how to let herself rely on others, she says, "has been a big part of the Julie Ruin."
The Julie Ruin, a sequel of sorts to Hanna's 1998 sample-heavy mixed bag of a bedroom solo project Julie Ruin, features Hanna's former Bikini Kill bandmate Kathi Wilcox on bass; Kenny Mellman of the darkly hilarious New York City underground cabaret duo Kiki and Herb on keyboard; Sara Landeau, whom Hanna met teaching at the Willie Mae Rock Camp for Girls, on guitar; and Carmine Covelli, Le Tigre's former lighting designer, on drums. Their debut album,
Run Fast
-- Hanna's first release in nine years -- is out September 3rd. "Working by yourself is really great, but you're also doing more of that control-freak-type behavior," Hanna says. "Being in this band, it's like, 'Kenny is an amazing piano player; let him do that.' I don't need to tell him what to do. It's a collaboration."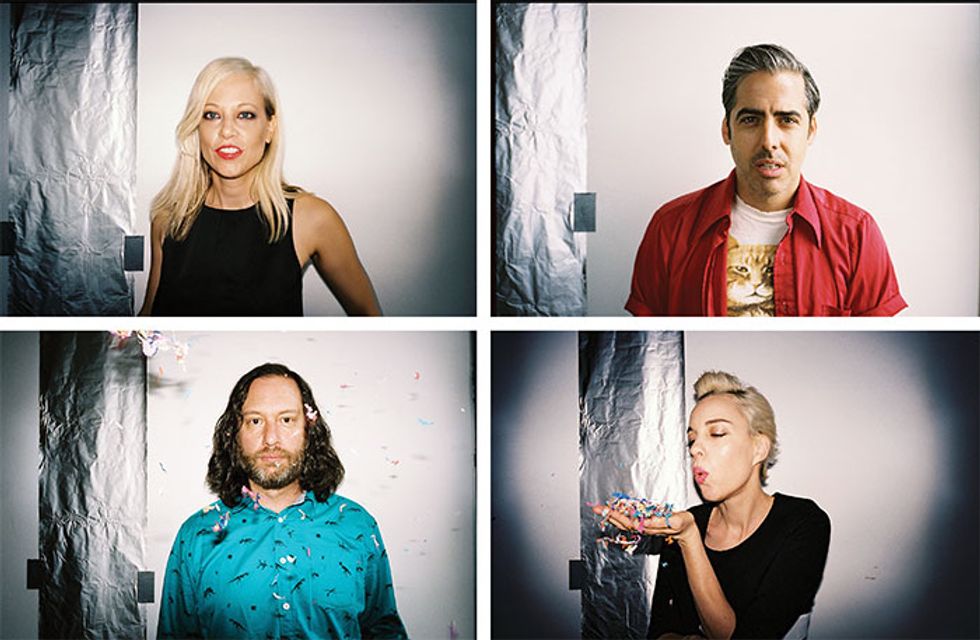 (clockwise from top left): 
Sara Landeau, Carmine Covelli, Kenny Mellman, Kathi Wilcox
. 
Sara and Kathi wear dresses by 
Lisa Perry
.
Run Fast was recorded gradually over a three-year period, while Hanna put music on the back burner for stretches at a time, allowing her to focus on her health and other projects. "I needed a break," Hanna says. "All of my bands had become these full-time things that consumed my whole reality." She did set design for a performance piece about Insane Clown Posse and co-wrote a television pilot with her husband Adam "Ad-Rock" Horovitz about the life of the gloriously bad-ass alt-cabaret star Bridget Everett, called Bridget Drives the Bus. (She and Horovitz have been shopping the pilot with help from Ben Stiller's production company, Red Hour Films.) Still, Hanna, whose symptoms have largely abated, credits band practice as one of the few things that made her feel better. "Literally, when I was at my sickest, and I could go and practice and write songs with them, I was not sick. I was having a good time," she says. "Having fun? That just wasn't something that was in my landscape."

The album echoes Hanna's solo Julie Ruin endeavor in its variety, several songs sounding like they could belong to different bands. The sneering, guitar-driven opening track and the first single "Oh Come On" gives way to bongo flourishes and organs on the love song "Just My Kind." "Goodnight Goodbye," a stripped-down track on which Hanna sings about aging backed by a jaunty keyboard, is the album's most transparent. (Sample lyric: "What happens when you're not 25, 41 / And you have to sink into the you you've now become?") "I had just been doing all of this archiving," Hanna says, "and had to look at myself and the person who I was in my 20s. And would the person in my 20s be totally grossed out by who I am now?"
The person who Hanna was in her 20s is, of course, immortalized in the raw, deeply DIY feminist punk of Bikini Kill, who, despite a short career and only a handful of albums, made music that's still being played in the bedrooms of arty teenage girls everywhere. And as a new interest in riot grrrl has emerged -- from Bikini Kill's own re-issuing of materials from their catalogue to an upcoming documentary on Hanna by director Sini Anderson to the launch of a Bikini Kill capsule collection at the ultra-hip SoHo store VFiles -- Hanna seems to have made her peace with where she fits in now.
"There's probably a ton of people who are going to be like, 'I don't give a shit about her now, she's 1,000 years old.' But that's what's great about music," Hanna says. "If you're 16, you can listen to Bikini Kill or Le Tigre, and if that helps you get interested in feminism it's like, 'Awesome, my job's done.' When you worry about it, that's when you start doing things like trying to write the song you already wrote, or trying to pantomime your younger self on stage. If you dance like your mom, then you dance like your mom. That's who you are now."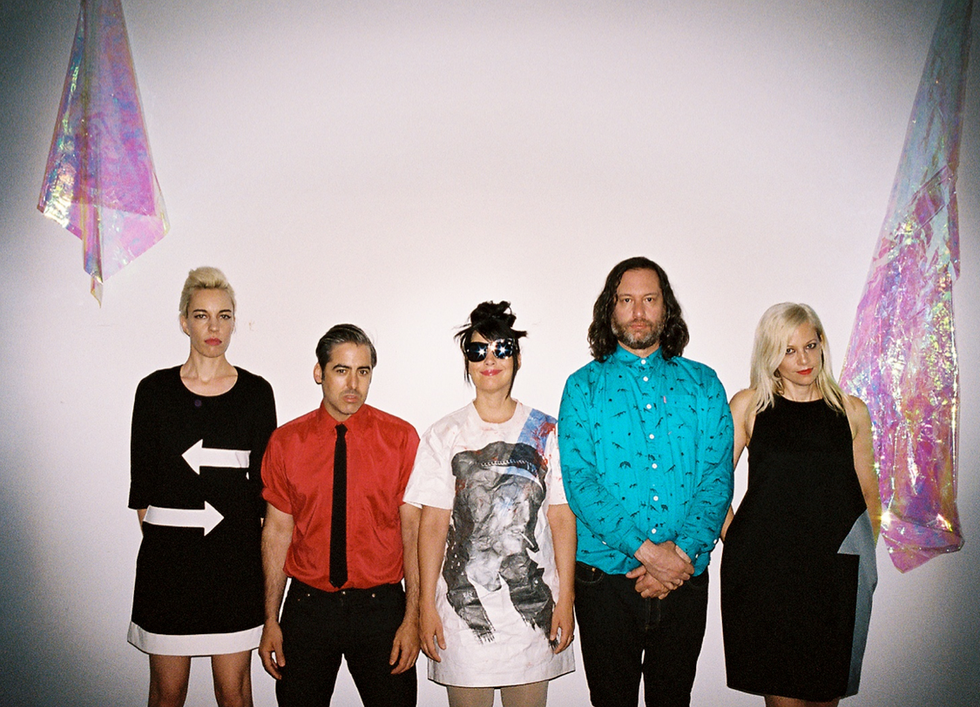 Hanna's wry sense of humor has long added an engaging layer to her performances and music. (Look no further than Bikini Kill's anthem "Carnival," in which Hanna triumphantly yells, "I'll win that Mötley Crüe mirror, if it fucking kills me!") "Kathleen is hilarious," says Kathi Wilcox of her longtime band mate. "As a performer, she can be funny. She's theatrical, and she's always commenting about what she's singing about in her physical performance. I also think some of how Bikini Kill presented ourselves was funny, the way we'd sort of wander around on stage between songs and trade instruments, undermining the idea of the put-together band. We were serious, but we didn't always take ourselves seriously."
Hanna says going to New York comedy and cabaret shows during her illness was also therapeutic, particularly "Our Hit Parade," Kenny Mellman's erstwhile monthly variety show at SoHo's Joe's Pub with Bridget Everett and performance artist Neil Medlyn. "Comedy became something that was really important to me," Hanna says. "Both Bridget and Kenny have this ability to take stories about really depressing, traumatic events and turn them into humor. You don't necessarily have to see a therapist for 11 years like I did. Once you tell a sad story enough times, it starts to become funny. "
Mellman, who created his comedic lounge act Kiki and Herb with the singer Mx. Justin Vivian Bond in the late '80s as a response to the AIDS crisis, says he found a kindred spirit in Hanna's ability to offset dark material with an upbeat delivery. "The reason that I love this record is that it sounds really fun, and yet if you read the lyrics, almost all the songs are about euthanasia, or death, or suicide," he says. "The only
Run Fast
song I've never really been able to figure out exactly is 'Cookie Road.' We'll assume it's about cookies, but I wouldn't put it past Kathleen to have it really be about something pretty intense."
Though the Julie Ruin has only played a handful of live shows around New York since announcing the rel
ease of Run Fast, the band will kick off their fall tour at the Bowery Ballroom on September 3rd with a show that quickly sold out. "The response has been really great," Mellman says, "I'm trying not to read a lot of the press about the album, but I do see tweets from time to time from people who've gotten promo copies and they've all been pretty positive. I mean, even if I wasn't in this band, I'd be fucking excited that Kathleen Hanna was back."

Run Fast is out September 3rd via Dischord Records.

Stylist: Danielle Nachmani / Hair: Dina Calabro at Next Artists / Makeup: Francisca Saavedra at Next Artists