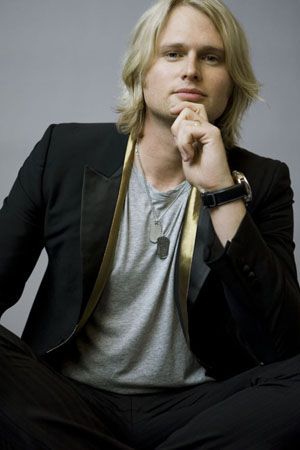 Though sunny Swedish pop act
ABBA
was playing in the delivery room when
Glee
's music producer
Adam Anders
was born, he grew up playing rock 'n' roll. His opera-singer-turned-gospel singer father and his concert pianist mother made for unlikely fans: "I couldn't play enough rock music for my parents," says Anders. "I'd play something [more subdued] for them and they'd be like, 'Nah, do some more edgy stuff.'" Anders credits his eclectic musical background, which includes performing as a jazz bassist and studying classical music, with helping him design the music for
Glee
-- a grab-bag of glimmering pop gems that spans genres and decades, and has become wildly popular since the show debuted last year. Singles for the show have sold five million copies and both volumes of the first season soundtrack have gone triple platinum. Not bad, in an industry some worry is taking its final breaths. In honor of the return of Glee's first season tonight, we chatted with Anders, who also works with
Miley Cyrus
and the
Jonas Brothers
, about artists who don't clear their music, and problematic mash-ups.
Who chooses the music for
Glee
?
[Glee creator]
Ryan Murphy
picks all of the songs. He writes the scripts and the songs. Sometimes something won't work for them and I'll give suggestions for songs that might work in the script better. From time to time I'll think of a song that will be great and shoot an email to Ryan and it will show up in a script an episode later.
What songs?
"True Colors" was my idea. My partner produced
Cyndi Lauper
's last record, [Lauper] got hold of us and I pitched it to Ryan, and he loved it. I also suggested a
Bryan Adams
song that he didn't clear. (Laughs.)
Do many artists not clear songs?
No. It's really unusual that someone doesn't and we were shocked that Bryan didn't. We were even able to clear some songs like "Don't Stop Believin''" before the show even aired.
Coldplay
didn't clear a song, either -- "Viva La Vida" was supposed to be in the pilot. I think it's obvious that when
Glee
does a song, not only does that version sell incredibly well, but the original version does also. There's an 87% jump in the sale of the original recording. So it's a powerful tool for artists. Especially older artists, like the
Bruce Springsteen
s of the world. You can introduce your music to a whole new fan base.
Glee's
had 20 songs in the iTunes top 100 songs at once.
That was kind of bonkers. Twenty percent of the entire chart was produced by us. It's clearly a cultural phenomenon. With "Don't Stop Believin,'' I knew we were on to something using it, but I didn't expect it to get so huge. The
Glee
version went to number four on
Billboard
's Hot 100 and the original version by
Journey
went to number nine.
"Don't Stop Believin" is a song that already had a pretty big pop culture presence -- you hear it at karaoke, everyone sings along when it comes on in bar -- but giving it a Broadway-esque treatment completely changed it.
We think a lot about those types of songs. Songs that never fully crossed over into Complete-Cheese-Land. We're always asking 'How can we do this without making it karaoke?' Or 'How do we a Broadway song in a pop setting so that it's acceptable?'  And that works. Hopefully we can keep this going. 
Cory Monteith, who plays Finn, is sort of the all-American jock character and sings a lot of rock and classic rock songs. Are what types of songs characters sing supposed to be reflective of their personalities?
I  think more about what fits him musically 'than how will this song make him look?' Cory's come a long way -- he'd never sung in his life before we started the show and he has worked so hard. The show is really demanding -- you're asking someone who has never sung before to be able to do both
Steve Perry
and
Usher
? That is really, really hard for anyone. We hone in on what works best for him and his voice matches up more to rock than pop. Cory doing a
Doors
song will work better than him doing a
Chris Brown
song.
Have there been songs that just don't work for the cast member they're assigned to?
No, I can usually make a song work for anyone. I've thought they were crazy for picking some songs, though.
Like what?
The mash-ups. "Halo" and "Walking on Sunshine?" Are you kidding? Or
My Fair Lady
's  "I Could Have Danced All Night" with "Bust a Move?" A '50s Broadway show-tune that's three:four time mashed up with a rap song is hideous. But it still turned out really cool. Mash-ups are interesting in a way -- you end up creating a new song that actually works out really well. "It's My Life" and "Confessions" is killer. "I Could Have Danced All Night" and "Bust a Move"  didn't end up making it on to the show -- it was supposed to be on the finale but we ran out of time. We'll probably end up putting it in the box set.
Do you think high school glee clubs will start performing more pop and Top 40 music, if they haven't already, as a result of the show?
The sheet music is selling like crazy. I think there's going to be a whole revival of glee clubs and that's something I'm really excited about. The first thing they cut in high schools is music. That's such a shame because music makes a person well-rounded. It shapes you. Glee clubs are creating a whole new wave of music in high schools. Kids are hungry for it, they want to be a part of it. We've made show tunes cool. When "Don't Rain on My Parade" goes top ten on iTunes, there's something going on.
Glee
premieres tonight on FOX.