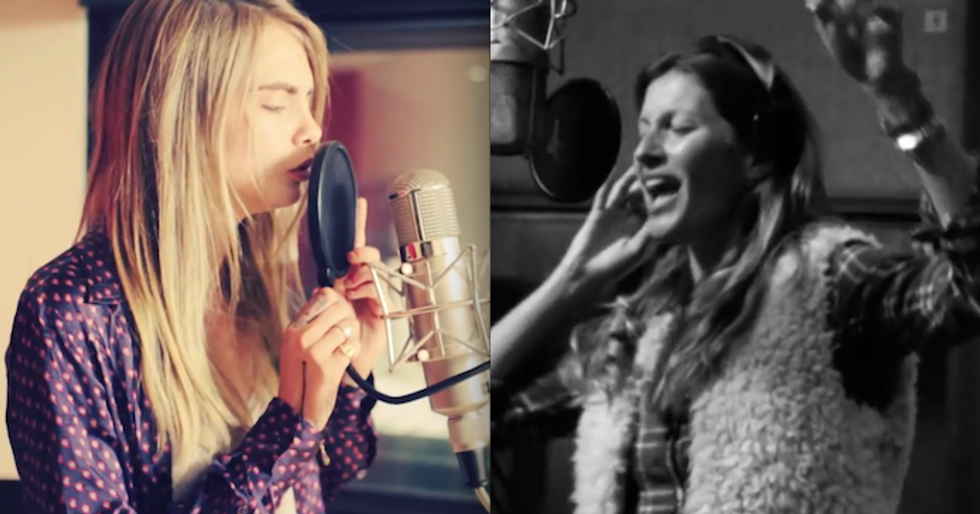 While us Yanks were busy celebrating Labor Day by going to the beach, playing tennis or BBQing (read: watching all thirteen episodes of
Orange Is the New Black
in our pajamas and eating Funyuns), those crafty Swedes at H&M released a new video featuring their current fall campaign star, Gisele, belting out The Kinks classic, "All Day and All of the Night." Never ones to miss a "Two's a Trend" moment, we decided to pit the Brazilian supermodel in a sing-off with model-about-town Cara Delevingne, who recently shot a clip of herself singing with London crooner Will Heard. Check out how the girls compare in seven singing categories and see who comes out on top, below.
Gisele performing The Kinks' "All Day and All of the Night"
Cara Delevingne performing Klangkarussell's "Sonnentanz (Sun Don't Shine)"
Category: Vocal Talent
Gisele:
Gisele's voice is sultry and fun and her Brazilian accent ("with you" sounds like "witch you") is charming.
Cara:
Cara's vocal stylings are quirky and fresh and around the 0:40 and 3:06 mark you can really hear her get into it.
Winner: Cara.
Her ability to harmonize with Will Heard sealed the deal.
Category: AttitudeGisele:
Gisele's very sunny 'tude is a bit more infectious. She may not have the best pipes but she's really having some fun with her song -- even yelling "YAY!" at the end.
Cara:
Cara's attitude is very "I'm a fairly successful indie rock musician doing a thoughtful, quiet set in a Shoreditch dive bar." She pulls it off with aplomb, warbling and minimally tapping her foot while dripping laid-back cool.
Winner:
Gisele. While Cara has a more polished attitude, anyone who makes makes you want to laugh and clap along with her is a winner in our book.
Category: Performance & Dance MovesGisele:
Starting off the song with hand claps, the supermodel takes her performance up a notch from there: in the span of only a few song lyrics, she manages to incorporate the "
DJ-finger-pointed-at-the-crowd
" move; some classic, "UCLA chick on 'shrooms at Coachella" arm-waving vibes; lots of head bobbing; and, at the end, some pretty damn infectious squeals and hops around the studio.
Cara:
Delevingne's performance is pretty shoegaze-y -- other than cradling the mic a little, she mostly stands ramrod straight (good model posture, girl!) and focuses on hitting her notes.
Winner: Gisele.
She masterfully embodies the "white girl who can't dance but is so endearing you give her a pass, anyway" type and it works.
Category: Wardrobe
Gisele:
Gisele's plaid shirt and furry vest combo is slightly confusing for the moment, but remember she is promoting H&M's fall campaign here. If the studio was missing a blanket, which it looks like it might be, she could easily curl up with that vest during a 'take 5.'
Cara:
Cara's grey skinny jeans, white tee and undone purple button up come off simple, sporty and slightly frumpy, but her loose hair, fierce brows and black high top sneakers turn it into nonchalance cool.
Winner: Cara.
Ultimately her youthful irreverence is what you want in rock start fashion.
Category: Production Bells & WhistlesGisele:
Filmed in black and white, with the exception of red lights seen on the sound level monitors and on lights outside the recording booth, the minimalist clip screams
fash-un
.
Cara:
Much more DIY, Cara's clip looks like a souped up version of our kitchen concerts (considering it mostly shows the model and Heard singing in a studio). Bonus points for the little candid-but-not-really-candid banter between the two at the very beginning.
Winner:
Cara.
The H&M video is fun and pretty but there's something kinda awesome about having a supermodel singing a duet on a clip that looks like it could have been filmed on an iPhone.
Category: Song Selection
Gisele:
She opts (or, uh, H&M opts) for The Kinks' ear worm-y (but awesome) '60s hit.
Cara:
Cara performs a duet with British singer Will Heard set to Heard's collab with Austrian electronic producers Klangkarussell. Their acoustic version transforms the song from Electric Daisy Carnival to Newport Folk Festival.
Winner:
Gisele.
We can't get her Brazilian accent-tinged version of The Kinks song out of our damn heads.
Category: Intense, Eyes-Shut-While-I'm-Singing FaceGisele:
Aw, Gisele. She tries but she's just so, so smiley that her ESWIS face just makes her look like she's holding back laughter.
Cara:
Cara's got this one down pat. She shuts those eyes, ducks her head, seems super intense at all the right moments and looks like she's really feeling it, man.
Winner: Cara
. By a lot -- clearly she takes her singing faces very seriously.

Overall winner: Cara.
Gisele's a babe but Cara has pipes and is right in that sweet spot of fame where, if she wanted to chuck her modeling career in favor of joining an obscure indie band, she could probably get away with it. Gisele's too famous for that.