Bikinied girls in heels typically only appear near pick-up trucks in country music videos (like the kind Maddie & Tae famously parodied), during car wash scenes in early '00s bro comedies, or in '50s Chevrolet ads. Rarely, if ever, are they in the driver's seat. Like guns, pick-up trucks are one of American pop culture's most cliché symbols of masculinity and regressive conservatism, which despite the reality of the diverse people who drive the vehicles in real life, instantly evokes a certain kind of MAGA-hatted driver.
Ginger Q is a Los Angeles multimedia artist who deals in re-contextualizing "classic" symbols. Her latest piece doesn't so much re-contextualize the truck, as it does stomp all over its phallic symbolism.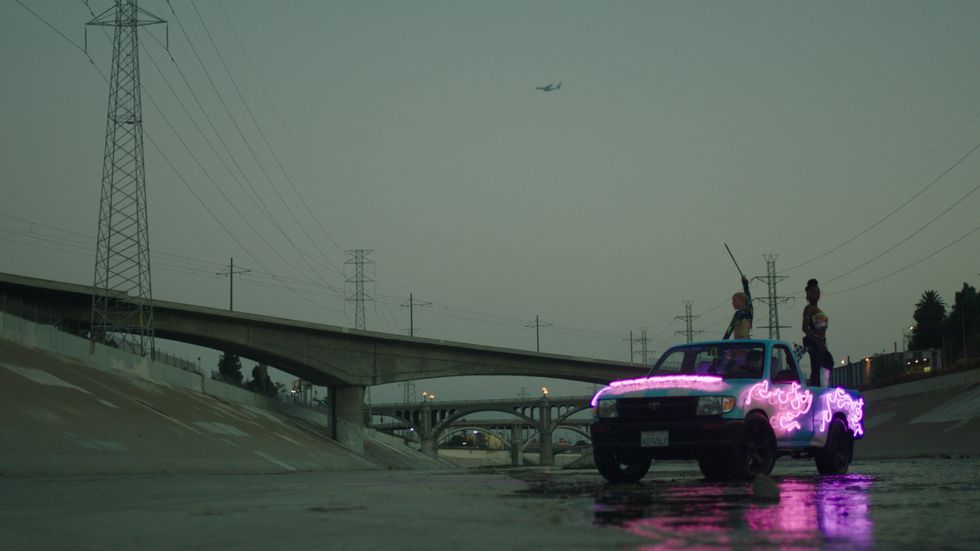 The sculpture is titled "Cabroncita," Mexican Spanish slang for "feminist" that can be an insult or a compliment depending on the intent. It centers around a refurbished 1997 Toyota Tacoma work truck, which Ginger transformed into a glowing war chariot for a pack of sword-toting, chain-swinging women in custom "RIP misogyny" dominatrix boots and bikinis proclaiming "PSY-CHO," who look like they're headed out to hunt the alt-right.
Ginger calls "Cabroncita" a "moving sculpture," but it could also be described as an immersive multi-media experience, best captured by the stunning short video which Ginger Q produced and art directed. The truck's paint job and neon installation (fabricated with help from design group IM-CREATIONS) is the main attraction, and the film also features original garments, jewelry, styling, and elaborate production.
Ginger Q says that with "Cabroncita" she hopes "to challenge established male-dominated spaces" by "putting womxn behind the driver's seat and giving them control."
In the video, the armed feminist foot soldiers (Ginger Q, as well as artists Jazzy Mercedes and Psychoflower) lick swords and chomp on chains as they drive through an eerie Los Angeles canal. The piece plays subtly with beauty and violence, and flashes of anger (symbolized by weapons, stilettos, warpaint) strike poignantly against the softness of its cinematography and hazy, pulsing soundtrack (courtesy of Brennan Loney).

PAPER chatted with the Los Angeles artist about "Cabroncita," moving sculptures, and messing with "classics."
The truck is historically such a masculine symbol. Is that iconography something you wanted to play on?
The Toyota Tacoma is often seen as a symbol associated with masculinity. I decided to reverse these roles and place womxn behind the wheel. When conceptualizing this sculpture, I wanted to create a conversation piece that challenged people's assumptions — womxn in a work truck, fragile neon on a moving car, art converged with a practical object.
Your website says that your work concentrates on "rethinking classics." What does that mean?
Quite often, tradition and classics can be rooted in troubling histories. It's necessary to analyze these archetypal iconographies we digest as "classic." In this video, I decided to focus on reconceptualizing the standard image of the truck as a way to incorporate womxn into the equation. This is a theme I explored earlier this year when I created a neon cadillac from junkyard car parts. More often than not, I do it unconsciously.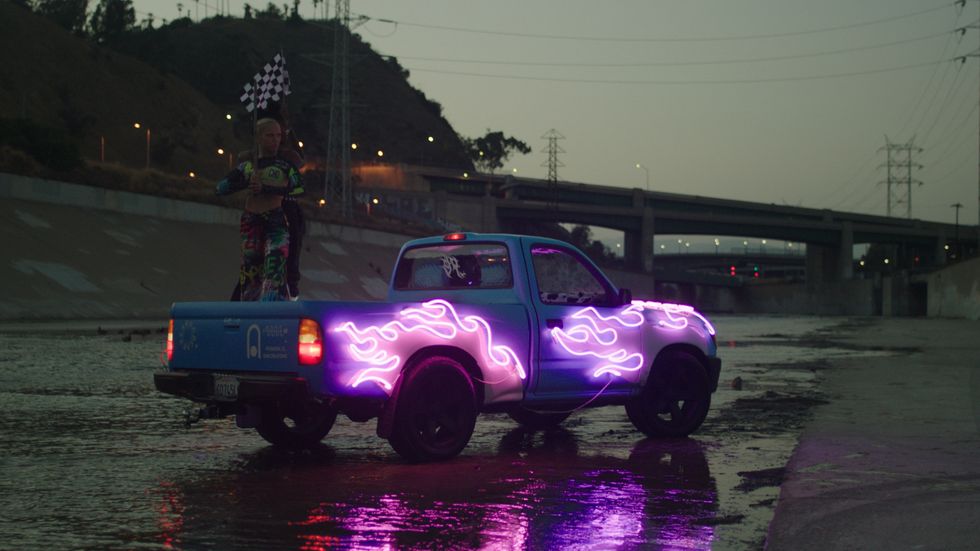 What's the origin story of this project? Is this "moving sculpture" what you mean by "7 dimensional" forms, as per your website?
Growing up in the environment of screen printing and signage, I was often the only womxn in the workshop. I decided to create a piece that visually represented the urgency of equality, specifically in a time where womxn's rights are being questioned and actively threatened. I wanted to remove the static aspect of mounted wall neon and construct a sculpture that connected the motion of the car with the electricity running through neon, and as a result, create movement. In this context, the produced mobility represents the forward momentum of womxn representation. As for the 7 dimensional form, this sculpture pushes beyond physical limitations and is intended for an audience that is prepared to be a part of this momentum.
What do you want people to feel and reflect on when they experience "Cabroncita"?
Here's what I hope Cabroncita* will summon:
noun
1. a determined, unapologetic, uncompromising womxn.
adjective
2. hustler, feminist, or badass.
*As defined by an undercover cabroncita via Urban Dictionary.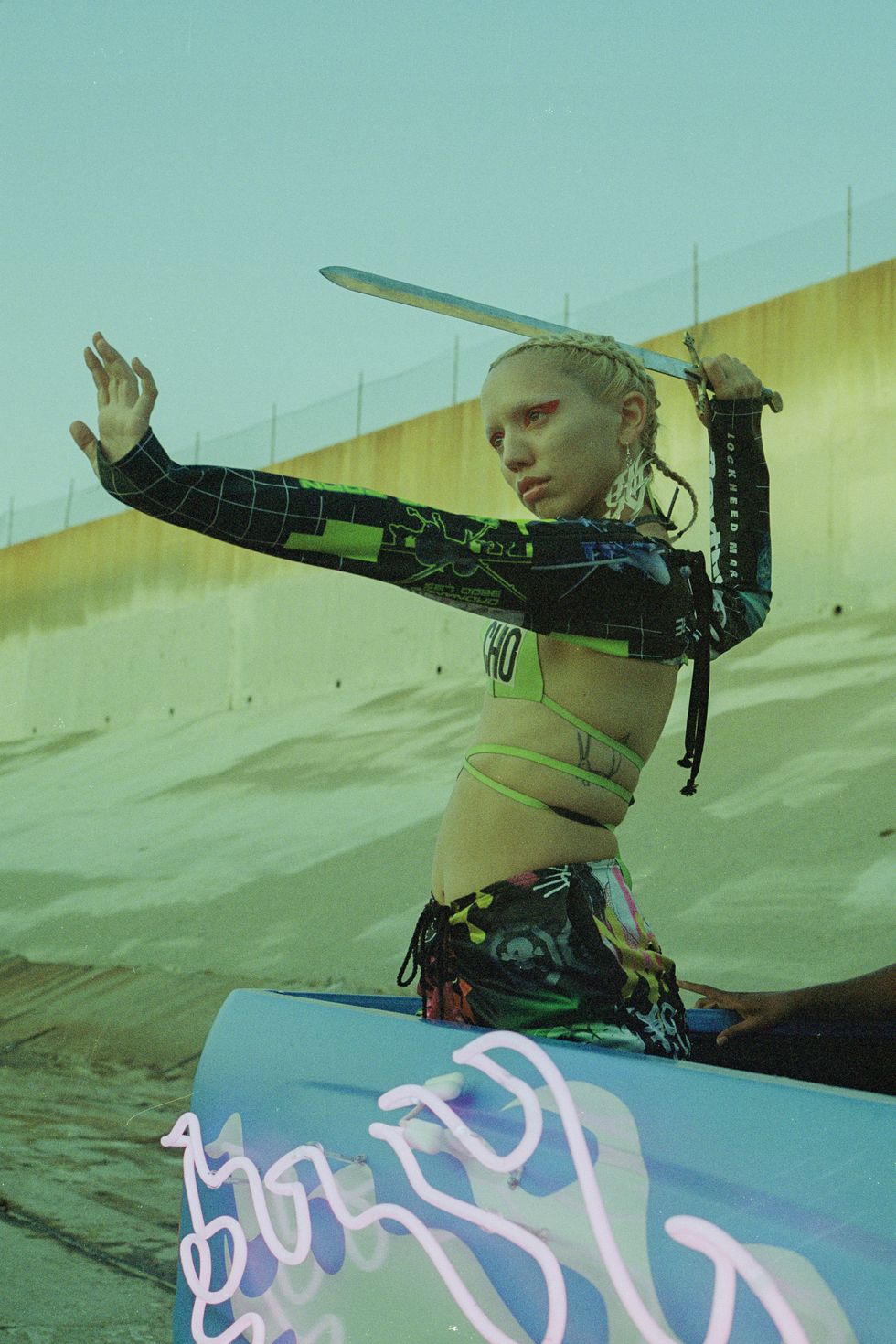 The piece is so multimedia: there's the neon art on the car, the music, the garments, the cinematography, creative direction. Are you the designer behind all of them? Who are your collaborators?
I conceptualized, designed and built this piece by essentially renovating my overused work truck into a glowed up sculpture. I worked alongside my brother and our collective (IM-CREATIONS) comprised of local LA artisans to make these modifications. This truck went through a massive transformation — from rotten green with a washed out tan interior to the leveled up "
Cabroncita"
. The totality of this final cinematic piece is a collective work made with fellow artists who shared their talents to create this multimedia experience.
Tell me about the "Psycho" bikini and "RIP Misogyny" boots.
Each pair of "RIP Misogyny" boots were created using decals, with a guerrilla sticker tactic in mind. They are part of my ongoing designs that cater to the movement against misogyny. We wear our heels high as we stomp on inequality. As for the "Psycho" top— that was a custom piece brought to the shoot that we thought was a clever, tongue-and-cheek phrase. I am aware of the stigma against bold, assertive womxn, so why not poke fun at its ridiculousness?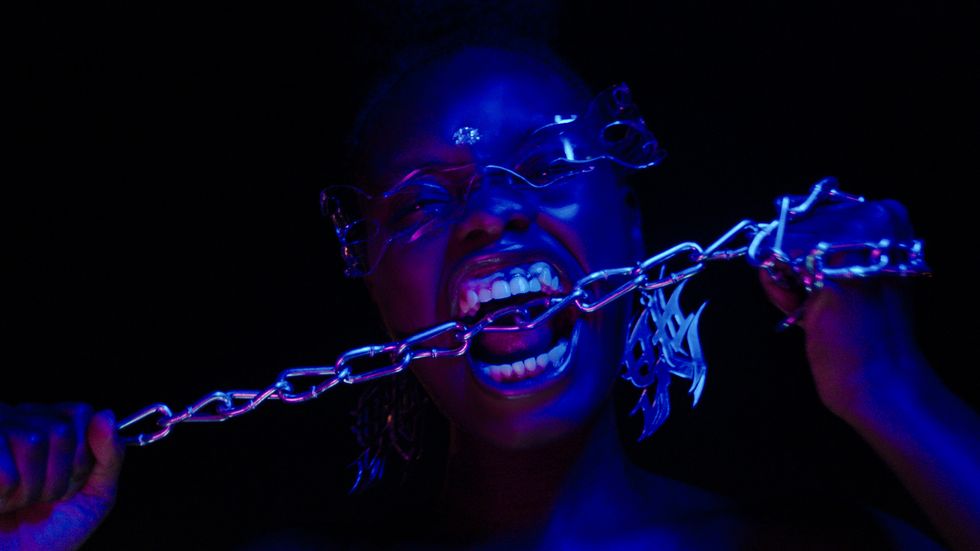 I liked how the piece suggests violence, or even a playful misandrist kind of revenge, while remaining very beautiful and graceful. Was that a tension you were hoping to evoke?
The aggression depicted in this video is towards misogyny. In order to dismantle the prejudice against womxn, it will take a unification of collective identities. The intensity references the determination it will take to reach the prospect of equality.
How do you think art and activism intersect in your own work, and in general?
It's difficult to separate activism from my métier. These issues are a reality for me and many others. That being said, I don't think activism actively exists in all artwork.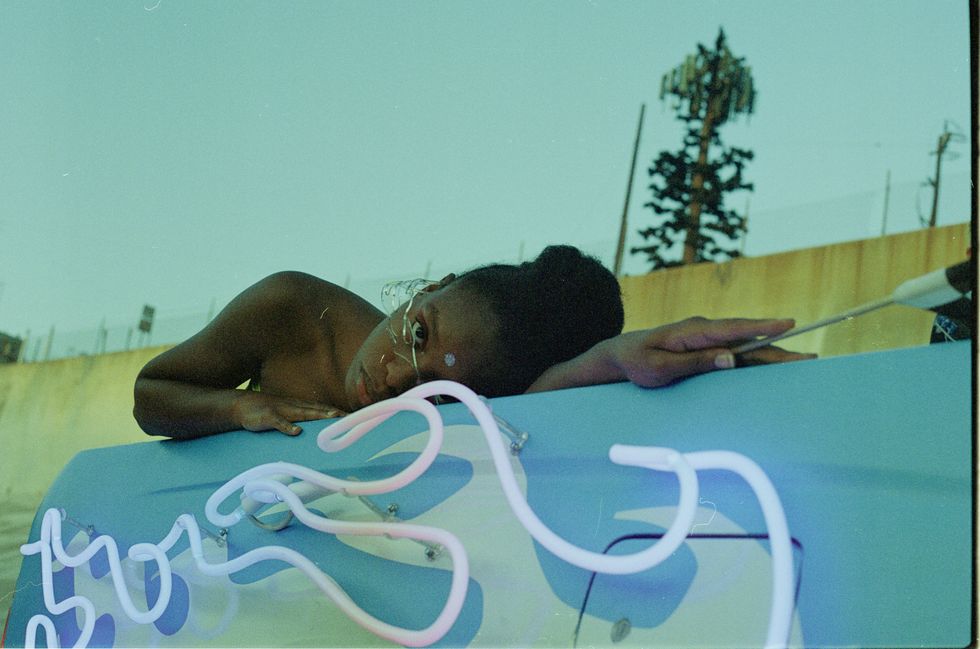 What's next for you?
I'll be exhibiting new work in my upcoming solo show "ANTIBODIES" at Think Tank Gallery in Los Angeles. I plan on rethinking the "classic" body and exploring how to successfully exist outside of this mold. The show is opening on March 23rd and extending until mid-April. Check out gallery hours and programing for info. All are welcome.
Photos: Brume